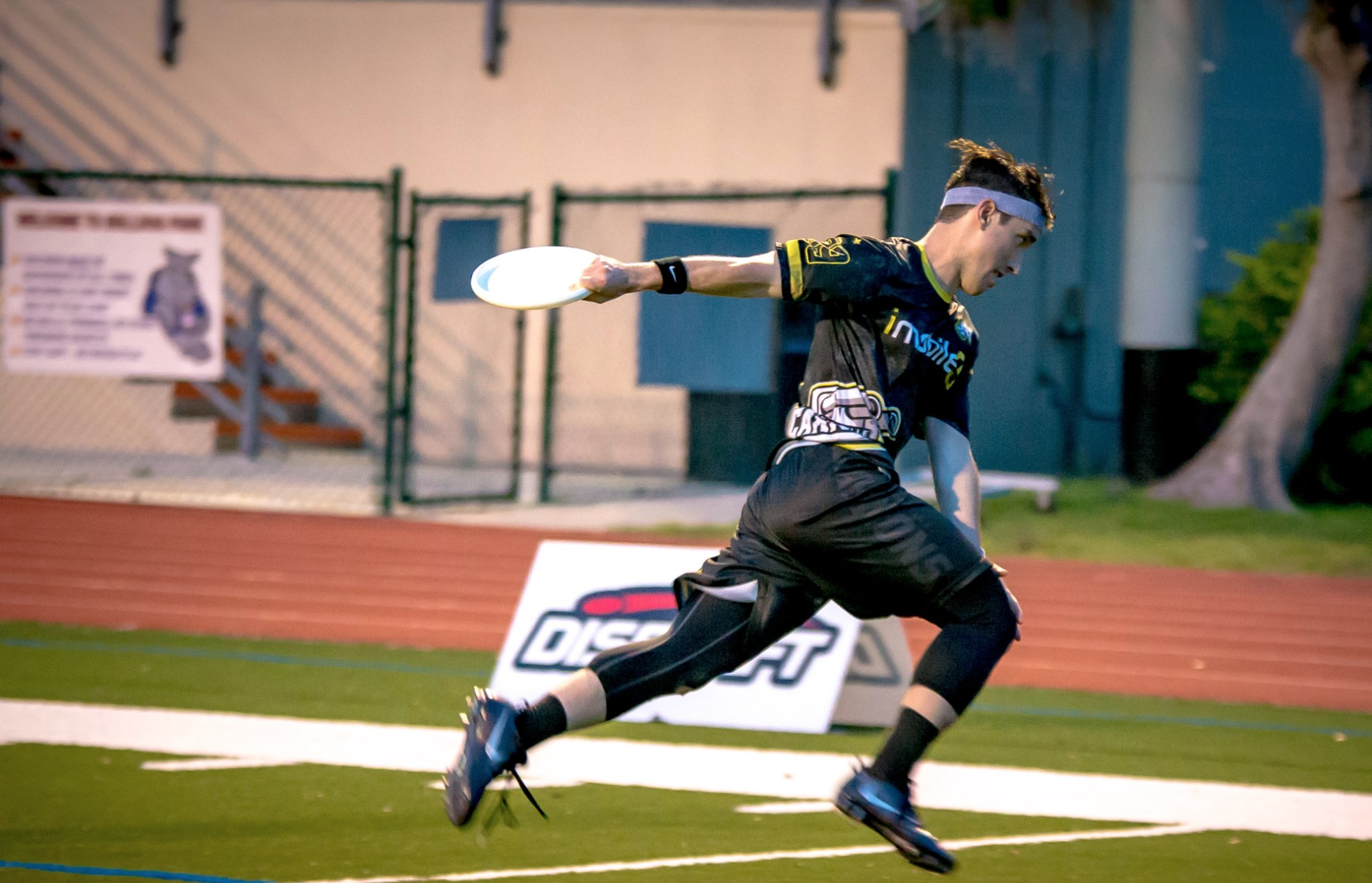 Throughout this AUDL season, Ultiworld will be publishing a weekly Throwaround, a chance for you to catch up on the amazing, funny, and interesting moments that you might have missed from the weekend's games.
The Wild West
I really thought going into last weekend, things would clear up in the West. Now eliminated, the  Growlers would lose on the road to the Aviators. The Cascades, facing a daunting two game road trip to the Bay Area, would probably drop both and bow out of the playoff picture as well. There would be a return to normalcy.
That didn't happen.
The Aviators lost to the Growlers and the Cascades won in San Jose. So heading into the final weekend, only the third place team — the Los Angeles Aviators — have clinched a playoff spot, thanks to their tiebreaker over Seattle. Here's where things stand now among the teams still alive in the playoff hunt
San Francisco (8-4)
San Jose (8-4)
Los Angeles (8-5)*
Seattle (7-6)
San Francisco is on a two game road trip to the Pacific Northwest this weekend. The winner of the Cascades-FlameThrowers game will determine who owns that tiebreaker. San Francisco already has the tie breaker advantage over Los Angeles and San Jose.
The Spiders are on a two game road trip to Southern California. Seattle owns the tiebreaker over them and the tiebreaker between San Jose and Los Angeles will be determined by their game on Saturday. Meanwhile, Los Angeles holds the tiebreaker over Seattle.
The Cascades are in the toughest spot because they're no longer in control of their own fate. It'd be possible for Seattle to win and still miss the playoffs. It would just mean San Francisco beat Vancouver the next day and that San Jose won at least one game on their road trip. Seattle needs to win and for one of those Bay Area teams to come up empty this weekend.
Since the Aviators and Spiders play each other, the Cascades can't finish first in the division, but it is still technically possible that they could end up second. If both San Jose and San Francisco come out of the weekend with zero wins, Seattle would finish in second place with its 8-6 record.
For the the remaining competitors (SF, SJ), getting to the playoffs is simple: win and you're in. Each of these teams is also still alive for the race to finish first in the division and get that crucial first round bye. In the event of a three way tie between Los Angeles, San Francisco, and San Jose, things could get tricky as it would come down to head-to-head point differential. Such a scenario would play to the benefit of San Francisco, as they have essentially locked that tiebreaker up.
Every game these four teams play is meaningful this weekend, but the ones to watch are Los Angeles vs. San Jose and Seattle vs. San Francisco. Both are on Saturday night.
An earlier version of this segment said that no team had clinched a playoff spot. That is not true. The math is complicated, but Los Angeles has indeed clinched a spot. We've updated the text above to clarify that. For more on this, check out Evan Lepler's breakdown in the Tuesday Toss.
Texas Ultimate Fans Aren't Exactly Fond of Jacksonville
https://twitter.com/soldoutulti/status/885141126684041220
All Records Are Meant to be Broken
When I first learned about what happened in the Jacksonville-Nashville game on Saturday night, I misheard the news. I heard a friend say "Jacksonville scored 22 goals on Nashville." So what? 22 goals is a pretty run of the mill result for an AUDL game. Then I learned that it was just Jordan Huston who alone put up 22 goals on Nashville.
Here are all 22 goals:
22 goals | Jordan Huston | AUDL | Jacksonville Cannons
22 is a big number. The previous single game individual scoring record was 14, held jointly by Pittsburgh's Ethan Beardsley (playing against the now defunct Cincinnati Revolution) and Toronto's Steve Armitage (playing against the now defunct Rochester Dragons). Huston broke the previous record by eight goals! That's insane! It'd be like if an NBA player broke Wilt Chamberlain's scoring record by putting up 157 points. Or if a pitcher in baseball broke the most strikeouts in a game record by striking out 26 batters.
The skeptics may point out that Jacksonville was feeding Huston the disc, doing whatever it could to drive his goal number higher. So? It's still really impressive. And it's exactly what the Philadelphia Warriors did by intentionally fouling the other team so they could get the ball back and get Wilt to 100 points.
It got me thinking…how unbreakable are the single game records in AUDL history? The league hasn't been around that long. These records have to be pretty achievable, right? Who would be the players to set the new records?
Well, I've done a little research and I believe I've found the single game records for the biggest categories and tried to identify who the best candidate is to break each of them. We're going to start with the most breakable, working our way up to the one we may never see broken.
8 Blocks — Nathan Champoux & Eric Hubbard — April 2, 2016 vs. Cincinnati
I love that the first record is not only a tie between two teammates, but two teammates that set the record in the same game. The weather was awful in this game. The two teams combined for 62 total blocks, with Detroit earning 39 of those. Detroit completed 70% of its passes, while Cincinnati only completed 63%. The craziest thing about this game is that it was livestreamed and I think the stream stayed up throughout the whole game. To be honest, I didn't watch until the end, so I can't say for sure.
While eight blocks is a lot for one game, this feels fairly replicable. There could be another game played in terrible conditions. In that scenario, almost anyone could end up with eight blocks. Another scenario is that there could be a game played in great conditions that Peter Graffy plays in and he breaks the record. Graffy has already gotten seven blocks in a single game, so it's not even that much of a stretch.
Acting as the deep deep in the Madison zone defense gives Graffy ample opportunities to fill up the stat sheet. Getting nine blocks would probably mean a one sided performance, but the Madison Radicals have been on the right side of more blowouts than I care to count. Add to the fact that he's a great defender to begin with and you've got to think that if someone were to break this record, the smart money would be on Graffy.
17 Assists — Cole Sullivan — July 10, 2016 vs. Atlanta
Sullivan threw 17 assists in a game last season, breaking Tyler Degirolamo's 15 assist record set in 2015. Jacksonville sure loves its records. In this game, the Cannons were also gunning to get Mischa Freystaetter the single season goal record. Freystaetter caught 13 goals in this game and would end up with the record.
17 assists is no small feat and I bet this record stands for another year or two. But it's going to fall; it's just a matter of when. When it does, there are a number of people that could be the ones to break it. Maybe Degirolamo reclaims the record — after all he had both a 15 assist game and 14 assist game in the same season. And Jon Nethercutt threw 14 assists in a game against the Roughnecks! Who does that?!
But if I were to bet on one guy, it might be Mark Burton. Sure, Burton has never thrown 14 assists in a game, let alone 18. But the man has a keen eye for the endzone. He's had a whole bunch of games where he's thrown eight or nine assists. And it hasn't mattered whether his most frequent targets were Donnie Clark and Phil Murray like they were last year or Brad Houser and Bryson Simon-Fox like they have been this year. Burton puts the disc into the end zone.
Burton has 75 assists this season; he can do this. Seattle plays a fast game, which is needed if any player is going to throw 18 assists. Even in the Cascades loss this past weekend they scored 26 goals. They've scored at least 25 in eight games this season. If he doesn't break this record, I still think there might be a game next year where Burton will only throw 11 completions, but they'll all be for scores.
108 Completions — Pawel Janas — May 6, 2017 vs. Madison
Janas threw 108 completions against the Madison Radicals in a game this season and remarkably only two turnovers. We need to throw this man a parade. Why is it that this record wasn't publicized as much as Huston's 22 goal effort? Are completions not as sexy as goals? (Maybe not.)
Whoever breaks this record will probably do it against the Madison zone. It could even happen this year. Picture a San Jose Spiders-Madison Radicals game. Madison decides to throw zone (which would probably be a mistake so maybe they wouldn't) and Justin Norden goes to work. He gets every other pass and ends up throwing 200 completions. Will it happen? Almost definitely not. But could it? Maybe.
Justin Norden has thrown 50+ completions in seven out of the nine games he has played in 2017. He threw 76 completions against Los Angeles. You're telling me he can't break the 108 completions record going up against the Madison zone? Please.
16 Throwaways — David Brandolph — June 2, 2013 vs. Rochester
Now before you go and give David Brandolph a hard time for throwing sixteen incompletions in a game against the Rochester Dragons, pay some respect. This is the forgotten co-MVP of the 2013 AUDL season you're talking about here. His MVP of the East counts just as much as Goose's MVP of the Midwest. Then again, the East was kind of garbage that year other than Toronto so maybe it doesn't. Tough call.
Anyhow, yes, Brandolph threw 16 turnovers in this game, but this was another game played in awful conditions. The Dragons won 14-12. And for a Philadelphia team that completely relied on Brandolph (and Matt Esser) to generate all of its offense, it's understandable that they just kept giving the disc to him. There was no reason for him to stop going out there since there was no chance Philadelphia was going to win that game without him.
This is a tough record to break just because the league has gotten to a point where even in awful conditions, the disc is at least spread out a little bit more. There aren't many teams (other than Chicago) totally reliant on one dominant handler.
If conditions are terrible, any number of players could come close to breaking this record. After all, Jon Nethercutt himself had nine throwaways in the Flyers game in Dallas this year. But Sam VanDusen might just be able to break this record without 40 mph winds or a hailstorm. I say this as someone that thinks VanDusen has been an extremely valuable addition to the Thunderbirds since the college season ended, but I feel like he could break this record without blinking.
VanDusen has only played in six games this year, primarily on defense. He has 24 assists and a 78% completion rate. 78% is very low. Very low. On the other hand, his "yards per throwaway" is pretty high. Imagine a scenario next year where the Thunderbirds are traveling to Detroit and traveling light. Pat Earles is among those not in the lineup. Coach David Hogan decides to move VanDusen over to the O-line. Van Dusen throws 17 turnovers, 14 assists, and the Thunderbirds win 20-18. That's got to be in the realm of possibility. In a game this season against Detroit, Van Dusen threw seven assists and six turnovers, while playing almost exclusively on the D-line.
22 Goals — Jordan Huston — July 15 vs. Nashville
I have a really hard time seeing this record ever falling. This was the perfect storm. Nashville was on the road on the second day of a back to back.  Nashville is also terrible. Huston has been on fire lately. Jeremy Langdon wasn't playing. It's the Cannons and they love their stats. Can't imagine it falling anytime soon. Maaaaaayyybe someone like Joel Schlachet could do it. He had a nice weekend too, scoring a casual nine goals against the Cascades.
But if I had to bet on someone, it'd be Langdon. He put up ten goals in a game twice this season. If the Cannons come back intact next season, it's not difficult to imagine Langdon playing a game when Huston is absent against another team on the second day of a back to back and a similar scenario plays out. Before this weekend, Huston's previous high for goals in a game was 11. If he can do it, why can't Langdon?
The crazy thing is, Jacksonville could absolutely gun for this record for Langdon in a game they were in total control of and still fall short of 22. This record might be around a while.
Michael Matthis Doing Michael Matthis Things
https://twitter.com/theAUDL/status/887051846975537152
Parity In The AUDL: Now More Than Just A Preseason Talking Point!
We're in the home stretch of the season, when almost all the attention falls on the games with playoff implications. But other ultimate is being played too. It may not be as significant, but it can be very meaningful to an individual franchise.
From 2013-2015, there were those that ripped the AUDL for its lack of parity, particularly in comparison to the MLU. And, to be fair, there were some franchises that outright owned others on the field. There were divisional "rivalries" where one team had literally never lost to the other. Here's a list of every matchup where one team was undefeated against the other with at least nine games played, heading into this past weekend.
Toronto: 14-0 v. New York
New York: 14-0 v. Philadelphia
Madison: 14-0 v. Indianapolis
Indianapolis: 14-0 v. Detroit
Toronto: 11-0 v. Philadelphia
Toronto: 9-0 v. Ottawa
Raleigh: 9-0 v. Nashville
But on Saturday night, the Philadelphia Phoenix beat the New York Empire for the first time in franchise history. Nicky Spiva had seven assists. Sean Mott had an efficient five goals and five assists. The Phoenix won their fourth game of the season, against their fourth different opponent.
Yes, New York had already been eliminated from the playoffs. It was an end of the season road game for the Empire. But this was a 30-23 win for a franchise that entered the season desperate to get out of the East's basement. It looks like they'll probably accomplish that goal, with Ottawa needing a Philly loss and two wins this weekend to surpass the Phoenix. For a team that's trying to build respectability, that means a lot. The Phoenix have shown they can beat anyone in the division other than Toronto. That matters.
And interestingly, two more of these undefeated streaks are on the line again this weekend. Indianapolis plays Madison for the fifteenth time, as New York does with Toronto. The Rush and Radicals are both heavy favorites playing at home, but it might not be too much longer until more of these streaks end.