Place your bets!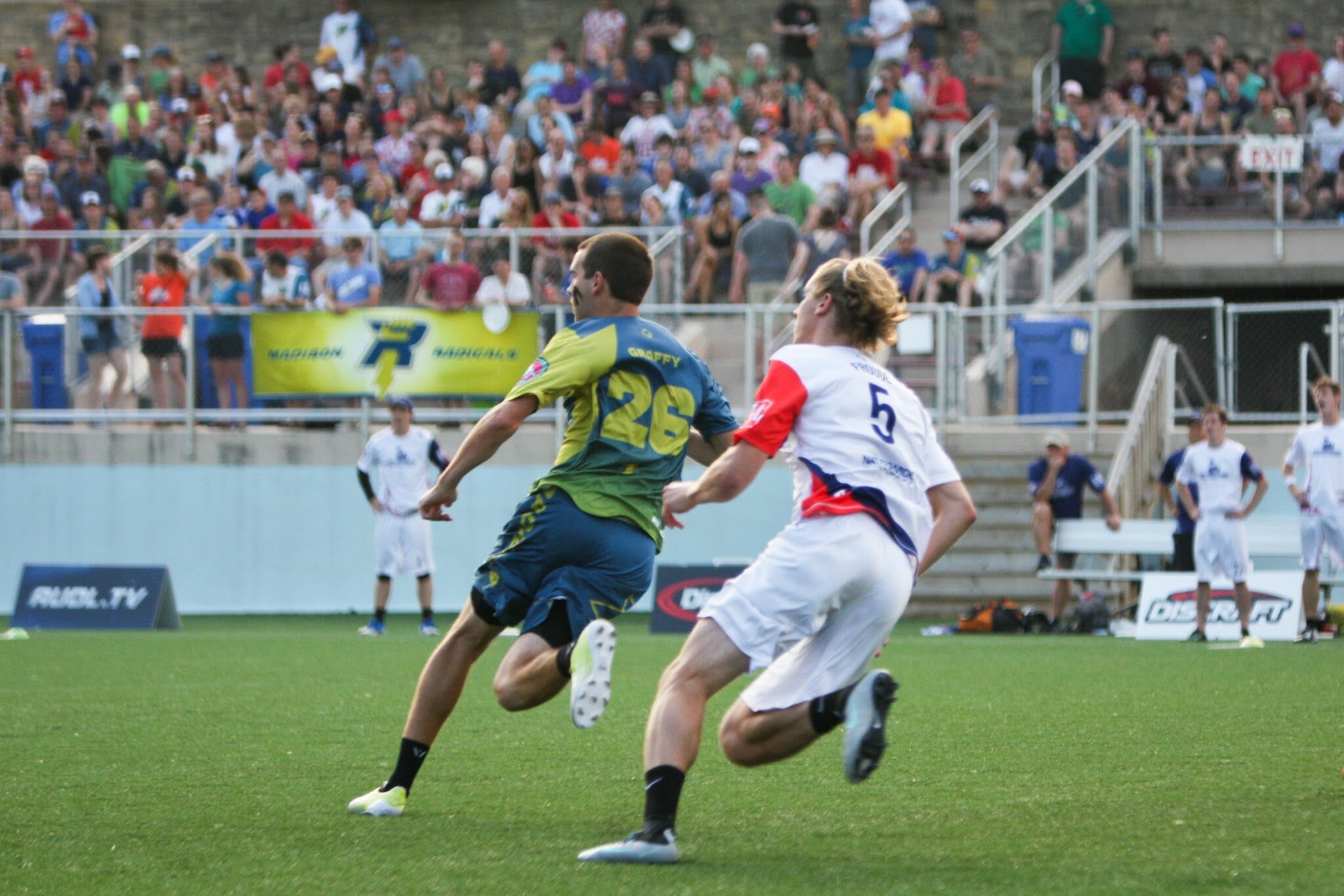 With the AUDL playoffs upon us, things look a little murkier than they have in past years. There's no undefeated team in the league. There's no team that is leagues above the rest based on talent alone. For the first time in AUDL history, it looks like more than three teams have a viable path to a Championship. What are the odds that any one team will win it? I'm glad you asked.
Tier 1: Championship Contenders
Raleigh Flyers (3-1)
Since they beat the Roughnecks in late April, the Flyers have stood atop the AUDL Power Rankings. They finished the season 13-1 and claimed the South Division crown. There was that ugly loss in Dallas in a game that was played in terrible weather, yes, and a couple of close calls against Jacksonville. But the Flyers earned a first round bye and a one seed in the final four (for what little that's worth) should they qualify. Raleigh's regular season résumé is strong, splitting with the Roughnecks, sweeping Jacksonville, and beating DC.
What separates the Flyers this year from previous iterations is their depth. In past years, there were two AUDL teams in North Carolina; the Charlotte Express closing up shop has paid dividends for the Flyers. The addition of former Express players has allowed Justin Allen to shift to defense. While Allen hasn't put up the kind of jaw dropping raw numbers he has in the past, he has been far more efficient and made the Raleigh defense much more dangerous after a turn. Former Express players Jacob Fairfax and Matt Bode lead the team in goals. Nate Goff and Jeff Nordgren have been valuable additions on defense.
The Flyers also have Jon Nethercutt. Nethercutt finished the regular season third in the league in assists this year with 72, the most of any player in the playoffs. Nethercutt is an obvious MVP candidate: when he is on, it brings their offense to another level. In their game at home against Dallas, he had 14 assists, 51 completions, and just one turnover.
So what's stopping Raleigh? Well, just getting to championship weekend will be difficult. On August 12, they'll play the winner of Jacksonville-Dallas. If it's Dallas this time the Roughnecks will come to Raleigh with a full roster and not face them on the second day of a back to back. It's hard to imagine Dallas getting lit up by Raleigh like they did the last time these two teams played. The Cannons remain a threat, too. They're 0-4 against the Flyers but that includes two one-point losses.
Raleigh has a tougher path to the final four than any other one seed.
Dallas Roughnecks (3-1)
The Roughnecks haven't even won a game against Jacksonville this year. They were pretty much out of the game by the fourth quarter the last time they played Raleigh. Does it even matter, though? This team is extraordinarily dangerous when it shows up for the playoffs.
Kurt Gibson just played his first game of the season on July 15. He threw eight assists. It's almost criminal to add one of the best in the world to a team right before the playoffs, but the Roughnecks are afforded that luxury. Another player to watch for in the playoffs in Ben Lohre.
Lohre didn't play in any of the Dallas losses this year. He's able to play an extremely valuable part in the offense without taking over the point, which is fine since the Roughnecks already have plenty of people that can do that.
With Gibson and Lohre on board, joining the likes of Dylan Freechild, Jimmy Mickle, Abe Coffin, Chris Mazur, and Brandon Malecek, the Dallas offense will be good. The offense wasn't what suffered the most in the three losses this season, though: it was the defense. Between various injuries and other commitments, the Roughnecks didn't have the depth during the regular season that they did in 2016. It looks like they'll be ready to go for the playoffs though, and it's tough to bet against this team.
San Francisco FlameThrowers (5-1)
Last year, the FlameThrowers entered the playoffs as the one seed out west, loaded with talent from Revolver. They were poised to make a run to the final four and give the Roughnecks a real challenge. Then the FlameThrowers lost to Seattle in a game that got away from them after just the first quarter. That said, there are plenty of reasons to believe that this year will go differently than last year for them.
The number one reason is that there are many new players on this team and they look like they could be even better. Cassidy Rasmussen has had a tremendous year for SF, ending the year with 54 assists and 32 goals. Antoine Davis has been a highlight reel machine and led the team with 41 goals. They picked up Ashlin Joye and Eli Kerns midseason. If Grant Lindsley and Mac Taylor show up for the playoffs, it's tough to imagine this team losing. Of course Joye, Kerns, and Lindsley combined to play just ten games this year. Week to week, there are no guarantees with this roster.
There isn't a team out west that has the kind of talent that the Cascades did last year when they took down San Francisco. But San Francisco went just 2-2 against San Jose, dropped a game at home to Seattle, and lost on the road in Toronto this season. There are chinks in the armor.
Toronto Rush (5-1)
The Toronto Rush didn't make many flashy offseason moves the way some other teams did. There was a lot of buzz about the New York Empire usurping them as kings of the East this year but New York didn't even make the playoffs. Another year has come and gone, and Toronto once again finished first in the East and should qualify for championship weekend for the fifth consecutive year.
Toronto has been as good as ever. Yes, the Rush have dropped two games to DC and one to Montreal. But don't forget: both DC losses came on the second day of a two-game road trip and Toronto loses a game to Montreal every year. The Rush core of Isaiah Masek-Kelly, Cam Harris, Jeff Lindquist, Adrian Yearwood, and Thomson McKnight remains productive. Younger players like Jaret Meron, Mario Zlatic, and Bretton Tan have become valuable rotation players. Andrew Carroll is back from Poland after winning bronze with Team Canada at The World Games.
The Rush won at home against the FlameThrowers earlier this year. At least on paper, that's a tougher test than DC or Montreal.
If the Rush do come out of the East, they're likely to have a friendly crowd at Championship Weekend in Montreal. There are plenty of reasons to believe that this could be Toronto's year.
Tier 2: Fringe Contenders
Jacksonville Cannons (8-1)
Here's some good and bad news for the Cannons: in AUDL playoff history, no team has lost every game to an opponent during the regular season and gone on to beat them in the playoffs. If that trend continues, Jacksonville will beat Dallas on Saturday night. But then they will lose to Raleigh a couple weeks later in the South Division final.
With Mischa Freystaetter and Jakeem Polk on the Jacksonville D-line, their defense has improved markedly from last year when it was tied with the now defunct Charlotte Express for fifth in the division. In their last game against Dallas, the Cannons were able to build a lead by relying on one of Freystaetter or Polk to hang deep and cut off the huck looks that the Roughnecks are so fond of.
Even as those two wow fans with their athleticism, the most important player on the Jacksonville D-line might be Chris LaRocque. He has 46 assists with a 97% completion rate. Those are great numbers even before you factor in that he spends most of his time on the D-line. LaRocque is the only player in the AUDL to spend a majority of his time on defense and throw 40+ assists.
In their last game against Dallas, Jacksonville's offense was practically perfect in the first half. Bobby Ley, Andrew Roney, and Tyler Kunsa worked extremely well together in the handling core. Jordan Huston scored a ridiculous number of goals. Jeremy Langdon had another great performance. It was the best the Cannons had looked all year, all without Cole Sullivan.
In the second half, the Cannons nearly gave away the game. Their halftime lead practically evaporated after a great third quarter from the Roughnecks. That usually spells victory for Dallas, but Jacksonville held strong for a great road win. The Cannons have proven they can in Dallas. If they make it to Championship Weekend, they'd be a serious contender, maybe even a favorite. But they've lost to Raleigh four times without getting a single win. No team faces a tougher road to the Championship than Jacksonville, which makes it tough to believe they can get there.
Madison Radicals (10-1)
The first half of the season, the Radicals just did not look good. They were winning games for the most part, but they were not playing anywhere near their best ultimate. They've started to turn it around, but it's hard to believe that if this team wasn't good enough to win it last year in Madison that they can make it happen this year in Montreal.
The Radicals lost at home to Dallas. Their margins of victory in the Midwest have not been as big this year.
Yes, their defense is still tough to deal with: Kevin Pettit-Scantling, Peter Graffy, and Andrew Meshnick have all been great this year. On offense, Pat Shriwise has been as valuable as ever, Ben Nelson has done a nice job stepping into a bigger role, and Ross Barker has been a valuable addition.
One thing going in favor of the Radicals might be the playoff seeds. If Madison advances with Raleigh, San Francisco, and Toronto, the Radicals would match up with Toronto in the semis. Toronto would be the favorite in that game but not by a lot. Plus, winning that game would only put them in the championship game, not deliver a title. It's possible that's the ceiling for Madison this year.
DC Breeze (12-1)
It's fair to wonder what would happen were the Breeze and Rush to play each other at a neutral field. The Breeze won both of their games at home against Toronto and lost when they played the Rush in Canada. None of the games were particularly close or compelling. The truth is we won't get a resolution to that question. The Breeze will play at home against Montreal on Friday, August 11. If they win that game they'll head on the road to play Toronto on Sunday, August 13th. The Breeze have never won a game in Toronto.
DC has been stronger than expected this year, in no small part thanks to players like Tyler Monroe and Max Cassell. Monroe has 39 assists and 26 goals on the year, scoring on 37% of the points he's played. That's better than just about everybody else in the league other than Seattle's Mark Burton. If Monroe had played in more than nine games, he might have generated some MVP buzz.
The Breeze are a deep team, and it's conceivable that they could get to Championship Weekend. It'd be wrong to count them out of the discussion of fringe contenders. The reality is that Montreal has never won in DC and the Breeze have never won in Toronto, so most likely we know how this will play out.
Tier 3: Would be Thrilled to Get to Championship Weekend
Montreal Royal (20-1)
Yes, Montreal is a big underdog to get past DC and Toronto, but they know it's possible: they've beaten both teams this year. If they did it again, they'd be playing at home for Championship Weekend. Royal fans would probably show up in even greater numbers for the final four should their team qualify than over 3,000 Radicals fans did last year in Madison.
The most buzzed about offseason additions for Montreal were probably Christian Foster and Ben Katz, but the best players for the Royal came over from France. Steve Bonneau, Quentin Bonnaud, and Nasser Mbae Vogel have all had fantastic seasons for Montreal. Royal veterans like Kevin Quinlan, Kevin Groulx, and Antoine Genest have all had strong seasons as well without having to carry as heavy a load as they have in the past. An offense that was once predictable is more dynamic. A defense that was usually outmatched athletically is much improved.
Much like Jacksonville, though, it is very difficult to see Montreal winning in both DC and Toronto in the same weekend. If the Royal manage to get those two wins, maybe the magic would follow them back home.
Minnesota Wind Chill (25-1)
The Wind Chill started the season 8-0. Even after their one point overtime loss at home to Madison, there was a lot of cause for optimism. Since the calendar turned to July, though, Minnesota just hasn't looked as good. A 21-13 loss in Madison. Losing on the road to Pittsburgh. A one point win in Indianapolis. The Wind Chill ended the season with a win at home against the Thunderbirds, but both teams played awful.
The AUDL season is long. The Wind Chill had essentially already wrapped up a playoff spot after their 8-0 start. Maybe they're able to take their game to the next level now that the playoffs are here. Minnesota has never won a game in Madison, but if the Wind Chill play their best and the Radicals don't, Minnesota could walk away with a victory. A trip to Montreal, regardless of the outcome once they get there, would mean a lot for this team in its efforts to join the AUDL elite.
San Jose Spiders (25-1)
The Spiders are another team limping into the playoffs. They're on a three game losing streak and have lost five of their last seven. They dropped to third in the west. The good news is their first round game against Los Angeles will still take place in the Bay Area due to the scheduling needs of each team. San Jose lost this past weekend in LA, but it was just by one point after having played the night before in San Diego.
If the Spiders do get past the Aviators, they'd face a familiar foe in San Francisco. They split the season series with the FlameThrowers. San Jose won the most recent game 29-26, even with Ashlin Joye suiting up for San Francisco.
Tyler Grant has done a great job coaching this team. If the Spiders get to play San Francisco, they will not be intimidated. Justin Norden and Chuck Cao have ably demonstrated how to carve up the San Francisco defense and the San Jose defense has been surprisingly resilient against the FlameThrowers. While the Spiders are slight favorites against Los Angeles, they remain big underdogs against San Francisco. As far as potentially getting wins in Montreal, let's not get ahead of ourselves.
Los Angeles Aviators (30-1)
The Aviators closed the last six games of the season going 5-1. After Mark Elbogen went down with a season ending injury, it was fair to question whether something like that was even possible. But the Aviators have delivered. Tim Beatty and Eli Friedman make one of the best O-line handling duos in the league. They're efficient throwers that aren't conservative with the disc, either. Tom Doi has been a valuable addition to the offense since Elbogen's injury.
The Aviators have the high flying offense. They've got the momentum. What's not to like? Well, we've seen this movie before. Last year Los Angeles entered the playoffs on a six game winning streak. They were playing at home in the playoffs against Seattle and were blown out 31-23. This year, they have to go on the road for the playoffs. They haven't defeated San Francisco yet this year. No team has ever swept a two game Bay Area road trip in AUDL history. So just getting to Championship Weekend is a lot to ask.
Pittsburgh Thunderbirds (40-1)
The Thunderbirds face the longest odds to win the championship of the remaining teams, but they could surprise us, at least a little bit. They're on the road to start the playoffs, facing off against a team they just lost to by six points. But that home playoff game for the Wind Chill takes place the Friday night of the US Open, where Sub Zero and Drag'n Thrust will both be competing. If Pittsburgh brings a full roster, the Thunderbirds might not even be underdogs.
The story for the Pittsburgh Thunderbirds often begins and ends with Tyler Degirolamo. In games that he has played at least three points, Pittsburgh is 14-1 across their franchise history, with an average goal differential of +8. Without him, they are 19-12 with an average goal differential of +2.2.
The Thunderbirds have looked their best this season with Degirolamo on the field when he has been a component of the offense rather than its single driving force. Despite a lackluster regular season, Pittsburgh has a good chance to get to the Midwest championship game for the third year in a row. They've never won a game in Madison, so going further than that seems very unlikely.