A look at what we'll be watching for in Blaine.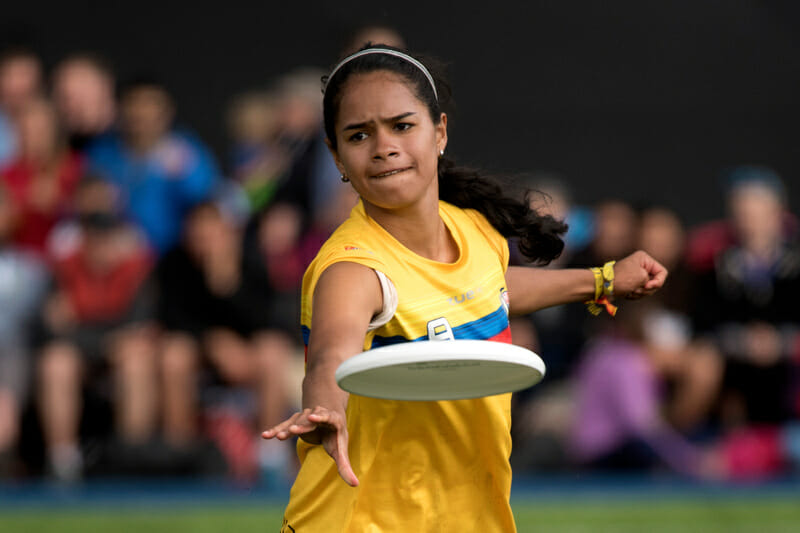 Ultiworld's reporting on the Women's division of the 2017 US Open is presented by VC Ultimate as part of their year-long support of our women's coverage. All opinions are those of the author. Please support the brands that make Ultiworld possible and shop at VC Ultimate!
The US Open has (mercifully) been moved off of its traditional home on July 4th weekend, and now exists smack in the middle of the Triple Crown Tour summer season, a premier event for the Club division's top teams.
With powerhouse programs back to full strength post-World Games and beginning to round into form for their late season push, we address five burning questions facing each division heading into this weekend's competition in Blaine.
1. How does the Colombian World Games success translate to the Club level?
Last month in Poland, the Colombian women emphatically announced themselves — if they hadn't already — as one of the most dominant forces in the ultimate world today. The quintet of Yina Cartagena, Laura Ospina, Elisabeth Mosquera, and twins Manuela and Valeria Cardenas made the best women on the planet look downright pedestrian in an eye-popping performance that carried their country to a silver medal finish that was as surprising as it was impressive. With all seven women from the Colombian World Games roster in the same squad at the US Open, surely Revolution is poised for a similarly dominant run in Blaine, right?
The problem, as always for international teams, is depth. Yes, Revolution may sport a starting line that can hang with or even surpass any of USAU's "Big 4" in the women's division, but when those players inevitably need a breather, can the rest of the Medellin ladies step up and truly compete against the second and third lines that Brute Squad and Riot can trot out? As by far the best team in Colombia, virtually from its inception, Revolution is used to dominating domestically in a way that doesn't require all-out effort from every member of their roster in any single game — nevermind for a full weekend. That will never be the case in a tournament as deep as the US Open.
In 2013, Revolution came to the US Open in Raleigh and finished sixth behind the four semifinalists from US Nationals and MUD from Japan. Athletically they didn't look out of place, but from a strategy and skill level, they couldn't consistently match the level presented by America's top teams. That certainly cannot be said of the top Colombian talent today. Couple their superstars with weekend pickups Akina Younge and Madeleine Frey and you have a team which perhaps stands the best chance of winning it all outside of the current echelon of talent that currently sits atop the rankings. But has the rest of Revolution's roster matured enough to close the gap?
That may be the singular factor that differentiates between a Revolution team that pushes for a berth in the semifinals in Blaine or one that flames out early, once again leaving the US Open bracket to the same squads who will populate the latter stages of Club Nationals in October.
2. Which offense is most likely to figure out how to beat Brute's D line?
At the Pro Elite Challenge we learned that #1 Boston Brute Squad's defense is still the impregnable force that led them to a national championship each of the past two seasons. That came as no real surprise, but it does mean that if another team is to knock them from their perch, it will require an exceptional offensive performance. So which team's O-line has the best chance at handling Brute's relentless pressure, flipping the table, and bringing the hurt to what has been the best single unit in the division?
In spite of their faulty end to Pro Elite Challenge, the answer is still likely #4 San Francisco Fury. Brute Squad's defense is so fast and quick that they're able to contest virtually every catch. Fury has an army of big game, big play cutters that should be able to handle that consistent duress better than any other team. Even without Claire Desmond, Cree Howard, and Lakshmi Narayan — who will all be absent this weekend — Fury's cutting staff consists of game breakers like Maggie Ruden, Kaela Jorgenson, and Marika Austin who should be able to weather Boston's defense.
Other top teams Seattle Riot and Denver Molly Brown may also have the cutting corps to cope with Boston's downfield defense (even if they aren't quite as deep as San Francisco), but where Fury really separates themselves from the pack is in the backfield.
Anna Nazarov and Carolyn Finney are two of best handlers in the world, as showcased by their inclusion in the World Games team that just won gold. But beyond them is Ness Fajardo, Alex Snyder, and Nancy Sun. It's that insane depth of elite handlers that gives Fury a chance at withstanding Boston's customary, unrelenting handler pressure that wears teams down over the course of a game.
Obviously, it is a difficult task for any offense to best Boston's defense. But on paper, San Francisco has the best chance at it. At the US Open Championships, we'll get a chance to see if it can play out that way on the field.
3. Can Traffic's youth movement hit the ground running?
The last major club team to tab their first result is #6 Vancouver Traffic. They'll have their work cut out for them to catch up to the rest of the division. In addition to getting a late start, the team has not gotten a lot of opportunities to gel due to commitments to country — a number of players competed representing Team Canada on both beach and grass fields earlier this summer. With 12 new players coming and 11 on the way out, on top of familiarizing the team with new coach Mike Caldwell, there's plenty of internal material to cover.
The transition will be difficult, but they have some ways ease the challenge. Of their dozen new additions, five of them are back after previous stints for the team, including veteran cutter Jen Kwok and dynamic thrower Laurel Jay. But they'll have to replace a lot of production: Traffic lost their top goal scorer (Collefas Mot), assists leader (Danielle Fortin), and blocks leader (Ashlee Davison) from last year's Club Championships. Even with Mot's twin sister taking her place, it'll take growth from players like Naomi Morcilla to fill their shoes.
What remains for Traffic is that they can play fast. Catherine Hui, Rena Kawabata, Laura Mason, Mot, Jessica Rockliff, and Bussin give them a lot of speed to throw around, a long-standing strength for the city. Rachel Moens has developed into an offensive engine to be feared, able to generate action around the disc or as a cutter when necessary. Coach Mike Caldwell has plenty of tools at his disposal, and coming from another ultimate culture, may have some significant influences on shifting the style of play with the new arrivals.
With all the reasons to expect a team in the throes of an adjustment period, Traffic has the potential to perform to their ranking. But tempered expectations are recommended, even when dealing with an energetic and explosive team like the one Vancouver presents.
4. What adjustments will teams make in their second showings?
Most of the USAU club division squads are coming back for their second event or third tournament of the TCT regular season. It'll be intriguing to see where teams are tuning, but also, how they settle into roles, as lines start becoming clearer. The top four teams have asserted themselves, but what do they have in store for this weekend?
Molly Brown had a strong Pro-Elite Challenge to launch their 2017 campaign, but they still look like they have a lot of room for growth. While their new players looked like quality contributors, the team did not look in sync yet, cutting each other off or bungling switches and poaches at their home opener. Coach Joe Durst will have figure out how he wants to leverage Liza Minor, who was a monstrous performer at PEC. But their offensive execution was far from elite and they struggled on the mark, giving up a dangerous volume of quality deep throws.
Beyond the big four, #5 Washington DC Scandal also has some holes they'll want to shore up. Defensively, they struggled at PEC to win backfield one-on-ones, both on the mark and against reset cutters. They have the athleticism to make plays on errant throws, but they need to be able to force teams to take chances. On the offensive side, they remain an aggressive deep throwing team, and have downfield speed to capitalize. If they can calibrate those shots more accurately, they might be able to get hot and drive an upset.
#9 Madison Heist had their best-ever season last year, but got off on the wrong foot in Colorado. Georgia Bosscher is back in tow, and combined with Robyn Wiseman and Sarah Anciaux, provides a formidable middle seed. It will be the rest of Heist's roster — Austin Prucha and Amelia Cuarenta cutting, Emily Langland handling — that will be the key factor. We haven't really seen what they are capable of yet.
5. Which of the Big 4 is most likely to miss the bracket?
This question seems impossible to ask since the top four teams in the women's division seem to be quite aggressively in a tier of their own. However, since the inception of the Triple Crown Tour there has always been at least one team outside of the top four that has made semis at the US Open. So assuming history repeats itself, who's the most likely candidate?
Despite their impressive win over Fury at the PEC, #3 Denver Molly Brown is unfortunately in the most precarious spot. It's never a good sign when your top players receive injuries early on in the season and both Becca Miller and Hannah Leathers had unfortunate impairments even before their season really began. While Leathers appears to be playing through hers, Miller was undoubtedly an important piece of Molly's D line in 2016 and was a key player in some of their toughest games. Losing her experience and function on their roster is tough.
With their injuries and loss of experienced talent this season, Molly is forced to rely on their young prospects. While this should come with a disclaimer (their 'youth' may be the most experienced for their age in the country) there is still normally a time given to incoming players to adjust to their new team, a luxury MB is not afforded which may lead to miscommunication and execution errors on the field.
All of this is mostly a footnote though, Molly has proven themselves capable at the PEC and have had dominant wins to start their season. The true reason that they are in the most precarious position is the bracket that they face. Brute Squad is the first obstacle in their path. Boston dispatched both Fury and Riot handily at the PEC and will be looking to complete the trifecta against their fellow title contenders. They're a scrappy defensive team that takes every chance that they are given and matching up against a team like Molly that has such a wealth of new talent plays to the advantage of BS who'll be eager to pounce on the errors that can occur with a Molly offense that is still perfecting their rhythm. This is also the first look that we'll get at Traffic; the women from Vancouver have the speed to match Molly's admittedly impressive cutters, it may come down to the defensive effort from both sides.
Finally, and perhaps most frighteningly, Revolution is on their side of the bracket. As mentioned above, the women from Medellin were mostly responsible for handing team USA their only loss at the World Games, and Team USA had all the ladies chosen to represent the best of our nation. No one on Molly Brown faced this threat in Poland so it may very well be harder to adjust.
All this stacks up against Molly Brown. While all four top squads could be considered favorites heading into the US Open, Denver is perhaps most vulnerable.