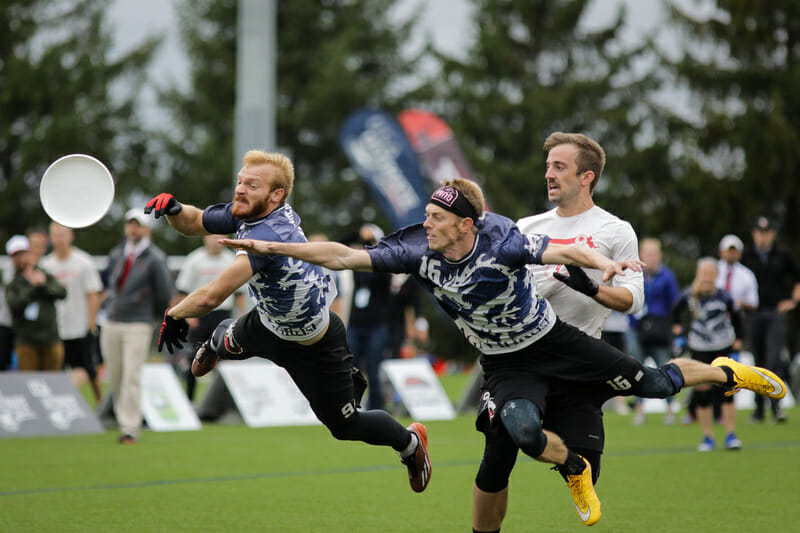 Ultiworld's reporting on the Men's Division of the 2017 US Open is presented by Universe Point cleats. All opinions are those of the author. Please support the brands that make Ultiworld possible and shop at Universe Point!
BLAINE, Minn. — Careless errors from Boston Slow White and nearly flawless offense from Minneapolis Drag'n Thrust earned the hometown team a 15-12 victory and spot in the 2017 US Open final, where they will face off against Seattle Mixtape later this evening. Drag'n Thrust, who struggled earlier in the tournament against Philadelphia AMP, cleaned up their offense and offered just four break chances to Slow White.
It was an inauspicious start for Minneapolis, though. Drag'n dropped the opening pull and yielded the easy break. The next point looked similar – a wayward turnover from the Drag'n offense conceded a short field goal and Slow White looked poised for an effortless game ahead.
Drag'n Thrust captain Sarah Meckstroth and her team had other plans. "This whole tournament we had been focusing on defense," she said. "The defensive pressure – when someone is running down on the pull, really focused on the mark or getting really into it – that's what brings everyone else up. When we go down like we did, we look to people on our team to fire it up on defense and get the rest of the team back in it."
That's exactly what happened: Slow White struggled against the strength of the Minneapolis defense and again showed that their offensive systems need work: Boston gave their opponents fourteen break chances. Vicki Chang, Slow White's spirit captain for this tournament, agreed that their offense is in its infant stages.
"We lost many of our key cutters from last season, so we are still learning to play with each other," she said.
Despite her three turnovers, Chang, who anchored the backfield for Slow White, was consistently open for a handler reset, moved the disc laterally, and tallied two assists and a goal. Other key players for Slow White include Tannor Johnson, responsible for a pair of goals, assists, and blocks, and their entire contingent of women who accounted for six of their twelve goals.
Drag'n Thrust displayed a vast array of offensive looks when presented the opportunity; the Minnesotans often used side stack after a turnover and a variation of handlers to move the disc downfield. Be that as it may, Jeff Trosvig was absolutely brilliant in the backfield resulting in six assists – seven of them to his favorite targets, Mike Clark and Meckstroth.
Drag'n, in the first half, excelled in the deep space. Out of fear, Slow White began backing their players, allowing for open unders. "We recognized their adjustment in the second half and still relied on our deep game a little too much," said Meckstroth. "We gained composure and began hitting our unders and working it down the field that way."
Drag'n Thrust is on an upward trajectory after a slow start at the Pro-Elite Challenge in early July, and fans are hopeful they will peak in October at the 2017 USAU National Championships in Sarasota, Florida, where they will seek their fourth National Championship in five years.