Mixtape's defense shut down AMP's offense completely in the first half.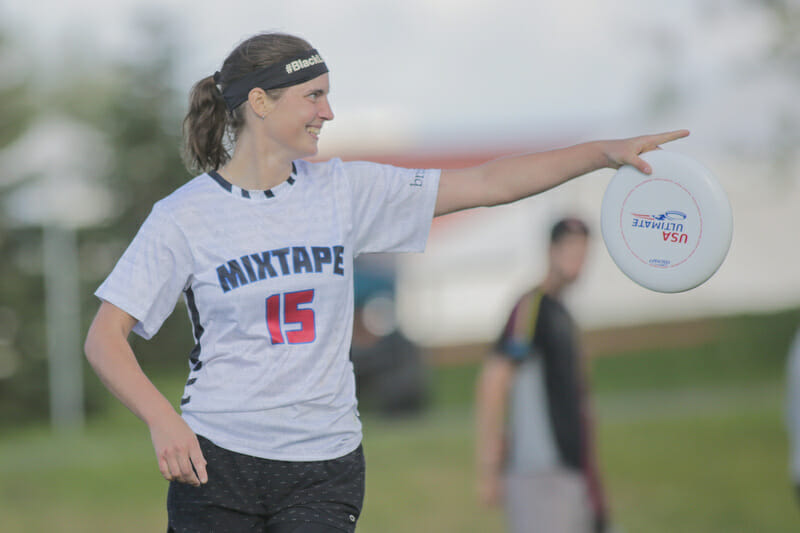 Ultiworld's reporting on the Men's Division of the 2017 US Open is presented by Universe Point cleats. All opinions are those of the author. Please support the brands that make Ultiworld possible and shop at Universe Point!
BLAINE, Minn. — Seattle Mixtape dominated Philadelphia AMP in their semifinal matchup, cruising to a 15-9 victory on the strength of their strong defense and potent deep game. The clash brought together two teams with similar profiles—athletic defense and a tendency to run primarily through their women—but a contrast of offensive styles. Mixtape is widely known as a team that aggressively attacks the deep space, both on their own possessions and on turnovers. In contrast, AMP tends to play the short game, grinding out underneath cuts with high-percentage looks. Khalif El-Salaam, one of Mixtape's captains, noted before the game that a key strategic point would be to try to tempt AMP into lower-percentage looks in the deep space—situations where Seattle felt they would match up favorably.
In the context of the tournament thus far, AMP looked to be the favorite, going 5-0 in their conquest of Pool B and looking sharp in the process. The same could not be said of the Seattle squad, who placed second in their pool at 4-1 but got manhandled 15-8 by Slow White and narrowly escaped a second loss from Mischief, winning 16-14.
Seattle came out of the gate on fire, opening up a quick 5-1 lead on AMP. Mixtape applied pressure all over the field, but it was AMP's decision making and execution errors that were the prime culprits. The disciplined offense that had defined Philadelphia's earlier performances was noticeably absent this game. Speculative deep shots into coverage led to quick turnovers, and eschewing high-percentage throws in the red zone in favor of difficult cross-field ones caused AMP to bleed turnovers. On the turn, Seattle's defensive line showed off clean offense, not frequently giving the disc back to AMP.
Mixtape took half up 8-3, holding their O-points with their typically aggressive style. Evan Klein had a big half for Mixtape, coming down with some highlight reel skies and producing a handful of good deep shots.
AMP pulled to begin the second half with a chance to turn the momentum of the game, but Seattle confidently held on a textbook O-point, isolating cutters on the open side to quickly advance 60 yards and finishing with a beautiful dump-swing sequence to hold. The next point, Mixtape broke again to run their lead to 10-3, effectively shutting the door. The teams mostly traded out to finish the game, with AMP showing a spark of life when they earned a single break but nothing that ever put the eventual outcome in doubt. Seattle held their first game-point offensive possession to win 15-9.
The second half saw a bit of a return to form for AMP, who cleaned up their decision making but still yielded turnovers as a result of outstanding pressure from Mixtape, who forced the Philly throwers into numerous high-stall situations (and subsequent forced-look turnovers). AMP also turned up the heat a bit on defense, with Mike Ing, in particular, showing well. On the Mixtape side, Lani Nguyen provided consistent cutting, especially near the endzone.
Seattle put away AMP early and never took their foot off the gas, taking control of the game and never giving it up. The eventual result felt inevitable by halftime. The big win represented a nice momentum shift for Mixtape, who will enter their finals matchup with longtime rival Drag'n Thrust on a high note and with their inconsistent pool play results far in the rearview.