High-flying offense leads Molly to a rematch against Revolution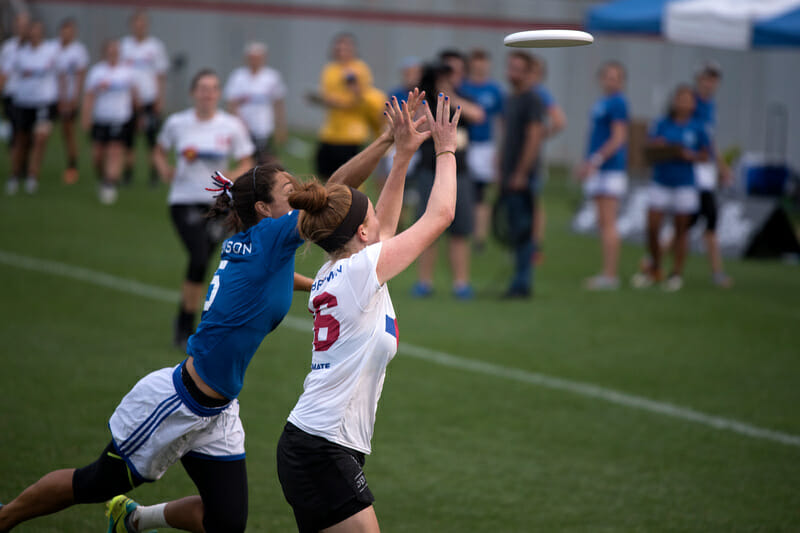 Ultiworld's reporting on the Women's division of the 2017 US Open is presented by VC Ultimate as part of their year-long support of our women's coverage. All opinions are those of the author. Please support the brands that make Ultiworld possible and shop at VC Ultimate!
Molly Brown is tired of merely reaching the semifinals. Displaying toughness and poise, Denver Molly Brown defeated San Francisco Fury 15-12 to secure a spot in the US Open final against Medellín Revolution on Sunday.
"We're used to being the 4th team [in the country]," said Molly Brown veteran Claire Chastain. "We're changing that mindset."
Molly Brown's second straight US Open semifinals appearance against Fury was a high energy thriller from the very first point. Molly Brown began the game with a hold that would sum up their aggressive style of play. After dropping a huck, Lisa Pitcaithley got Molly Brown on the board with a handblock and goal for the bookends hold. Fury responded in kind, notching a pair of holds including a great sky by Katie Ryan, her first of four goals for the night.
The first break of the game would come on a drop by Fury at midfield. Jesse Shofner wasted no time putting up a huck to Sam Peletier in the end zone, who posterized her defender for the 4-2 goal.
Fury responded immediately with a hold and two breaks of their own. For a moment, Molly Brown looked shaky. A huck into a pile of receivers by Kirstin Johnson gave Fury the chance to put a third break on the board, but an overthrown huck by Marisa Mead kept Denver's O-point alive as Johnson took control of the ensuing possession to secure the 5-5 hold.
As both teams closed in on halftime, Fury made the first defensive adjustment, throwing a backhand forcing 2-3-2 junk and nearly earning a block on two defensive layouts. Molly Brown was unfazed and flawlessly worked it into the end zone for Liza Minor. Fury would get another chance to break, this time for half, when Meeri Chang poached off into the lane to take away a backhand from Claire Chastain.
Despite the short field, Fury couldn't punch in the break and Molly Brown secured the hold, methodically marching the disc into the endzone for Lisi Lohre. On Fury's O point, a contested backhand shot to Katie Ryan sailed past her reach. On the ensuing Molly Brown possession, the talent of the handler trifecta of Shofner, Johnson, and Chastain was on full display as Chastain beat her mark to the backhand cone and hopped in for the break and the 8-7 score.
The second half quickly turned into a high energy game of beautiful offense by both squads. Molly Brown stayed on serve until a break opportunity came off of a turfed throw by Anna Nazarov. After a flick blade out of a timeout from Shofner was called back, she threw it again out of a timeout, finding Sam Peletier, who toed the line to secure the 12-10 break.
"We may have a word about that one," chuckled Chastain after the game.
Shofner, who finished the game with three assists, has been slowly growing into Molly Brown's vertical offense.
"I've been challenged this season because we ran exclusively ho stack for Fugue," said Shofner after the game. "It's been frustrating at times to have to work my way into a new system, but I knew this growth would be inevitable."
Molly Brown notched two more breaks before punching in one last hold for the 15-12 win. For the Denver squad, a semis win over Fury is a big milestone on the road to Nationals and certainly validates the gritty, high energy style of play. Molly Brown also took the time to effectively scout Fury's offense.
"Beating Fury doesn't get old," said Shofner. "A team with that much history…it's special every time we play them."
Fury certainly had plenty of chances to earn breaks against Molly Brown. Their D-line offense will have to improve if they hope to reassert dominance in the Women's Division. They went two for nine on break chances during the first half and their execution off of a turn was shaky.
Molly Brown, on the other hand, may have a very effective winning formula coming together. Their grit, high energy, and loose attitude under pressure reflect a concerted effort by the team to cultivate genuine bonds of friendship off the field.
"We go camping," said head coach Joe Durst. "Our players have taken the time to get to know each other off the field."
Perhaps that extra bonding and improved focus on mental toughness could be the ticket to another finals appearance in October.