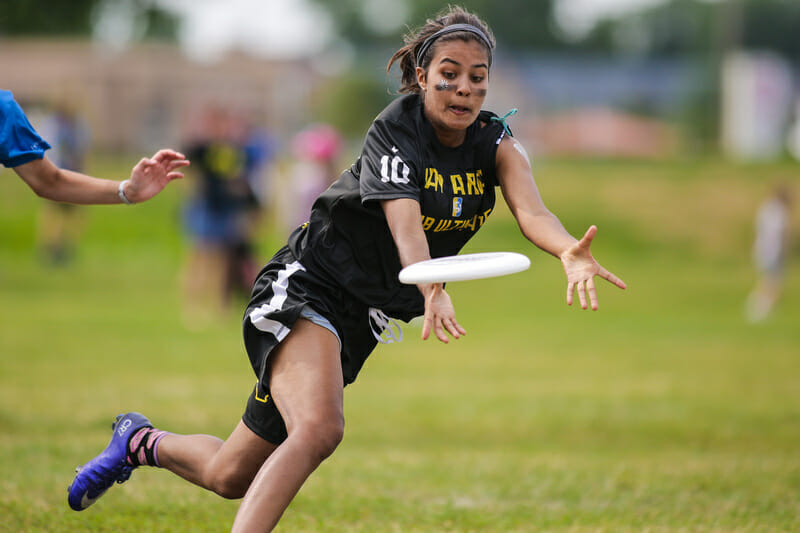 The article is presented by CUT Camps; all opinions are those of the author. Please support the brands that make Ultiworld possible and participate in CUT Camp!
The Youth Club Championships got started Saturday morning under sunny skies just north of the Twin Cities in Blaine, Minnesota. With a new format pitting top teams against one another in power pools starting on day one, there was plenty of great ultimate to watch around the field complex as adult club ultimate teams finished up pool play and competed in the semifinals.
Here's a look at what happened on day one at YCC in the Under-20 Division.
Boys
#1 overall seed Triangle Triforce began their YCC title defense with a strong win over Boston BUDA, 15-12. UNC commit Liam Searles-Bohs was immense, scoring three goals and throwing five assists in a turnover-free performance. Peter Barry was also excellent and leads the tournament in goals (9) after day one.
Triforce went on to win comfortably over Atlanta ATLiens as well, 15-10.
In the other top power pool, New Jersey DEVYL and Seattle Splash both went 2-0, though Seattle looked much sharper in their two wins and should be the favorite against DEVYL in their Sunday matchup. Seattle won 15-7 and 15-8 over Chicago and Cincinnati, respectively, while DEVYL took 15-11 and 15-14 wins over the same teams.
Seattle's John Randolph was, as expected, a standout (3G, 4A); Noah Coolman was just as impressive (5G, 4A).
Texas Two Step nabbed a couple of close wins to move to 2-0 in Pool C and DC's Foggy Bottom Boys also won both of their matchups as they spread the wealth around across their entire roster.
Both of the teams that were talked about as being seeded too low (and therefore unable to compete in the Championship bracket under this year's new format) won out on Saturday. Philadelphia Forge, led by Alex Atkins and Thomas Nye, easily handled Naperville Nightmare — Illinois' second team — and Pittsburgh Impulse. The Austin Amigos beat Amherst's Valley Ultimate 15-10 and Charlotte Flight 15-9.
Pool play finishes up Sunday morning before prequarters and quarterfinals in the afternoon.
Girls
In the first round of girls U20 play of the day, top-seeded Seattle Narwhal earned a 15-6 victory over New Jersey DEVYL in a game that felt closer than the final score. Both teams were making plays, but Narwhal was frequently able to force DEVYL into their second and third looks. Seattle rattled off a few breaks as Nori Catalano got blocks in a zone before DEVYL started beating it with throws over the top. Eventually, Seattle's experience and team-wide skill showed through, and they were able to put their East Coast foes away with Bailey Shigley getting big in the endzone for the final score. Ally Constantino, Anna Goddu, and Nariah Simms were all standouts for the undefeated tournament favorites.
In the next round, DEVYL squared off against another ultimate hotbed in Boston BUDA — who had just come off a big 15-6 first round win of their own against Minnesota Superior — and were able to jump out to an early 2-1 lead through the handling skills of Jesse Song. Despite a sloppy start to the game, BUDA recovered and played their customary stifling defense en route to a 15-5 victory, capitalizing on the speed of Kate Nelson and the aerial prowess of 5'11" Elise Counsell.
Cincinnati Belle looked comfortable in running past Pittsburgh Moxie in both teams' second game of the day. With a size and speed advantage across the board, Belle went up 4-0 then continued to build their lead. Pittsburgh's Sophie Kosowsky did well to run the offense for Moxie, but it wouldn't be enough to prevent Belle from claiming the game 15-7. Cincinnati finish their first day 2-0 while Pittsburgh fell to 0-2.
On the next field over, the North Carolina Warhawks dominated Texas Tango to the tune of 14-5. The big pulls and hucks of Kate Lanier were a huge advantage for Warhawks, who led 8-2 at half and never looked back. Sitting at 2-0, North Carolina have already earned their bye into the quarterfinals heading into a top-of-pool showdown with Cincinnati Sunday morning.
In a battle between two of the shortest-rostered squads in Blaine, Denver Cutthroat also got out to an 8-2 lead over St.Louis/Chicago Hustle, playing tight defense. On offense, Cutthroat utilized disciplined spacing and the sweet throws of Allison Liu around the endzone — she tossed a beautiful hammer over her mark to help Denver to an 11-2 lead. Denver would complete a dominant second half, finishing off Hustle 15-2.
Meanwhile, Naperville Daydream and Philadelphia Forge were locked in the tightest Saturday game anywhere in Pool C. Daydream built a 10-6 lead mixing in different person and zone defenses. The girls from Illinois also did a fantastic job creating big spaces for isolation cuts out of both horizontal and side stack offensive sets. Naperville's Allie Alford went nearly every-other throw up the field for Daydream before shooting an assist to extend the team's lead to 12-8. Forge wouldn't score again and fell 15-8.
With club-level idols Jenny Fey and Leila Tunnell feeding instructions and energy to their respective squads from the sidelines, Washington DC Rogue appeared to be in cruise control in their late afternoon matchup against Amherst Valley Ultimate. Rogue benefited from the smooth break throws of Rachel Hess and the blazing speed of Ella Juengst en route to an easy 15-5 victory. The win leaves them at 2-0 and in strong position to emerge from Pool D after a close 14-12 win over Utah Swarm earlier in the day.
In the game of the round — and possibly all day — Swarm and Atlanta cATLanta looked like two of the strongest teams at the tournament, despite their position in the lower pools. Crisp throws and fast cutters zipped around the field in perfect rhythm and timing, a sight far more associated with the club-level play in the stadium nearby than a YCC matchup.
With the wind picking up late in the day and Utah up a few, both teams switched to zone. cATLanta sliced through Swarm's via the cup-shattering fakes and crashes of Isabel Arevalo; Utah didn't find quite the same initial success against the zone, as Atlanta earned a few key blocks, eventually converting via a massive layout grab in the endzone from Katie Powell to pull within one at 12-11. As the cap came on, Utah recovered to punch in two straight to take a commanding 14-11 lead, just one point short of victory. The end of the game ground to a halt when a contested throw into the endzone ended with a Swarm player collapsing with a gruesome wrist injury. After a lengthy break which silenced a huge sideline of Utah parents and fans and brought ambulances to the scene, the game was moved to a now empty adjacent field to finish up. A still-stunned Swarm gave away two points to Atlanta before finally closing it out for a 15-13 win.
Between the exceptional play of these two squads and the talent-laded group from Rogue, at least one very talented Pool D team will be on the outside looking in at the championship bracket today.
Mixed
The YCC Mixed division is often the least predictable, with most teams undergoing significant roster turnover from year to year. On Saturday afternoon, as the day began some of the top seeds struggled while others cruised. In Pool B, things went to expectations. The Bay Area Happy Cows cruised past Cincinnati Notorious P.I.G. 15-2 and stayed undefeated with another win over Minnesota Superior 15-9. Their offense featured nice give and goes as Minnesota struggled to contain the Happy Cow handlers.
Seattle Bankroll went 2-0 on day one as well, winning 14-6 and 15-3 over Minnesota and Cincinnati, respectively. Seattle played both junk and matchup defenses, generating many turnovers. In the first game against Minnesota, Seattle would often give the disc to Minnesota before quickly getting it back and converting the score. They cleaned it up in round two, as the team had just a few turnovers against Cincinnati. Abby Hecko was a strong handler presence for Bankroll and Ronnie Estoque came through with a few clutch point blocks.
Minnesota Superior opened the tournament with two losses, but there was noticeable improvement from game one to two. Leo Sovell-Fernandez and Katherine Wilmes were both important parts of the offense and Leona DeRango reeled in a few important goals. Superior threw a lot of zone in conditions that weren't particularly windy but was still able to generate turns when the opponents over the top throws weren't on point.
In Pool A, there were more upsets. D.C. Swing Vote is the defending champions in the division but opened with a loss against Maine Rising Tide after losing a huge component of their team from last year. Maine opened a significant lead: after D.C. switched to zone, the game got closer but Swing Vote was never able to get back in it. Calvin Stoughton caught a slew of goals as Maine looked to him whenever the stall count got high and handlers weren't open. Rising Tide primarily ran their girls as the primary handlers and on a day when many teams looked like they were still learning how to play mixed or with one another, Maine looked comfortable.
With three players stuck in D.C. to flight complications, Rising Tide started the day with only eleven players before an injury brought them down to ten. With only four boys active, they played remarkably well, winning the first game 15-11. Fatigue and a more difficult opponent in Philadelphia Forge made for a more difficult second round. After gaining an early lead Rising Tide lost 13-7.
Philadelphia Forge looked like a potential championship contender, winning both of their games 13-7. In their opener against Indiana Incognito, there were a few long points which Philadelphia took to give them some momentum and keep control of the game. Eddie Scott and Margo Urheim were big for Forge and Philadelphia looked like a team that outmatched the rest of the pool athletically. Claire Fukuchi, just a rising sophomore, had a few assists and was cutting all over the field for a Forge team that when it was clicking looked polished.
Outside the power pools, both Madison and San Diego went 2-0. Either team could crash the party and score a couple upsets against some of the power pool teams. Philadelphia, San Francisco, and Seattle look like the most serious championship contenders. Every team from the power pools moves on to the championship bracket though so there is still time for one of the teams that walked away with a loss to turn it around and make a run.