10 teams from the top 25 and five from the top 10.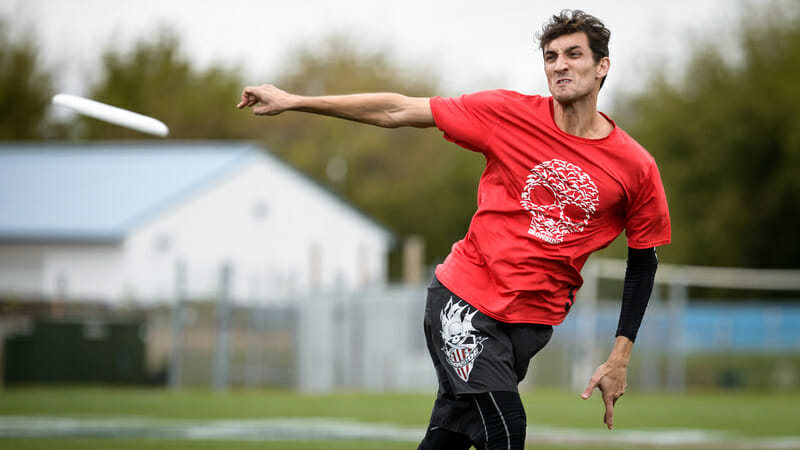 Originally envisioned as a small, sanctioned round robin, the New York Invite expanded in scope to become a highly competitive two-day, ten-team tournament featuring most of the top teams in the Eastern half of the United States.
Four Pro Flight teams — Washington DC Truck Stop, Raleigh Ring of Fire, Boston Ironside, and Philadelphia Patrol — opted not to travel west to the Pro Championships and will instead compete this weekend against three Elite and three Select Flight teams just north of New York City.
With bids to Nationals on the line and the regular season coming to a close, it's time for closing statements before the postseason.
Tournament Profile
Date: September 2-3
Location: Yorktown Heights, NY
Weather: Partly cloudy, highs near 70, showers possible Saturday PM & Sunday AM
Top 25 Teams: 10
Score Reporter
#BidWatch
Team rankings in this section are USA Ultimate's.
Let's get right into it. Here's the situation regarding bids to Nationals. The top four seeds — Truck Stop, Ring of Fire, Dig, and Ironside — are all safe. They've done enough. Even though Ring has only played five games that count towards the rankings, it would be almost impossible for them to drop all the way out: they would need multiple max point losses. It's not happening.
#11 PoNY and #12 Patrol are in roughly the same boat: they need to average around 1700 to stay in the top 16. That pretty much means that can't afford to have bad losses, but there's some wiggle room.
The first team on the outside looking in is #17 Pittsburgh Temper. They will need to average around 1900 to put themselves in a good position. That means losing very close to teams like Truck Stop and Ironside and beating PoNY and Madison Club. A big win over PoNY would be huge. So would getting poor weekends from Toronto GOAT or the Santa Barbara Condors (at Pro Champs), which would sink them since they've both played so few games so far this season.
Right now, GOAT is in at #15 but they can't afford to lose to Med Men or to get crushed in their other games.
The bottom seeds — #18 Baltimore Medicine Men and #21 Madison Club — face a very challenging, though not impossible, path to the top 16. If #16 Chicago Machine stays where they are (1870), both teams would need to average about 2150 this weekend. For Med Men, that means getting wins over Dig and Ring of Fire, a 2+ goal win over Patrol, and a 3+ goal win over GOAT. For Mad Club, it means beating Truck and Ironside, a 2+ goal win over PoNY, and a 3+ goal win over Temper. They would need to go bananas.
Team rankings from here forward are from Ultiworld's Power Rankings.  
Pool A (#3 Truck Stop, #7 Ironside, #15 PoNY, #12 Temper, #24 Madison Club)
Truck Stop comes in to the New York Invite as the odds-on favorite. They are 2-0 this season against Ironside and have only taken losses to Sockeye, Revolver, and Bravo (whom they have also beaten). Quietly, Truck has had a great regular season.
With nothing on the line in the bid department, perhaps this weekend is about Truck proving to themselves that they can win against a tough field. Sure, they won't see the #1 and #2 teams in the country this weekend, but Ironside, Ring, and Dig are sure to offer plenty of challenge. Even pool play is fraught with peril. A commanding undefeated performance this weekend could help the team establish some belief in their ability to win in big spots. They got blown out by Revolver in the Pro-Elite Challenge final. Sockeye smashed them in the second half of their semifinal match to knock them out of the US Open.
Boston Ironside, on the contrary, has little to prove. The defending national champions are going to be more interested in figuring out who they are as a team. They played very shorthanded at Pro-Elite back in July. They had a very underwhelming performance at the US Open as they started to integrate some of their missing pieces, like Kurt Gibson and Peter Prial. With more practice under their belts, this feels like the first time we will really see the true Ironside. (Note that Brodie Smith is not on the active roster this weekend).
New York PoNY, the pool three seed, is also working on how the pieces fit together. With an overhauled roster that generated plenty of preseason hype, PoNY hasn't lived up their promise. A brutal blown lead against Medicine Men. A 13-9 loss to Dig in which their D-line generated just two turnovers.
But the bitter taste of the season thus far can be washed away with a strong weekend close to home. The team will have a chance to stretch themselves against two of the country's best and fend off challenges to their Northeast bid from below. The O-line is good enough to hang with the best, but can their defense — led by players like Milo Snyder, Sam Little, and the returning Jack Marsh — start to find a rhythm?
Pittsburgh Temper has a chance to play spoiler and pick up a crucial third bid for the Mid-Atlantic. Their start to the season at the Select Flight Invite didn't look too impressive but was boosted quite a bit by the strong play of Medicine Men (whom they beat 13-11 in consolation). Their offense was tremendous at SFI, one of the best lines at the tournament. But, missing some key D-line players, they could not get breaks: as a result, essentially every game they played was close. With some of those guys — Mark Fedorenko chief among them — rejoining the team this weekend, we could see a Temper team that really outperforms expectations.
Madison Club, with much of the roster fresh off the AUDL season where they lost to San Francisco in the semifinals of Championship Weekend, should have a renewed sense of purpose. The team was unfocused and, frankly, terrible at the Elite-Select Challenge, going 0-3 in pool play capped by a brutal 12-8 loss to Denver Inception. Three wins on Sunday couldn't salvage the weekend.
But certainly there was an excuse, an easy way out. The AUDL was their focus! The Radicals postseason was more important than a dog-days club tournament! That won't hold up anymore. Mad Club is pretty unlikely to earn a strength bid, but they have to start to find some consistency on the smaller club field: Sub Zero has played well above expectations and will gladly take the North Central's berth to Nationals. Madison won't be able to double team their way there.
Pool B (#4 Ring of Fire, #8 Dig, #10 Patrol, #13 GOAT, #14 Medicine Men)
'Reply Hazy, Try Again.' That's what seems to keep rising to the surface when I shake the Magic Eight Ball with questions about Ring of Fire.
And, really, it's not their fault. They opened up the season at the US Open, where they played against Revolver and Sub Zero while missing essentially their entire offensive line due to weather-related flight delays and cancellations. They lost both games. Then the reinforcements showed up and Ring won five straight, even though they largely played without O-line handler Jon Nethercutt, who was coaching the Triangle area YCC U20 Boys team.
Of course, five straight wins looks good, especially when one of them comes against #1 Sockeye. They missed the bracket, however, and the only other US-based team they faced off against was High Five (two one-point wins).
Now we get a chance to see them at full strength for a full weekend. All of the signs (personnel, pedigree, mentality) point to Ring as a semifinals-quality team again in 2017, but it's time we see them prove it on the field.
Boston Dig has already passed their first test. They showed up to the Elite-Select Challenge with nothing but a tryout tournament win in hand. They left with five strong wins and a finals loss to High Five. With more firepower joining the team this weekend, could they climb even higher?
The headline pickup is, without a doubt, Jeff Babbitt. After leading the team to Nationals last year, he didn't start the season on the roster and opted instead to coach New York Bent this club season. But with Bent not competing this weekend, Babbitt decided to lace 'em up and rejoin the team (on Saturday, that is. He's got Bent practice on Sunday). Initial reports are that Babbitt will compete with Dig in the postseason as well, if it doesn't conflict with his coaching.
But it's not just Babbitt: Spencer Diamond, Misha Sidorsky, Rusty Ingold-Smith, and a handful of others will also join the team after missing ESC. They should add some real punch to the O-line, which struggled against High Five as they fatigued late in the weekend in Appleton.
And what to make of Philadelphia Patrol? After a weak start to the season at Pro-Elite, they were erratic at the US Open, getting a huge win over Johnny Bravo, topping Sub Zero, and losing to Ironside, Truck Stop, and London Clapham. Will they prove to be the #2 team in the Mid-Atlantic behind Truck Stop, or could Medicine Men (or Temper) shake up the hierarchy?
Billy Sickles has been playing great ultimate, and Patrol veterans like Dave Baer and Jake Rainwater continue to produce. And Trey Katzenbach is 47 years old and still killing it.
Expect typical Philly ultimate: grind-it-out offense and hard-nosed, physical defense. There's not a lot of panache but more of a brutal effectiveness in their game. They'll take brutally effective every time if it means another top eight finish at Nationals.
Toronto GOAT is just looking to return to Nationals this year after a terribly disappointing finish to their 2016 campaign when they lost to Dig in the game-to-go. Expect some fireworks in their pool play meeting, the first since last year's loss.
GOAT lost in the final at the Select Flight Invite to the Condors, but the core of the roster certainly looked a lot sharper at the AUDL Championship Weekend playing for the Toronto Rush, knocking off the stacked Dallas Roughnecks in semis and losing by one to San Francisco in the final. Andrew Carroll and the rising star Ben Burelle were tremendous all weekend long, although Burelle hurt his hamstring against SF and could be sidelined this weekend.
But the Rush also aren't GOAT. The Rush D-line was powered by Mark Lloyd (no longer playing for GOAT) and Isaiah Masek-Kelly (not on the roster this weekend). Two different teams, two different looks. GOAT also can't coast this weekend since a poor performance could sink one of the four Northeast bids.
Fatigue could be an issue. Many of the GOAT players will be playing in their fourth straight week of meaningful ultimate: AUDL East Division Final, Canadian Championships, AUDL Championship Weekend, and now the NY Invite. We'll see how they hold up.
The Baltimore Medicine Men have already had their best season as a club. The addition of a coach, Alex Crew, has injected consistency into a team that's long been capable of making a push to the next level. Med Men will surely be rooting hard for Temper to deliver a third bid for the Mid-Atlantic and must feel snake-bit that they haven't earned one of their own.
With just two bids, even their great performance this season might not be enough. Truck and Patrol are a cut above. All they can do this weekend is continue to build on their success so far. They'll get a second look at Dig, who crushed them in the semifinals at ESC, and have a chance to nab a psychological edge over Patrol before Regionals.
Notes
There will be no observers this weekend.
Games on to 13 on Saturday, 15 on Sunday.
Most of the weekend's rain is forecasted to fall overnight and shouldn't affect most games.