Scandal builds their case.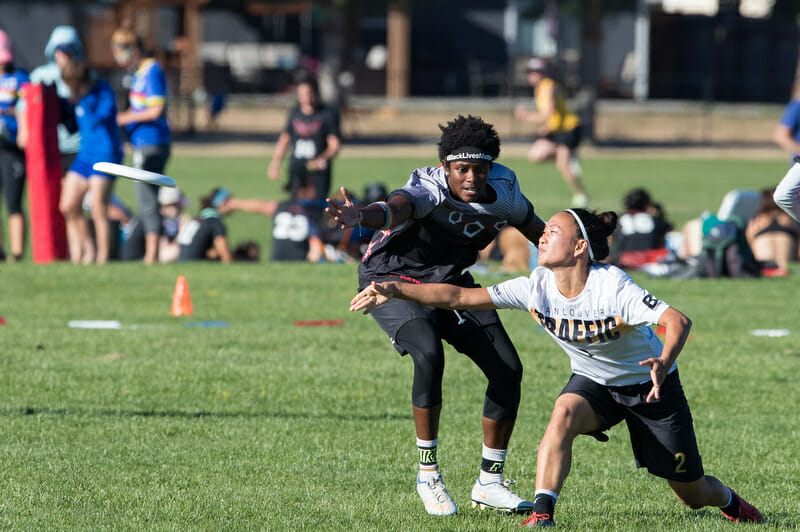 Ultiworld's reporting on the Women's division of the 2017 Pro Championships is presented by VC Ultimate as part of their year-long support of our women's coverage. All opinions are those of the authors. Please support the brands that make Ultiworld possible and shop at VC Ultimate!
BURLINGTON, Wash. — Four out of five rounds of pool play are completed in the Women's Division at the 2017 Pro Championships. After the final round on Sunday morning, the top three teams in each pool will advance to the bracket. Here's a look at where things stand: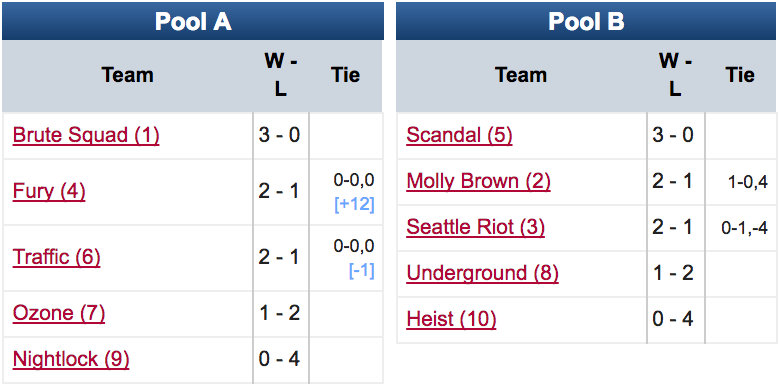 Here are some quick hits about the action on Saturday:
Scandal Makes Their Case
In the preview for the Pro Championships, there I referred a lot to a "big 4" in the Women's Division…and Scandal wasn't in it. It looks like that the storyline of a quartet of top-tier women's teams was a reduction: Scandal certainly looks like they belong.
During their 3-0 Saturday, that was never more clear than when they were taking down the trendy title favorite Denver Molly Brown 15-12. Jenny Fey, as is often the case, led the way for DC, notching six assists in the contest. While from the outside it appeared to be an upset, coach Alex Ghesquiere didn't express much surprise at his team's strong performance (though he lamented how they let a 14-9 lead over Heist in the previous round slip to a 15-13 win).
He pointed out that this tournament was the first time Fey and Sandy Jorgensen had been back on the field together since a 17-15 loss to Fury at the US Open. Scandal looked rode a polished and disciplined offense and a combination of solid person and junk defenses to a perfect Saturday.
Sunday and beyond will show how high the ceiling is for the previously underrated DC squad; after a tough US Open, Scandal looks to be rounding into form at just the right time.
Brute Bounces Back
After a few shaky performances at the US Open, Boston Brute Squad turned in a solid Saturday at the Pro Flight Championships, going 3-0 and locking up a Pool A win. Despite missing Emily Baecher and Jojo Emerson, Boston looked strong on both sides of the disc all of Saturday. Though they started slow and played Nightlock to a tighter-than-expected 15-13, Boston looked smooth and patient on offense and, typically, fast on defense.
Kami Groom was a star for BS, compiling an impressive 3G/7A/2D stat line against just one turnover. Though there was little wind to speak of today, Brute flashed throwing depth even in the absence of two handlers, getting 6+ assists from Groom, Amber Sinicrope, Becky Malinowski, and Claudia Tajima. They also got a big mental win, pulling off a tight 15-13 victory over a quality, fully-staffed Fury squad.
Molly Brown Still Strong Despite Loss
Denver was the trendy new title pick before the tournament (partially as a result of the news that they would be adding Manuela Cardenas to their Series roster) and started the tournament playing the part.
In their first two games against Madison Heist and Seattle Riot, Molly's stars were on fire. Claire Chastain, in particular, was transcendent; from layout blocks on defense, to slicing blades on offense, or to big catches to save possession, she was everywhere. Denver also worked the depth of their roster, playing smart, poachy team defense to fluster opposing throwers.
Molly does a great job of exploiting clearing cutters to poach lanes and force tight windows; Jesse Shofner is particularly good at using her freedom to disrupt an offense. Further, Denver also game planned well. Against Riot, they effectively use roller pulls to set up a junk look that got them several turns (and breaks) against an elite opponent.
Though they took a loss to Scandal — one that seemed to shake them mentally more than one might think — Molly has been strong thus far, particularly when considering how few healthy players they have this weekend1.
Few Surprises, Lots of Chalk
Outside Scandal, everything else went about as expected on Saturday. Fury showed that they were very much up to the challenge of battling with Brute Squad2 and then handily put away Ozone and Traffic. Riot, similarly, lost to Molly Brown but readily took down both Heist and Underground despite slow starts. Traffic used a strong deep game to get wins over Ozone and Nightlock; Underground showcased impressive depth to get the win over a fatigued and shorthanded Heist. Pool bottom seed Nightlock and Heist both went winless, though both did enough to defend their respective strength bids.
---
coach Joe Durst estimated 15 fully running ↩

and notably got Opi Payne more involved than she was a US Open ↩