The grassroots development of a new cleat.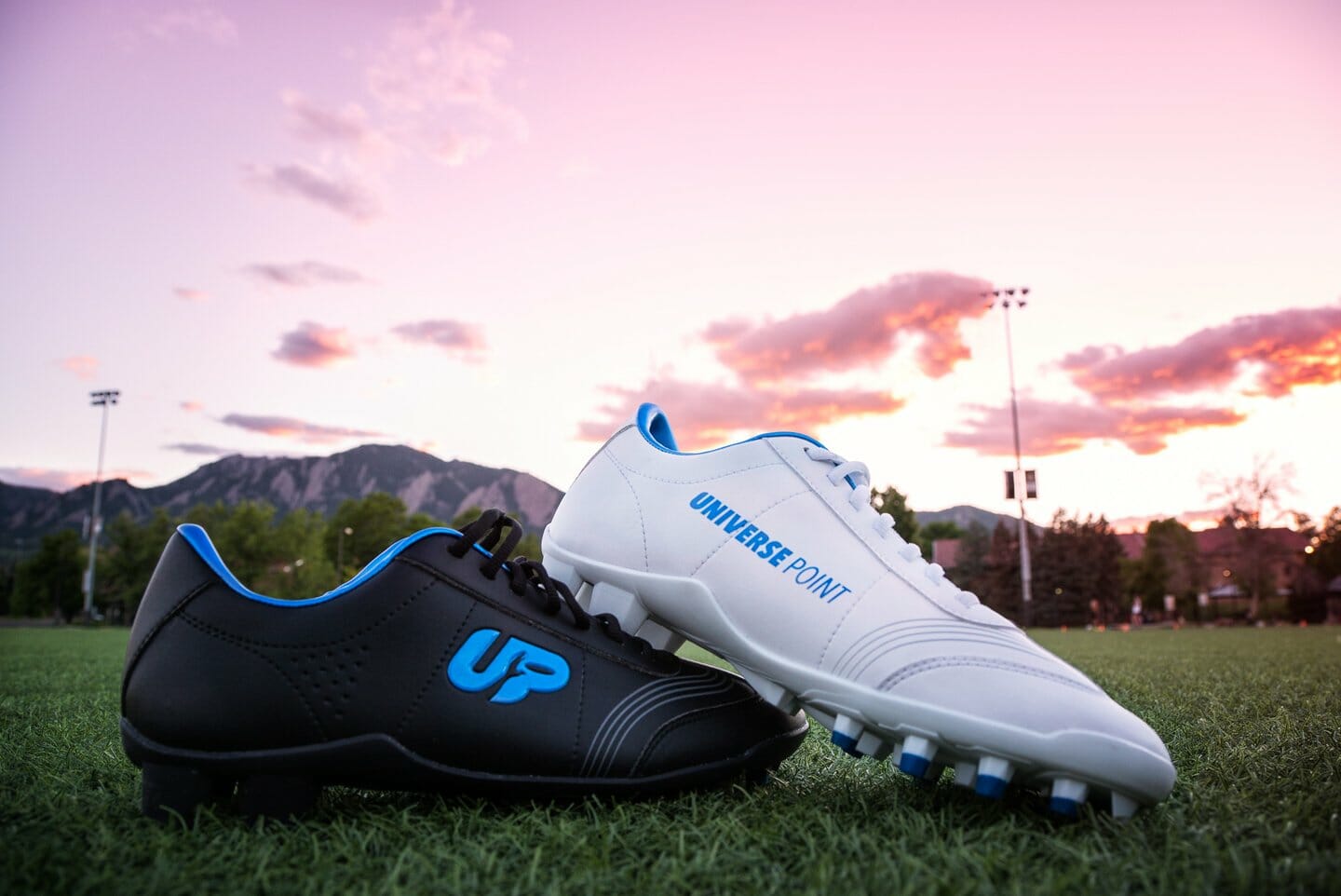 This article is sponsored by Universe Point cleats.
Ed Sisson didn't set out to launch a cleat company.
His involvement in ultimate started the same way it does for so many parents: following their child's path through collegiate ultimate. Ed's son John played at Elon University, one of the top Division III teams of the past few years. Originally intending to play rugby, John instead decided to join the ultimate team as a freshmen, eventually rising to a captainship in his senior year.
Ed, retired from a career in financial services in New York City, began to follow tournaments more closely and traveled to watch Elon play.
"The community blew me away in the sense that the girls' team and the guys' team really hung out with each other," he said. "Different shapes and sizes, different backgrounds, different intellects. They really had a great community. It was as tight as any fraternity as I've ever seen."
He was struck by the fact that the players in their spiffy, matching uniforms had a kaleidoscope of cleats — cleats that often seemed to have problems. Whether he was helping to duct tape an upper back to the baseplate after a tear or treating blisters, Ed started to realize that the available mass-market cleats weren't optimized for the unique demands of ultimate.
So, with no experience in cleats or manufacturing, he decided to start his own cleat company: Universe Point.
Working with his son John, wife Bérangère Barateig, John Wimalanayagam, an expert shoe design consultant, and many ultimate players as testers, Ed started to help put together the initial idea of a cleat designed for ultimate.
"We wanted to design the most comfortable, the most light, and the most durable cleat that we could," he said.
John and a friend worked to come up with a cleat pattern that could effectively handle "90% of ultimate moves": cutting, stopping short, pivoting, and laying out among them.
They got connected with a manufacturing plant in Mexico that had past experience developing cleats for the US market and agreed to terms for production. An initial round of prototypes were developed and sent out to a tester team that included players from across the spectrum of ultimate: college, club, and pro players of both genders from North Carolina, Colorado, and New Jersey.
Testing took weeks as they worked through seven different cleat iterations before settling on a final design. But even the prototypes were popular: when Ring of Fire's Noah Saul first tried his out as part of the tester group, he planned to use them for warmups before a game and then switch back to his regular, broken-in cleats. He stuck with the prototypes. He is now wearing "almost exclusively" Universe Point cleats during games.
Universe Point cleats are now on sale to the public after presales shipped in early September. Cleats are offered in sizes 6 to 10.5 for women and 8 to 13.5 for men. They come in either black or white.
Early sales have been solid, said Ed, who is working to spread the word through sponsorship of teams around the world including in Mexico, Colombia, and Australia.
"There are people that want to try it for the love of the sport," he said. "There are people that want to try it because Noah Saul says it's great. Or Khalif [El-Salaam]."
Every player on the San Francisco FlameThrowers was gifted a pair after winning the AUDL Championship this season and they have been spotted on feet at tournaments this club season.
Ed emphasized that the process of developing a cleat has been deeply rewarding, thanks in large part to the receptivity of the ultimate community. Universe Point cleats are the first to be marketed specifically to ultimate players since Gaia cleats in the 2000s.
"It's been a journey in the sense that people have returned their emails to me, they've been communicative, they've been supportive," said Ed. "There were no stop signs."
Despite the promising early signs, selling cleats is no sure thing: Gaia abandoned cleat production 10 years ago.
There is soon to be competition as well. A French company, Tokay Ultimate, is also developing prototypes right now and should be shipping orders in the coming months.
Competition is a good thing, said Ed.
"If I can set a standard for a comfortable, light cleat that's also durable, that's what I want to do," he said. "If competitors come in, then that's great — that will only help the sport."
You can order and find out more about Universe Point cleats on the company's website.