Breaking down the six-team pools at EUCF.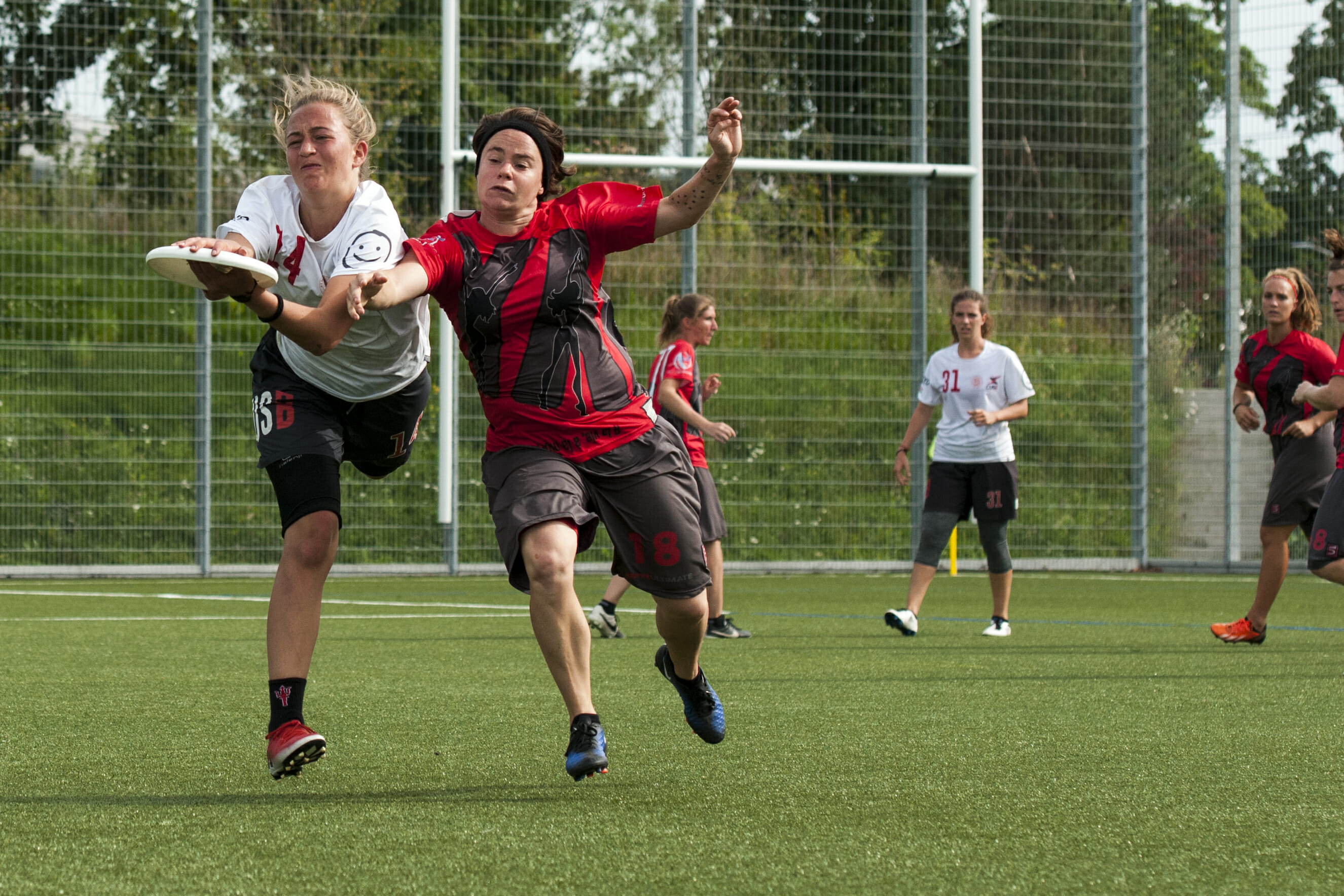 Ultiworld's reporting on the European Ultimate Club Finals is presented by Universe Point cleats. All opinions are those of the authors. Please support the brands that make Ultiworld possible and shop at Universe Point!
The top 12 Women's teams in Europe will meet in Caorle, Italy, this weekend. The format is fairly simple: two pools of six where the top two teams of each pool advance directly to semifinals. Here is what to look for in each pool.
Pool W: YAKA, Iceni, FABulous, 3SB, Troubles, Helsinki
Though France's YAKA gets the top seed here, it is still London's Iceni's pool to lose. Iceni are still the queens of Europe even though they are not nearly as invincible as in years past. In fact, at last year's EUCF they ended up losing their semifinal, giving them a bronze medal. They have also looked shaky, losing games to CUSB Shout and YAKA at Windmill during the Swiss draw phase and losing to SYC at UK Nationals in the pool stages. However, in all three of those cases, they avenged their losses in a big way. At Windmill, they dispatched YAKA 15-4 in semis and then defeated CUSB Shout by the same score in the final. Similarly, they faced SYC in a rematch in the final of UK Nationals and took them out 15-6.
Iceni will have a large target on their back but when they mean business no one in Europe can touch them. With only two spots for semis, they will likely treat every game in the early stage as a bracket play game and will make it extremely hard for anyone to take the top spot. Look for the familiar faces of Jaqueline Verralls, Jenna Thomson Francesca Scarampi, and captain Mara Alperin to take the lead. However, just as is the story with Clapham, Iceni is deadly because of their depth. Every woman on the roster has the ability to make a big play.
YAKA probably have the best shot at challenging Iceni in this pool. They did go over to London to get some practice games in against SYC, Iceni, and the GB U24 squad. They had two test matches against Iceni: the Londoners took the first game 8-3 and the second 7-5, making a final score of 15-8. YAKA were able to steal a win from Iceni in the Swiss draw stages at Windmill, though, and were reportedly trying out many different strategies against them in the practice matches. A well oiled machine lead by Aline Mondiot, Aude Richon and Daniela Rodriguez is certainly one that Iceni will have to work hard to stop. Combine this with the athleticism of Laura Chagneux and Alexia Chassigneux and this makes for a dangerous combination. They are certainly capable of making the semis but it will still be very tough if they want to take the first spot against the ladies of London.
Further down the pool, we see the 2016 EUCF gold medalists FABulous. However, this team is plagued by injury this year and will likely not have the firepower to really make it into the bracket unless some things have drastically improved since the EUCR-South. Eurostar players Yannicka Kappelmann and Olivia Hauser are both out with really bad injuries and are listed as coaches in Ultimate Central. At the EUCR-South, one of their top handlers, Angela Ullmann, also only played on day one. FABulous will need her if they want to challenge YAKA or Iceni. They still have some great pieces in the defensive prowess of Laura Niederhauser and the red hot cutting of Florence Windler, but their throwing simply looked sloppy at the EUCR-South. They were not able to challenge either YAKA or CUSB Shout in any meaningful way.
3SB from the Czech Republic is a team that refuses to die. They have managed big comebacks in big games late in this season including at their own national championship where they returned from an 8-4 deficit against YellowFUJever to win on double game point. They also notched double game points against box and Troubles at the EUCR-East to help them qualify. While it is important for a young team to show this kind of mental fortitude, they have yet to face teams as strong as YAKA and Iceni. It will be interesting to see if they are up to the test. It looks like their star player, Sarah Tošnerová, may still be injured and have limited playing time, but they have managed quite well without her so far this season.
Finally we have Troubles and Helsinki. Troubles placed 4th at EUCF last year and a number of their players will be much improved after competing with the Polish Mixed team at the World Games earlier this season. Especially look to Kasia Podpora and Sylwia Wróblewska to make big plays. They have also picked up Dutch Eurostar handler Paula Baas which could add some great firepower to an already talented team.
Finally we have Helsinki Ultimate. These women, along with the fellow Finnish Atletico, surprised a lot of people by knocking out the Russian teams Cosmic Girls and Brilliance from contention at the EUCR-North. Finland definitely boasts some strong female talent as their national teams won the EUC back in 2015.
Most interesting matchup: Iceni vs YAKA
Ravi's Picks: 1. Iceni, 2. YAKA, 3. Troubles, 4. 3SB, 5. FABulous, 6. Helsinki
Lorcan's Picks: 1. Iceni, 2. YAKA, 3. 3SB, 4. Troubles, 5. Helsinki, 6. FABulous
Pool X: CUSB Shout, Mantis, Woodchicas, Atletico, Crazy Dogs, SYC
Pool X boasts a lot of talent but also a lot of mystery. Realistically five of the six teams could charge their way into the semifinals with Crazy Dogs being a bit of a notch below the rest of the pack. CUSB Shout vs Mantis will be the match a lot of people have been waiting for but don't count out the other three teams at all.
CUSB Shout are the current EUCF silver medalists from Bologna, Italy, and a dangerously athletic and talented team that boasts the EuroStars talent of Laura Farolfi. This season they also placed 2nd at Windmill and rocked the EUCR-South, beating second place YAKA 15-12.
Mantis from Vienna, Austria, has been making serious moves late in this season after a bit of a rocky start. They placed 9th at Tom's Tourney and 10th at Windmill, but sources say that they were far from finalizing their roster and only really came together at the Austrian national championships and the EUCR-East. They absolutely demolished all the competition in both of those tournaments, beating fellow Vienna team box 15-5 in the Austrian final and not allowing any team to cross double digits on them at the EUCR-East. They have a very high ceiling, but they have yet to really be tested with a full strength squad. They certainly haven't seen the type of defense that they will see here.
The Woodchicas from Munich, Germany are traditionally very strong but have not had too many impressive results this season so far. Though they boast some strong players from the German Mixed Beach team that got Bronze at WCBU (most notably Valérie Möller), they did miss out on making the semifinals of their own German National tournament this year on an unfortunate three-way tie situation. They did qualify out of the EUCR-Central region but did so while losing to Gentle (a team that declined their bid to the EUCF) twice (13-11 and 12-11). Make no mistake: this team has the tools to do some serious damage at the EUCF, but things haven't quite gone their way yet. We will see if things can click in Caorle for this team.
Atletico from Espoo, Finland, recently won their national championship and are now on that road to Cincinnati Worlds along with many teams in the division. In 2015, they were silver medalists at the EUCF but were not present at the tournament last year. Look to Essi Inkinen to make big plays, but they have talent through and through. Like Mantis, they have also not been very present internationally so far this season, so it will be interesting to see what it looks like when this EUCR-North champion takes the field against the rest of the field.
Though seeded last, the next team worth talking about is the "second" team from London, SYC. I put second in quotes because they have been able to do what few in Europe ever have done: beat Iceni in pool play of UK Nationals. However, shortly after that victory, they lost to Rebel from Cork, Ireland, so this is definitely a team that can achieve great things but may have some consistency issues. However, a win against Iceni means they can certainly hang with anyone on any given game, and they showed this by taking YAKA to 13-12 in the third place game at Windmill, giving them an impressive fourth place finish there.
Crazy Dogs were the fourth team to qualify out of the extremely strong EUCR-South region. This means they were able to out do Swiss compatriots ZUF from Zurich to get there. This team was able to get a 6th place finish at Windmill, but aside from a win against Dublin Gravity, there were not too many impressive results in individual games for them there. They did take Mantis to 15-13 but remember that Mantis brought a much weaker team to Windmill then they are bringing to the EUCF.
Most interesting matchup: Mantis vs Atletico
Ravi's Pick's: 1. CUSB Shout, 2. Manits, 3. Woodchicas, 4. SYC, 5. Atletico, 6. Crazy Dogs
Lorcan's Picks: 1. Mantis, 2. CUSB Shout, 3. SYC, 4. Atletico, 5. Woodchicas, 6. Crazy Dogs