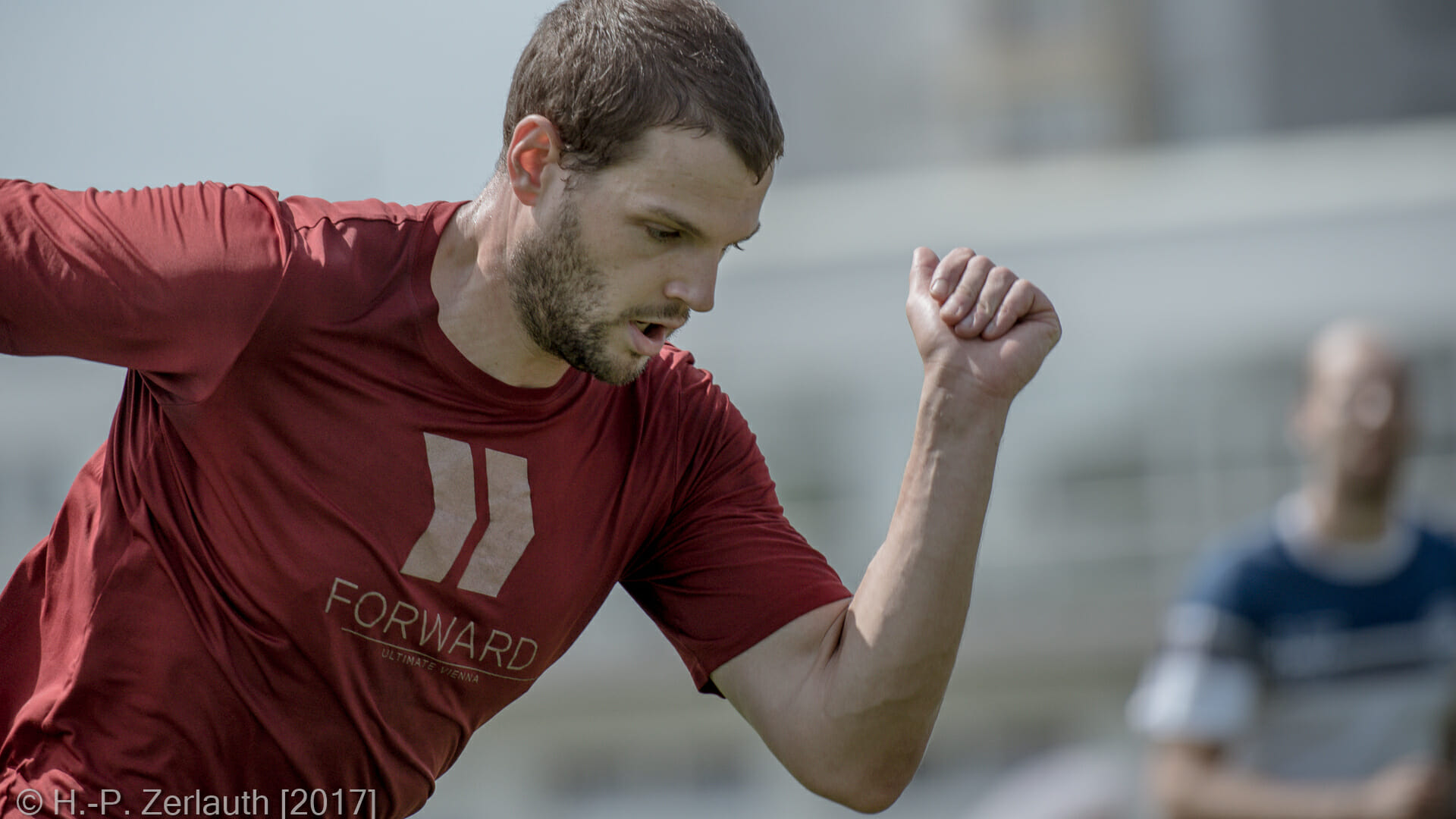 This article was written by Peter Jesse, who operates a blog about Austrian ultimate.
The European Ultimate Championship Regional tournaments have now qualified all of the teams that will compete at the European Finals. Check out the EuroZone podcast for more on the tournaments. In this article, I will look closer at what happened at the EUCR-East tournament two weeks ago.
Background
The East Section in the Regional structure of the European Ultimate Federation consists of Austria, Belarus, Croatia, Czech Republic, Hungary, Moldova, Poland, Slovakia, Slovenia, Turkey, and Ukraine. To get to Regionals, every team from outside of Austria has to go through Sectionals; the Austrian Teams qualify by placing at the top of the National Championship the year prior.
The Region is dominated by teams from Czech Republic, Austria, and Poland.
Not every team that qualifies takes advantage of their spot in Regionals so the number of participating team fluctuates from season to season. This year, there were 10 Mixed, 8 Women's, and 12 Men's teams competing for their spots in the European Finals.
The biggest successes for the region in the past have come in the Women's and Mixed Divisions.
Warsaw's Grandmaster Flash won EUCF 2015 in the Mixed Division, beating fellow eastern region standouts Yellow Block from Prague. In the same year, Budweis' 3SB took fourth. Terrible Monkeys Prague beat Flow from Wrozlaw for third place in 2014 and W.underteam took 5th in 2016 after just clinching the 3rd and final qualification spot at Regionals.
The East qualifiers contend for Semis at EUCF almost every year. Until 2013, Hot Beaches, a Czech Superteam formed for the World Club Championships in Prague (2010), dominated the region. In 2010, they managed to win EUCF and place as the best European Women's team at WUCC.
The most consistent team in the region after this period has been Vienna's Box, who has dominated Regionals and took 5th Place overall at EUCF in 2014 and 2016.
The best result at EUCF in recent years belongs to their rival Viennese team, Mantis, who surprised in 2015 by getting into semis and placing 4th. A similar story was written last year by Warsaw's Troubles, who also exceeded expectations and placed 4th.
The Men's Division is nowhere near that level of European glory. Silence, another Czech superteam, was the last Eastern Region team to qualify for quarterfinals, when they placed 7th in 2012. Prague's FUJ came close in 2015 when they placed 9th. Last year, Vienna's FWD>> placed 12th to lead the East.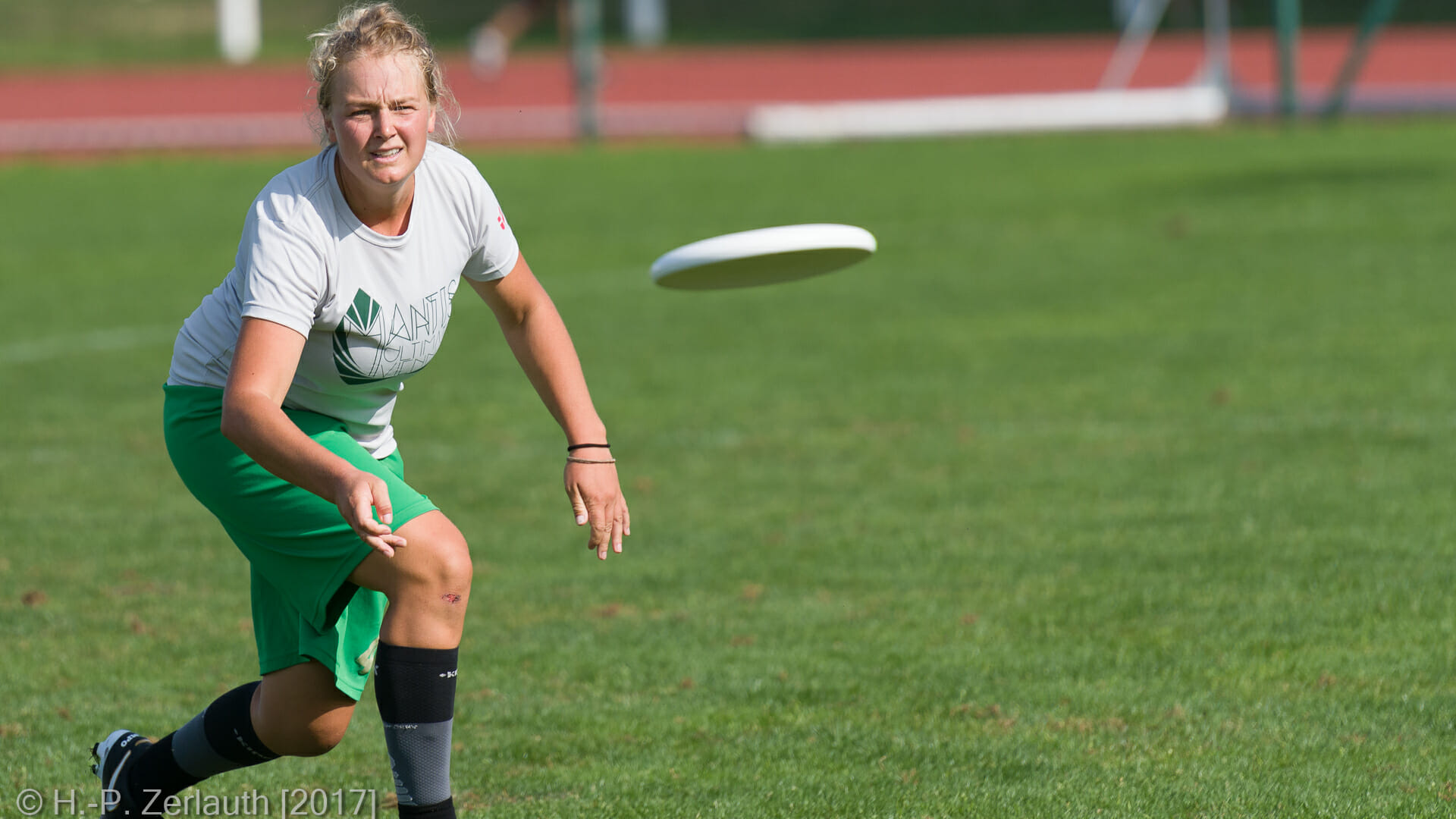 Women's Division 
In the Women's Division, eight teams were competing for three tickets to Caorle. Before the tournament started, Warsaw's Troubles and the two Austrian teams, Box and Mantis, were the favorites to qualify for EUCF.
Troubles were the 4th best European team in 2016 and some of their women had the opportunity to compete at World Games this year and get some reps at the highest level of the sport. Even though Box is in somewhat of a transitional phase, the experienced core was expected to lead the talented rest of the team to EUCF. Box also had the advantage of being seeded first in the group since they won the region the year prior.
After placing 4th overall in 2015, Mantis did not make it to the Finals last year which made them refocus and somewhat change their approach to rostering. This year, they only brought 17 players but there are hardly any weak links any more.
3SB, the Czech champion, got the 4th seed after losing to Troubles in the Sectional final, 15-10.
Pool X
Box had an easy win against Wroclaw's Whatever (15-7) to start out the tournament while 3SB was challenged a bit more against Dyki Krali from Ukraine (15-11).
In the second round the Box and 3SB met to determine the winner of Pool X. After a late comeback in windy conditions, 3SB closed the game out with a break and surprised everyone by winning 15-14.
3SB and Box both made short work of the other two teams in the last round and qualified for the semifinals.
Pool Y
Troubles started into the tournament with a comfortable win against Prague Devils (15-11) and Mantis beat YellowFUJever (15-6). Yellow FUJever combined some teams from Prague into one.
The second round saw the two group heads clashing. Mantis did not play to their full potential during the whole game but never gave Troubles an opening, winning 15-9. Troubles had no answer for Mantis' top athletes like Lena Trautmann and Carmen Krail.
In the last Round Mantis and Troubles qualified for bracket play with easy wins.
Bracket Play
A win in semis guarantees a spot for Caorle, so tensions were high when Austrian serial champion Box met Austrian serial runner-up Mantis. In the past, when these teams met and something was on the line, Box always managed to get the win.
Both teams started out with clean offensive holds before Mantis landed a 4-0 run. Box could not find their way back into the game and seemed to reserve some energy in the second half for the "Game to Go" coming later that afternoon.
In the end, Mantis got a big 15-6 win against their rival; the two teams will meet again in two weeks at the Austrian Championships.
The second semifinal saw a rematch from the Sectional finals where Troubles beat 3SB handily. Troubles had the better start in the game, taking half 8-5, but 3SB managed to close the gap and get it to double game point. After several turnovers, Ráchel Tošnerová threw a hammer to the endzone for another surprise 3SB win.
Mantis won the final where only seeding for EUCF was on the line. They took it 15-8 and held all their opponents on the weekend to a maximum of nine points.
In the game-to-go, the more experienced and more balanced squad of Troubles turned up the intensity at 11-11 and rattled off four straight to win 15-11. Box will miss out on EUCF this year but come back stronger next year after one more year of rebuilding.
Notes
Mantis is clearly a force to be reckoned with at EUCF, but they will not be able to bring everybody from this tournament. Christine Stelzhammer won't be there but she will be replaced by Julia Schmeisser who played EUCR-E Mixed. Schmeisser brings different skills but is not a downgrade at all. The team will be hoping that Trixi Peterstorfer (the Women's Division leading scorer at the World U23 Championships in Toronto 2013) is fully fit in October after being rather immobile this weekend because of an adductor injury suffered earlier this year.
3SB just eked out second place with two double game point wins in the crucial games. They are still a developing team but if they make a similar step forward like they did from Sectionals to Regionals, they will be able to compete in Caorle.
Troubles have it in them to surprise at EUCF like they did last year. This weekend was not ideal but they took care of business when it counted.
Men's Division
The Men's tournament was played by 12 teams divided into two groups. Every team had two games on Friday, which resulted in some teams missing key players at the start of the group phase. To have a chance through the "Backdoor Game" to qualify for Caorle, you had to place at least 4th in your group. If you reached the top two spots, you were offered three chances to get a win on Sunday that would take you to the Finals.
Group A
In Group A, Friday was very important. Prague's FUJ did not perform well at Sectionals and landed in a group with Catchup and FWD>>; they faced both on Friday. These three teams have been the dominant teams in the region over the last five years. FUJ did not have their full roster in the afternoon and were playing the whole weekend without one of their leaders, Vojtěch Palouš.
FUJ was able to hang with Catchup in the first half, breaking them several times, but Catchup Graz took half 8-7 and started to pull away at the beginning of the second half. The Austrian Champion won in the end 15-11.
After a bye for all teams, FUJ met FWD>>. The Viennese team had a easy first round win, beating Bratislava's Outsiterz 15-2. After a sloppy start by FWD>>, their D-line brought them back into the game and closed it out with a break for the final score of 15-13.
After Friday's games, there was a third team with two wins: Warsaw's Mojra beat a new look thebigEZ in their first game 14-12 and recorded a second win against Outsiterz.
Saturday's first round saw Mojra taking on FWD>> with the winner all but guaranteed a spot in the semifinal. The game was somewhat chippy, featuring lengthy discussions and lots of calls. The first half ended on serve with Mojra starting the second half on offense, but they only scored once in the second half and lost 12-8.
The 4th round had two crucial games: Catchup and FWD>>, both 3-0, met to decide who would win the group and FUJ played Mojra for the easier opponent in the recovery bracket. FWD>> managed to break to take half at 8-6 and, after that, the D-line was ruthless and ran away with the game. The final score was 15-9.
A re-enforced FUJ team collected a win in the morning against thebigEZ and beat out Mojra 15-12 to secure the 3rd place in Group A.
In the last round, a very motivated thebigEZ challenged their in-town rivals from FWD>> but lost 15-12. Catchup secured the second place with a 15-10 win over Mojra.
Group B
Kundl's INNsiders were the top seed in Group B. They are a club from a small Austrian village with an excellent youth program that produces standouts for the Austrian National Team on a steady basis. They always have a hard time bringing a big enough crew to tournaments, but they have learned to cope with that over the years.
For this tournament, they brought 13 players.
In their first game against Prague's Yellow Block, they had an excellent start, breaking several times. But then Dominik Osl went down with a devastating knee injury and was taken to the hospital by ambulance. Teammate Wolfgang Mitterer, who picked up this summer with CUSB at the US Open, accompanied his former flatmate to the hospital. A somewhat shocked 11 INNsiders fought hard against the second place finisher from Sectionals but fell 15-13. Two men down, the INNsiders lost to Polish champions Girls Stay Home 15-9.
The Poles started the tournament with two wins in the first round, beating Maribor's Cosmo 15-8.
In the last round of the day, two Prague teams clashed in a rematch of the Sectional final earlier this year. Both teams still have players who ruled the region together playing on Silence so they know each other well. Like at Sectionals, Prague Devils topped Yellow Block, but this time by the narrowest of margins: 15-14.
Ukraine's Nova managed to get an upset 15-13 win against Cosmo, who were missing some players on Friday (most notably Blasz Jakopin).
On Saturday, the group proved to be tight as can be and the calculators had to be brought out.
INNsiders, who wanted to show that they could up their game, started with a clear 15-5 win against Nova. Cosmo upset Prague Devils 15-12 while Girls Stay Home beat Yellow Block 13-12.
INNsiders kept their momentum and beat Prague Devils 15-10 while Cosmo lost to Yellow Block. Nova had a decent showing but they were out of contention for the "Backdoor Game" after they lost to Polish champion GSH 15-12.
INNsiders beat Cosmo 15-12 to go 3-0 on Saturday. Cosmo dropped to last place in the group with the loss to Nova proving the tiebreaker. Prague Devils beat GSH, who were unbeaten up until that game, 15-11 and had the first place in Group B locked in.
Ultimately, INNsiders finished second in the group with a point difference of +10, one in front of Yellow Block. Prague Devils managed a fourth place finish, also with a 3-2 record due to the unexpected loss to Cosmo.
For both teams qualified for semis, it seemed that the easiest way to get to Caorle was to claim 3rd place because the opposition from Group A seemed to be stronger.
Bracket Play
After a horrific start to the tournament, INNsiders only needed one win on Saturday to go to Caorle. The most important thing for them, though, was not having to play three times on Sunday.
Against FWD>>, who had improved all weekend, they had a horrific start with lots of drops and throwaways. Things never improved and the game ended 15-3 for FWD>>, with INNsiders clearly preserving energy for their next game.
Girls Stay Home was the underdog taking on the Austrian champion Catchup Graz. Catchup started with a string of mistakes and was staring down a 4-1 deficit. GSH was still a point in front at 10-9 when the game started to slow down a lot due to long discussions on calls. It took a layout block by Catchup O-line handler Christoph "Chaplin" Schitter and a bookends scores to get Catchup even at 10-10.
Catchup had the disc at 12-12, game to 13, but could not capitalize on one of three chances they had to score. Girls Stay Home got the upset win with a big huck and celebrated their qualification for EUCF.
Catchup had to refocus after this disappointing double game point loss and play a more rested INNsiders.
INNsiders started the game firing on all cylinders, taking advantage of Catchup's mental errors and scoring with long shots to perfectly set up deep cuts. Despite falling behind 5-1, Catchup again closed the gap before half, 8-7 for INNsiders.
The guys from Tyrol kept playing efficient offense but the pressure on defense was just not materializing. Catchup chipped away and took the third spot at EUCF, winning 13-12 and dropping INNsiders into the game-to-go.
As expected, FUJ was waiting for them. They beat Prague Devils 15-11 and, for the second time on the weekend, Mojra 15-13.
INNsiders had nothing left in the tank. FUJ also came into the game off of two wins. FUJ crushed INNsiders 15-5.
In the final, FWD>> won 15-8 against Girls Stay Home.
Notes
FWD>> had a good weekend. They won all games with their D-line dominating and the O-line performing well after some hiccups in the early games. They'll have two handler defenders, Daniel Stummvoll and Jasper Kielstein, back for EUCF. Neither played after getting injured on Friday. If their O-line can perform in October and Marian Stoschitzky can posterize people like he did in the suburbs of Vienna, quarters should be within reach.
For Girls Stay Home, it will be their first trip to EUCF. They are the first Polish men's team to ever qualify! They surprised with their squad's depth at Regionals, led by polish World Games players like Lukas Dobranowski, who clearly gained some crucial experience.
Catchup Graz had a somewhat disappointing weekend. They have not found a way to compensate the absence of Valentin Vogl, who initiated much of their offense with his throws in the past. Despite qualifying, their only win against an EUCF team was against FUJ on Friday. They will have to show something different at Austrian Nationals and EUCF, but they are capable of that. I expect them to land in front of GSH in Caorle.
I don't think FUJ showed their cards at this tournament. Only occasionally did they show how strong they can be, like when they scored upwind against Mojra to get into the game-to-go.
Mixed Division
For the first time in years, the Mixed Regionals took place on the same date as Open and Women Regionals, which denied the opportunity for some players to try to qualify with the mixed team and then try again in another Division. This practice is totally legal but the new schedule makes it impossible.1
10 teams competed for three qualifying spots.
Two teams clearly separated themselves from the pack: Slovakia's Os Zla and Terrible Monkeys. Os Zla took the final on double game point.
Both teams have a similar makeup, led by veteran players who competed on the highest level for years. They each fill the ranks with talented young players. Expect them both to be competitive in Caorle.
Left Overs from Velko Bilovice, who were hosting the event, also qualified by beating Turkey's Steamhuck.
---
For the EUCF, you can still strengthen your roster with a small number of players that were on another roster for Regionals. ↩