Florida United did the bare minimum in the season to ensure they would qualify for Nationals.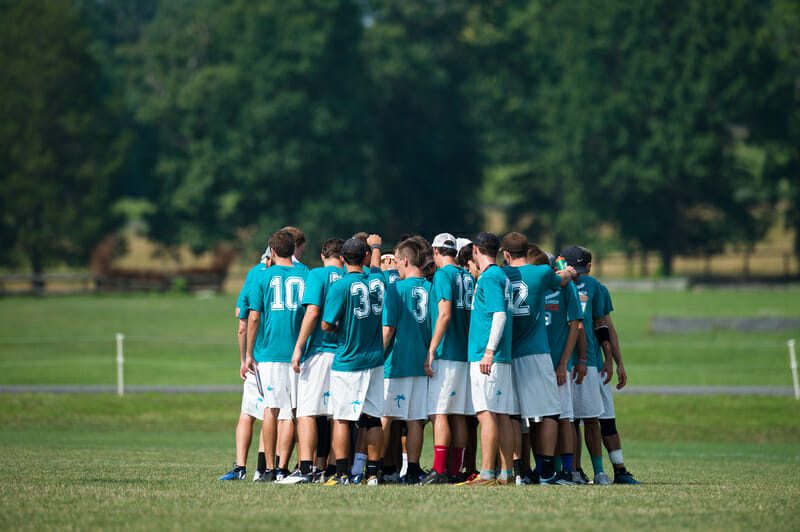 Ultiworld's coverage of the Men's Division at the 2017 Club Championships is presented by Spin Ultimate; all opinions are those of the authors. Please support the brands that make Ultiworld possible and shop at Spin Ultimate!
A team that played only 11 regular season games is now the 11th overall seed at Nationals.
Heading into the club series, Florida United had outscored their opponents 143-59. Only one game was what most would consider close, a matchup with Atlanta Chain Lightning back in July that ended 13-11. The undefeated Florida team finished comfortably within the bid-earning range, after almost entirely playing weak, in-region opponents.
Their bid-earning success was based on the bare minimum. Playing enough games to qualify, beating unknown teams by a wide margin, and doing enough in the Series to lock it in. The plan of attack allowed them to concentrate on the AUDL and save some money.
The end result exposes a potential wound in the Nationals bid system.
The AUDL Season
The Jacksonville Cannons are not the first team to prioritize the AUDL over the Triple Crown Tour. But the level to which the Club season was put on hold represents a cultural shift in Florida ultimate.
In Florida's eyes, they can bring 10-14 players to a two day tournament in Washington D.C. or New York out of their own pockets, or they can bring a full roster to Dallas or Nashville with fully covered expenses. They could travel to play seven games that could cost them a potential bid, or they could put it all on the line against the Roughnecks to notch that one win that moves them closer to the playoffs.
"The only big tournament we could have gone to was that Select Flight Invite and it was on the playoff weekend against Dallas," LaRocque said. "Everyone put so much time and effort into the AUDL season, unlike anything that's ever happened in Florida before."
The Cannons began their practices in January of 2017. In the event that Southeast regionals was on the same day as the AUDL's Championship Weekend, the choice was clear.
"As a collective group, we pick AUDL over club," LaRocque said. "For sure."
It's worth noting that not everyone feels so strongly about this shift in priority. Some players on United still see the value in what USAU as a whole brings to the table.
"I'm speaking for the team, not for myself," continued LaRocque. "I absolutely value Club ultimate more. It has nothing to do with how the game is played; it's more that USAU is how I got into playing frisbee."
Financial Restrictions
Florida United at its core is built on youth. Even their captains, Chris LaRocque and Tyler Kunsa, are only a couple years removed from being stars in the college game. Many players on the team are in their first job out of college or even still in school.
As a result, the financial toll of the club season also played a role in the team's decision to avoid the big travel tournaments.
The two that Florida United did play in reflect that: Club Terminus is in Atlanta, Georgia, and the Rocket City Invite is in Huntsville, Alabama. They are still long drives for many coming from the southern part of Florida, but most players wouldn't necessarily need to fly or take an extra day off of work.
"AUDL ultimate is free," LaRocque noted. "And we're getting all of this time on the field together that easily translates to club."
Using The Formula
While the algorithm itself is complicated, it's not difficult to understand how to use it. In the games that you should win, win them by a lot. In the games that you should lose, keep them close. Because Florida United only played one game the entire year that they should lose (according to their rankings), it was easy to know what they had to do.
"We knew we needed a second bid just to feel comfortable," LaRocque said. "For us it was just getting the amount of scheduled games and hopefully getting a bid."
"Making sure our region had two bids was the entire goal of the regular season," he said. "It wasn't improving as a team or anything like that. That was what the AUDL season was for."
Florida managed to get the best of both worlds. They put forth a full effort for the Jacksonville Cannons, making some waves in the regular season and earning a playoff spot, and they're on their way to Sarasota for Club Nationals.
What Can This Team Do?
United's 12-10 loss to Ring of Fire in the Southeast Regional final is impressive, considering the talent level of the third overall seed at Nationals. But because of the way Florida approached the season, there's still so much room to grow.
They are still figuring things out. There are strategic decisions yet to be made, ones that will be made on the fly in Sarasota.
"We've only had three or four practices as United on a club field," LaRocque said. "We'll change and adapt while at Nationals."
There are a few personnel differences between this team and the Cannons. Two players in particular are immediate impact players. For the O-line, they've brought in Connor Holcombe, who was a goal scoring machine at Florida State. For defense, they've added Nathan Vickroy. The standout Atlanta Hustle player is as well-rounded as they come, and his athleticism adds to a scary defensive unit.
But what it comes down to is this: we really don't know what this team is capable of. The results are difficult to judge, and there's little to no film on them outside of the AUDL. For Florida United, it's quite the advantage.
"You can't really gameplan for us," said LaRocque. "There's no real way for any team to scout us right now. I like being that wild card. They can't plan for us, but we can plan for all of them."