A bizarre game.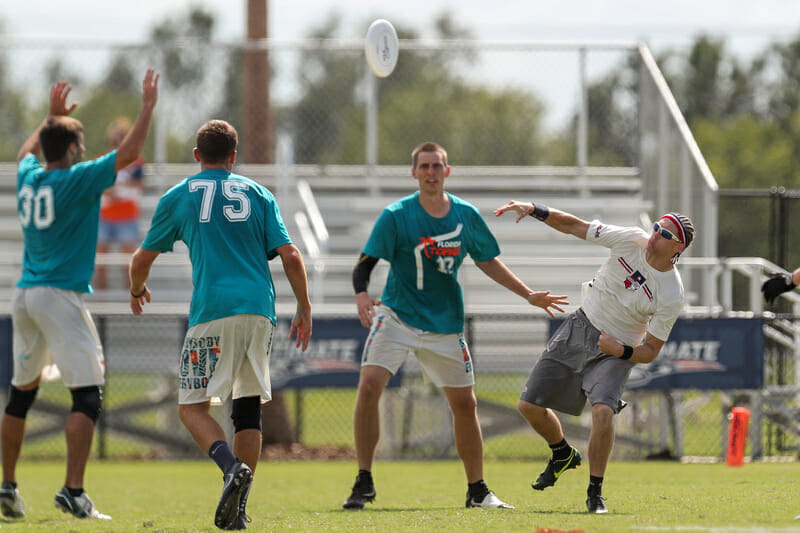 Ultiworld's coverage of the Men's Division at the 2017 Club Championships is presented by Spin Ultimate; all opinions are those of the authors. Please support the brands that make Ultiworld possible and shop at Spin Ultimate!
Austin Doublewide will be making their first trip to the semifinals since the last time Nationals were held in Sarasota. That 2012 Doublewide team ended up taking home the trophy, and this year's team is starting to believe after knocking off Florida in a game that could charitably be called "chippy."
Florida started on offense, with Cole Sullivan calling a foul on his mark as he tried to clear room to throw a backhand. Then he called another foul for the same thing. And then another. It would become a pattern.
Sullivan eventually got enough room to launch a backhand into the stratosphere, nominally aimed at Florida's towering cutter Mischa Freystaetter. Doublewide's defenders swarmed to Freystaetter and prevented him from securing the disc, but the deflection landed in the hands of Florida's Jeremy Langdon. This, too, would become a pattern.
The first quarter of the game would be defined by these two things: a torrent of cynical foul calls and a "hail mary or bust" approach to offense for Florida. It became clear that United's gameplan was to have Sullivan throw it as far as he could downwind at Freystaetter. If the big target caught it, great. If not, then Florida rolled out their gigantic four person cup, looking to stifle Doublewide in the wind. This was a tactic that Doublewide road to their 2012 title, when Sullivan was on their roster.
The other part of the plan was evidently to wage mental warfare against Austin by calling travels or marking fouls on virtually every throw. Doublewide responded in kind, haranguing Florida with fast count, double team calls, and cynical fouls of their own. The actual on field action was completely enveloped by the the embroglio of violations, fouls, and endless arguments.
Doublewide was able to work their way though the tangle of Florida's zone to score on their first few offensive possessions, and Florida's huck and hope approach worked well enough that the game managed to crawl to 3-3, Austin up a break after Kai Marshall hit Dan Emmons. The calls and spite calls had gotten so out of hand by that point that the observers were forced to call an extended spirit timeout, which was overseen by National Observer Director Mitch Dengler, not one of the observers assigned to the game.
Coming out of the spirit timeout, the tenor of the game shifted. Both teams seemed sedated, as though the only way to stop the intensity of the game from spilling into chaos was to dial back their overall energy. Doublewide went up a break after a throwaway from Jeremy Langdon, and both offenses cruised from there into half, with Austin leading 8-6.
"The first half was a drag," said Florida captain Chris LaRocque. "A lot of calls, a lot of stoppages. I think both teams were making them. Our four man cup tends to cause a lot of issues, a lot of calls for double team and stuff like that."
The intensity started to ramp up again in the second half, as Florida abandoned their jump ball strategy and resorted to more traditional methods.
"They stopped the huck and zone stuff, and that made a big difference," said Doublewide coach Jose Cespedes.
United's offense became efficient, relying on Freystaetter as a possession cutter. He and Michael Fairley, another one of Florida's stable of giant athletes, used their size effectively around the disc, sealing off defenders from contesting upline cuts and getting easy resets.
Doublewide's offense was similarly mechanical, with Abe Coffin driving the action from the center handler position. Once Florida abandoned their zone approach, it was open season for Coffin's picture perfect hucks, and he finished the game with three assists and two goals.
Doublewide got a tad too huck happy, however, and Florida put in their first break of the game after Chase Cunningham shorted a flick huck. Fairley replied with a perfect flick huck, upwind to a streaking Billy O'Bryan. That made the score 10-9, and Florida's sideline was fully energized again.
United broke again a few points later, after Travis Catron footblocked Brandon Malacek and Jeremy Langdon slipped a push pass to Bobby Ley. With soft cap sounding before the score, it was 11-11, game to 13.
While Doublewide was receiving with the wind going into the final frame, all of the momentum belonged to Florida. When Mitchell Bennett overthrew a huck and United had the disc to take the lead, it looked like the game was really about to turn.
Enter Dalton Smith.
After famously making an incredible layout block in Sarasota as a rookie for Doublewide in the 2012 championship game, the Texas A&M alum made his mark again. He got an immense block, coming out of nowhere to knock aside what looked like a routine reset to a stunned Ley on the goal line. Smith picked up the disc and, after a foul call from Florida on his pivot, slipped a flick to Carter Hollo for the score.
Now trailing 12-11, Florida needed a hold to avoid elimination. They failed to get one in heartbreaking fashion: Tyler Kunsa bobbled and dropped the centering throw from Michael Fairley. Before Florida could process what had happened, Jeff Loskorn squeezed the disc at stall eight into Kaplan Mauer, giving Doublewide the win and sending them into semis.
"It's crazy to even be saying it. Semifinals!" said Doublewide's Matt Bennett after the game. "That game was just insane."
"I wish we could have pulled it out," said LaRocque. "But that's just how it goes sometimes. We were a little bit tentative, and didn't make the throws we needed to, and they just did."
The game lived up to expectations, for good and for ill: hard fought by skilled opponents, but marked by cynicism and virtually unwatchable sequences of play in the first half. And now it's over.
Watch the full game footage with an Ultiworld Subscription.