Youth v. youth.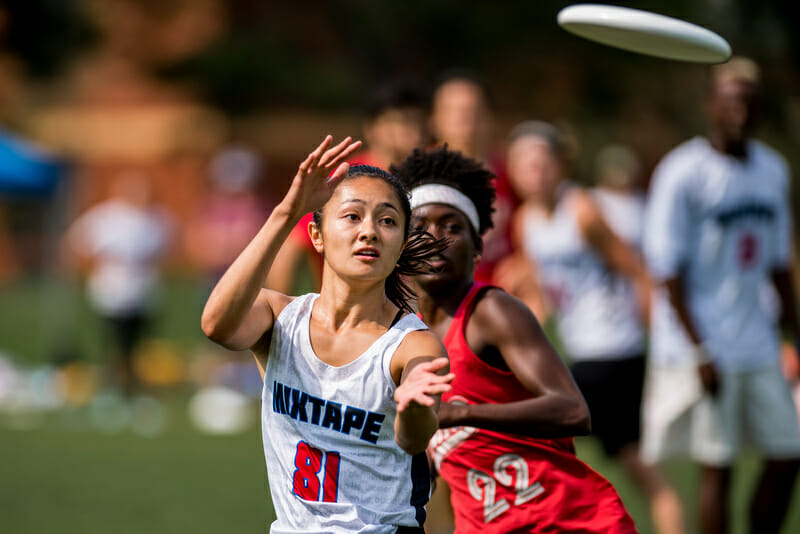 Ultiworld's coverage of the Mixed Division at the 2017 Club Championships is presented by Tokay Ultimate; all opinions are those of the authors. Please support the brands that make Ultiworld possible and shop at Tokay Ultimate!
With the fall of reigning champs Boston Slow White to Seattle Mixtape in the semifinals, a new champion will emerge in Sunday's championship game as Mixtape faces off against Philadelphia AMP.  Mixtape has twice taken silver at Nationals, falling both times to Minneapolis Drag'n Thrust, and AMP has never advanced farther than semis despite qualifying for Nationals for every year since 2006.
The common theme between these teams, relative to other division rivals, is how they have each amassed a wealth of youth talent from their respective cities.  Both teams have an average age of 25, featuring many players that have come up through strong high school and college programs and stuck with the team despite the draw from others trying to entice them.  A whopping 7 players selected for January's U24 World Championships are on their rosters, although Claire Revere will be sidelined with a Concussion for Mixtape.
This AMP – Mixtape match is what we've been waiting for all season. Two programs at the height of their power, the no. 1 seed vs the no. 2 seed. Two teams with only three losses all season. This is the peak of the mixed division. Both programs have been building up to this moment for years. Who will leave victorious?
Head to Head: Seattle Mixtape 2-1 v. AMP this season
Game Time: 12:30 PM Eastern
Line: Mixtape -2
Video: ESPN3
Considering the volatility of the Mixed Division, there hasn't really been a dynasty program in the same way that Men's has Revolver or Women's has Fury. Both AMP and Mixtape have an opportunity to change that narrative. The two teams have already proven the value of loyalty and growth within their system. The future of competitive mixed is clearly not strong players haphazardly thrown together for a season if this final is indicative of the maturation of the division.
Settling The Score
AMP and Mixtape will be playing for the fourth time this season in the final. Both teams will have had ample time to make adjustments. What to expect?
AMP has a bevy of creative zone and junk sets. They have smothered teams with flat marks that force throwers to move the disc laterally or float hucks. Philly knows the worth of their poaches and will congest the lanes with their women, forcing the teams to either make tough passes along the sideline or slot throws through tight windows down the middle. This has never been Mixtape's style and AMP is no doubt aware.
AMP will likely play four women on offense at every opportunity. This has been the not-so-secret weapon of the Philly team. They are the only team in the Mixed division to consistently have women to pick up the disc on the pull or after a turn. Raha Mozaffari is a stellar player for their O-line and Carolyn Normile leads it on the other side. AMP encourages their women to huck and, more importantly, their men don't cut off their women when they cut. This cannot be stressed enough. AMP leaves very little room for picks to occur because of how disciplined and patient their offensive structure is.
Seattle Strong
Seattle offense has generally been unstoppable. Even in their closest games this tournament, the offense has been very consistent. Mixtape's O-line players are athletic and play smart defense to earn back their turnovers. The game may come down to which teams can play mistake-free offense after a turn.
The Seattle women play a different style than those on AMP. They have a defensive grit that is stifling for their opposition. Ari Lozano and Jen Cogburn are prime examples of the incredible defense that Mixtape women are known for. More than that, they play at a pace that is hard to match.
Mixtape's penchant for deep shots frankly suits their entire roster. The only way to contain Lani Nguyen is only by placing another speedster on her, which AMP might just have in Natalie Bova. Mark Burton has played exceptional ultimate this season, but expect AMP defenders like Steve Ng and Steve Rosso to hassle him throughout the game.
On the other side of the disc, Mixtape's Khalif El-Salaam might take the Mike Ing matchup. Carolyn Normile v. Abbie Abramovich would also be exciting to see regardless of which team is on offense.
Female Focus
Mixtape and AMP used their women similarly in the red zone, with both teams getting 3 assists and 7 goals from the female side of their roster in their respective semi-finals.  Seattle emphasizes quick isolation cuts to small spaces, often scoring with push passes or backhand flip throws, while Philly's women's will look to break the mark to wide open space for receivers to run onto.
In contrast, AMP's women will hang around the disc more on offense and employ eviscerating breaks and unstoppable give-gos, while Mixtape's women will use their speed and endurance to gain huge yards downfield.  Philadelphia's women tallied 44% of offensive completions (72/162) against BFG while Mixtape's contributed just 23% (37/160) against Slow White.
Live and Die by the Team 
The performance of individual match-ups is one thing, but these games will not be determined in isolation. Each team has staked a claim with their team cultures and growth within their system. Both have young, athletic rosters that are motivated to prove themselves in a division that is still determining its identity.
Buckle up: it should be a good one.