Setting up a 2012 final rematch.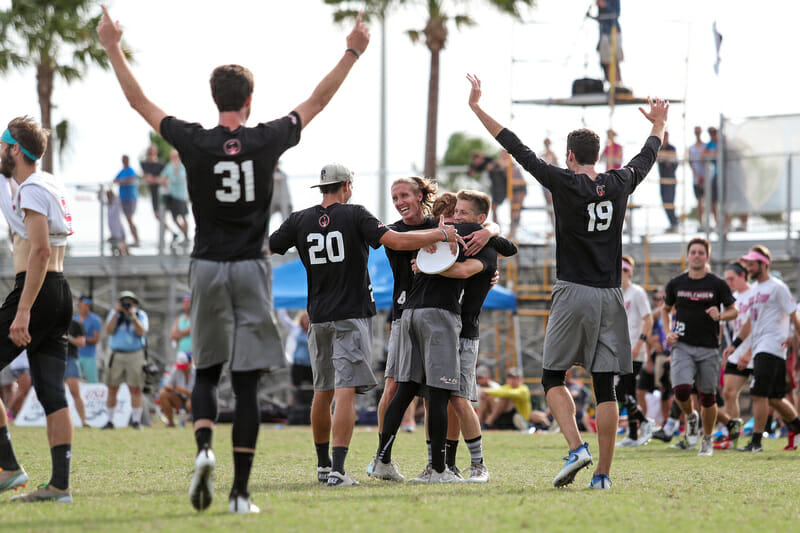 Ultiworld's coverage of the Men's Division at the 2017 Club Championships is presented by Spin Ultimate; all opinions are those of the authors. Please support the brands that make Ultiworld possible and shop at Spin Ultimate!
Austin Doublewide scored eight unanswered points — four to close the first half and four to open the second — to defeat Washington DC Truck Stop 13-8 and reach their first final since 2012, the last time the tournament was held in Sarasota.
Doublewide opened with a zone, trying to take advantage of the wind. Allan Laviolette and Nathan Prior weren't phased. Short throws between the two of them moved the offense one yard at a time, and Nicky Spiva's downfield movements forced the defense to adjust based on his position. In the early points, Truck Stop was perfectly content to grind out long offensive possessions for scores.
The chances they did take were well placed. Tied at three, Nicky Spiva unleashed a full field flick for an offensive hold. The offense was easy: they displayed smart decisions with some of the best throwers of the tournament, but it wouldn't stay that way.
Strong winds led to numerous turnovers in the ensuing points. Truck Stop kept their lead, but they were forced into long points that drained their legs. The Doublewide D-line is built for offense, with handlers like Matt Bennett and Brandon "Muffin" Malecek taking advantage of fast break opportunities. And a deep team of young defenders was ready for things to get a little unorganized. After several multi-turn points, Truck Stop led 6-4.
There were only 30 minutes until soft cap at that point, a testament to how long the points were. After an offensive hold for Doublewide, a careless drop from Truck Stop gave Doublewide the opportunity they needed and the game was tied.
Looking back, this was the moment for Truck Stop to make an adjustment. Maybe they could flat mark Malecek, or sub in a D-line handler for more throwing options in the wind. But no change came, and Doublewide smelled blood in the water.
When things started to miss for Truck Stop, the offense became less and less patient. Hucks sailed long and reset throws sailed into the air. They lost the seamless flow of their offense and they couldn't get it back.
"You can't talk about execution when a guy's feeling down. There's no way that helps him," said Truck Stop coach Darryl Stanley. "That's not a statement that does anything for a player's sake. The only thing is, you speak about a response to that mistake, so we tried to go there."
The offensive collapse wasn't only a failure of DC; it was a triumph for the Doublewide defense. Tactical changes gave them the firepower they needed to have a chance to score on every break chance. Moving Malecek to the D-line was one of the biggest.
Malecek, along with Matt Bennett, was looking to move the disc the second Truck Stop turned it over. Any plan DC had to get the disc back took too long to implement as Doublewide would be looking to score almost immediately. For a game thats second act featured marathon points, the breaks for Doublewide were coming quickly.
"And you know, they used that scramble to have [Malecek] come pick up the disc," Stanley noted about the chaos after a turnover. "And then Muffin, if we're not prepared, is going to get a lot of throws off. That was a really good game plan for them."
Doublewide kept momentum through the ten minute halftime break and punched in break after break en route to a 12-6 lead. Truck Stop drops and miscues were rampant.
Truck Stop did put themselves back on the board with two late scores. With no hard cap in semifinals, the belief was starting to emerge that a comeback might be possible, but Doublewide slammed the door shut with smooth offense and the game winning goal. Doublewide advanced with an emphatic 13-8 victory over Truck Stop.
https://twitter.com/Ultiworldlive/status/921839436123557888
Truck Stop's season may have ended earlier than they would have liked, but after competing in their first ever semifinal, there was an obvious silver lining. Despite everything seemingly coming undone, they kept to the spirit of the team.
"That's the most trying moment that we've had," said Stanley. "It didn't come undone. In fact, I felt it stronger. Nobody was in my ear trying to pull me down about this player or pull me down about that player. For it to be like that, that's interesting."
Doublewide will play Revolver in the men's final on Sunday. After a surging run to the final, Austin head coach Jose Cespedes is raring to take them on. Asked if there was any message he'd like to send to the clear favorites, he said: "What color do y'all want to go?"
This post was updated on October 24, 2017 to correctly attribute quotes to Truck Stop coach Darryl Stanley that were initially attributed to captain Jonathan Neeley.