More gear from the Vietnam-based supplier.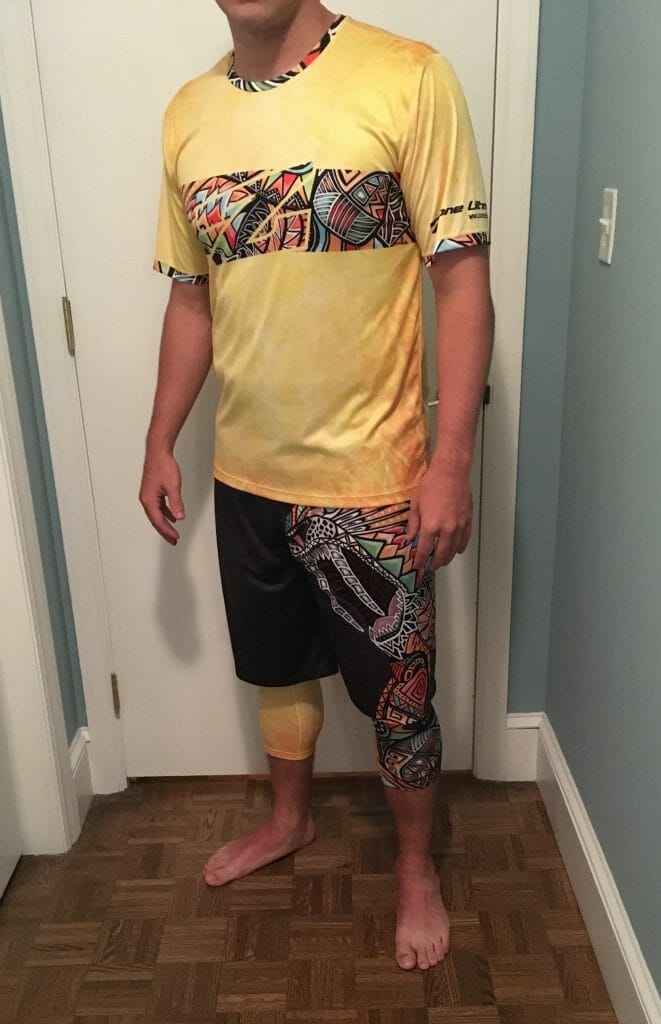 Disclosure: Ultiworld was compensated for writing this product review. All opinions are the reviewers' own and are not subject to approval from the sponsor. Please support the brands that make Ultiworld possible and shop at Zone Ultimate.
I'm generally pretty loyal to a handful of ultimate apparel companies, but, as a borderline hoarder of athletic gear, I am always happy to try out some new swag.
Zone Ultimate is a Vietnamese custom sports apparel company trying to break into the American ultimate market. They pride themselves on quality construction and customer service at a low cost.
I received a demo field kit from Zone including a long-sleeved jersey, shorts, and full-length tights, each in a female cut; Mike Ball received a similar men's kit. Here are our reviews of each item.
Long-Sleeve Jersey
Women's
The kind folks from Zone emailed me to ask for my sizing before shipping the sample. For some context, I am short (5'2" according to my USAU player profile) and have a hard time finding clothes that fit me well in general. So I took the time to do the measurements per the Zone sizing chart. Based on my reading of the sizing chart, I requested a small in all three items, which wasn't much of a surprise as nearly all of my ultimate gear is either a small or extra small and about half of which is enormous on me. Still, when Zone sent me the gear, they suggested a medium jersey instead of the small I had requested.
Regardless of size, the obvious first thing I reacted to while unboxing the long-sleeve was the print: a giant fully sublimated saber-tooth tiger. Let's just say the design is pretty intense, and while I'm sure this is someone's style, it's not mine.
As for the material and design, this jersey is a soft, silky, lightweight material that is really nice and comfortable. Also, I really like that this long-sleeved jersey had cuffed wrists. Often with long-sleeved ultimate jerseys, I find it difficult to roll my sleeves up and/or the ends fray pretty quickly. The cuffed sleeves on the Zone jersey made it very easy and comfortable to roll up and gave me an added sense of quality craftsmanship.
Even though the fit was a little big and the sublimated design wasn't exactly my style, I would recommend this long-sleeved jersey.
Grade: B+
Men's
I don't expect much out of an ultimate jersey. Be lightweight and don't soak up sweat, and I'm satisfied. This jersey took care of that for me wonderfully. The material is thin without being transparent at all, felt light on my skin, and it remained breathable even as I get sweaty. I've never worn a jersey that stands out as being spectacular, but I've worn plenty that stand out for being bad. This one is certainly not the latter.
As you can see in the pictures, the kit I was sent is a bit… loud. While I prefer more simple kits — I'm not the biggest fan of full sublimation — I must admit that the design on this kit is pretty cool and Zone's design team must be acknowledged for their work.
In terms of sizing, I'm comfortably a large in every piece of ultimate gear I've ever owned. There are some brands where I can make a medium work, but large is usually my comfortable size. So that's what I ordered here. I slipped on the size large kit that Zone sent me… or at least, I attempted to put it on, with less than stellar results. Luckily, Zone sent me an XL kit as well. I was able to get that jersey on and it fit comfortably. It seems as if Zone is aware that their sizing may be an issue for American consumers, considering they sent me the XL kit. Still, I wonder if it's still something that they could improve or be more transparent about.
Grade: B+
Shorts
Women's
I was initially super excited after unpacking the shorts. They were very lightweight and a super soft, comfortable material (albeit slightly see-through). Additionally, the shorts were longer than typical women's running shorts but shorter than typical ultimate shorts, which was a welcome surprise for someone of my (very small) stature. Again, the design was much bolder than my standard wardrobe, but I was excited to give them a whirl because of the other promising features.
Unfortunately, the shorts did not impress as much after I tried them on as they did before. It's hard for me to tell if it is my body type or an odd structure/fit, but the shorts bunched in very odd places and were on the tight side. As mentioned above, I took my measurements and ordered a small based on the size chart. I have never had ultimate shorts that are too small for me; in fact, most of my ultimate shorts are so big I can fit my entire body in them – truly, it's a great party trick and always makes for a good joke. So this came as a bit of a surprise to me, particularly because I had consulted the sizing chart when ordering.
The shorts have a larger-than-normal inside key/money pocket that seems functional but also created a weird fit and some fabric bunching.
Overall, I was pleased with the material and length but it is hard for me to recommend the shorts because of the odd fit. In this case, I would be interested to try a size or two up to see if they fit better.
Grade: B-
Men's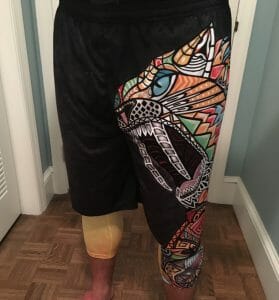 The shorts are more of a softer polyester and feel terrific. They're incredibly soft, and they have a bit of give without being ridiculously stretchy. They don't get heavy with sweat and they generally perform just fine on the field.
One potential area for improvement, though, is that they're not water repellent like a lot of ultimate shorts. That is one quality which I've grown to appreciate in performance gear for a sport where you occasionally compete in inclement weather.
So, while they're incredibly comfortable for lounging around the house and feel lighter than other shorts of comparable material, they just don't rival the performance of water repellent woven shorts that other companies are making.
Grade: B-
Full-Length Tights
Women's
The design on this item was the best of the three. My club team's colors are hot pink and teal and the leggings' design was pink splatter paint, which really resonated with me.
Unlike the shorts, they sent me both a small and medium option, which was helpful since it seems like the Zone bottoms run small. Trying out both, I was definitely more comfortable in the medium, which leads me to believe the same may have been true with the shorts.
The leggings were nice overall. They have a thick elastic waistband, which I absolutely love when it comes to compression tights. My favorite pairs of compression tights are thicker and pretty intense in the compression department. These were more like a standard, thin, compression tight. They are full-length and because it was sweltering where I live this summer as I tested them out, I didn't make it through an entire tournament with them on, though the length will likely be more welcome as the weather turns cooler.
Overall, these tights seem to be on-par with most mainstream compression gear.
Grade: B+
Men's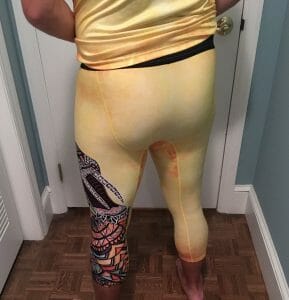 Compressions have become a necessary piece of ultimate gear, and players are more and more looking for a combination of performance and style with their tights. Zone delivered on only one of those here in my opinion.
These compressions had a loud sublimation with the same tiger style as the jersey and shorts I received. At risk of looking like "that guy," I never wore the entire kit together. However, I got compliments on each individual piece when I wore them, and Zone's design team must be acknowledged for their work on this kit.
That said, the material on the compressions needs some work. It is incredibly thin, to the point of being nearly see-through and providing very little in terms of meaningful support. There's a seam that runs across the buttocks of the compressions that other pairs I own simply don't have; this seam feels like it works against the body's natural range of motion and contributes to an overall discomfort.
As was the case with the shorts and jersey, the sizing was a bit off with this item; I think I ripped the large compressions just trying to pull them on. Even in the XLs, the compressions look stretched out on me and are pretty snug — and not in the obvious way in which compressions should be snug. The tight fit and stretched out material make the compressions uncomfortable in all of the wrong places.
While these may pass the eye test on style, I'd say the performance is middling at best.
Grade: C
Overall Impressions
Overall, it feels like Zone Ultimate has a good thing going, with some notable areas to improve. The jerseys are terrific, and the shorts are some of the most comfortable I've ever worn. The sizing seems to be a bit of an issue, and the performance of the sublimated compressions leaves a bit to be desired.
Zone clearly has the capability to make some impressive and unique designs; if they can figure out their sizing issues and tweak the cut of their compressions, they'll have the tools to be a major player in the crowded ultimate apparel industry.