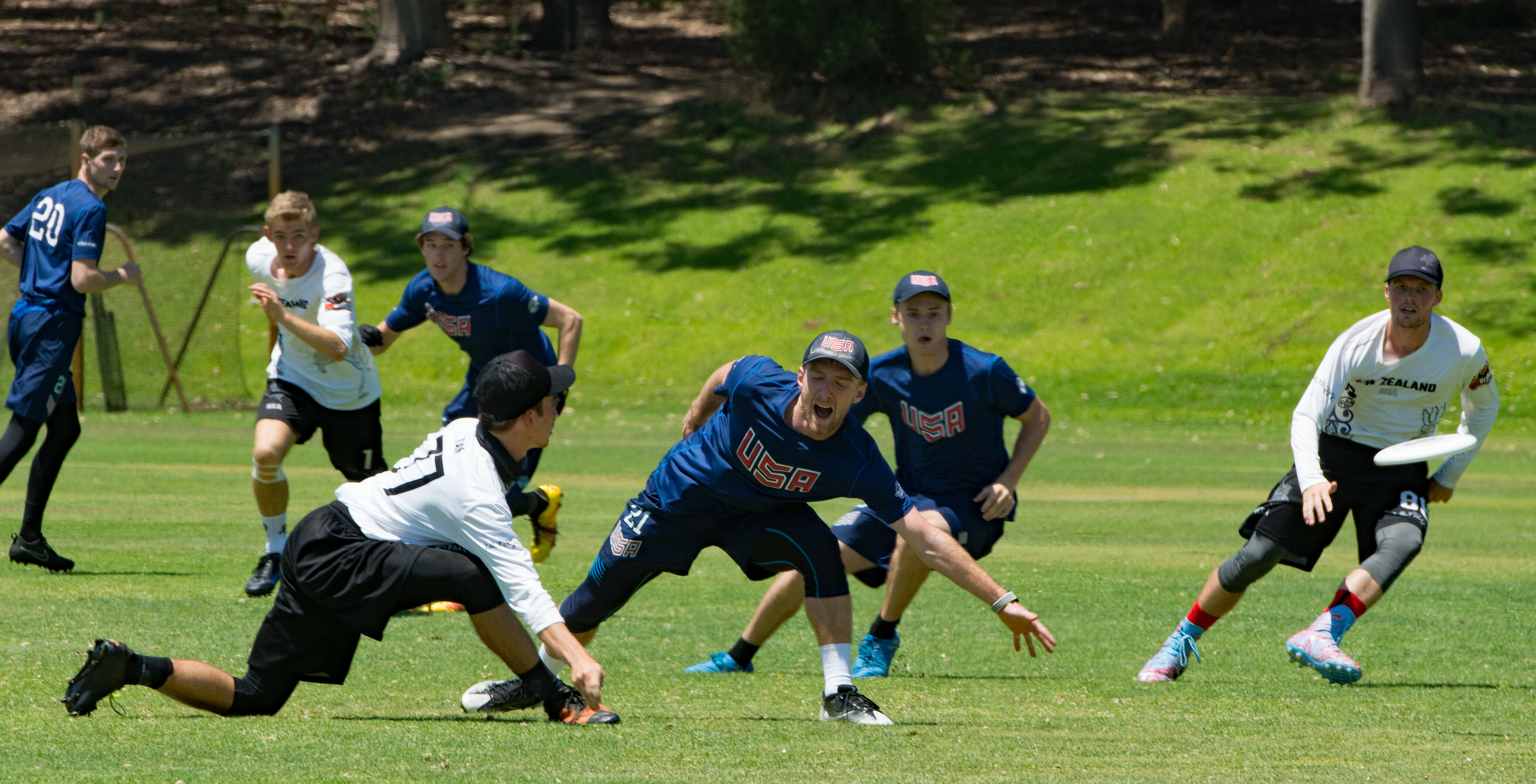 Today's play at the UWA Sports Complex featured an unexpected impromptu showcase game. In the early afternoon, the noise couldn't be ignored: Spectators began streaming towards field number eight, where the Ireland and Great Britain men were playing for what seemed like more than the top of pool D. Something tells me that both teams had circled this matchup in their schedule. Their chants and singing had a passion that spoke of an ancient rivalry.
The game was fast paced and physical. In the breaks, when the Irish locked arms and swayed with their heads tilted back, singing 'Angels' to the sky, you could close your eyes and almost be transported to the terraces of Lansdowne road and a sea of green scarves. A Coloradan standing next to me shook his head. "Man, these guys have got some baggage," he said.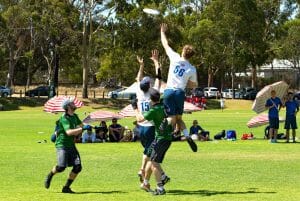 The growing throng of spectators looked at each other in amazement as players from both sides threw themselves into the contest. What a highlight late in the game when GB's Olly Dodd skied to catch a huck that had hung up in the wind. He brought the pack of players down in a tangle of arms and legs and the result was a contact call that took some time to resolve. In the indigenous game of Australian Rules Football, they have a name for what Olly did: it's called 'pulling down a screamer.' Appropriate wordage in this case.
Ireland triumphed 11-10 in the end, overrunning a Great Britain team who clung in vain to a two-goal lead late in the game. They've been a surprise side, the Irish, and although they dropped their following game to Singapore, they are still the 6th best performed team and can look forward to matchups with Japan and Australia in power pools.
Great Britain also took their tired legs into a contest with a US team that haven't been fully tested so far in the tournament. The US stacked a 15-6 win on top of a 15-1 romp against New Zealand early in the day.
US coach Joe Durst is satisfied with his team's week so far. "It's difficult to tell where we are at until we are in competition," he said after the win over New Zealand. "In practice, our offense and our defense tend to shut each other out, so we need the competition to see how we measure up. It's a shame we won't see Japan until later in the week. We really want to play them. But otherwise we've had a smooth preparation. No significant injuries and only two guys who got sick and they are recovering well."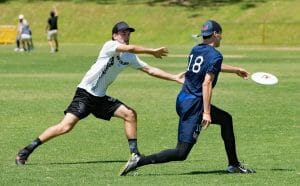 "They are more of a frat-like squad, these guys," Durst said when asked about the cohesion of his team. "They are less likely to hug each other than past teams and they do push each other. There's a lot of internal competition and keeping each other sharp."
The USA faces Germany and Italy, who are both 3-1, coming up in power pools.
Speaking of injury and illness, I dropped by the Physio tent and checked in with chief physiotherapist Michelle Bergeron for a summary of the injuries she's seen so far.
"Strained hamstrings mainly," she said. "I think that's just to do with the workload. Most of the strains are on the pivot leg which suggests they come from the repetitive lunging from playing multiple games in the day."
I must have cursed her, though, because the next thing she said was "excuse me" as an Indian player was brought in with a suspected concussion.
We begin the march towards the finals.
***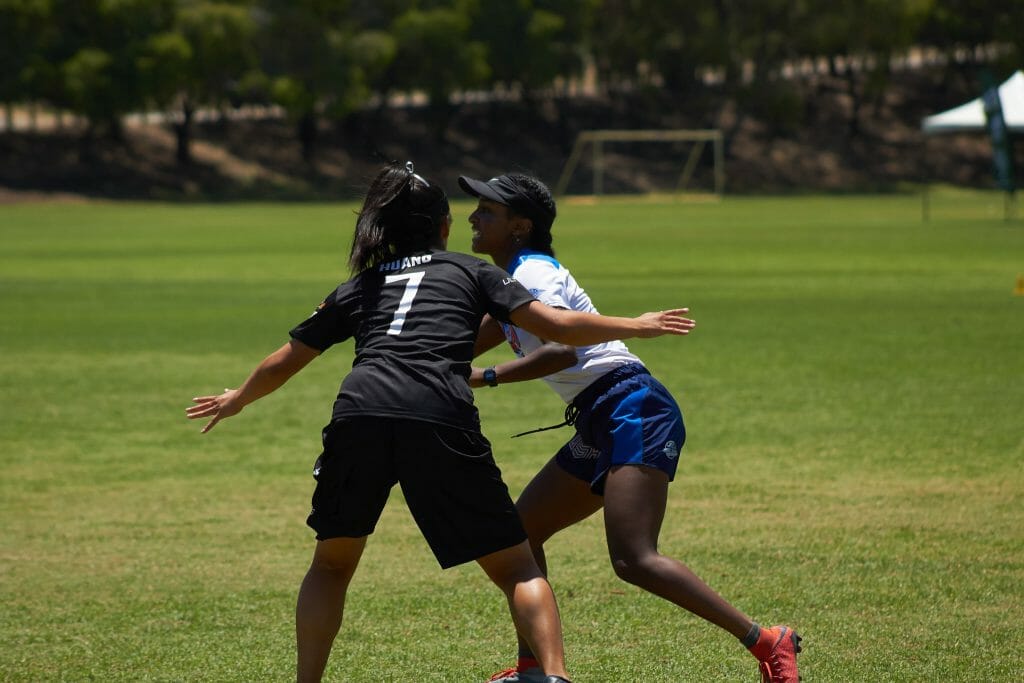 Our coverage of the Under-24 World Championships is presented by VC Ultimate. All opinions are those of the authors. Thanks for supporting the brands that make Ultiworld possible!
In the first game of the third day, the USA women faced New Zealand. Though it was expected to be an easy game for the USA, no one told that to the players. The same intensity shown in previous games was visible, with everyone clearly excited to be playing at the World Championships. "We don't adjust for who we are playing, we are trying to get better every single game regardless of who it is against," said Ella Hansen about the effort in a 15-2 win. "That's something that we want to pride ourselves in, not coast through the games."
Surprisingly, Jaclyn Verzuh was a full participant in warmups and played at least three points. Nhi Nguyen also dressed for the first time and fully participated. Julia Schmaltz was not dressed to play.
The game started, continued, and finished with Hansen. She snagged a D on the first point and then threw the assist to Kaci Cessna. The almost-bookends trend continued, in the second point Carolyn Normile went up big for a D. 
As with earlier games, great pulls and fast transitions allowed the USA defense to set up. This advantaged combined with aggressive marking and pressure on cutters generated multiple first pass Ds and offensive miscues. Amel Awadelkarim had two blocks, with the first resulting in a USA score on a beautiful around backhand throw from Claire Trop to Keila Strick, who was 15 feet in front of her defender.
18 different players scored goals or had assists, demonstrating the depth of the USA team. 
The win set them up for an anticipated matchup against Australia, who on Monday defeated Japan 14-13 in a double game point thriller. But on Tuesday, the Aussies lost to Colombia 15-12, further confusing the division's standings. Verzuh, Nguyen, and Schmaltz did not dress for the game. The USA came away with a 15-7 victory, but not without facing their first real adversity.
Both teams started the first point with energy and both turned it over once before captain Hannah Henkin found Abbie Abramovich to give USA the early lead. The teams were both playing person defense and making it very hard on cutters to get open. Captain Angela Zhu, well known for her deep throws, hadn't exploited that talent much yet this tournament. Facing Australia, she started to take those looks and hit Maddie Gilbert deep down field. Gilbert converted to Claire Trop for a USA break. 2-0. Australian star Alex Prentice left the field with an injury during the second point but returned later in the game. Australia had multiple opportunities to score in the first couple points, but Ynez Ruiz couldn't bring down a great throw in the end zone.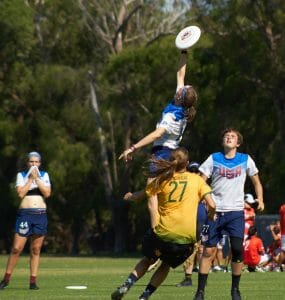 With USA up 2-0, the third point of the game dragged on, with multiple turns by each team and Australia's person defense able to bring pressure. After a D by Tulsa Douglas gave USA good field position, Dani Runzo found Piper Curtis in the end zone. This was the first of three assists for Runzo and the first of two goals for Curtis. As has happened with USA so far, it is impossible to predict who will stand out in each game. This game was a breakout game for Curtis. Her raw acceleration while cutting was notable and she was able to get open often.
To counter the USA's momentum, Australia ran a pull play, with Sally Yu getting open deep on a beautiful huck from Kathryn Smith. It worked, and each team held on the next two points. The USA then proceeded to run off five points unanswered, with Awadelkarim once again using the strike cut to score, Keila Strick completing a high release backhand to Normile, and Curtis again burning defenders.
With the score 7-2, Australia was at midfield and moving the disc effectively. Kaci Cessna had seen enough, and on an under pass very close to the near sideline, she made up for being a step behind by diving superman-style with both arms fully extended. It was an epic bid, with the disc flying off the field from the force of the collision. "I saw the thrower and the mark's eyes lock and I don't really remember how but I just kind of zoned in on the disc," Cessna said.
Australia finally found their grove after Ali Zalums made a huge bid to keep a point alive. "[She was] basically free the whole time, and a couple of times she would leap in front of their defender and save it for us," said Australian coach Mish Phillips. Australia then ran off four points in a row helped by a series of USA throwaways. Perth native Max Qua flipped a high release backhand to Sarah Perkins in the endzone, followed by Michaela Dunmall showing that she is one of the best players in the air by bringing down the disc while covered by both Tulsa Douglas and Zhu. The momentum was clearly with Australia, and you could feel the demeanor of the players on both teams change. A beautiful cross field backhand from Alice Lim, a look that seemed to copy Japan, landed in Caroline Ma's hands for the goal. Australia broke again, this time with Dunmall throwing to captain Alex Prentice.
Up 9-6 but bleeding fast, USA couldn't allow the run to continue. As both teams said in interviews after the game, "You have to focus on what you can control: offense." Zhu found Jenny Wei on a classic deep shot for the score and momentum-restoring possession. Wei had a better read than her defender and brought the disc down unchallenged. Australia would only score once more, when Smith put it up over the end zone and Perkins had the positioning to bring it down.
While Australia went 0-2 on Tuesday, the momentum swings in the USA game were evident to Phillips. "When they got a run going on the US, the body language and the belief in the team was so visible, so we just need to choose to have that before the game starts," she said. As the Aussies prepares for a tough game against Canada on Wednesday, they'll focus on things other than the game. "We have ordered about 300 postcards with images of the team from our campaign along the way and [the players] are going to spend the evening writing thank yous to everyone who helped along the way," said Phillips. "Instead of doing more strategy, what we actually want them to do is look outwards and think about who contributed their campaign here."
***
The USA Mixed team delivered another dominant day, defeating Germany, the pool two seed, 15-6 and Colombia 15-0. Kristen Pojunis, Dylan Best, and Julia Butterfield each had two goals against Germany as Brett Gramann, Mike Ing, and Tannor Johnson each tossed two assists. 19 different players had a goal or assist.
The US need just one more win to lock up the one seed in Pool A. They play Denmark today and China tomorrow.
***
Here are the current standings in the Women's Division (the top four teams after round robin play advance to the semifinals):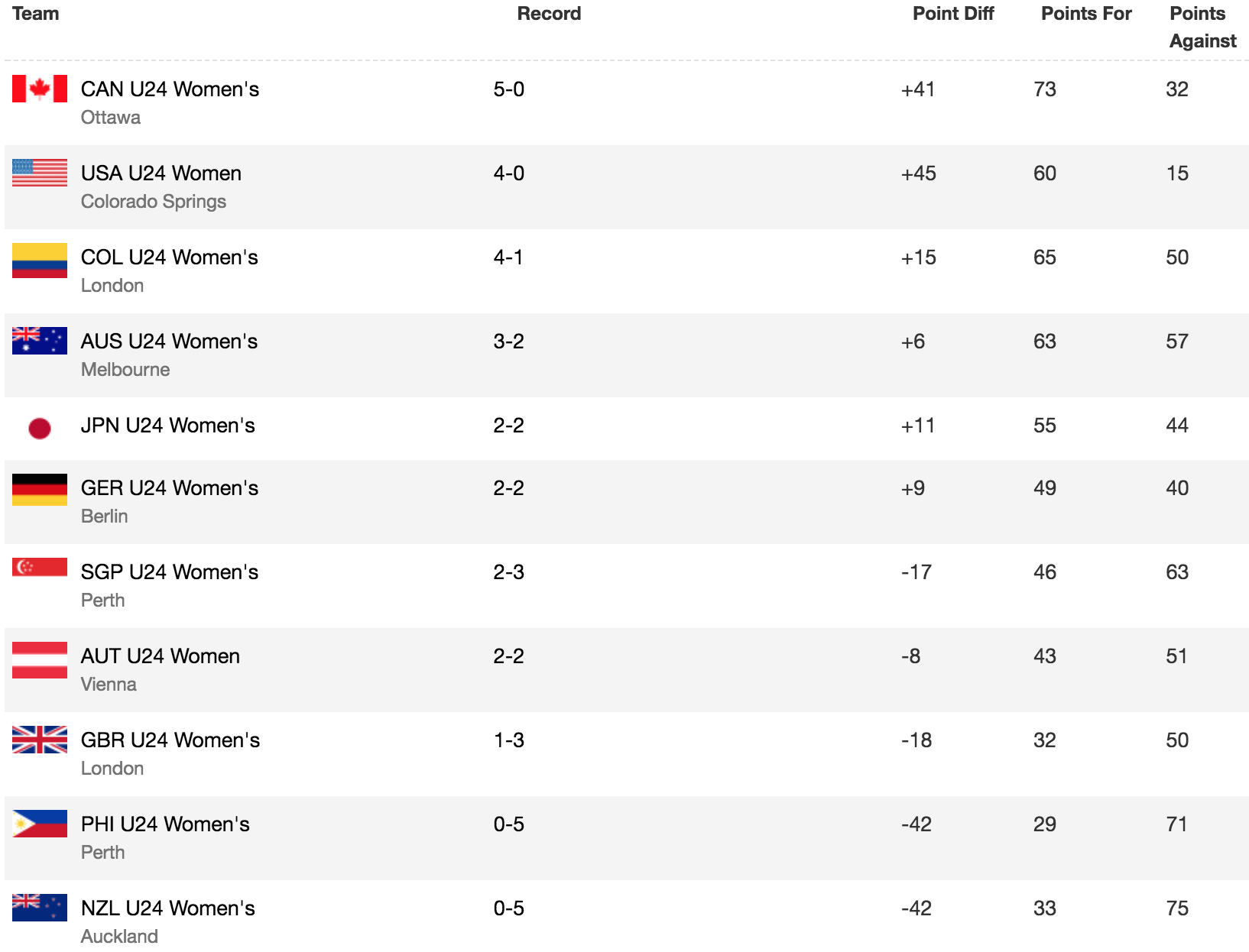 ***
Here are the Power Pools in the Men's Division. Every team from Pools E & F will make the bracket (top two from each get byes to quarters), along with the top two finishers from Pools G & H.


***
Here are the results so far in Mixed Division pool play. The top four finishers in each pool advance to quarterfinals.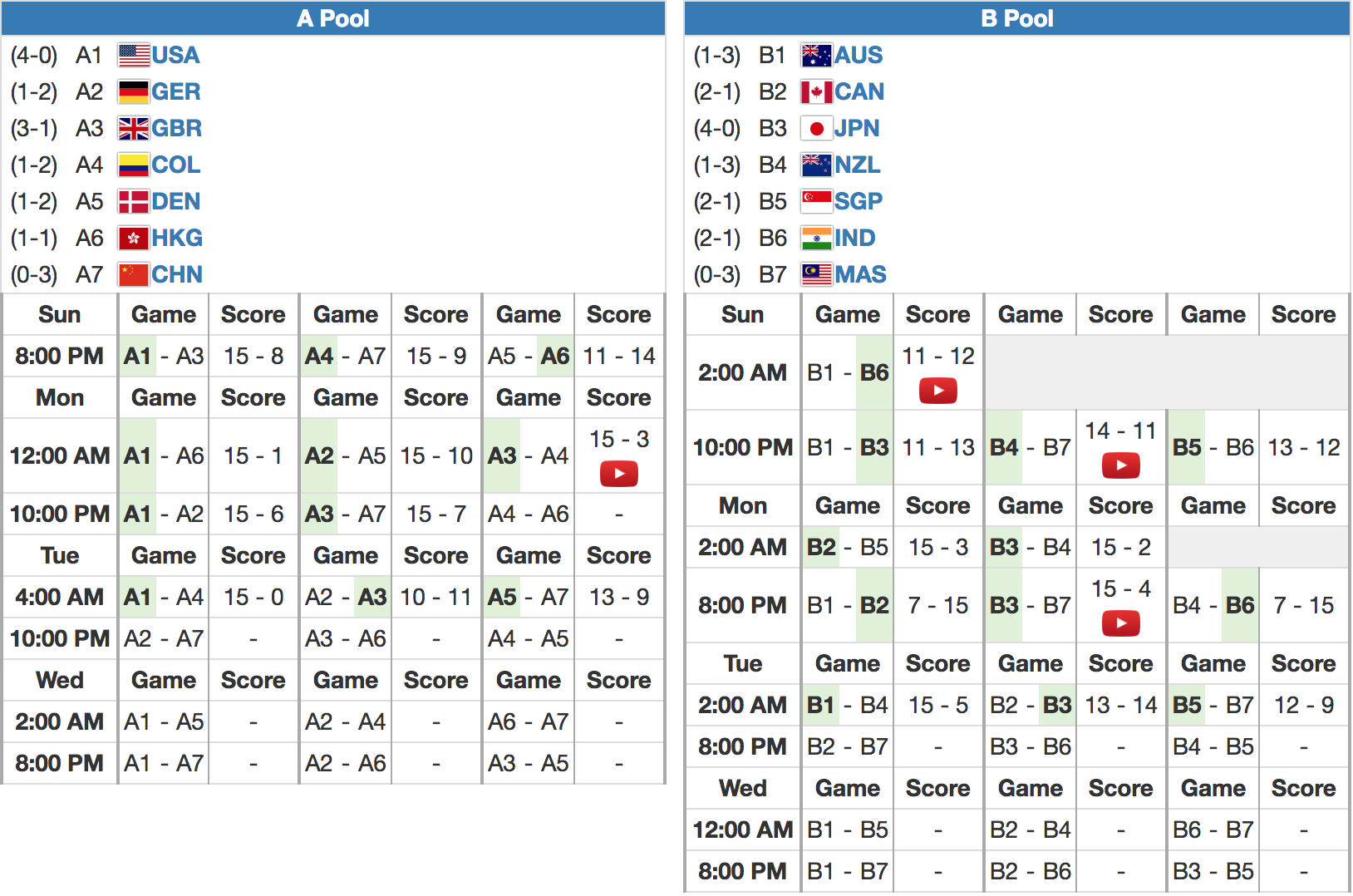 ***
Upcoming USA Games [All Times EST]
Men's: 10 PM v. Germany (1-0 PP), 2 AM v. Italy (0-1 PP)
Mixed: Wed. 2 AM v. Denmark (1-2)
Women's: 8 PM v. Germany (2-2), Wed. 12 AM v. Japan (2-2) [Livestreamed]