The first shots of elite men's college season will be fired in Chapel Hill at the aptly named Carolina Kickoff.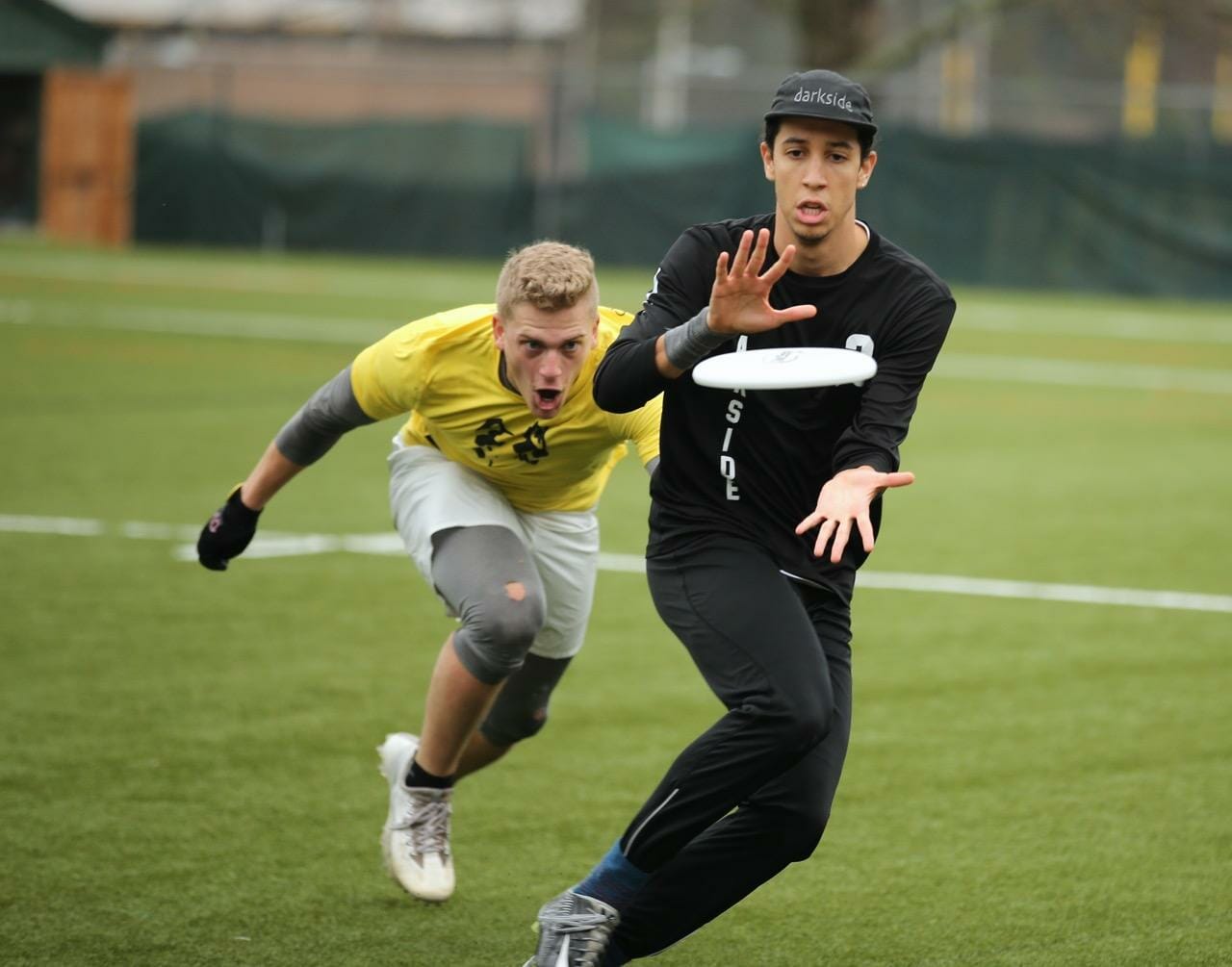 This article is presented by Spin Ultimate; all opinions are those of the author. Please support the brands that make Ultiworld possible and shop at Spin Ultimate! 
With just eight teams in attendance Carolina Kickoff has all the appearances of a tune-up for squads looking to get an early jump on the season before February brings on the real show at Queen City and Florida Warm-Up. With four teams from the D-I power rankings in a position to make a run to the final, Carolina Kickoff promises some good inter-regional competition from the Atlantic Coast and Southeast regions.
Tournament Profile
Date: January 20-21
Location: Chapel Hill, NC
Weather: Temperatures in low to mid 30s both days, with a Saturday high in upper 40s and Sunday in the 60s
Top 25 Teams: 4
The Atlantic Coast Favorites 
Like in 2017, tournament host #2 North Carolina Darkside is the heavy favorite to take the tournament. Much of that same team is here again with a couple of substantial additions; potential freshman of the year candidate Liam Searles Bohs, fifth-year pickup from Texas A&M Colin Smith, and another seasoned coach in David Allison, architect of the Virginia women's program. Depth has been UNC's calling card since their first run to the final in 2014. This season is gearing up to be no different.
"[Depth] has raised the overall quality of our practices because we have the ability to really challenge each other" explained Allison. "That has been a huge strength in our preparation."
Kickoff will be an excellent competitive primer for North Carolina. They'll have the opportunity to compete against regional rival #8 UNC Wilmington and the Southeast squads. Like Darkside, Wilmington brings an exciting cast of seasoned personnel back. Matt Ellis, who broke out onto the national scene back in May, had an exciting fall season on the Wilmington O-line alongside his old Devyl teammate Connor Russell. The sophomore duo has the potential to reach new heights in 2018.
"Last year was the first year we built a roster with an eye on the future" commented Brian Casey, "With this type of young roster, it makes sense for us to commit to development even more so than we did last year."  
How Wilmington's systems have evolved without the gravity of Jack Williams will be telling. With head coach Brian Casey moving to Charlotte this week, it will fall on the shoulders of coach Trevor Lancaster and Wilmington's veteran captains, Kevin Mateer, Willie Stewart, and Rick Henninghausen, to steer the Seamen onto a proper course to start the year.  
For #18 NC State, 2017 remains the season that could have been, after a late game collapse at Regionals cost them a shot at Nationals. 2018 shows more promise for the young squad as the previous season. A solid win over Pittsburgh at CCC demonstrates there's ceiling for this Wolfpack squad has but as noted by coach Garrett Dyer, NC State has not notched wins against the top teams at this tournament. In 2017, 9 of their 11 losses were to Nationals-qualfiers
"We have to demonstrate the ability to beat teams in the top 15 and that's something we never really even sniffed at last year," said Dyer.
NC State will have a golden opportunity to test themselves in Pool B against seemingly weaker opponents from the Southeast before taking on UNC Wilmington Saturday afternoon in another very familiar matchup between these two teams. Many of the younger triangle players competed with each other during the club season for Raleigh upstart Brickhouse. Their sophomore class, featuring Nicholas Donahue, Austin von Alten, Sean Murray, Michael Lee, Rhys Gretsch, were in sizable roles last season that should only expand this year. Playing against the region's most successful competition provides an opportunity for State to prove their mettle after a disappointing Regionals performance and the game has all the markings of a sibling rivalry.
Southeast Contenders
The declared goal of #24 Central Florida coming into the spring is making Nationals. Whether that entails roping in a bid for the Southeast or knocking off every team that comes in the way of those bids at Regionals, coach Andrew Roca and the Dogs of War have bought into this goal. It has been two years too long for Central Florida and Kickoff this weekend will give us a glimpse of what may be the second best team in the Southeast behind Auburn.
"I believe the roster have really taken the largest strides towards being a athletically dominant team," commented Roca.
Of all the Southeast teams competing at Kickoff, Central Florida had the strongest fall. The Dogs of War claimed victory over NC State at CCC and are positioned for a Kickoff rematch against UNC in their last round of pool play1. Adam Vinson drove the offense for UCF at CCC and will be a key component to a successful opening weekend of the season.
"His development has been exponential. Not only in knowledge and IQ, but in tempo and athleticism" said Roca, "He'll be the on field leader we'll need in every game this season."
Aside from Central Florida, the other Southeast squads competing at Kickoff this weekend have their work cut out for them. Florida and Florida State didn't look promising at CCC and have a long way to go if they wish to solidify themselves as contenders at Regionals against Central Florida and Auburn. Billy O'Bryan will need to have a supporting cast if the Gators hope to have a good start to the spring. While Florida has shown they know how to build a system around concentrated skill, that cast has yet to prove they can perform on even a small stage.
The Outsiders
D-III #8 Carleton GoP is the farthest traveling team in attendance at CCC and, having missed D-III Nationals in 2017 in a single bid North Central Region, this weekend is in part a very clear bid to secure results that may propel the team in the rankings. For senior handler Abe Eichner, Kickoff will be a familiar return home; Eichner was a part of the Carolina Friends School class that produced Matt Gouchoe-Hanas and Sol Yanuck. As he attempts to lead GoP alongside senior Saul Wildavsky and a talented junior class, they could have some trouble against UNC and UCF but their last game in pool play against Florida bears all the markings of a potential upset. Few D-III teams get this type of measuring stick or algorithmic earning potential, and after 2017's major victories for D-III teams2, there will be plenty rooting for the underdog.
Penn State Spank will be the one Ohio Valley team competing this weekend in Chapel Hill. Spank's fast pace offense has the potential to create some interesting challenges for Florida State with sophomore Colby Gordon rotating as both a handler and receiver. Replacing Codi Wood, the team's former star handler now cleating up for Minnesota, will be a challenge, but they'll probably approach by committee, looking to Fred Wolf and company to pick up the slack. The team will also benefit from picking up Christian Gilbertson from Virginia Tech.
PSU is looking to attend some tougher tournaments this spring to better prepare the team for the postseason. They've gone 40-14 over the past two seasons3, but have yet to beat a team that qualified for Nationals over that span, going 0-7 in such matchups. Spank is good enough to hang with most of the teams in their pool and Kickoff will provide highquality reps for the squad before they return to North Carolina for QCTU next month.
---
they faced off in last year's Kickoff final ↩

Most notably, Richmond over Harvard at QCTU and John Brown over Texas ↩

including postseason play ↩