Lots of big games, between top 25 teams and beyond.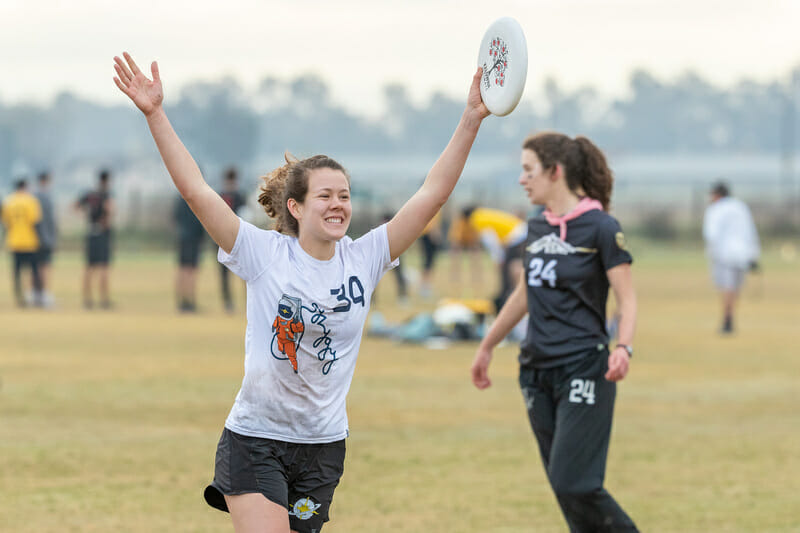 College Update is presented by Spin Ultimate. Please support the brands that make Ultiworld possible and shop at Spin Ultimate!
Throughout the spring season, we will publish a bite-sized weekly recap of all the action across the college division. This will serve as a supplement to our standard tournament reporting and will offer a high-level look at the latest happenings and the biggest stories of the week.
Want your tournament listed here? Submit a recap of what happened right here.
D-I Women's
Carleton Remains Atop Division After Stanford Invite Win
#1 Carleton had been very impressive coming into Stanford Invite, and after going 7-0 to win the tournament, it's increasingly hard to argue against them. They topped Stanford 13-7 in their semifinal and Tufts 13-10 in the final, asserting themselves over some of the best in the country. Some halves were underwhelming — this team is not an unbeatable juggernaut — but they don't play two bad halves in a row and the depth of their top end is superior.
With such a strong field, there's lots to glean from the results in Stevinson. UC San Diego was the other semifinalist, but a pair of losses to Stanford imply that the path to the Southwest throne no longer goes through San Diego. Washington may have lost in quarterfinals, but that was their only loss of the weekend. UBC flashed moments in their debut. The west coast is strong, but the division is fairly balanced.
For more on Stanford Invite, check out Charlie's Tournament Talk, and the tournament recap (coming soon).
Around The Division
Northwestern entered as the favorite to win Midwest Throwdown and, despite the winds, they delivered on that. After conceding just a single goal in their three pool play games, Gung Ho found the upwind end zone with superior consistency to their peers in the bracket. A 10-4 win over no. 2 Truman State in the final carried them to the tournament win. Shout out to Wash U B, who finished 15th after being seeded no. 33.
The winds slashed across New Jersey this weekend for The Culture, making competition largely about scoring upwind. No. 2 Mount Holyoke proved the strongest in that regard, riding a trapping zone defense and playing smart field position-oriented offense. Their dynamic top end bullied them past the field, led by a 9-6 win in the final over New Hampshire and an emphatic 11-1 Saturday crossover victory against third place finisher, Connecticut.
Liberty, Haverford Bryn Mawr, and Cincinnati each went 5-1 in the single pool at Mash-Up, but point differential left Cinci out of the final. Liberty avenged their lone loss to Haverford with a 13-6 victory in the final. It's the first tournament win for Liberty this season through three events.
No Sleep Till Brooklyn played host to many top Metro East teams, and perhaps a preview of the regional final. Columbia got the better of Cornell both in pool play (8-4) and the final (10-6). That pushes them to the slight favorites in the region. On a side note, it was unfortunate that Oberlin and Bates did not get a rematch in of last year's D-III national title game. Maybe next time.
West Virginia's Country Roads Classic was a solid weekend for the host team, who fell short of a win, going 5-2. Both of those losses came to UMBC, who topped West Virginia by a combined three goals, holding seed at the top of the tournament. That gives UMBC 15 wins this spring.
Occidental and Cal State-Long Beach went toe-to-toe in both pool play and the final. Occidental reigned supreme in both cases, the highlights of an undefeated weekend at Santa Clara Rage. Their success solidifies their lead in the D-III women's Southwest, which makes it very likely they will advance to Nationals based simply on standing.
Air Force Invite's one-day round robin went to Colorado College, who cruised to 3-0, with their closest margin of victory coming 11-6 over Denver. That pushes Strata up to the third spot in the projected USAU rankings.
D-I Men's
UNC In Control At Smoky Mountain Invite
#2 North Carolina has been good enough to make their 7-0 confident run through the first ever Smoky Mountain Invite boring. UNC is undefeated through the early weeks of March; what's new? What merits attention is how much they separated themselves from the field, winning most of their matches by comfortable margins, including casting Pittsburgh aside with a 15-9 victory in the final. If you were looking for a national title favorite, you've found them.
Upsets made for some compelling Saturday results. UT-Dallas went 2-1 in pool play, beating Carleton and Ohio State, both on double game point, and won the pool despite a loss to NC State, but they ran out of steam in their Sunday quarterfinal against Minnesota. UMass also beat Pittsburgh in Pool D, while Texas tumbled to the bottom of the Pool C. A depleted NC State team also slipped to the bottom of Pool B.
For more on Smoky Mountain Invite, check out our tournament recap.
Colorado Wins Stanford Invite As Washington's Undefeated Season Ends
As expected, the same semifinalists from the Presidents' Day Invite — the same top four seeds, as well — repeated themselves at the Stanford Invite. However, the results played out quite differently. After getting leveled by Washington in the PDI final, Oregon earned a break-free semifinal win in their second matchup, 9-8. They weren't able to repeat that success against a staunch #10 Colorado team, who took the tournament victory home to finish off an impressive weekend. Mamabird flashed their potential, with both their veterans and new recruits contributing to their strong play on both sides of the disc.
For more on Stanford Invite, check out Charlie's Tournament Talk, and the tournament recap (coming soon).
Around The Division
D-III Women's
Mount Holyoke Wins The Culture
#11 Mount Holyoke maintained perfection on the season, winning all seven of their games and taking first place at The Culture in windy conditions. Their record includes wins over all D-I programs, battling in the wind of New Jersey and utilizing a trapping four person cup to make the difference along with strong play from Hannah Finn-Erb and Clara Honigberg.
Brandeis Banshee made a similarly strong run, falling in a semifinal match and the third place game, ending the weekend 4-3. Brandeis' wins also include a direct 7-2 win over #6 Williams La WUFA. LA WUFA ended 2-5 and in sixth place. Marist FoxU Vixens surprised with a 5-1 weekend for their first sanctioned tournament of the season, ending in ninth place after a last round forfeiture by SUNY-Albany, and picking up wins over D-III squads College of New Jersey Anarchy and SUNY-Cortland (3-2). SUNY-Cortland ended 3-4, with a win over Anarchy (5-4) as well; College of New Jersey went winless on the weekend.
MWTD Hosts Cross-Region Competition
Regions clashed at Midwest Throwdown, bringing together teams from the Great Lakes, South Central, and North Central to face off against one another in Missouri in windy conditions.
Out of the North Central, Grinnell Grinneleanor Roosevelts brought home three wins, and dropped one of their four games to the Macalester Pursnatchers by a score of 8-5. Drake Ibex similarly lost to Macalester, 8-4, over their weekend, but did leave with a win on the stat sheet. Macalester went home with a winning record, 4-3, and 19th place as a result. Luther Freya went 4-3 on the weekend, including a beatdown loss to Truman State along the way, and snagged 25th place. #3 St. Olaf Vortex and #8 Carleton Eclipse performed the best from the NC –both teams faced off for seventh place, with the win going to Carleton, 7-6. The match proved to be Eclipse's only D-III match over their 3-5 weekend; a gritty and physical Vortex snagged wins over John Brown and Tusa, but lost to Truman State in the course of their 4-4 weekend, which it was reported that force-of-nature Anna Clements missed due to illness.
The South Central had a solid weekend, with a set of wins for the region. Tulsa Coriolis Force ended 2-4, dropping their game against St. Olaf 13-2. #17 John Brown Savage Skies similarly lost to St. Olaf, 9-4, but left with a record of 3-4 after a weekend of gritty play. Rounding out the group, #5 Truman State was nearly perfect, ending 6-1 and taking second place overall in the tournament. Along the way, they defeated Luther (12-2) and St. Olaf (9-4), before falling to Northwestern in the first place final, a terrific showing for the South Central squad that didn't have star veteran cutters Jess Tiller and Katie Bruggeman downfield for the weekend.
From the Great Lakes, Knox Alley Cats ended 1-5, eking out an 8-7 win over Nebraska in the blustery conditions.
Oberlin and NE Teams Make Cases at NTSB
#2 Oberlin Preying Manti joined New England teams in tournament play at No Sleep Till Brooklyn. The top seeded Manti went 3-1 in pool play on the way to a fifth place finish; unfortunately Preying Manti never saw a direct game against a D-III opponent at the tournament. From the New England region, #18 Bates Cold Front got a chance to avenge a loss to Colby CDC the previous weekend; they beat CDC twice over the course of NSTB by scores of 9-7 in pool play, and 9-3 in the third place final match. #16 Colby finished the weekend in fourth and with a crossover win over Amherst Sparkle Motion by a count of 8-7, ending the weekend at 3-4. While successful at defeating their D-III competition, Amherst left the weekend with two losses under their belts.
Around The Division
D-III Men's
This weekend saw multiple matchups between top teams in D-III men's ultimate, with key games taking place in Columbia, MO at Midwest Throwdown and in Brooklyn, NY at No Sleep Til Brooklyn.
Despite participating in their third straight weekend of tournament play, #3 Missouri S&T Miner Threat finished second in Columbia with a 6-1 record, only losing in the final to Northwestern. In windy conditions at Midwest Throwdown, Miner Threat's zone proved difficult for opponents to navigate, with no team scoring more than nine against S&T.
Miner Threat's best win on the weekend came in a 9-4 blowout over #4 Carleton GoP. GoP finished fifth on the weekend with a 5-2 record. Other notable D-III teams in attendance were #23 Truman State JujiTSU, who went 5-3 with losses only coming to D-I opposition, and Luther LUFDA, who fought through injuries to a 4-4 weekend.
At No Sleep Till Brooklyn, #11 Marist Red Fox made their season debut with aplomb, winning the tournament with a 6-0 record and picking up wins over Colby, Amherst, and Williams in the process. This was Marist's first sanctioned appearance since losing in the Metro East final on double game point last season, and Red Fox solidified their status as favorites to win the region this year.
#7 Colby CDC underperformed relative to expectations, going 4-2 and losing to both Marist and Amherst, their only D-III opponents of the weekend. Amherst Army of Darkness and Williams WUFO finished second and third, respectively, but split their games on the weekend. Williams won the first matchup to reach the final before losing in a rematch in a second place game.
Looking Ahead
As is customary, following the big weekend of early March events, it's a bit of quiet one for the top 25. With the spectre of COVID-19 hanging over the world, and teams' travel plans and tournament schedules, and the whole season, in flux, there's a lot up in the air going into this weekend and beyond.
Michigan is the lone top 25 at Oak Creek Invite (Men's), so they'll need to put up strong results at a tournament where no. 2 Temple, no. 3 Cincinnati, and no. 4 UNC Greenville are seeded as their strongest competition.
Notre Dame makes the familiar trek to Florida for Tally Classic (Men's), where they are the no. 1 seed. Southeast and Atlantic Coast clubs (plus Minnesota Duluth) await them in the 12-team Tier 1 of the Southeast staple event.