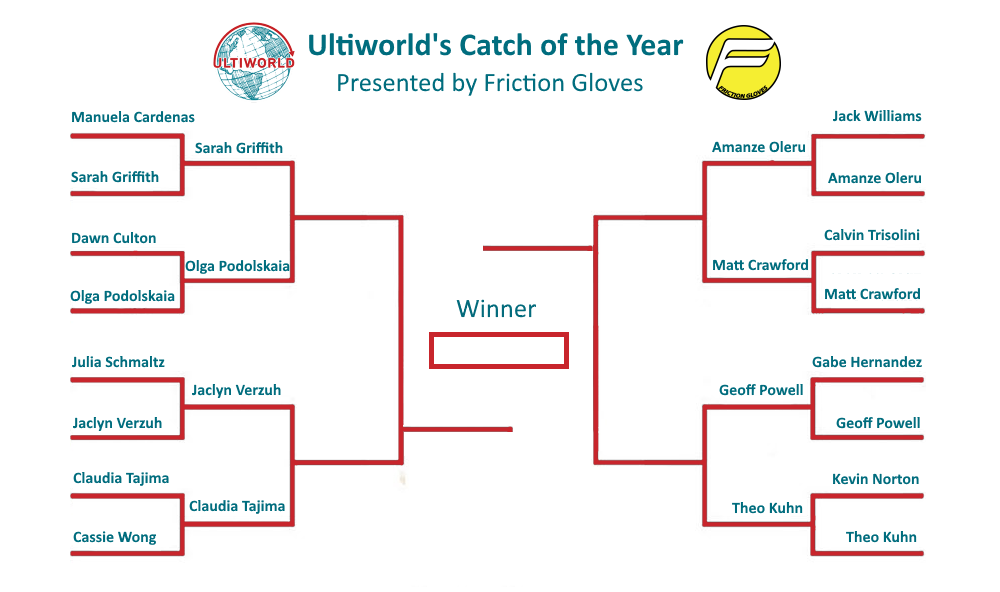 This article is presented by Friction Gloves; all opinions are those of the author. Please support the brands that make Ultiworld possible and shop at Friction!
As was the case last year, the first round of voting in our Catch of the Year bracket produced some blowout victories from some pre-contest favorites as well as a few surprise upsets. We move right along to round two of the competition, with another opportunity for Ultiworld readers to voice their preference for the best grab of 2017.
The second round of voting starts now and closes on Friday, January 19th, at 5 PM Eastern.
Round 2
Matchup 1: Griffith vs Podolskaia
Sarah "Surge" Griffith – United States (World Games)
In the closest matchup of the first round, Surge lived up to her nickname, coming from behind late to sneak past Manuela Cardenas by a mere two votes. Wow. Now we'll see if Griffith's superwoman layout snag can take down another international opponent.
Olga Podolskaia – Russia (WCBU Women's)
Podolskaia's matchup with Dawn Culton garnered more votes than any other pairing in the first round of this competition — 30% more than the next highest total, in fact. While Culton tallied more votes than half of the first round winners, in the end, she could not overcome her Russian opponent's world title-winning grab.
Matchup 2: Verzuh vs Tajima
Jaclyn Verzuh – Dartmouth Princess Layout (USAU Women's D1 College)
While many felt that the meeting between Verzuh's and Schmaltz's catches came far too early in this bracket, Dartmouth's Player of the Year repeated her performance from the college national final by winning the matchup with Texas' star.
Claudia Tajima – Boston Brute Squad (USAU Women's Club)
Tajima knocked out her teammate Wong with the largest margin of victory on the women's side of the bracket in the first round. Is her slick sideline footwork more impressive than Verzuh's over-the-shoulder acrobatics?
Matchup 3: Oleru vs Crawford
Amanze Oleru – Seattle Bankroll (YCC U20 Mixed)
Like his fellow Seattleite Griffith, Oleru benefited from a late wave of support to just edge past his first round opponent — he topped Jack Williams by six votes. While the rest of this competition is being dominated by epic horizontal layouts, Oleru's sky at YCCs is now the lone representative of pure aerial prowess remaining in contention.
Matt Crawford – San Jose Spiders (AUDL)
While Crawford's adroit save of a fluttering blocked pass can rightly be compared to Markette's 2016 club final heroics, the San Jose Spider has already found far more success in the Catch of the Year bracket than did Cricket. Crawford decimated his first round opponent, picking up both the most votes and the largest margin of victory so far. Can he be the first to knock out a nominee from Seattle?
Matchup 4: Powell vs Kuhn
Geoff Powell – Canada (World Games)
Powell's World Games exploits proved enough to dispatch Gabe Hernandez's impressive snag in the first round. In the quarterfinals, we'll see just how much moment matters to Ultiworld's voters as two spectacularly athletic plays that happened on wildly different stages square off.
Theo Kuhn – Yale Superfly (USAU Men's D1 College)
In a matchup of very similar grabs, Theo Kuhn's huge layout goal snuck past Kevin Norton's in another very tight first round decision, 51% to 49%. Next up, the Yale junior faces off against another massive horizontal effort.