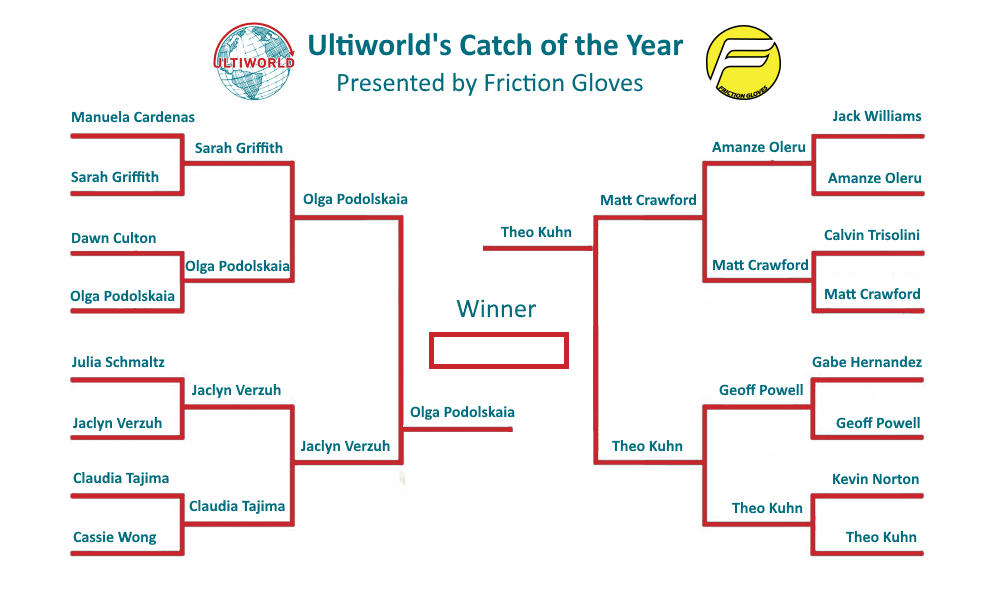 This article is presented by Friction Gloves; all opinions are those of the author. Please support the brands that make Ultiworld possible and shop at Friction!
This is it. Fourteen outstanding finalists — and many more worthy nominees beyond that — have been narrowed down to two finalists to battle it out. Time for Ultiworld's readership to vote on their 2017 Catch of the Year.
Voting is open now through Thursday, January 25th, at 5 PM Eastern.
Final Round
Podolskaia vs Kuhn
Olga Podolskaia – Russia (WCBU Women's)
Facing by far her stiffest competition yet, Olga Podolskaia still came out on top in the semifinals. Jaclyn Verzuh secured more votes than any nominee had in any previous round (including Podolskaia herself) — and was still routed. After Verzuh was staked to a big early lead from her American fans on Monday afternoon, morning came in Russia and Podolskaia roared back. Even with a late push on Tuesday afternoon, Verzuh simply couldn't claw her way into the matchup. Now, only one more catch stands in Podolskaia's way of adding a Catch of the Year title to her world championship gold. Is Theo Kuhn's grab up to the challenge?
Theo Kuhn – Yale Superfly (USAU Men's D1 College)
Kuhn also marches on to the final, earning another lopsided victory over a foe who had previously been the highest cumulative vote getter on the male side of the bracket. His Sportscenter-worthy snag, even without the high-profile backdrop of a major competition, has proven impressive enough to dispatch all comers so far, but now faces a juggernaut in Podolskaia. Kuhn saw less support than Verzuh did in the semifinal and will face an uphill battle to topple his European foe in the final.