A weekly look ahead to five things that have us excited.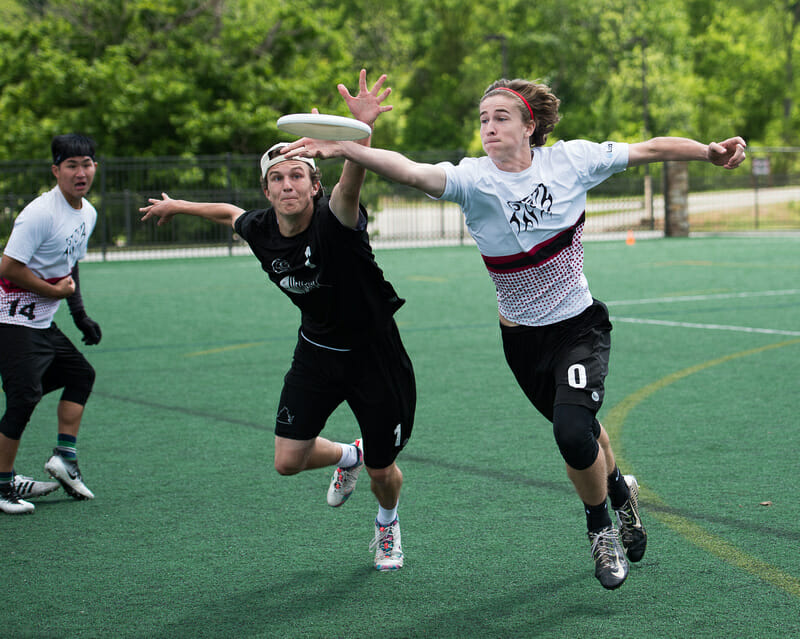 This season, we're trying something a bit different. Every Friday, our team will look at the exciting stories, teams, players, events, quirks, and all the inbetweens, and highlight five that have them hyped for the weekend of ultimate to come. Check out what's caught our eye and let us know what you're looking forward to in the comments.
This Week's Roster
Katie Raynolds, D-I Women's Editor
Mike Ball, D-III Men's Editor
Charlie Eisenhood, Editor-in-Chief
Simon Pollock, Managing Editor
Sam Echevaria, D-III Women's Editor
The Five
Katie: The Northwest Women's Teams Throwing Down at Bellingham Invite
The Northwest region's top women's teams will take their first tentative cracks at each other this weekend, and I can't wait to watch. Most of the attending teams have had minimal turnover, and they know each other well. Will UBC's depth shine through, even this early? Can Western Washington make a splash this year? Can UW impose their will in the region? I love seeing new rookies learning the ropes, likely hampered by archaeological layers of fleece and raincoats. Give me rain, give me cold, give me sloppy, early season ultimate.
Charlie: #YearOfTheShimmy
No more dabs. No more dilly dilly. The start of the new college season means it's time for ultimate to embrace the shimmy. Post-score celebrations are on the rise (a good thing!) and if you're not gonna get creative, then just get a little swagger going in the shoulders.
There is no good reason this can't get started this weekend. We're taping games at Bellingham Invite and Carolina Kickoff. Who's gonna make the highlight reel??
Mike: UAH Makes Their D-I Debut
After finishing T-3rd at D-III Nationals in 2017, the Alabama-Huntsville Nightmares have to compete in Division I in 2018 due to an increase in their school's population. They'll be making their debut this weekend at T-Town Throwdown, where they'll face off against many of the Southeast opponents they'll be seeing in the series. Tannon Hedges and Elijah Jaime are key returners for the Nightmares, and they'll be buoyed by graduate student and former Auburn cutter Michael Volz. Were they to be playing D-III again this year, I'd have the Nightmares as a top five team in the division; I look forward to seeing how they stack up early on in their new division.
Simon: No, This Is NC State's Year To Make Nationals
I've got my eyes on Carolina Kickoff this weekend.
I've been covering college ultimate since 2014 now, and at least one source, Ultiworld staffer, or Carolina ultimate person tells me it's finally going to happen.1 In 2017, State stayed on the horse long enough to ride into a third bid for the Atlantic Coast, but their seemingly annual bout of postseason dizziness came in the form of a close loss to Virginia Tech in regional quarterfinals. Wilmington galloped into the game to go a few rounds later and tossed State right out of the saddle.
2018 isn't going to be the year the Wolfpack take down North Carolina or Wilmington in the postseason. It is, however, a year where their talent will have evolved from lauded rookie class into veterans still stinging from postseason loss, and that's the sort of stuff that makes for chips on shoulders. That's why I'll be excited to hear the report from Chapel Hill from co-editor Mike Ball and Carolina-based reporter Hugo Sowder.
Sam: Madison's AUDL Season Starting Off on a Different Foot
There's still a bit of time until the season truly gets under way for most D-III women's programs, so that's given me a chance to look farther into the future towards summer and the impending AUDL 2018 season. With the AUDL 2018 Championship weekend slated to return to my hometown of Madison, Wisconsin in August, fans can already start preparing for the pain of a Radicals three-peating their current run of semifinal losses.
This weekend is their overnight combine tryout, which has been changed from previous years: the Radicals are inviting female-identifying players to attend for $15 instead of the usual $30, with the fee going towards youth ultimate programming put on by MUFA, the local ultimate association. I'm curious to see how other female players react and interact with this extended invitation. Will they attend? Stand outside and protest? Both? Neither? The response from the larger Madison ultimate community to this and other gender equity efforts by our AUDL team will also be telling.
---
If I get all three in the same week, I get hit in the eye with a bunch of misprinted Queen City Tune Up jerseys. ↩