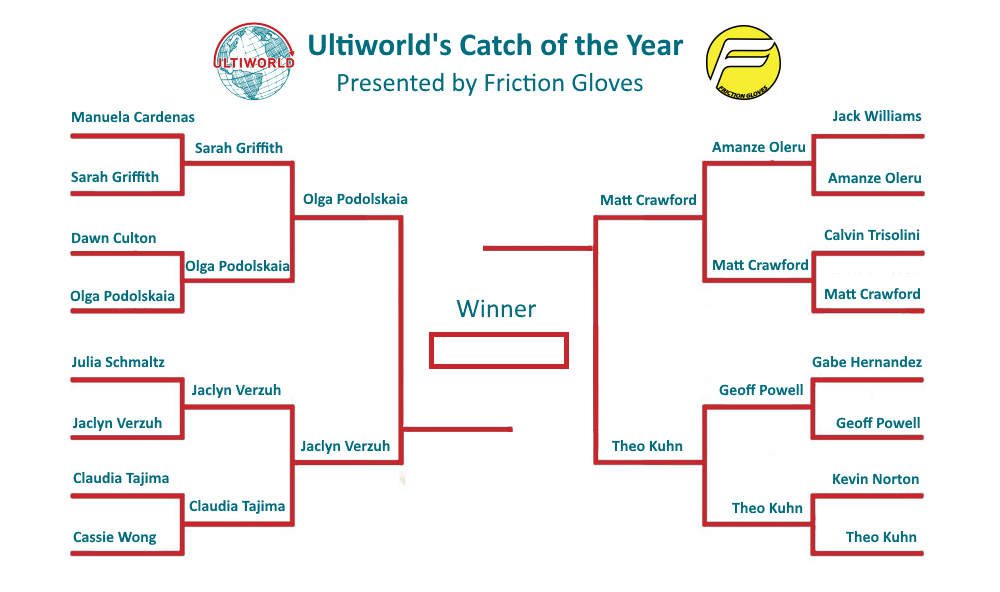 This article is presented by Friction Gloves; all opinions are those of the author. Please support the brands that make Ultiworld possible and shop at Friction!
We're down to the final four and only a few days away from crowning our Catch of the Year bracket champion. Time to weigh in for which clips will battle it out for the title.
Semifinal voting is open now through Tuesday, January 23rd, at 5 PM Eastern.
Semifinal Round
Matchup 1: Podolskaia vs Verzuh
Olga Podolskaia – Russia (WCBU Women's)
For the second straight round, Podolskaia's matchup saw by far the most votes, as a massive wave of international support helped her best an American opponent. Will the worldwide community help her make it three straight?
Jaclyn Verzuh – Dartmouth Princess Layout (USAU Women's D1 College)
Verzuh's catch from the college final may not have sealed victory in that game, but felt even at the time like THE emphatic moment when Dartmouth's national championship was all-but assured. Will it be enough to overcome Podolskaia's world championship-winning grab?
Matchup 2: Crawford vs Kuhn
Matt Crawford – San Jose Spiders (AUDL)
Unlike on the women's side of the bracket, both remaining male nominees are from lesser known players in less consequential moments; they have both advanced based purely on the merits of the catches themselves. Crawford again walked away from Round 2 with the largest margin of victory in topping Seattle's Amanze Oleru, but is his end-over-end snag a more difficult feat than Kuhn's massive trailing edge layout?
Theo Kuhn – Yale Superfly (USAU Men's D1 College)
Like Podolskaia, Kuhn's catch seems enjoy an especially enthusiastic group of supporters, as his matchup saw far more votes than the other men's quarterfinal. Will that support be enough to knock off Crawford?