The latest on the High School National Invite!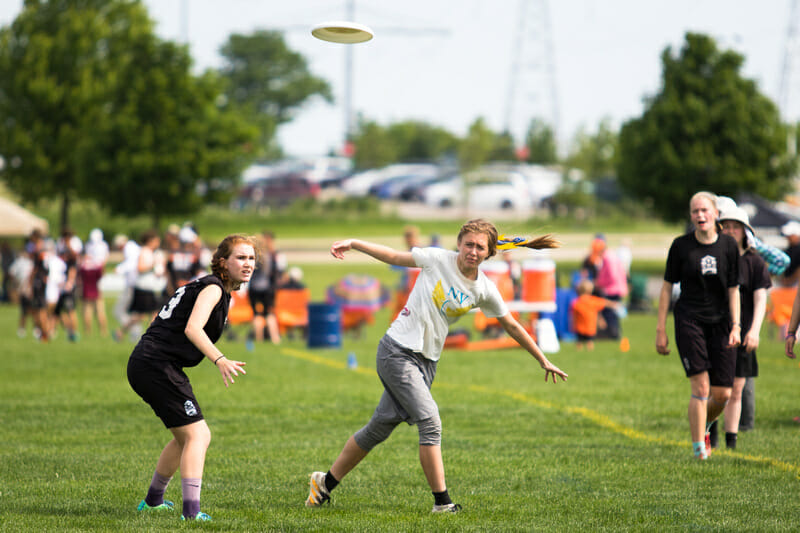 After the Nathan Hale (Seattle, WA) boys team became the first team to accept a bid to the 2018 High School National Invite in November, five additional teams have accepted bids to the tournament.
We are thrilled to have the 2017 Washington state champion Franklin (Seattle, WA), Nathan Hale (Seattle, WA), Roosevelt (Seattle, WA), and Neuqua Valley (Naperville, IL) in the Girls Division!
In the Boys Division, Garfield (Seattle, WA) has also accepted a bid.
***
Most invites will go out this spring. Beginning next month, Ultiworld will begin releasing biweekly high school top 25 power rankings for each division. Rankings will be based on performance during the season and compiled with a combination of Ultiworld editorial judgment and coaches's input. During the season, invites will be sent out on a rolling basis based on a number of factors, including team performance and geographical/logistical considerations. In early May, a final power ranking will be released; the top 16 teams in each division will be invited to compete at the National Invite.
If you feel that your team would benefit from an early rolling bid (particularly for additional travel planning time), please email us!
***
We have had some teams express concern about the fact that, last year, the tournament hosted 16 boys teams but a smaller Girls Division of just eight teams.
To be clear, the plan last year was the same as it is this year: to have a full 16 teams (and possibly 20) in each Division. We invited over 25 girls teams in 2017 but only eight accepted bids. On the Boys side, there were simply more teams that accepted bids from an equal range of invited teams. We chose not to continue extending invitations to lower ranked teams because we believed that it would dilute the quality of the tournament. We opted for a smaller, higher quality Girls Division instead of just trying to maximize attendance.
We hope that this year, after a successful 2017 tournament, more teams will be interested in making the trip (a date change to one week later in June should also help many teams that faced graduation or state tournament conflicts a year ago). The Rockford fields are fantastic, and the tournament organizing committee (Great Lakes Ultimate Events, CUT Camps, and Ultiworld) is hard at work on making this year's tournament even better.
If you have questions or comments about this year's tournament, don't hesitate to reach out — Nick Lindeke (TD), Arnoush "Java" Javerherian (CUT Camps Director), and I are all available to chat!
***
Expect bigger and better media coverage this year at the National Invite! Ultiworld will feature reporting on the high school season, bi-weekly power rankings, and updates leading up to the tournament, where we will have a bigger on-site reporting team, more writing about individual teams, and expanded video and livestreaming coverage. Coverage will again be balanced between the Boys and Girls Divisions, as it was in 2017.
Who will be crowned the 2018 High School National Invite champions??