Breaking down day one in SoCal!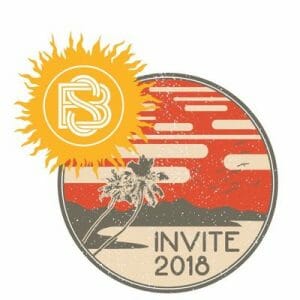 This article is presented by Spin Ultimate; all opinions are those of the author. Please support the brands that make Ultiworld possible and shop at Spin Ultimate!
GOLETA, Cal. — In near-perfect conditions—sunny skies, a delicate wind, and temperature in the high 60s— every pool had at least one upset. Only Pool A featured a 4-0 finisher at day's end. The Washington Sundodgers, sporting an offense full of new looks and a stiff defense under new head coach Mark Burton, took their pool with a 4-0 record. All other pools featured three-way ties for first place (three teams at 3-1). Technically, Pool B went to seed, but BYU's absence from Sunday play gave the second, third, and fourth place teams each a bump in finish.
Paying Deference To Point Differential
Close games were in abundance outside of Washington's comfortable dominance. In Pool B, Western Washington Dirt pulled ahead of BYU CHI in the second half after trading for much of the game to win a 13-10 upset, only to lose co-captain and top cutter Daniel Mah to an apparent knee injury during the final point.1 Without Mah for the final 5 PM round, Western took a 13-10 loss to a competent UC Davis team looking to finish the day strong.
Current defending Santa Barbara Invite champs Stanford Bloodthirsty couldn't make quick work of any opponent in Pool C other than Wash U Contra. While they felled the team from St. Louis 13-4, Stanford narrowly beat UCLA Smaug 13-11 in the early 8am round, dropped a double game point loss 14-13 to a talented Victoria Vikes team, and surged from behind to beat USC Lockdown in their final game of the day 13-12.
Lockdown's zone defense, a four-person zone that was particularly effective against set plays and teams relying on vertical stack offense, had Bloodthirsty guessing for the first two thirds of the game, but patience and experience with pressure paid off. USC's reset patterns and cutting slowly started to deteriorate as the sun set on the grass fields, and Stanford trudged back into the game. Facing a 10-6 deficit, they converted what they could and took down USC. The win over WashU proved vital—the point differential in that game was good enough to hand Stanford a bye to quarters, despite being outplayed a numerous points throughout the day.
Lockdown and the Vikes put on a show under the Saturday night lights to close out the day. Trading impressive hucks and holds, the teams battled over a game that eventually pushed into overtime, ending with a gorgeous away huck from USC junior Sam Cook to put Victoria away 15-14.
Utah Zion Curtain also put on a show. The one-time Nationals qualifiers from 2016 barged onto the UCSB campus, shocking 2017 Nationals qualifiers Cal Poly-SLO and Colorado State with one-point wins over both contenders. With excellent breakmark throws and their now recognizable deep game, ZCU outran and out-jumped the rest of the pool and secured a bye to quarters.
ZCU's performance leant additional intrigue to the banner Cal Poly-SLO and Colorado State matchup that took place in the 3 PM round. SLO took their lumps earlier Saturday in large part due to significant absences: Nate Pettyjohn, Ian Sweeney, and Jeremy Dolezal-Ng were all out due to injury to illness for the first three games on Saturday. Pettyjohn and Dolezal-Ng rejoined for the Colorado State matchup, and it made the difference. SLO slotted into second place in Pool D with an exciting 15-13 win over Colorado State.
Northwest Is Bid Hungry
Heading into the 5 PM round, it was looking like a dream day for the Northwest Region: the five NW teams — Washington, Western Washington, BYU, Victoria, and Utah — were a combined 16-12, with the lone loss coming within the region (Western Washington 13-10 over BYU).
Some of that luster wore off, though, as Victoria, Utah, and Western Washington all lost close games to Southwest opponents during the final round of the day.
Still, a 16-4 day — with all of the teams making the bracket3 — is a heck of a start to the year for the Northwest.
The Bracket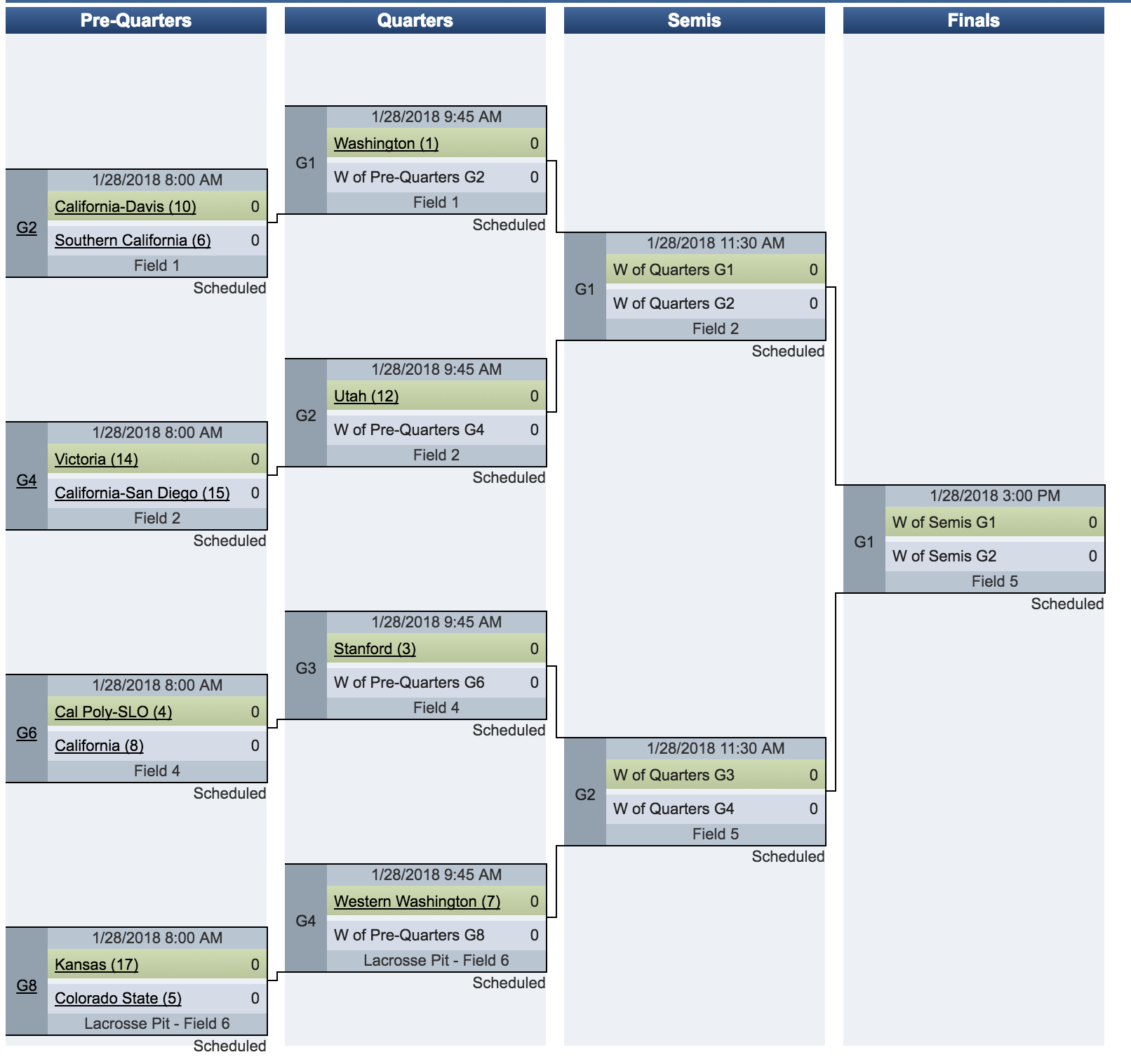 ---
Dirt were also the victims of Saturday's weirdest schedule: first round bye, second round game, third round bye, and then three games in a row. ↩

BYU did have an additional loss to Cal Poly SLO on Friday night that did not count towards pool play but was sanctioned ↩

BYU won Pool B but, of course, is not playing on Sunday ↩