Auburn's inimitable sideline general shares his advice on keeping your team in the game.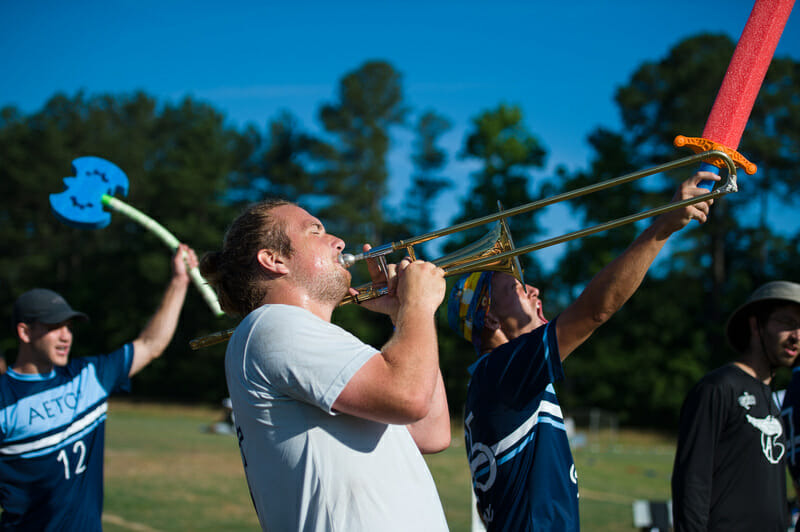 This week, Tuesday Tips welcomes Guest Author Hank Womble, formerly of Auburn Aetos.  
A willing, cooperative and positive sideline can be the difference between winning or losing a close game. Such a sideline can dissuade a struggling opponent from launching a comeback. Sideline is a pace-setter. Sideline is a rock of encouragement. Sideline is the key to unlocking the full potential of the seven guys on the field.
I don't want to be misheard—the players on the field are the most important part of winning. The work and dedication of those players stepping on the field should be appreciated and hopefully emulated by players that are aspiring to be starters. Of course, every player must live up to their present role. It doesn't mean their roles won't change—they most certainly will. It's critical to embrace the mentality switch from thinking, "What's best for me right now?" to, "What's best for the team right now?"
In this guide, I'll speak to younger players that haven't yet reached consistent playing time. These are the players that spend most of their tournaments talking to the current line, cheering, bringing water to timeouts, rushing the field after a goal, and supplying energy. These are my Sideline Warriors.
To Sideline Warriors:
You have the power to make a huge impact on your team. In your collective hands is the potential to produce more victories and more fun. For this reason, you are important and have an opportunity to own this role, even if it's just this season, this next tournament, or a single game.
To Leaders and Veterans:
Activating such a sideline is also in your hands. As important as it is for the Sideline Warriors to provide the aspects of support (which I'll explain in depth later), it's also vital for the leaders on the team to encourage this behavior in whichever form it shows up. A leadership group that desires a strong sideline will create an environment at tournaments where the Sideline Warrior's creativity and enthusiasm are mirrored by all members of a team; a good sideline is unified. This might require some humility and open-mindedness; the leaders of a team are used to having control on the field, in practice and in most aspects of the team (which is a very good thing).
An effective sideline is smart, adaptive, unpredictable, and relentlessly encouraging. If implemented, an effective sideline can manipulate the energy of the game and increase your chances of victory.
While the sideline has an ultimate goal of bettering your team's chance to win, the methodology of becoming an effective sideline can be broken into thre basic aspects:
Smart Sideline
Warm Sideline
Crazy Sideline
The Smart Sideline's Assistive Play Calling
This is the most clear cut aspect of support. It involves the use of verbal guidance given from the sideline to the players on the field. Calls such as "inside" or "around" given to marks, or "no deep" given to a downfield defender are examples of this play calling. When used correctly, this aspect can majorly affect a game by making players on the field more aware, but also by keeping Sideline Warriors engaged in the game and aware of players who might need encouragement after the point.
Leaders: Many younger players have no experience with making these calls and don't feel comfortable speaking up to ask. Lead by example! And encourage players around you to practice Smart Sideline during points, especially on defense.
The Warm Sideline's Intentional Player Encouragement 
Every ultimate team has their top players who are on the field more than anyone else. These teammates are putting their bodies on the line to secure a victory for their team and will, at times, fall short. At some point in a tournament, players will get down on themselves in their own unique way. Some will scream cuss words and hit the ground, some will be absolutely quiet, and some will act like nothing has happened.
All these responses in some amount are good and necessary for processing, but it's a Warm Sideline's duty to step into their disappointment and reassure teammates. Any mistake or bad point is not going to inhibit this team from being successful as we move forward.
A pitfall of many sidelines is reacting negatively to players' screwups and expecting their negativity to somehow empower that player to do better in the future. That's not how it works.
A key to success in this area is to focus your speech into constructive help, exude positivity, and most importantly to have a short memory. The memory of a dropped pull at the beginning of a game is not going to help you score on double game point (unless of course you need to remember to catch it).
The Warm Sideline empowers players to play their best despite their mistakes by helping them maintain a positive outlook on the game—even if the scoreboard says otherwise. Positive energy yields positive results.
The Crazy Sideline's Environmental Accommodation And Intimidating Presence
For this section, teams may vary on exact methodology. I'm speaking directly from my experience with Auburn Ultimate from 2013 to 2017.
The purpose of the Crazy Sideline is to create an environment where your team feels most comfortable playing. Whether it's a dreamlike silly vibe (with Tuscan Raiders, Crab People and other crazy cheers) or a serious mood of competitiveness, dictating the emotional environment affects the mood of players on both sides of the disc. I believe it is one of the most fun and impactful aspects of sideline and something I don't see embraced by most teams.
Crazy Sideline is also a stabilizer. In important Nationals-level games or against cupcake teams, this aspect firms up a team attitude that will cut through imposed expectations and provide a familiar backdrop on which to implement skills your team's been practicing. For Auburn particularly, I've noticed that when players feel like they can dance and be crazy right before a game or point, they don't feel as much pressure to succeed and they just simply play.
When players feel like they don't have to do more than they can handle, fewer mistakes are made, people work smarter (with less emotion), and it's generally less stressful to play ultimate. This is where the creativity and perspective of Sideline Warriors is needed most because this vibe can be achieved in so many ways.
The 2017 Southeast final against Georgia is a classic example from my time with Auburn. This was, on paper, probably the most anticipated and pressure filled game our team had ever seen —I mean, winning Southeast Regionals and earning a trip to nationals? C'mon. But if you asked anyone on that team how they felt before that game, I bet you nobody said they were overly nervous or afraid. It was because the whole day was filled with Hawaiian leis, Zumba, and bubbles. We weren't just winning, we were doing it our way. That was our Crazy Sideline at work.
This Crazy Sideline is a two-pronged aspect of an effective sideline, though. The collateral product of producing an environment your teammates feel comfortable playing in is putting the opposing team off balance as they play. This is what I call Sideline Warfare, a psychological battle fought with foam swords and loud, strange noises. A lot of teams don't even know it's going on, but do not be fooled, someone is always winning the sideline war and the team that holds that title has the control of the game's atmosphere. That team not only reaps the rewards of the first aspect of Crazy Sideline, but also gets enjoys seeing an opponent's mental game crumble, just like a more athletic team will see their opponent fail to guard them as they cut and score. A defeated sideline won't be equipped to assist their team in a comeback (or even to keep it close), which makes their players discouraged to keep fighting.
These aspects provide a shell for your team to fill; every team is different so these aspects will be achieved in unique, beautiful and hilarious ways.
Remember, sideline swings games, it makes tournaments more fun, it adds consistency to the quality of play and it unites teammates in the common mission of total victory. Finding your sideline may take time, but I believe it's worth working towards, together.