Stanford won't look like that, but don't tell the Midwest.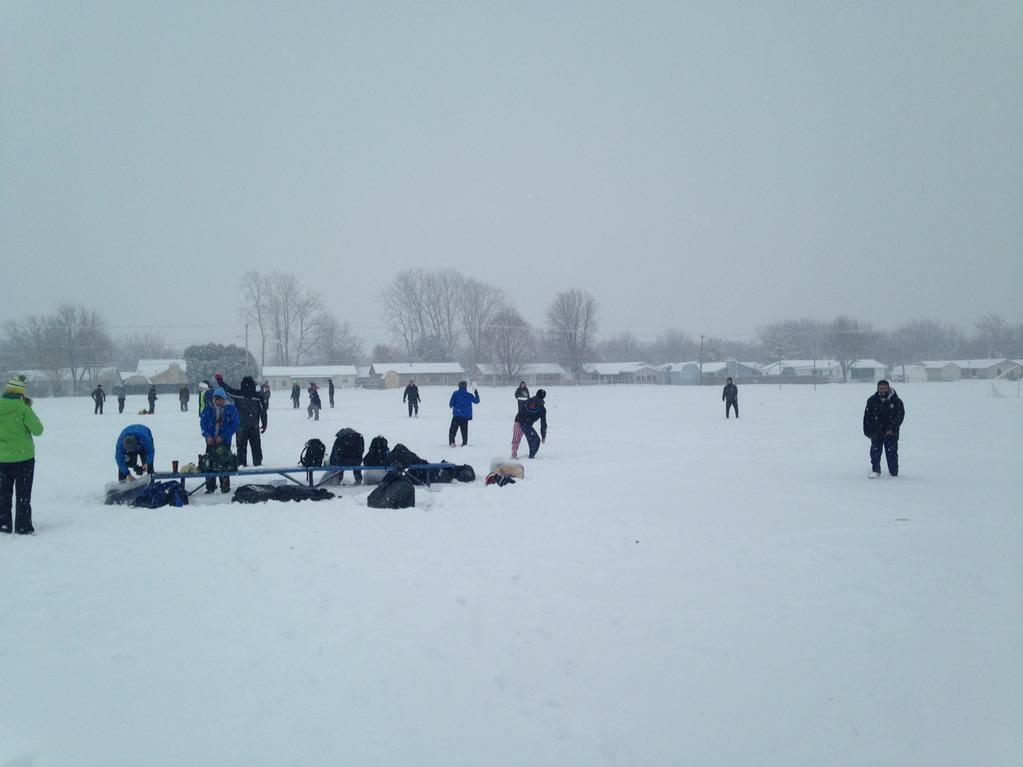 This season, we're trying something a bit different. Every Friday, our team will look at the exciting stories, teams, players, events, quirks, and all the inbetweens, and highlight five that have them hyped for the weekend of ultimate to come. Check out what's caught our eye and let us know what you're looking forward to in the comments.
This Week's Roster
Sam Echevarria, D-III Women's Editor
Mike Ball, D-III Men's Editor
Katie Raynolds, D-I Women's Editor
Simon Pollock, Managing Editor
Charlie Eisenhood, Editor-in-Chief
The Five
Sam: Stanford Open Nostalgia
Serious action will be taking place this weekend in the D-III Women's division, including at Stanford Open in Morgan Hill, California, giving us the first serious look at teams like Carleton Eclipse, Puget Sound Clearcut, Pacific Lutheran Reign, and Claremont Greenshirts. As a former D-III player myself, just thinking the words "Stanford Open" instantly brings up very specific memories from that tournament: the smell of cow that specifically belonged to the drive up the I-5 on a Friday afternoon; the rain that dampened the farm smells and brought the grit of mud to everything, including the inside of sweatshirts; and the gusts of wind that made upwind possessions that could only get three-quarters of the way down the field feel like total victories.
The weather report is forecasting warm, dry, and windy conditions, with wind gust speeds likely to hit double-digits. I'm not going to lie: there's another three inches of snow currently being dumped outside my window right now, and I would love to play some ultimate in sixty degree weather even if the wind decided to move my throws to the county over.
Sure, it won't be as easy or as 'fun' as careless hucking on a completely still day, but that wind will be a good chance for team mental toughness to grow, and rookies to have an inkling of what awaits them in Rockford this spring. Plus, players won't be flat-out soaked and miserable–the college kids just get luckier each year it seems.1 I hope the teams enjoy this first chance to put their 2018 lines out on the field, and show the division what they've got in store for the rest of the season (as I impatiently check score reporter from beside the heater).
Mike: Budgetary Footblock?
We all know the struggle of having to plan ultimate around our real world commitments. Work gets in the way of practice. Weddings get in the way of tournaments. Homework means coming back to your hotel on Saturday night and studying instead of going out to eat.
Those situations all pale in comparison to what the Air Force Academy Afterburn players have had to endure this week.
Even if you're like me and don't spend much time keeping up with politics, you've likely heard about the ongoing government shutdown negotiations in our nation's capital. While this obviously has repercussions that will affect us all, Afterburn, in particular, were left in a state of limbo all week. If Congress had not finalized a budget deal last night, the Academy would not have permitted the team to travel this weekend, costing the team thousands of dollars in lost flights, hotels, and bid fees. With the final vote not taking place until early this morning, Air Force were forced to mentally prepare themselves for this tournament with the very realistic possibility that they might not get to play.
Luckily, the Academy gave the team the green light last night, and they'll be traveling to Morgan Hill to compete this weekend. Afterburn was my pick to win when I first saw the tournament field; after a week of distractions like this, I hope they're in the right mental space to make my pick look good.
Katie: "Winter Ultimate" Means Something Else In The Midwest
Hopeful teams are competing this weekend at the Stanford Open looking to qualify for the Stanford Invite later this spring. Like my colleague Sam mentioned, the weather will be fairly warm and dry, standard at this time of year for California.
I may live on the West Coast now, but the deeply harbored resentment of the words "warm and dry" still resides deep in my bones after years of winter ultimate in the Midwest. This weekend, college teams in Iowa, Minnesota, Wisconsin, Illinois, and beyond will also be cleating up…inside a large, steel-beamed bubble that wards off feet of snow and freezing temperatures. They're doing drills on the basketball courts or–heaven forbid–they're still playing outside in the snow. There isn't an outdoor tournament planned in the Midwest until Midwest Throwdown in early March, and teams usually have to wait for the fields to thaw there, too.2
I don't miss the long nights of trying to breathe the artificial air or the torturous thirty seconds spent outside sprinting to the car. But the grudge against warm winter tournaments is real. Northern teams, know that your struggle is not forgotten. Layer up, hunker down, and stay warm. See you outside in six weeks.
Simon: Make Time To Enjoy The View On The Way To #Legitimacy
With the Winter Olympics opening this week in Pyeongchang, I found it hard not to think about ultimate finally pushing onto the biggest international, multi-sport stage. For so long, ultimate in the olympics has served as our Promised Land. We've started to change to get there. Team names have been softened or switched; uniform requirements are more stringent; high schools are pushing for varsity recognition—all changes that take us further away from the blatant middle finger the ultimate players in the '70s and '80s were giving to the world of organized sports.
I interviewed some coaches recently. The sun was shining and the team's sideline was still simmering with the excitement of starting the season with some upset wins. I was doing my part to make ultimate more like other sports: standing with coaches, recording conversations, pen stuck into my hat and stained stenopad hanging out of the back pocket of my jeans. Who was wearing this number or that number, I wanted to know. Whose nickname was Cub?
At some point, it became clear that the coaches didn't know exactly who I was talking about, nor were they entirely sure of Cub's real name. Then this happened:
Coaches: Hey Cub, what's your real name?
Cub: [Looking deep into my eyes with a grin on his head full of cornrows] Wanna know why they call me Cub?
He slowly pulled up his shorts to reveal a full color tattoo of a bear's head on his upper thigh.
I turned back around to talk to coaches again. Cub led the peanut gallery in some heckling of our conversation.
Me: [Turning back around and jokingly to Cub] They're saying horrible things about you.
Cub: I'm a nasty man!
I've given this moment some time and it's grown on me. No matter how many words I write or how professional so many movers and shakers in this sport want us to look, we can still have moments where a team will play out of their minds for a few rounds, knock off some "serious contenders," and they won't all know each other's real names.
Ultimate's still weird. And it's good to remember that.
Charlie: Pro Flight…Finally
Last year, I didn't make it out to the Pro Championships (formerly the Pro Flight Finale). Of course, we had a full reporting and video team there, but I stayed close to home: I made the short drive up I-87 from north Manhattan to Westchester County for the New York Invite, a wild throwback to club tournaments of old. Man, was it nice to cover an elite tournament close to home.
USAU's announcement of the 2018 Triple Crown Tour schedule brought even better news. This summer, the Pro Championships are coming to New York. Middletown's a bit more of a trek than Westchester, but the even bigger news is that the tournament's finals–slated for ESPN3 coverage–will be in New York City proper. The word is that there's a pretty good chance those finals will be held at Columbia's football stadium…which is five blocks from my apartment.
The prospect of grabbing a breakfast burrito from G's and walking over to report on the finals is just amazing.
Afterparty at my place.
---
At least until the west coast gets that fabled "big one" of earthquakes some day… ↩

Dust Bowl in Tulsa, OK is in late February, but you're just far south enough that I'm making an arbitrary disqualification ↩