A throwback to club tournaments past.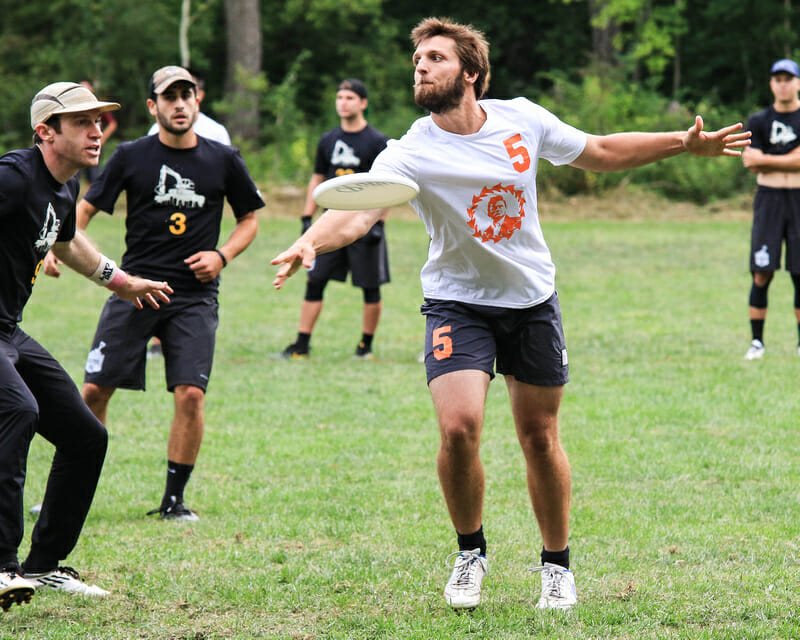 YORKTOWN HEIGHTS, N.Y. — With four side-by-side fields nestled into a valley in a quaint part of Westchester County north of New York City, the 2017 New York Invite didn't look much like its West Coast counterpart, the Pro Championships. There were no banners, no ESPN crew, no observers. Cars crowded into narrow parking areas along a dirt road.
"We've been calling it grassroots," said Truck Stop captain Jonathan Neeley. "It's this small area; everybody's in the same place. There's only four fields. If you hit a tree it's out of bounds and there are trees hanging over the fields. It's just got a little bit of that 'tournaments you went to as a college freshman' feel to it. It's been fun."
Indeed, there's something reminiscent of a college tournament experience when you can hear the sideline roars for every break from anywhere at the field site.
"Throwback." "Old school." Everyone felt that vibe.
It didn't come without drawbacks. Fields were a touch short and maintenance staff had to pack dirt over the top of exposed tree roots at the back of one of the endzones. But the fields were passable, if not great, and the general sentiment was that having a Labor Day tournament organized on the East Coast was a most welcome development. Tournament organizer and PoNY captain Markian "Muk" Kuzmowycz said that next year, if the tournament happens again, they'll try to move to Middletown, where there is a fabulous set of polo fields but teams will have to travel a bit further from the airport.
But don't misunderstand: the level of competition was tremendous. Most of the top Men's Division teams from east of the Mississippi made the trek to New York instead of Seattle. With the regular season now completed, we take stock of what we learned this weekend at the New York Invite.
Ring of Fire Wins First Major Tournament Since Elite-Select 2014
It's surprising that Raleigh Ring of Fire, a perennial Nationals semifinalist, hasn't won a major tournament in almost three years. Despite taking a loss to Boston Dig in the final round of pool play, they blitzed through the first two rounds of bracket play and squeaked past Washington D.C. Truck Stop 15-14 on double game point, despite offering up a pair of turnovers on the game's final point. After Truck gave the disc back for the second time, Ring called a timeout and set up a perfect Jon Nethercutt flick huck to Jonathan "Goose" Helton for the win.
It was an important victory for Raleigh.
"The immediate takeaway from losing in the semis last year…was that we have to learn how to win big tournaments to win at Nationals," said Ring head coach Mike DeNardis. "It's not that we haven't had success, but that's been a big goal for us."
Raleigh missed their chance to gun for the US Open title after dropping their first two games with a skeleton crew as half their team, and nearly their entire offensive line, got delayed due to weather.
While Ring was not at completely full strength (they were without key D-line players Justin Allen, David Richardson, Tim McAllister, and JD Hastings), their offense was finally on display. Besides the addition of Helton, the team runs incredibly deep talent at the handler position, rotating Nethercutt, Brett Matzuka, Bob Liu, and Noah Saul. When their offense was flowing, as it was for most of the final against Truck, they would score with scintillating pace.
"It's making our offense way more dynamic," said DeNardis of the addition of Matzuka and Liu to the O-line handler rotation. "And when we need a boost to the D-line, we know we're not taxing all those guys for an entire tournament."
Nethercutt and Saul crossover onto defense as needed — both are capable defenders in their own right and obviously offer a huge threat after a turnover.
Despite winning the tournament, this was not a complete performance from Ring. In some games, the offense was crisp; in others, the defense delivered breaks. Only occasionally did both things happen in one game (notably, in their 15-8 dismantling of Philadelphia Patrol in semis). In their lone loss against Dig, the D-line could simply not stop Ben Sadok and the Dig offense.
But it's clear to see that Ring represents a real threat to the Division's elite. Truck Stop has been a top five team all season and had to get a couple late breaks to even get it to double game point. Ring beat Sockeye at the US Open.
"They space the field so incredibly well," said Truck Stop captain Jonathan Neeley. "They're one of those teams where there cutters know how to move so that other cutters are all of a sudden coming into a big opening space. They put you on an island well."
If they can combine that improved offense with their always tough defense, could they go out and win it all this year?
"I don't see why not," said DeNardis. "Given the results of the other teams and given the fact that we've already beaten [Sockeye] shorthanded, and we've seen [Revolver] and they're not invulnerable at this point, I don't see why not. I don't think there's any reason to think we couldn't."
Truck Stop Improving, But Kolick Injury Looms
Washington D.C. Truck Stop again came up short in the bracket against a top tier opponent, but this was no 15-10 loss to Sockeye (US Open semis) or 13-7 loss to Revolver (Pro-Elite final). Truck was competitive throughout, withstanding heavy Ring pressure and punching back late to give themselves a chance to win. Replay that final point ten times and they probably win it eight out of ten. They had two red zone chances and squandered them both. But it was an even game, a hard-fought battle that showed off the team's still-elite offense.
"It's very palpable that we are a better team than we were two weeks ago, two months ago," said Neeley.
But there is some uncertainty about the future now, as Alan Kolick, perhaps their best all-around player, went down with a non-contact knee injury in the second half of the final while planting his foot. He grimaced in pain and frustration and had to be helped off the field. As of this posting, the team is still awaiting MRI results, but a ligament injury that could keep him out for the rest of the season seems unfortunately likely.
Truck would still be competitive without him, but it's hard to see them making a huge run at Nationals without his blend of field awareness, throwing ability, and athleticism on both sides of the disc.
The injury shouldn't overshadow what was otherwise a great weekend for Truck. They dropped a pool play game to Ironside but avenged the loss convincingly in semis the next day, winning 14-11. They also topped a talented GOAT team 15-14 in the quarters. Their defense is not the division's best, but they have a knack for coming up with huge plays — like Delrico Johnson's absurd layout block late in the second half of the final — at just the right time. Their D-line also converts at a high clip.
It's the offense that has improved the most. Earlier this season against the top teams, Truck's offense withered under pressure, looking too one-dimensional to challenge the best defenses. This weekend, when they executed effectively, they looked sharp; they were also able to grind out points against Ring, who threw a lot of different looks at them.
"They run their system really well and when they get going, it's hard to stop," said DeNardis.
Neeley said that it's clear the offense is coming along. "They are on that path of going from individuals that have gelled well and can do some things really well together to adding more things that they do really well together," he said.
Next up for Truck is a real challenge at Mid-Atlantic Regionals: with just two bids, they won't be able to breeze into Sarasota.
Banged-Up Ironside Can't Challenge On Sunday
While a 15-13 win over their fellow Bostonians, Dig, in quarters surely felt satisfying, Ironside didn't have much left in the tank against Truck Stop and lost 14-11, finishing the weekend 4-2.
But it's hard to make much of the weekend for Ironside. Josh "Cricket" Markette didn't make the trip. Kurt Gibson hurt his groin in quarters and didn't play the rest of the way. A number of other players either didn't play or got hurt by the end of the weekend. The team was patchwork at the offensive handler position.
Their defense looked good. Christian Foster, Jack Hatchett, and Alex Simmons led the way with some strong play, although the D-line did struggle at times to put breaks on the board despite generating plenty of turns.
Peter Prial is obviously a great fit back on the Boston offense and younger players like Ben Katz, Mac Hecht, Nico Mueller, and Ryan Dinger had nice weekends, getting a lot of reps.
It did feel like there was a bit of a lack of cohesion for the team and lots of irritation and bad body language. But it's tough to make much of that when so many players were out.
Where will Ironside stand come Nationals? It feels like they've hardly played together as a whole team during this regular season. When push comes to shove, they'll probably make semis for the tenth straight year.
Quick Hits
It was a nice weekend for Philadelphia Patrol, who made semis with a 15-13 win over PoNY. They also notably beat Dig. Unfortunately for Patrol, they were no match at all for Ring of Fire, who beat them 13-10 in pool play and then 15-8 in semis. Ring is like a more polished, more talented version of Patrol: gritty, hard-nosed, and grindy. It's not a good matchup for them. But aside from an ugly performance in their first game of the tournament against a GOAT team playing angry after a collapse against Ring, they played really well against other top teams. They will remain a top 10 team. Himalaya Mehta and Billy Sickles were standouts.
Toronto GOAT has made it quite clear that last year's failure to make Nationals was a mere blip. They were right in their opening game against Ring until Raleigh switched to a zone…and things fell apart. Against matchup defense, though, GOAT was nearly unstoppable, with Andrew Carroll flying all over the field. GOAT lost a squeaker to Truck in quarters. Note that they played this weekend without Cam Harris, who will add another dangerous dimension to their offense. With four bids in the Northeast this year, Regionals will — happily for Toronto — be just a formality.
Even though Boston Dig went 2-3, it's quite clear that they are a legitimate threat to win every game they play in. They lost by two to each of Patrol, GOAT, and Truck, beat Ring on double game point, and easily defeated Medicine Men. Their offense was not quite as sharp as it looked at the Elite-Select Challenge last month, especially against Patrol, a team that's very good at taking away what you want to do on offense. The team should have no problem qualifying for Nationals again with three bids. Don't be surprised if they pull off some upsets at Regionals.
As mentioned in the day one recap, New York PoNY delivered their first win over Ironside since 2008, snapping a 20 game losing streak. They came up just short against Truck, 14-13, in pool play and then lost to Patrol 15-13 in a disappointing quarters performance. Conrad Schloer has started to make a name for himself on the D-line, which looked much better than it did at Elite-Select. The offense, though, was hit-or-miss and still feels like it's searching a bit to find flow against top teams.
Teams persevered through some persistent rain and wet, sloppy fields on Sunday as tropical storm Harvey passed through the area. There were more than few 10 foot slides along the soggy ground on layouts.