A critical tournament for connectivity in D-III Men's, some of the division's top teams take the field with a number of teams making their debuts.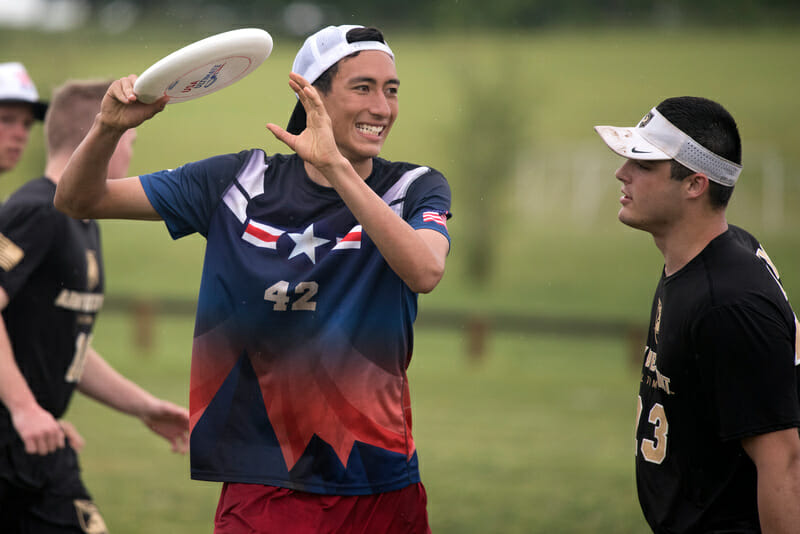 This article is presented by Spin Ultimate; all opinions are those of the author. Please support the brands that make Ultiworld possible and shop at Spin Ultimate!
Over the past four years, DIII Midwestern Invite has played host to loads of top-end D-III talent and a number of national championship contenders. This weekend, 40 teams between the Men's, Women's, and club divisions converge on the quiet town of Fair Oaks, IN to compete at the fifth annual DIII Midwestern Invite. With many of the tournament's top teams in the men's division, on a big weekend in D-III men's, it'll be a contributor to the most significant days of the division's regular season.
Tournament Profile
Date: March 17-18
Location: Fair Oaks, IN
Weather: Lows in mid- to high-20's, highs of mid-40s on Saturday and low-50s on Sunday
Top 25 teams: 5
Pool A: Air Force, Oberlin, St. Olaf, Coe College, Butler
Already this year, #1 Air Force has proven themselves as an elite team on the national stage. At Flat Tail Open, they went undefeated, including a 10-9 win over Oregon State in the tournament championship. Stanford Open saw more shine from Afterburn, as they took home third place, with their only loss coming to University of Texas-Dallas. Even after their home tournament, Air Force sits at an overall record of 20-1. A stellar team of athletes such as Trevor Browning, Allen Villanueva, and Kinoa Chun-Moy fuel Air Force, and they'll look to avenge their loss to Colorado College in last year's DIII Midwestern Invite by bringing home the title in 2018.
Oberlin enters DIII Midwestern Invite looking to score a couple of upsets. In their third tournament of the season, Oberlin will take on stiff competition for the first time. Most recently, at DiscThrow Inferno, Oberlin took home a third place finish with a shorthanded roster, defeating all but Wooster on the weekend. Look for a more complete roster to post even better results this weekend.
The rest of Pool A is a bit of a mystery. St. Olaf had a bit of a lackluster end to their season last year. The team missed Sunday of Regionals to attend campus protests. In their first tournament of the year, St. Olaf would like to set themselves up for season-long success. Last year, Coe College was a regionals-level team that was trying to take the next step. A winless finish at North Central Regionals last year showed that they were not quite up to the level they want to be, and are hoping to snag an upset or two on the weekend at DIII Midwestern Invite. Butler, as a newcomer to sanctioned tournament play, made a splash on the scene with their announcement to the Ultiworld editorial staff that they would be participating in the D-III series. A relative unknown, Butler looks to put their money where their mouth is against some of the nation's best D-III talent.
Pool B: Whitman, Cedarville, Michigan Tech, Trine, Olivet Nazarene
#4 Whitman, bursting onto the scene as a D-III competitor this year, is making the flight from Washington to prove they deserve their spot among the top D-III teams in the country. A program with loads of experience from competing against D-I opposition, Whitman is lethal, and is led by the experienced Robbie Farwell. So far this season, Whitman has shown how competitive they can be. At their previous tournament, Big Sky Brawl, Whitman won with ease, relatively untested throughout the weekend. In their first matchup with top-tier D-III teams, Whitman has a huge opportunity to prove themselves.
Cedarville enters the tournament as an unknown. Traditionally an athletic team willing to put their bodies on the line, Cedarville is a team that could disrupt the chalk. In 2017, they were clearly second-tier in the Ohio Valley Region. With another year of improvement under their belts, the team could climb and compete against the best in the Ohio Valley.
Pool B's other residents are all hoping they can improve on unimpressive 2017 results. Michigan Tech finished fifth at North Central Regionals last year and needs to show improvement this year. A team based on defensive athleticism and the deep ball, Michigan Tech aims to pull out a couple of upsets with the hope of earning an extra bid for the North Central region. Trine fell just shy of qualifying for their respective Regional Championships last year. In their first tournament of the season, they'll try to take advantage of playing top-tier competition, with the hopes of setting themselves up to qualify for Regionals. Olivet Nazarene is a perennial contender within the Great Lakes. Last year, however, the team suffered a crippling number of injuries that left them depleted at their conference championships. They look to start their season off on the right foot this year with a strong showing at DIII Midwestern Invite, and put themselves back in regional contention.
Pool C: Wheaton, Union, St. Thomas, Bradley, Wisconsin-Platteville
Great Lakes powerhouse #8 Wheaton is expected to continue their dominance of the region again this year. Standout cutter Laramie Aspegren leads a cutter-heavy, explosively athletic team. Last year, Wheaton finished tied for seventh at Nationals and has expectations to finish even higher this year. The loss of core handler Skyler Aspegren is something the team will have to overcome, and in their first action of the 2018 season, it will be interesting to watch how they fill this void.
At the beginning of the season, Union had enough hype behind them to gain a spot in our Power Rankings. A lackluster showing on Saturday at Music City Tune-Up, however, dropped Union out of the rankings. With Sunday's games cancelled, Union hasn't had a chance to redeem themselves yet this year. A team full of big, tall athletes, Union has the ability to show up on the big stage for the first time.
The other three teams making up Pool C will be focusing on competing against each other for the two spots in the 9th place bracket. St. Thomas finished a distant third last year in the North Central, and this weekend will be their first action of 2018. Playing Union in the first round will give St. Thomas a chance at an upset while they have fresh legs, but their depth will make the rest of pool play difficult. Bradley is also playing in their first tournament of the year and is coming off a disappointing 2017, where they didn't even finish out a sloppy Great Lakes regionals. Wisconsin-Platteville was a late addition to the tournament and will be bringing a small roster. All three of these teams have shown flashes of high level play, but simply don't have the depth to contend over the duration of the weekend.
Pool D: Brandeis, Xavier, Knox, Grinnell, Belmont
2017 was a down year for #20 Brandeis TRON, when they fell just short of qualifying for Nationals. A systematic team that almost always finds their way to the top of the NE region, Brandeis looks to prove themselves against top-tier competition early in the season. Ben "Nacho" Rosenfeld leads the team as a captain, and freshman WJUC selection Connor Chin powers the team with valuable experience. As a part of possibly the nation's deepest region, Brandeis takes to the field this weekend with the opportunity to earn another bid for the strong NE.
#24 Xavier has had an impressive season so far, and looks to continue that showing, now against top-level competition. At T-Town Throwdown, B.L.O.B. gained valuable experience against D-I competition. At Music City Tune Up, they won their pool before Sunday's championship bracket was cancelled. This is the first time this season that B.L.O.B. will get to show what they're made of against D-III competition and an opportunity for a growing program to announce themselves on a national stage.
Knox and Grinnell are mid-tier regional teams looking to make the jump. To qualify for the championship bracket, and get a chance at making major noise at D-III Midwestern Invite, either of these teams would have to land a major upset win in pool play. Grinnell is a team with a history of success throughout the years, and consistently reaches the North Central Regionals. For Knox, they need to prove themselves as a strong program, and continue their recent run of regional success since the loss of Harper Garvey two years ago. Coming out of regions known for challenging playing conditions, both of these programs are conditioned to battle and grind out long points. Their matchup against each other first thing on Saturday morning will be a battle of attrition.  
Belmont finished shy of qualifying for the Southeast Regional Championships last year. At their first tournament of the year, Music City Tune-Up, Belmont went 0-4 on Saturday, before games were cancelled Sunday. Having failed to qualify for regionals last year, this tournament is an excellent opportunity for Belmont to cut their teeth against tougher teams. While they will likely go without a win this weekend, these are the tournaments that give young programs like Belmont the experience to take the next step forward.