CFS secured another YULA victory.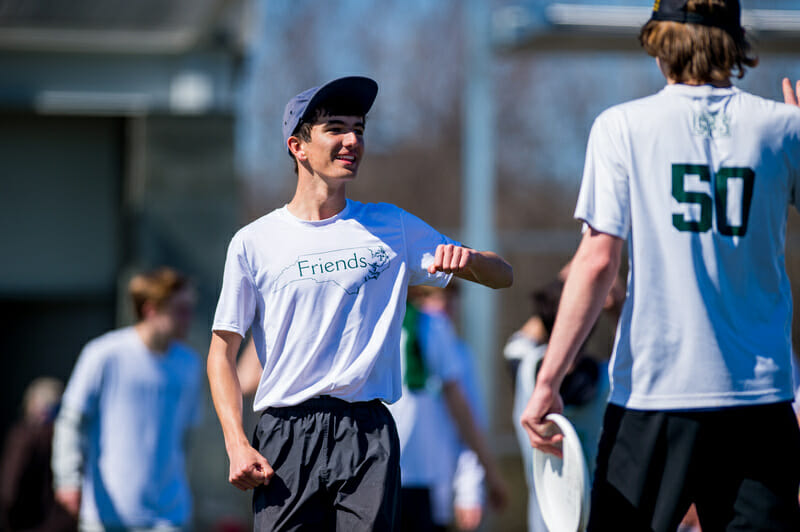 Ultiworld's coverage of the high school season is presented by CUT Camps; all opinions are those of the author. Please support the brands that make Ultiworld possible and participate in CUT Camp!
ARLINGTON, Va. — 28 teams from eight different states competed in the Boys' Division of the YULA Invite, one of the first major youth tournaments of the season. The temperature dipped down on Saturday, accompanied with a little wind that played a small role in the afternoon rounds. On Sunday, the sun came out and the wind subsided, making for great conditions throughout bracket play.
Pool play on Saturday went nearly to seed: the only notable exception was Wilson High School (DC) taking down Chapel Hill (NC) to earn a spot in bracket play. The overall one seeds went 12-0, although Carolina Friends School (NC), the defending champion, was tested not once but twice, and the top overall seed Columbia (NJ) had to break to win against Wilson.
Semifinals
Carolina Friends met Westfield (NJ) in the first semifinal. CFS — surely the favorite on paper — had come off an interesting Saturday in which they only outscored their three opponents by a total of eight points and were tested by an up and coming Wilson in their quarterfinal matchup. On the other side, Westfield was the best team in the tournament during pool play and took care of Jordan (NC) easily in the quarterfinals, in what Westfield's coaching staf described as a game of "who could use their zones wisely."
This matchup started close, with CFS employing their traditional three person cup and featuring Jake Taylor in the deep space. This zone was the only defensive look CFS's D-line gave throughout the tournament, and it was very consistent. They didn't give up any easy goals: teams had to work the disc downfield throwing a lot of passes. Westfield and CFS traded early, thanks to Westfield's own trap zone, effective in the crosswind.
Locked at 4-4, CFS rolled out to a three goal run, culminating in a goal line iso to Taylor after a timeout. CFS would open up the lead to 8-4 after Taylor collected bookends to start the second half.
Westfield made their own run, answering with a hold and a break of their own as Jack Cioffi started to slice CFS's zone with flick blades. Cioffi, one of the best throwers as the wind gusted on Saturday, had a great tournament. Still, 8-6 was the closest Westfield would come: CFS scored after getting a poach block on the endzone and went up 9-6, ultimately closing out a 10-8 win. In the end, it came down to CFS's ability to play zone offense better than anyone in the tournament. Handlers Kevin Pignone and Taylor worked the disc securely around and through the zones. Other teams struggled all weekend with drops, turfs, and wind turns.
***
In the other semifinal, HB Woodlawn (VA) played Columbia in what turned out to be the game of the tournament. Columbia, who was knocked out of bracket contention by Pine Richland (PA) in last year's pool play, was able to avenge that double game point loss by beating Pine Richland in the quarterfinals on double game point. That set the stage for a matchup with Woodlawn, the last remaining local team in the boys' field.
Tied at 2-2, HB scored three straight goals on the backs of their junk defense. It was the staple of HB all weekend and stymied opposing offenses throughout the tournament. Coming down in a saggy set, they would shut down any pull plays and remain in the junk for a set number of throws before transitioning to various matchup defenses. This resulted in HB giving up very few easy goals, as well as generating confusion and turnovers from offenses as they transitioned defenses. This junk set got HB a few breaks to go up 5-2.
Columbia's adjustment to HB's transition D was to throw any and all hucks. It seemed like any time Aylen Learned got the disc with a receiver remotely open, or just running deep, the disc went up. This strategy worked well as Columbia brought down some huge grabs resulting in two straight goals. They had a great look to tie it at five when Woodlawn's Owen Maskelony made the play of the tournament, getting a chest high layout, away block in their endzone. Two throws later, he collected a huck from Austin Alvarado in the opposite end zone to give HB a 6-4 lead. Woodlawn took half 7-6, and with 90 minute rounds, the second half was set up to be a quick one.
Columbia opened with a hold, and then broke an an incredible sky by Ben Harris, giving Columbia their first lead of the game at 8-7. The hard cap horn went off as HB scored to bring the game to 8-8, setting up double game point. HB called a timeout to let his universe line know to expect a huck early and to expect a possession. Sure enough, Columbia received the pull, and without centering the disc, ripped a huck to a streaking receiver. HB had two players back and Maskelony was able to make the catch block. HB was unable to convert, but survived two more missed hucks from Columbia. With their third possession, Maskelony found Jordi Parry with an around flick blade to the back right corner of the endzone for the 9-8 win.
Powerhouse v. Local
The atmosphere going into the final was incredible. HB Woodlawn, one of the major programs that has helped establish youth ultimate in Arlington, was set to face off against the perennial team to beat, Carolina Friends.
HB, with a full sideline of parent support, came out fast. An early layout block earned them a break on the first point. A multi turn point followed in which CFS's Mateo Rimer-Surles skied a pair of defenders and dished the assist evened the game at 1-1. After CFS got their break back on a nice upline cut by Ryan Bliss, they recorded another on a fantastic catch by Taylor, who toed the line in the back right corner of the endzone.
Each team settled down. HB became much more patient against the zone and after four one possession holds, CFS found themselves up 5-3. After a great pull backed up HB, CFS's cup was again able to create a backfield turn and they quickly capitalized to go up 6-3. HB responded this time. After a patient 60 yards of offense, a huge flick blade to James Reed in the back of the endzone delivered a score. CFS took half on another Bliss goal, this time from Taylor. HB, who had played great against zones all day, was making some uncharacteristic mistakes handling the disc around the cup.
CFS held out of half to go up 8-4, and after a couple trades CFS got another back field turnover and broke to go up 10-5, essentially sealing the game. Two holds later, the hard cap sounded as HB put in the final point. CFS took the 11-7 win.
It was clear that Taylor's play was a big reason that were successful on Sunday. CFS coach Augie Kreivenas said that his absence on Saturday pushed them to "step up, win close games, and gave us confidence." It was a strong weekend for CFS, showing their depth as they graduated some key players including Liam Searles-Bohs this offseason.
All-Tournament Team
Jack Cioffi (Westfield)
Tristan Yarter (Columbia)
Jake Taylor (CFS)
Jacques Nissen (Wilson)
James Reed (HB Woodlawn)
Owen Maskelony (HB Woodlawn)
Kevin Pignone (CFS)