The Lexington Homeschoolers are a force in 2018.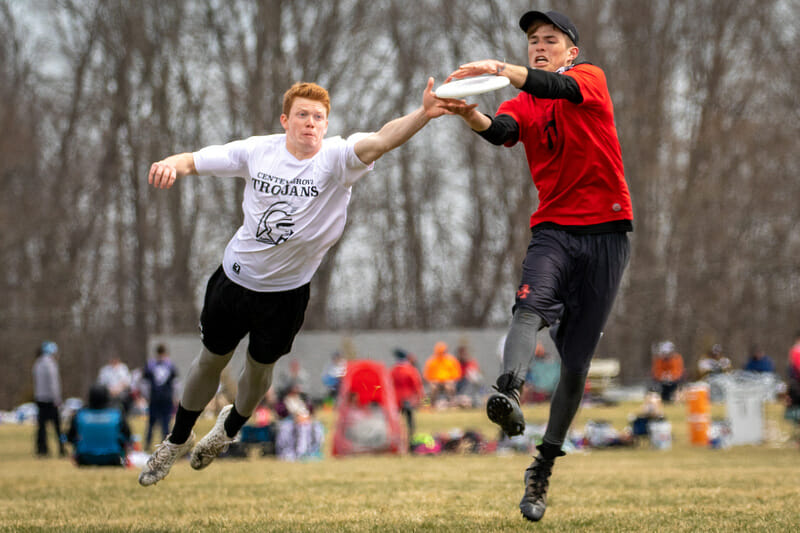 Ultiworld's coverage of the high school season is presented by CUT Camps; all opinions are those of the author. Please support the brands that make Ultiworld possible and participate in CUT Camp!
Indy Invite served as a showcase for four of the nation's Top 25 ranked High School Boys' teams this weekend. After two days of play, we're starting to see the shape of the Midwest hierarchy.
Lexington Homeschoolers Keep Hot Season Rolling
Coming into Indy, Lexington Homeschool had not lost a single game against a high school team. They had accumulated wins over Holy Family Catholic, Knoxville STEM, Paideia, and Mason along the way. Pi came into Indy Invite shorthanded with a split squad, though they did have most of their top end talent. This weekend's team brought just eight high school boys, two girls, and three middle schoolers.
On Saturday, Pi looked to save legs and ran fairly open lines throughout the day. They rode their high-level disc skills to victories over De Smet, Fox Valley Fusion, and Pittsburgh Central Catholic. In their final game of the day Saturday, Pi took on Neuqua Valley. Neuqua played fast-paced ultimate, powered by the athleticism of WJUC selection Joey Kennedy, and handed Lexington their first loss of the year.
Stellar play from junior Josh Wu and senior Caleb Montgomery carried the team all weekend. On Sunday, when lines tightened up, both Montgomery and Wu found themselves playing nearly every point. In the semifinals, Pi ran into a strong Center Grove team. Wu lead the way, laying out all over the field. Trailing 9-7 with just a few moments until hard cap, Wu spearheaded a Pi run that allowed them to grab a double game point win, 10-9.
In the championship, Pi found themselves in a rematch from Saturday with Neuqua Valley. The homeschoolers came out of the gate quickly with a goal and two breaks to take a 3-0 lead. Caleb Montgomery was the driving force, picking up two blocks, a goal, and an assist in those first three points. Neuqua Valley fought back, though, on the back of Kennedy, and tied the game at five.
After taking half 7-6, Pi's short roster began to show: the team was visibly tired. With a break coming out of half, Pi took an 8-6 lead. Up a break, their strategy switched, and the team began using a line full of backups on defensive points, trusting that their top seven could continue to score the disc on offense.
"The guys were looking like they were about to cramp out," coach David Wu said. "And our subs hadn't gotten much action at all. So we did sub an A-line and a B-line at the end."
The Pi offense was able to hold off a strong Neuqua Valley team late and pulled away with a couple of strategic breaks. Lexington Homeschool avenged their Saturday loss with a 13-9 win over Neuqua Valley.
Montgomery fueled the Pi team throughout the championship game, putting in an astounding performance. He finished off the game with three goals and three assists to go along with a handful of superb layout Ds.
"It's unbelievable to get to play competition like this," Wu said. "The competition makes us better. If we don't know a rule and there's a discussion, we get better. And just the intensity. With Center Grove, it was such a fast game, and I don't think our team had ever played at that speed before, and we realized that we can handle this speed, and we can go toe-to-toe."
Neuqua Valley Thrives
Despite the loss in the final, Neuqua Valley had a tremendous weekend. Kennedy showed that he is a force to be reckoned with no matter who he is taking on. Teams struggled to find a way to slow him down. His mix of throwing prowess and athleticism led the way and opened up opportunities for all of his teammates.
Neuqua went 4-0 on Saturday, notching wins over both Lexington Homeschool and De Smet. In the game against Pi, Kennedy showed off his endurance, taking advantage of the shorthanded and tired Homeschool team.
On Sunday, Neuqua Valley powered through Madison East handily in the quarterfinals, 13-6. In the semifinals, Neuqua Valley pulled away late in a back-and-forth game against Mason to win 13-10. The championship saw them in a rematch with a Pi team that they defeated by just a single point on Saturday. Kennedy drew the tough matchup with Montgomery early on. It was one of the highlight matchups of the weekend.
Overall, Neuqua Valley proved themselves as a top tier high school team. Like most teams with a great system in place, they make very few mental mistakes. Timing and athleticism combine to boost Neuqua Valley. Expect to see them remain competitive throughout 2018.
Center Grove Rolls Saturday, But Takes A Tumble
Center Grove may not be quite the world-beaters they were last high school season, but they are still an elite team. With an offense led by the power of Alex Henderson and Dustin Baird, Center Grove was dominant on Saturday, posting an overall score of 44-6, including wins over Mason and Holy Family Catholic. With a win over RagTag, 13-4, on Sunday morning, they found themselves in a highly anticipated semifinal with Lexington Homeschool Pi.
Alex Henderson lead the way with six Center Grove assists in the first half, putting on a show with a variety of throws. Defensively, Center Grove was an army of players laying out for everything. Center Grove took half, 7-6, and added another break after halftime, to eventually take a 9-7 lead with under five minutes until hard cap.
Pi went to their universe line and made a comeback behind some huge plays made from Josh Wu. As the Center Grove offense was unable to finish off the game, the Pi defense thrived and made big plays.
Using man-to-man defense almost exclusively on the weekend, Center Grove thrived on their speed and willingness to put their bodies on the line on defense. Offensively, Center Grove showed a high degree of disc skills. They'll surely feel they could and should have won the game against Pi after having a two break lead in the second half — a learning experience for their offensive line.
After falling to Pi in the semifinal, Center Grove went on to pick up a 13-8 win over Mason to take third place.
Holy Family Catholic Falls & De Smet Rises, Mason Bounces Back
Holy Family Catholic came into the tournament ranked 17th in the country. On Saturday, they took tough losses to Mason and Center Grove and played close with RagTag. The loss to Mason landed Holy Family Catholic third in their pool and forced them into a quarterfinal matchup with Lexington Homeschool. Despite strong play from Luke Monnin, Holy Family Catholic was unable to overcome the power of Pi.
Reigning Missouri champion De Smet entered the tournament as the fifth seed. On Saturday, they held seed and showed loads of athleticism. They used their ability on the deep ball to play close with Lexington Homeschool, losing 9-7. The De Smet athleticism was the driving force for much of their success throughout the weekend. After falling to Mason in quarterfinals, De Smet eventually found themselves playing against Holy Family Catholic in the game for fifth place.
De Smet used their depth to power through HFC on the way to a fifth place finish. De Smet proved that they have the ability to compete with some of the top teams in the country and will be looking to take the next step to finish off some of those close games.
Mason took 4th place and only took losses to Neuqua Valley and Center Grove on the weekend. They got a nice 13-8 win over De Smet in quarters and 11-7 over HFC in pool play. In total, they were much improved from Rivertown, where they were short-handed. While they are clearly a couple steps behind the top three at the tournament, they were the clear fourth best team and will rebound into the Top 25 this week.
All-Tournament Team
Caleb Montgomery (Lexington Homeschoolers)
Josh Wu (Lexington Homeschoolers)
Joey Kennedy (Neuqua Valley)
Alex Henderson (Center Grove)
Dustin Baird (Center Grove)
Luke Monnin (Holy Family Catholic)
Micah Glass (RagTag)