From San Francisco to Greenwich.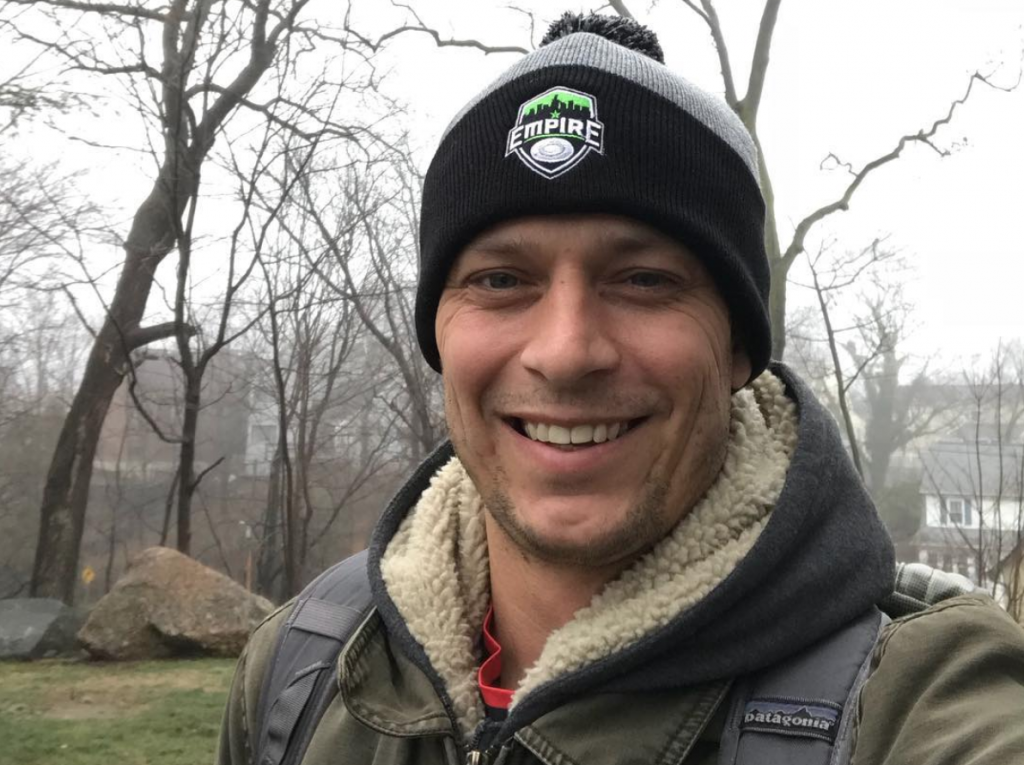 Just in time for the start of the New York Empire season, Beau Kittredge signed a two-year contract with the team this week, substantiating his plans announced in his article last month.
"This is going to be one of the more interesting ultimate projects I've ever undertaken," said Kittredge. "[The Empire] are very young. They are very exuberant. They have a lot of energy. They are the complete opposite — maybe — of [San Francisco] Revolver."
Kittredge left his long-time home in San Francisco earlier this year and now lives in Greenwich, Connecticut, in a home provided by the Empire as a part of his contract, a setup similar to one the team has put together for other transplants on the roster.
He will slot in on the offensive line alongside mainstay cutters like Ben Jagt, Matt Stevens, and Conor Kline, said new Empire head coach Eileen Murray.
"Really, he's going to be part of the system," said Murray. "I'm not really setting anything up specifically for players. It's more just — we are a team. There is no standout all-star."
Kittrdge said that he was taking a leap of faith signing a two year contract with the Empire, his first multi-year contract in the AUDL. "I've never signed a two year contract because I've never trusted anybody enough to sign a two year contract," he said.
His contract precludes him from participating in club or other organized ultimate outside of the Empire until the conclusion of their season, which would be July 14th at the earliest. That could affect his club participation, and he's already said that he will not compete with Revolver at the World Club Championships in July.
Murray said that she's eager to have the opportunity to coach such a talented player, one with plenty of championship experience (Kittredge has won four straight AUDL titles with three different teams).
"I think it helps on the sideline," she said. "A lot of it has to do with mentality. To have someone on the sideline who's been there and to see that person's poise and composure, I think adds a level of confidence to some of the younger players, who haven't been in that place before, that they wouldn't necessarily have otherwise. Yea, been there, done that."
As he did in his article in March, Kittredge emphasized the importance of getting deeper into his career and focusing more on developing his business skills while playing on the Empire.
"It's going to be a big change for me, not only the context of where I'm playing but the choices I'm going to make in my life going forward," he said. "I'm going to try to treat ultimate — especially the AUDL — as more of a professional thing and less of a 'let's have fun playing ultimate.'"
He also talked at length about his commitment to furthering the cause of gender equity in the AUDL. "I realized that the way to actually make change is to be a person who can make that change rather than constantly being the person who tries to ask," he said. "I talked, and I asked, and I spoke to almost every [AUDL] owner to hear their side of the story, and every one was on a different page with a different idea about the best way forward was for gender equity."
"I realized that if I want to do it — if I want to be the person that wants to make those decisions — I have to be more than just a player," he continued.
Kittredge wants to develop a career that can enable him to become more than just a player. That's why he left the Bay Area. "I was frozen there as far as growth goes," he said. People had a certain perception of me and who I was. And it was not what I wanted. I wanted to be more than an ultimate player."
Yet a star ultimate player he will remain, as he comes off of yet another championship run with the San Francisco FlameThrowers last season. He's looking forward to a new chapter with an Empire team that missed the playoffs in 2017.
"It'll be kind of a balance of letting them be youthful and fun and getting them to buckle down and be professional. It's going to be a fine balance. Between the lines, I think it's going to be a fun season."