The biggest youth tournament in the country hosts plenty of top teams and a few more looking to make a name for themselves.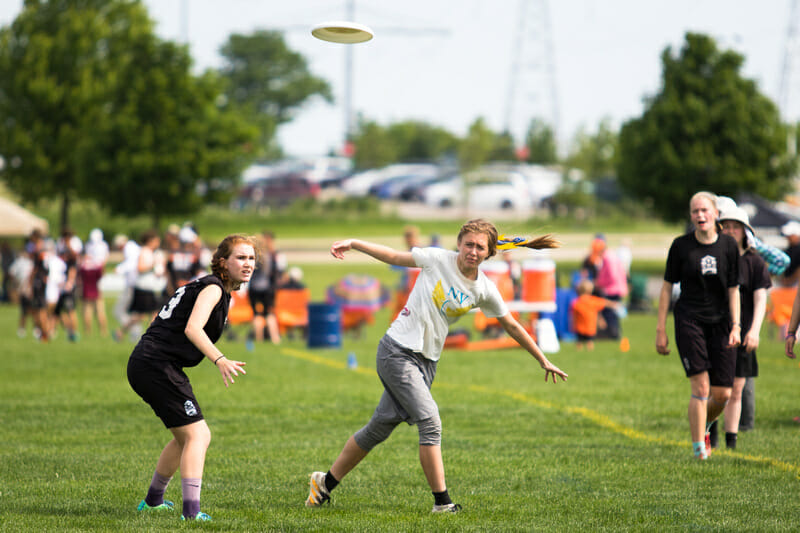 Ultiworld's coverage of Neuqua Knockout is presented by CUT Camps; all opinions are those of the author. Please support the brands that make Ultiworld possible and check out CUT Camps!
Neuqua Knockout has all the promise of delivering excellent games between top programs from across the Boys' and Girls' divisions. Last year, Knockout gave us a look at some of the great teams that would go on to play at the High School National Invite. The teams coming to Knockout are coming to compete, and with high school State and Regional tournaments coming up soon, there is plenty of great ultimate to be excited about this weekend in Aurora. A total of 11 top 25 teams will be in attendance across the Boys' and Girls' Divisions. The door is open for plenty of programs to make their mark in what is the largest youth tournament in the country.
Tournament Profile
Date: April 20th-21st
Top 25 Teams: 5 Girls', 7 Boys'
Location: Aurora, IL
Weather: Highs in the lower 50s, wind around 10 mph both days.
Girls' Division
If depth of talent and system-wide dominance are the hallmarks of a top seed, #5 Roosevelt is appropriately positioned as the no. 1 this weekend. With five players who attended U20 tryouts and competed with Seven Hills, as well as a wealth of club experience, Roosevelt is the favorite to win it all this weekend in Aurora. In the backfield Roosevelt boasts three players on the U20 roster: Abby Hecko, Stephanie Phillips, and Bailey Shigley. Alongside Hecko and Phillips, Shigley is one of Roosevelt's most versatile weapons and, according to head coach Charlie Eide, the backbone of this season's Roosevelt squad.
"I'm excited to see how any/all of these teams challenge us this weekend, forcing us to problem solve and use our legs and discipline," said Eide. "Something we have embraced this season is celebrating each other at all times. and dictating the pace of the game with hard running legs and disciplined throws."
The top challenger to unseat Roosevelt this weekend is #3 HB Woodlawn Pandamonium. A matchup between the best of the east and west could very well be in the works on Sunday, as Woodlawn brings one of the best young duos in the country alongside a very seasoned roster from DC. The exploits of Ella Juengst and Caroline Tournquist have been well documented up to this point, but there is something to be said for Woodlawn's depth, as many of their players also competed with Swing Vote and the DC Rogue YCC squad that knocked out Seattle last August. Woodlawn graduated only three players last season and head coach Leslie Keller believes the experience of this Woodlawn team has allowed their players to focus more on individual development than building a system.
"Our team has always had a lot of depth," commented Keller. "We have been working a lot on taking advantage of the chemistry the players have from multiple years of playing together."
Clocking in at the second position in Pool A is #15 Paideia Groove, a program regarded for producing serious Southeast talent and challenging the rest of the division. While handed a surprise loss in the final of Terminus, the team from Georgia will look to put together all the pieces of their season so far on both sides of the disc to make plays. Expect Emma Jones, Izzy Pitman, and Charlotte Laseter to help lead the team through pool play and far into the bracket against their competition.
Spectators might also notice players making more hand signals than usual; this is part of their approach to spirit as their coach Miranda Knowles explains: "We've tried to learn the international hand signals for calls and will be trying to communicate what's happening on the field clearly and fairly so our teammates, opponents, and spectators can know what's going on. We're also challenging ourselves to stay accountable for knowing the rules, playing by the rules and trusting our opponents to play by the rules while having calm and respectful conversations."
No. 5 St. John's-Ravenscourt Toba Party is making the trek down to Neuqua Knockout all the way from Winnipeg, a 15 hour journey they hope will reap dividends. A storied ultimate program already with nearly three decades of existence, they'll be looking to improve on last year's fourth place finish at this tournament, and if it's in the cards, better than their second place finish two years ago. Helping lead the charge are will be Dani Auriti and Caitlin Cho, who played with Toba Party in their last two Neuqua appearances. Other teams should also keep their eyes on talented rookies Emily Cho and Halle Cochrane when they match up this weekend. Being in Pool A will definitely test their abilities before they enter bracket play.
The weather is rarely any ultimate team's friend and #25 Hopkins HURT and #14 Great River Gals from Minnesota know that all too well. With the dramatic record-breaking late spring snow received in the area, the teams have been unable to hold practices outside yet in 2018, and Great River is without dedicated indoor practice space. While it will likely mean, as Great River coach Trevor Ruwitch puts it, a chance to "dust the rust off," other teams shouldn't discount either squad just yet.
This tournament will be a chance to not only let rookies get their footing and prove themselves, but also for returners to settle back into their playing styles and reach new heights against top competition. For Great River, expect Anna Clements and Beatrice Ibes-Nedeljkovic to help lead the team as they get back into the rhythm of ultimate. On the Hopkins side, watch for Shayna Korsh keeping chilly alongside the disc skills and athleticism of underclassmen Ivy Greenberg and Mollie Tankenoff.
Boys' Division
In the boys' division you don't have to look far on the schedule to find great and highly anticipated matchups. One of the most exciting Saturday games will be between #7 Lexington Homeschoolers Pi and #10 Center Grove. Both of these teams faced each other at the Indy Invite two weeks ago with the Kentuckians taking the game and the tournament title over Center Grove and Neuqua Valley. Caleb Montgomery and Josh Wu piloted Pi to a tournament victory on a roster that had only eight high school players and a cadre of middle school players. Pi's chemistry and the commitment of it's players to learning and mastering the game have propelled to the top of Pool A.
"Winning Indy was like an unbelievable dream come true. This team has heart like none other I have coached in the past 17 years," said head coach David Wu.
Wu gave Pi's chemistry very high marks, and against teams fielding larger rosters, Pi will have to battle hard this weekend to ward off other top seeds.
Their status as the no. 1 seed may have been solidified a few weeks back at Indy Invite but Center Grove still remains one of the best squads in the country. Even after defeating Center Grove, Wu said he'd never seen a high school team play at Center Grove's pace. Much like last season, Center Grove's greatest strengths come from the team's athleticism, manifesting itself in aggressive bids on defense.
"I think we outmatch teams physically," commented Center Grove head coach Jake Phillips. "We've got a smaller roster but we've made up for it in other ways. I think this is one of the hardest working teams I've ever coached."
Center Grove has never shied away from matching up person to person and with seven of their twelve returners in their senior seasons, including offensive powerhouse Alex Henderson, Center Grove has the striking power to take the tournament crown for a second straight year.
In Pool B, host team #9 Neuqua Valley has plenty of momentum to build off of from a great weekend at the Indy Invite. From start to finish they proved themselves to be a team that can play deep into Sunday. Neuqua benefits from a strong junior-heavy squad alongside the versatility of Joey Kennedy (U20 National Team). Kennedy proved himself to be a very complete player at Indy Invite and his talents came in handy for Neuqua Valley against the other top seeds.
#14 Edina High School faced serious roster turnover last season and will be playing their first tournament of the season this weekend after a long winter. Saturday will be the first time Edina has competed on grass since October 2017.
Quick Hits
A good performance at Indy Invite could be a sign of things to come for Mason. They notched solid wins on the weekend and could certainly prove to be a threat to the top seeds this weekend behind the playmaking of Alex Agami.
Holy Family Revolution
Holy Family dropped out of the rankings after a poor showing at the Indy Invite with a short roster. Whether they can bounce back remains to be seen but make no mistake, this is a squad with a history of good performances and Luke Monnin showed great promise at Indy with his strong variety of throws.
Paideia
A bit of an unknown entity coming into this weekend, if there's a team that can unseat Neuqua Valley in Pool B, it could be this team. The storied Atlanta program is certainly a squad to look out for this weekend.
Film Schedule
Saturday
9:00 AM: Omega vs. eNVy (Girls')
10:45 AM: Neuqua Valley vs. Edina Ultimate (Boys')
12:30 PM: Lexington Homeschoolers Pi vs. Center Grove Trojans (Boys')
2:15 PM: Roosevelt Roughriders vs. Paidea Groove (Girls')
4:00 PM: HB Woodlawn Pandammonium vs. Omega (Girls')
Sunday
Quarterfinal – TBD
Semifinal – TBD
Final – TBD