Getting physical within the ruleset.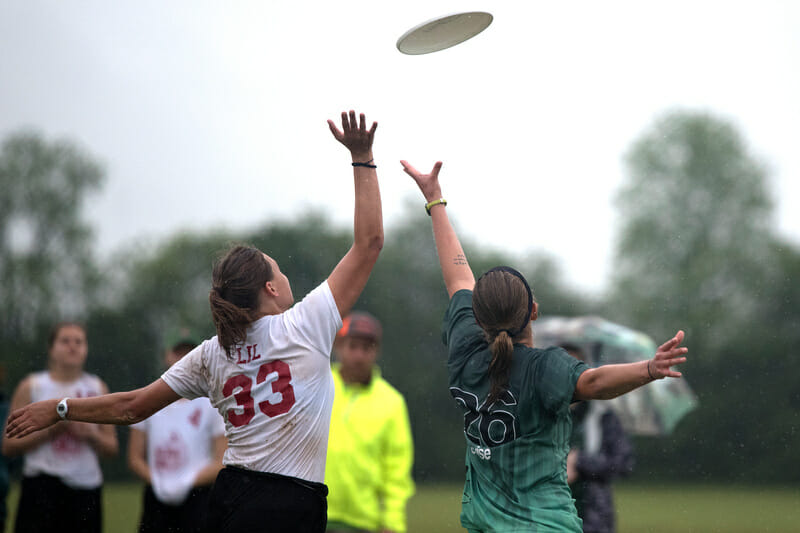 Tuesday Tips is presented by Spin Ultimate; all opinions are those of the author. Please support the brands that make Ultiworld possible and shop at Spin Ultimate! 
When I signed on to write some articles for Ultiworld I didn't expect this. After 19 years of playing ultimate—and playing O-line for every team—my first three columns are about defense:
How To Use Your body on Defense… Legally
I actually think it makes sense though. I've competed against some of the best defenders to play the game, which has given me a good idea of what a player can do to make a cutters life tougher, because honestly, that's the goal.
Ultimate is much easier for the offense. The best teams in the country expect to score greater than 80% of the time, most of the time without turning the disc over. Therefore, defenders need to do everything they can to gain advantages that put offenses in high risk situations.
The thing that frustrated me the most, as a cutter, was a defender that knew how to position their body. It made my life more difficult by throwing off the timing of my cuts, making me work to get where I wanted to go, and all around making me work harder. In this article I'll outline the keys to effectively using your body on defense, and doing it within the rules.
I'll focus my words on how to use your body well, but I want to start with things NOT to do:
DON'T: grab, trip, tackle, pull, hit, kick, or take a charge. Obviously, that isn't a list of things not to do because you'll be less successful on the field, it's a list of things not to do because if you do them you are cheating. These forms of body contact are against the rules, could be dangerous, and violate the spirit of the game.
Now that that's out of the way, let's move into things to do to successfully use your body on defense. To best explain this, I'll break it up into a few different scenarios when body positioning is most important. They are:
One pass away: Cutter defense
One pass away: Handler defense
When the disc is in the air
Before I get into the scenarios, let me explain what I mean by "one pass away." I learned a lot about defensive principles from basketball. In basketball, when you are covering someone that is one pass away from the ball (meaning the person you are guarding is relatively close to the ball, and the pass wouldn't have to travel over anyone to get to her/him), you should play denial defense.
The same applies to ultimate whether you are in the backfield with a handler, or downfield with a cutter. If you feel the person you guarding is in a position to immediately make a cut to a space for the disc, you need to get into denial defense and position your body to take away an initial move toward a specific segment of the field.
One Pass Away, Cutter Defense
These tactics work regardless of the offense you are playing against. First, the goal is to take away one of the four quadrants a cutter can attack. These quadrants are: away or under, on the forced or break side. Let's always trust the mark, so as a defender you need to know what your goal is. Say we want to take away the deep cut on the forced side and dictate the person we are covering to cut under. In this scenario, do the following:
Get Force-Side
Position your body on the forced side of the player at about two o'clock (assuming a flick force, with 12 o'clock directly down field) just about one-foot away. This puts your body in the path of the most likely direction the cutter will run to cut deep. Your hips are pointed toward the disc so you are able to chase under and so you can see the disc.
Find Your Athletic Position
Get in an athletic position: knees bent, ball of your feet, breakside arm bent and across the front of your body to absorb any contact. Don't lean on the cutter—it's a foul and it gives them an advantage.
Move Your Feet
Movement, there are two keys to this. Do everything to maintain that positioning with quick feet, and retreat if the cutter tries to go deep. You own that initial space because you've established it, but every step they take, you need to re-establish the positioning. If the cutter runs into you, it should just be a subtle bump or "micro-charge" because you are retreating some. Again, the key is to remain balanced, and do your best to maintain the positioning.
The Chase 
The chase is the most critical aspect of using your body. If the cutter gets past you deep (which will often times happen), or if they change direction and go under, you need to chase. The most critical part of the chase is to follow and get to the shoulder of the cutter that you think they will most likely turn towards to change direction again. For example, if the cutter gets past you deep and is cutting away but slightly towards the sideline, you want to be chasing right behind them right at their shoulder closer to the sideline.
This allows you to again use your body to make their next change of direction challenging because it will be through a space that you own. Many defenders make the mistake of following unders on the inside shoulder because they hope the disc is thrown behind the receiver and they can get a layout block. That is a hope, but if you want to apply constant pressure to the offense, chase an in cut on the outside shoulder. This accomplishes two things:
You keep the advantage of the force and can make a play on a outside-in disc throw on the sideline side of the cutters body.
You maintain your body position so if the cutter plants to cut deep you are legally directly in their path as they turn, which causes some contact and throws of the timing and effectiveness of their change of direction.
One Pass Away, Handler Defense
Stop The Up-Line
Body Positioning: assuming a trap force, primary handler defenders must use their body to take away the downfield dump.
Find Your Athletic Position
This looks like: knees bent, ball of your feet, right arm bent and across the front of your body touching the handler, but no leaning or pressure – you must stay balanced. Left arm is outstretched in the around dump passing lane. The goal is to see the disc and feel the handler.
Deny Power Position
Handlers often try to get the upfield dump first. Do not get beat to the forced sideline side. Backpedal and/or slide, while maintaining contact, as long as you can.
If you are convinced they are going upfield, swing your hips and begin to deny with your right hand. If you take your eyes of the handler you must maintain contact with the handler so you know if there is a change in direction.
If they cut back for the disc, plant and chase, but as noted above, chase along the path they would go if they went back upfield. If you aggressively go backfield and allow another change of direction without good body positioning, you are toast.
Downfield, When The Disc Is In The Air
Any disc in the air is a race to a spot. Getting an initial read is important, because if you know where you are racing to, you get the advantage.
My Number One Rule
Get an initial read, put your head down and GO! Not 80%, not 90%, the first 10 steps after an upcall have to be all out. The goal is to get the lead in the race, get on the ideal line, and force the opponent to go around or through you to get the disc.
As you approach the jump zone vary your speed, but maintain your position. Many people like to run into their jump. Put your body in their path and disrupt their run up, then take a step and go up strong for the disc.
In closing, using your body legally is an important tool for any good defender. Remember, remain balanced, position yourself in the path you are trying to take away from the cutter, and contact should be relatively soft, needs to be within the frame of your body (no reaching, grabbing or hitting), and should cause the offense to have to alter their desired path and throw off their timing.