The RPI senior takes home the second annual Donovan Award.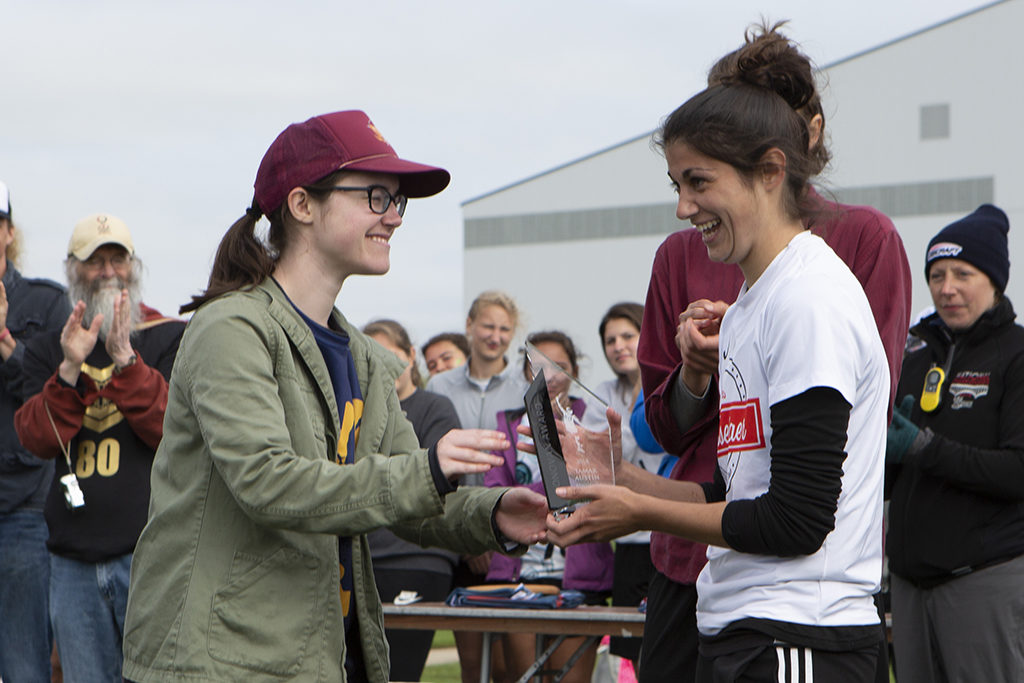 The 2018 Donovan Award in the Women's Division, presented by the National Ultimate Training Camp, goes to RPI senior Tamar Austin.
Austin's impact on RPI and the Metro East is hard to overstate. She has been a key player both on the field and off, developing Strut into the Nationals-caliber team they are today. She has helped lead Strut from a tiny team on the verge of disbanding when she arrived as a freshman to a team representing the Metro East at D-III Nationals and guided them a quarterfinals appearance in her senior year. Strut is not simply experiencing an "up" year in 2018 but rather reaping the hard work of Austin and others in forming a lasting D-III program.
Playing ultimate since 2011, Austin has also taken the field at the YCC and club levels. In that time, she has made herself a force to be reckoned with: she finds the spaces RPI needs her to occupy, bringing motion to the offense. Austin also pushes herself on each point, laying out and working hard to keep the drive alive. As an RPI teammate notes, Austin "truly plays every point like it's 0-0, game to 1."
On defense, she wins her individual matchups and generates mountains of turnovers, bewildering opponents with her ability to take on another team's strongest cutter and deny them any of their preferred cuts. In their zone looks, Austin takes on the mantle of on-field coach; as discussed in the All-Region thread, she "actively serve[s] as a leader on the field during the point, helping to direct her teammates and fill any holes."
Austin also garners the respect of teammates and opponents alike. Within her own team, she helped open the culture, rebuilding in an image of respect and accountability. As chronicled in her Donovan nomination, her teammates recall the small yet profound changes she put into effect: "changes she implemented were as simple as making an effort to learn everyone's name or reaching out to someone who hadn't gone to practice, something often overlooked by previous leadership…she recognized the need for an emphasis on accountability and meaningful use of practice time, which allowed the team to rapidly develop."
By pouring her energy into building both an ultimate team and a community for RPI, Austin has helped younger teammates improve their ultimate IQ and their sense of belonging to a team. She pushes the team to be the best they can be and holds herself to the same expectation in practice, in the gym, and beyond. This extends for spirit and respect as a competitor; as mentioned in her nomination, opponents look forward to playing against her and are disappointed when she can't attend a tournament.
Even at Nationals, Austin brings something a little bit extra and special to the RPI team. While she missed pool play on Saturday to graduation, she was able to make it in time to bolster her team in the prequarters match against Mount Holyoke. Her arrival had a "spiritual, energetic impact" as RPI coach Garrett Clay mentioned; her positivity and energy buoying the rest of the tired, competition-worn RPI squad.
Austin has given her energy, time, and wholehearted commitment to ultimate at RPI, leading the team to a new identity, level of play, and camaraderie. As her team puts it, she is able to play at a high level "due to her skill, [but] her ability to play point after point at a high level comes down to her heart." As the winner of the 2018 Donovan Award, her leadership will serve as an example for D-III teams of what is possible with a true passion for the game.