6 major storylines from a wild day of D-III drama!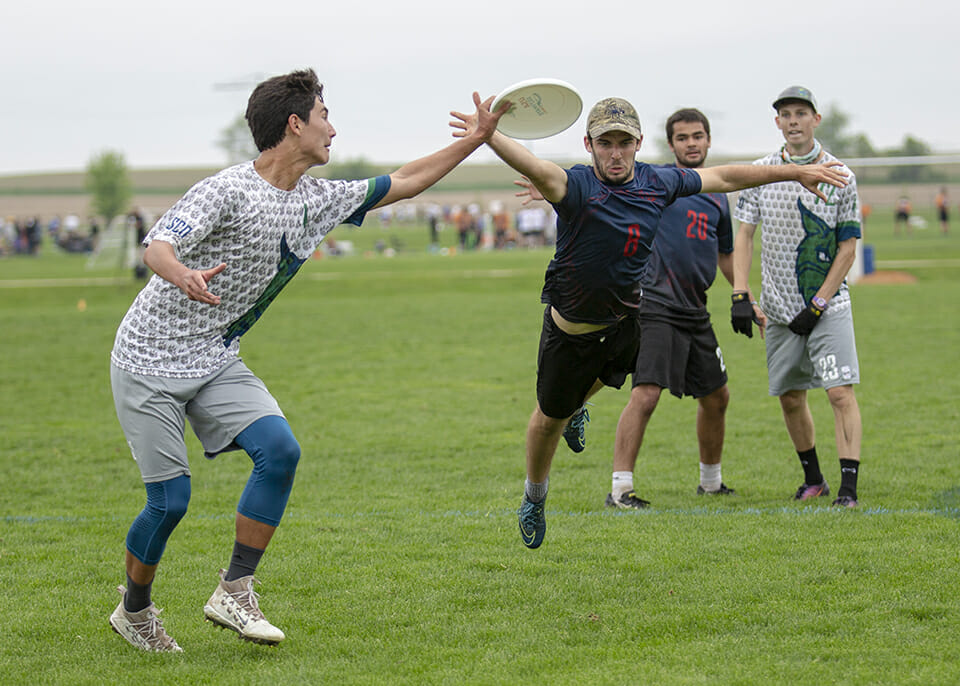 Coverage of the Men's Division of the 2018 D-III College Championships is presented by Spin Ultimate as part of their season-long support of our coverage. All opinions are those of the authors. Please support the brands that make Ultiworld possible and shop at Spin Ultimate!
The D-III College Championships are known to bring plenty of surprises and new stars, and this year's didn't disappoint. Here are five of our observations from the first day of play in Rockford.
New England Sends Three Teams to the Quarterfinals
The ever-stacked New England region continued to show themselves as a powerhouse. All three of the teams which qualified for Nationals from the New England region made quarterfinals. Bowdoin upset Whitman (and nearly upset Air Force) to take second in Pool B, while Middlebury and Bryant blew through their pools handily. Entering the bracket, all three have the opportunity to make noise and are teams to watch out for.
On top of that, Bryant and Bowdoin are scheduled to meet in the quarterfinals, their third matchup of the season, guaranteeing that at least one New England team will find themselves in the National Semifinals. At this point, a National Championship for the region seems well within reach.
Pool Winners in a Tier of Their Own
The four teams that earned a bye into quarters, Bryant, Air Force, Middlebury, and Carleton GOP, all put on dominant performances throughout pool play. Air Force and Carleton nearly slipped up in the opening round, but managed to rally against the usurpers in their pools to eek out wins late in the second half.
GoP's depth shone through during their games against Occidental and Mary Washington. Their horizontal offense was extremely efficient once they got out of the fire against Occidental in the first round. GoP's ability to attack and work the break side of the field overwhelmed Missouri S&T and Mary Washington. Abe Eichner was both extremely effective in the backfield and hungry to get the disc back on turns by GoP's O-line.
After a slow start, Air Force revved up to be the team we saw all season. After beating Bowdoin by just a single point to start the day, they defeated RPI and Whitman by a combined total of 12 points. Their slow start can partially be blamed on the late arrival of their star-studded junior class; the juniors, who attended their ring ceremony last night, did not arrive until 3 in the morning.
Star Players Step Up When it Matters Most
Trailing 11-9 in a game to 12 against Bowdoin in the opening game of the day, Noa Chun-Moy put together an incredible performance to take the game. As Air Force put on a 3-point run to take the game, Noa racked up 2 goals and 1 D to take the game, including a toe-tapping huck catch in the back corner of the endzone.
Nathan Vickroy was remarkable throughout most of the day, and he hit his peak in Disconnected's final game of the day. Georgia College and Occidental were locked in a tight matchup in prequarters, when Vickroy pulled out perhaps his most incredible performance of the day. The second half saw Vickroy throw three assists and catch three goals, directly contributing to all six of Georgia College's goals in the half and driving his team to qualification for Sunday play.
Noah Zobel Steps Up as a Star for Oberlin
Noah Zobel, the freshman phenom from Oberlin, showed himself as an up-and-coming star in D-III. Time and time again, he put up big plays that kept Oberlin in the game. In Oberlin's first game, Zobel almost single-handedly kept Oberlin in the game throughout the first half. He dominated in the downfield space, both offensively and defensively.
Zobel entered college with experience playing at Amherst High School, and with Boston BUDA YCC. Gaining these important reps at Nationals as a freshman gives Zobel the experience he needs to continue dominating for the Flying Horsecows for years to come.
Occidental Surprises
Occidental was the surprise four seed that nearly tasted quarterfinals, knocking on the doorstep of some major upsets against Carleton GoP in pool play and Georgia College in prequarters. Occidental capitalized aggressively on GoP's turnovers and played Carleton the tightest out of any team in Pool D. Their performance came on the back of a fearless backfield powered by Donovan Nominee Adam Grammer. Grammer was especially effective in Occidental's game against Georgia College in prequarters, notching 6 assists and one goal.
Ultimately, Occidental's downfall came from their inability to close out games late. Short field turns plagued Detox at crucial moments late in the second half of their games against GoP and Georgia College. Occidental proved to be far more of a threat than anticipated, and that's a very exciting position to be in as a team that boasts 14 underclassmen.
North Park Fights Back Against Whitman but Falls Short in an Astounding Performance
After trailing Whitman 8-3 at halftime, North Park seemed dead in the water. An astounding run in the second half saw them come back and nearly win the game. Seniors Brad Johnson and Drew Swanson showed a ton of talent as the Lost Boys clawed back into the game. Swanson, in particular, was on another level. The senior can certainly hang his hat on the fact that he went down playing his best, racking up 8 goals and 2 assists. The 6'5 cutter made catch after catch through contact and simply couldn't be contained.
North Park fought back, and took the game to DGP. They fell just short, though, and Whitman took home the win. Regardless of the outcome, North Park produced one of the most exciting games of the tournament, and they represented the Great Lakes well.