Four teams drafted from the best players at Nationals!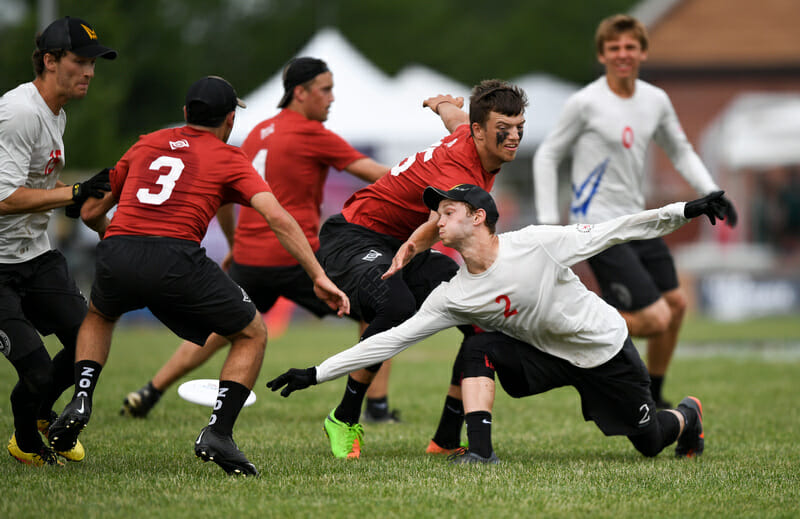 The Ultiworld College Nationals Fantasy Draft is back, bigger and better than ever! The core idea is still the same: draft from the pool of players attending the D-I College Championships in an attempt to form the best functioning team. That means drafting nothing but handlers, no matter how good they are, probably isn't the best strategy.1
The big difference this year is that we've expanded from two teams to four. That's double! Mostly that means that fans of the players we snubbed will be even more incensed than they were a year ago, but it did require us to dig a bit deeper for strong role players to fill out our respective rosters, which we think added some depth to this silly exercise. The lucky four this year are Daniel Prentice, Keith Raynor, Pat Stegemoeller, and Charlie Eisenhood.
Just like last year, your job is to chop it up in the comments and tell us why everyone's2 team is terrible, and vote for which drafter you think selected the best team. Oh, and be sure to check out the draft for the women's division we did, as well.
Rules
This is another place where we mixed it up from last year. Rather than drafting two full lines for offense and defense, and drafting them separately, we picked 12 players per team all in one draft. Two players for each team will be two-way players, and ten players will be assigned to specific lines (five O-liners and five D-liners). Any and all of those roles could be filled with any pick in the draft, though everyone's two way players naturally tended to go pretty high.
We did a snake style draft, meaning the draft order reversed every round. The draft order was set randomly to give Keith the first pick of odd rounds and last pick of even rounds, Charlie the second pick in odd rounds and third pack in even rounds, Pat the third pick in odd rounds and second pick in even rounds, and Daniel the last pick in odd rounds and first pick in even rounds.3 Other than that, the only rule was to assemble a team that would have the best chance at beating everyone else's.
Here's how it all went down:
The Draft
| | Keith | Charlie | Pat | Daniel |
| --- | --- | --- | --- | --- |
| Round 1 | (1) Matt Gouchoe-Hanas, North Carolina | (2) Adam Rees, Oregon | (3) Tannor Johnson, Massachusetts | (4) Mike Ing, Pittsburgh |
| Round 2 | (8) Mac Hecht, Brown | (7) Sol Yanuck, Carleton | (6) Eric Taylor, Carleton | (5) Henry Fisher, Carleton |
| Round 3 | (9) Will Lohre, Oregon | (10) Gabe Hernandez, Stanford | (11) Joe White, Carleton | (12) Ben Burelle, Victoria |
| Round 4 | (16) Wyatt Mekler, Minnesota | (15) Nick Vogt, Wisconsin | (14) Tristan Van Demoortele, Minnesota | (13) Eric Sjostrom, Auburn |
| Round 5 | (17) Dillon Lanier, Carleton | (18) Alex Olson, Carleton | (19) Brett Gramann, Massachusetts | (20) Elijah Long, North Carolina |
| Round 6 | (24) Codi Wood, Minnesota | (23) Pat Barron, Massachusetts | (22) Xander Cuizon-Tice, Oregon | (21) Tim Schoch, Carleton |
| Round 7 | (25) Kai Marcus, North Carolina | (26) Ethan Bloodworth, Carleton | (27) John Langstaff, Georgia | (28) Reed Hendrickson, Washington |
| Round 8 | (32) Dylan Best, Pittsburgh | (31) Cole Wallin, Minnesota | (30) David Yu, Wisconsin | (29) Steven Benaloh, Washington |
| Round 9 | (33) Walker Matthews, North Carolina | (34) Christian Boxley, Georgetown | (35) Nick Hirning, Stanford | (36) John Randolph, Brown |
| Round 10 | (40) Eli Motycka, Brown | (39) Luke Simerly, Texas | (38) Liam Searles-Bohs, North Carolina | (37) Jonah Wisch, Pittsburgh |
| Round 11 | (41) Martin Newman, Auburn | (42) Nathan Kwon, North Carolina | (43) Chris Wilen, Wisconsin | (44) Colton Clark, Oregon |
| Round 12 | (48) Leandro Marx, Oregon | (47) Nick Roberts, Washington | (46) Marc Rovner North Carolina | (45) Derek Mourad, Washington |
Highlights:
Charlie averaged approximately 45 minutes per selection.4 Every time his excuse was that he had "other things" he was working on. Very likely, Charlie.
Pat and Daniel were in a car to the airport and back for the first half of the draft. Pat was driving, so he had to go nearly entirely off the top of his head with his first half dozen picks. If he gets blasted for any of his later picks, though, and tries to use being in the car as an excuse, know that it's BS.
Charlie's selection of Gabe Hernandez in the third round was easily the riskiest pick of the draft. Hernandez has a torn ACL, and though he was phenomenal after the injury at Southwest Regionals and plans to play at Nationals, it's a huge gamble to take a player who will be playing on one knee.
Noted Walker Matthews superfan Keith did the best he could to resist taking the North Carolina cutter too early, knowing no one else valued him nearly as highly. He did well to make it to the 9th round before pulling the trigger, minimizing the amount of teasing he received.
Carleton led the way with eight players taken; North Carolina was just behind with seven.5 William & Mary, Maryland, Northwestern, Connecticut, and Florida State were the teams without a player taken.
Three members of this year's Team USA's U24 delegation were drafted in rounds 8-10. It was a surprise to see players with such experience and pedigree go so late in the draft, but perhaps that's an indication of how deep the division is right now.
Pat was the only participant to not draft three players from the same team. Keith took three players from North Carolina; Charlie took three members of Carleton; and Daniel selected three players from Washington.
The Teams
Two way players in bold
Keith's
O-line: Matt Gouchoe-Hanas (Handler), Mac Hecht (H), Wyatt Mekler (Flex), Will Lohre (Cutter),  Dillon Lanier (C), Dylan Best (C), Walker Matthews (C)
D-line: Gouchoe-Hanas (H), Codi Wood (H), Eli Motycka (F), Lohre (C), Kai Marcus (C), Martin Newman (C), Leandro Marx (C)
Daniel: During the draft, Keith, I felt like you were loading up on too many throwers. The back half of your draft balanced out your team pretty well, but I'd still be concerned about your O-line cutters, namely in terms of size. Lohre has had a monster season and all of your other cutters are obviously very good, but you ended up with the one team that didn't have an elite, big cutter on your O-line. Playing small ball and using speed to get deep is great in theory, but practically speaking, it's nice to have some big tall dudes that can go make plays when things break down. Defensively you run into a similar problem. You don't seem to have the number of bigs to slow down the other teams' cutters.
Keith: Size is definitely where my team comes up short.6 I do think Lohre, Best, and Matthews can all play big for my offense, while Newman and Marcus will be asked to do that for my defense. But going up against Henry Fisher would be a challenge. Size is mostly something I think my defense would struggle with; my offense has all the necessary tools to roast defenses in the deep space. Having Mac Hecht and Matt Gouchoe-Hanas drive my offense makes me feel like I have the best handler duo of any of our teams.
Charlie's
O-line: Sol Yanuck (H), Alex Olson (H), Adam Rees (F), Nick Roberts (F), Nick Vogt (C), Pat Barron (C), Luke Simerly (C)
D-line: Yanuck (H), Gabe Hernandez (H), Nathan Kwon (H), Rees (H), Ethan Bloodworth (C), Cole Wallin (H), Christian Boxley (C)
Keith: The old Carleton combo in the backfield! Charlie has a really rangy group of cutters to go with some confident throwers. If the cohesiveness is there, his offense seems like they could move the disc really well with quality break throws and give and goes. I'm not sure how big Luke Simerly fits into that, though. On defense, I'm pretty sure Charlie loves his D-line. It's gutsy to play Hernandez on half of his ACLs on defense; I would not have been that bold. But Kwon, Rees, Bloodworth, and Boxley give him some serious explosiveness.
Daniel: Who's Charlie's biggest player on defense? Hernandez? There are some great defensive players on that line, no doubt, but it seems like a line that is hugely vulnerable to any offense with size, like mine and Pat's, for example. The skill and athleticism are there, but the lack of height has to be a real worry. And I have to agree with Keith on Hernandez. Picking him early is a risk in and of itself, but playing him on defense? Seems like a huge roll of the dice from Charlie.
Pat's
O-line: John Langstaff (H), Nick Hirning (H), Liam Searles-Bohs (H), Tristan Van de Moortele (F), Tannor Johnson (C), Joe White (C), Xander Cuizon Tice (C)
D-line: Brett Gramann (H), David Yu (H), Van de Moortele (F), Eric Taylor (C), White (C), Chris Wilen (C), Marc Rovner (C)
Daniel: Throughout the draft, Pat lamented the lack of elite handlers in the field this year, so I find it interesting that he ended up selecting a team that has four handlers on his offense. Johnson and White are an exceptional pair of stud cutters, but the rest of the line doesn't live up to that start for me. His team is stronger on the defensive side. Eric Taylor is a defensive ace and the rest of the line is rounded out well. I think Pat's biggest issue is that neither of his top two picks are used as two-way players. He's the only team for which that is the case.
Keith: Can I take a moment to sing Pat's praises for that Langstaff pick? I was holding him in the back pocket, thinking he'd get overlooked. Damn you, Patrick!
This certainly is a feisty defense, not what I expected from Pat. I'd probably swap Rovner and Cuizon Tice if it were me, but this D-line would not be afraid of anyone. The biggest weakness for me is that I don't think Pat has an elite center handler on his offense. Maybe I'm underselling Langstaff sentences after saying I wanted him, but I feel like his handler core lacks that proven disc-dominant guy at the elite level.
Daniel's
O-line: Eric Sjostrom (H), Steven Benaloh (H), Colton Clark (H), Mike Ing (C), Henry Fisher (C), Ben Burelle (C), John Randolph (C)
D-line: Elijah Long (H), Jonah Wisch (H), Derek Mourad (H), Ing (C), Tim Schoch (C), Reed Hendrickson (C), Randolph (C)
Keith: This is easily the most terrifying cutting group, but that makes sense when all three of your first picks are cutters that play on your offense. Can we talk about the lineup decisions here, my friend? This team is sending a freshman picked in the ninth round to play both ways; that's well later than anybody else (fourth round being the second latest two-way player). That's over multiple proven vets, like Burelle, Fisher, Benaloh, Wisch, and Schoch. This wound up being one of the most surprising decisions in the entire exercise to me. If it were me, I'd want Fisher out there as often as possible. As far as composition, this team is solid through and through, and that's a hard-working D-line.
Daniel: Keith, you know what they say: don't leave your prized racehorse in the stable, except for when you want him at 100% capacity on offense and don't need him on defense. I think you're vastly underestimating Randolph, here. I couldn't believe I got him as late as I did. He's not a typical freshman by any means. He has tons of experience, is a tremendous two-way player and has been the second best player on the No. 4 seed at Nationals. I'm completely fine with him playing both ways, and allowing Fisher and Burelle to only have to worry about what they do best: absolutely destroying people downfield on offense.
Who would win?
Keith: With so many great players, we managed to design four great teams. I feel like I have the strongest offense and Pat has the strongest defense, but overall, I think Daniel managed to build the best roster. He may have messed up what to do with it, but he had the best draft. Assuming things get straightened out there, I'd take his team to win, all said and done.
Daniel: Regardless of Keith's bullying, I have to agree that I think I have the best team. I don't see how anyone stops my stable of cutters. I think the other three teams have one weakness. Keith: the lack of downfield bigs; Charlie: no height on defense; and Pat: no true elite handler. Maybe I'm blinded by my own biases but I don't see as obvious a weakness on my team as those, save for–apparently–my coaching decisions. If my team doesn't win it, though, I think Keith's takes it. Maybe his quickness leads to the perfect game on offense and he small balls us all to death.
---