The Ultiworld crew reflects on Day Two and answers reader questions in a late-night mailbag.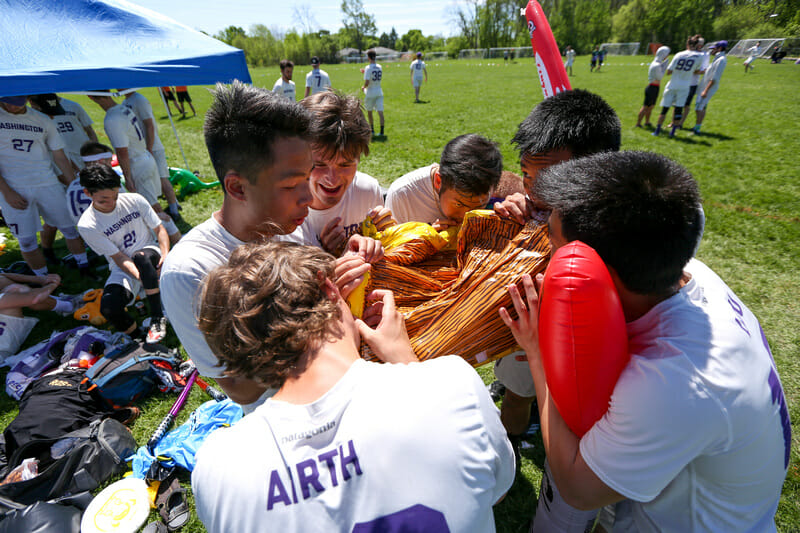 Ultiworld's coverage of the 2018 D-I College Championships is presented by VC Ultimate and Spin Ultimate. All opinions are those of the authors. Please support the brands that make Ultiworld possible and shop at VC Ultimate and Spin Ultimate!
MILWAUKEE, WI– Following the conclusion of day two at the D-I College Championships, our coverage team took your questions on Saturday night and discussed the happenings of Nationals.
---
I haven't followed both divisions super closely, but I have a hard time imagining any time had a better improvement from the start of their tournament to now than Oregon Fugue. Getting upset by NC State in round one in pretty definitive fashion was a nightmare start. They lost again later that day to Stanford but played better overall. On Day 2 they continued that slow build until playing a lights out game in their prequarters game with Tufts. Now they're the highest remaining seed in their half of the bracket, and if you can still find any Fugue stock, I'd snap it up without any hesitation.
Daniel Prentice
---
Kyle, to answer your second question
Normile – UP – led Pitt to an outstanding pool win, single-handedly broke Oregon's zone
Wei – UP – see: https://youtu.be/aHN2GfWsdm0 (it was not an isolated incident)
Verzuh – HOLD – hasn't had to hit top gear; Dartmouth just straight dominating. To be fair, it's a hold at or near the top.
Au-Yeung – HOLD – has been UBC's best player, but not necessarily top of the list; might have won the individual matchup with Normile, but definitely lost to Wei
Hansen – DOWN – has thrown herself right out of the conversation
Elimelech – DOWN – had a rough prequarter, looking tired; while her defense was strong, she wasn't making the big plays her team needed as a potential POTY, making questionable decisions with the disc
Steve Sullivan
---
What Player Surprised Today?
Much has been made of Brown's household names–thrower Mac Hecht and FOTY favorite John Randolph. And for good reason. They've dominated the stat sheet thus far in Milwaukee. Randolph actually leads the tournament in goals as a freshman.
One player that may not have the same numerical impact as his more heralded teammates is Ned Dick. The senior defender is a workhorse with a blazing first step, making him good in the small spaces at the front of Brown's zone and on opposing handlers. On a turn he's the straw that stirs the drink; getting open, distributing, and shooting when necessary. Through five games, Dick has only been charged with only two turnovers… in the same game, in the same point at the end of Brown's win over Pittsburgh. Dick might not have the flash of some of his teammates but he's been one of the stars on this quarterfinals team.
Tad Wissel
For me, Hannah Crowley of Tufts has asserted herself into consideration for the All-American teams. She has elite speed, great hands, and impeccable timing as a cutter. She leads the division in goals through two days with 16. She also has three assists and just five turnovers. Tufts' season is over after their prequarters loss to Oregon, but they wouldn't have gotten that far without Crowley.
Daniel Prentice
Allan Ndovu from Stanford Bloodthirsty.
Stanford put up the best fight against the Carleton powerhouse so far, in a tight 12-10 loss this morning. They took half 8-7, with big contributions from Ndovu in the zone. He succeeded where most can't, covering Henry Fisher deep. And as he poached multiple jump balls in the first half, he showed a chink in the armor for Carleton that hadn't yet been seen this week.
Preston Thompson
Also, Mike Becich (Stanford) was an absolute monster in the air this weekend. The stats haven't been refreshed through the last round but up until then he was 3rd in the tournament in goals with 12, and most of them were from him roofing people on jump balls. He was a huge part of Stanford taking half on CUT, coming down with 4 goals in the first half.
Cody Mills
For Wisconsin, there are a mess of players that stood out, including Callahan nominee David Yu (who crossed over from the D-line to play O all game) and Nick Vogt.
Chris Wilen made continuations possible, Jeff Maskalunas was a huge target for D-line throwers and a problem for the Minnesota O-line. Ben Pavelka and Thomas Gallagher were great working together in the backfield with Yu.
Simon Pollock
Kyle Rutledge (Northwestern) helped NUT make a run to the quarterfinals despite entering Nationals as bottom seed and Rutledge was a huge reason why. He anchored a sneaky efficient O-line all weekend was huge for D-line conversion when NUT tightened their lines to pull out a comeback win against Auburn (to take their place in the bracket).
Robert Alongi (Auburn) stood out this whole weekend, but particularly in the Auburn vs Northwestern game, Alongi was a force on defense. He tallied 5 blocks against NUT, 3 of which were pretty filthy layouts. Auburn has a few household names and up until this weekend Alongi wasn't among them, but he's on my radar going forward.
Cody Mills
Courtney Testa from FUEL is the mother-living truth. When I helped cover Pool C, I watched her casually rip hucks all throughout their game against Whitman, get blocks, and keep on playing. I don't often get to see teams from the Southeast play except at Nationals, but this girl is hype.
Katie Raynolds
Georgia took a tough loss to Wisconsin in the final game of Pool C play, but I love the zone they run with big men David Petmecky and Ben Gladstone up front switching off on the mark. Those dudes have been working in that front pairing for a good chunk of the season, their communication is excellent, and man—they make it hard to throw hucks and big arounds.
Simon Pollock
---
Top 3 weirdest sideline props in each divisions?

— Colin Clauset (@ColinClauset) May 27, 2018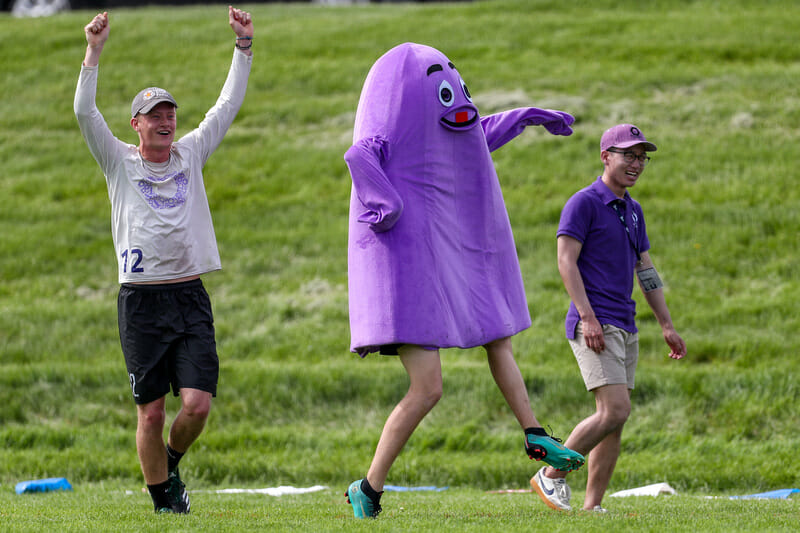 ….this is my personal pick. Incredible.
Katie Raynolds
To riff on Katie's answer:
Stanford Superfly has two interesting items. Their prop is a bag of fertilizer soil (purchased in Wisconsin by coach Jamie Nuwer). The motivation is…"to fill holes on the field." Superfly also has a straight up interesting "ice vest." Imagine like a lead-shield X-ray vest that you would wear to avoid radiation, but embed ice packs all around it. They've been rotating it around to stay cool in the 80-90 degree heat all weekend.
Cody Mills
---
As far as I'm concerned, if you're a team who has a transition junk zone that won't sell you out on transition, there is no reason to let a quarters-level team get their pull play off cleanly. Teams like Brown, CUT, Washington, Pitt, and Oregon will eat you up if you let them run a clean set against matchup defense. So speaking mostly the men's division I would hope/expect we see more junk, at least in transition, to break up pull plays.
In the same vein, there's a well-known saying that says "don't lose a game without playing zone." Teams will be playing to keep there seasons alive tomorrow, so you can bet that everything and the kitchen sink will be coming out tomorrow.
Cody Mills
---
Highlight Moments of the Weekend
On the first point of the Georgia vs. Texas prequarter, UGA's Sam Batson threw a picture perfect flick huck up the sideline for a goal. It was immaculate. Quick release, eight feet above the ground the whole way, with just enough O/I to give it some flavor.
But while we were all admiring the throw, Batson turned around and sprinted off the field. Apparently he made a beeline straight for the bathrooms because he realized mid-point that he was going to be peeing thirty seconds from that moment wherever he was in the world, on the field or otherwise. The huck made a restroom a possibility, and since the throw was perfect it all worked out for the best.
"It hit me mid-stream," he said after the game, "that I hadn't seen the observer signal goal. I had a heart attack thinking that it had been called back and we were playing 6-on-7 while I was in there."
Pat Stegemoeller
---
What's the last team with Minnesota's level of talent to underperform so badly?

— Michael Ball (@Mike_Ball423) May 27, 2018
UMass men, 2016. (Remember that it was Minnesota who eliminated them in prequarters with a perfect, zone-breaking offense…and Ben Jagt.) There's some discussion that Pittsburgh (other than the championship teams and 2016) belongs here, too.
Simon Pollock
Women's UCSD, today. Just happened.
Katie Raynolds