Darkside will play in the final for the first time since the tournament was last held in Milwaukee.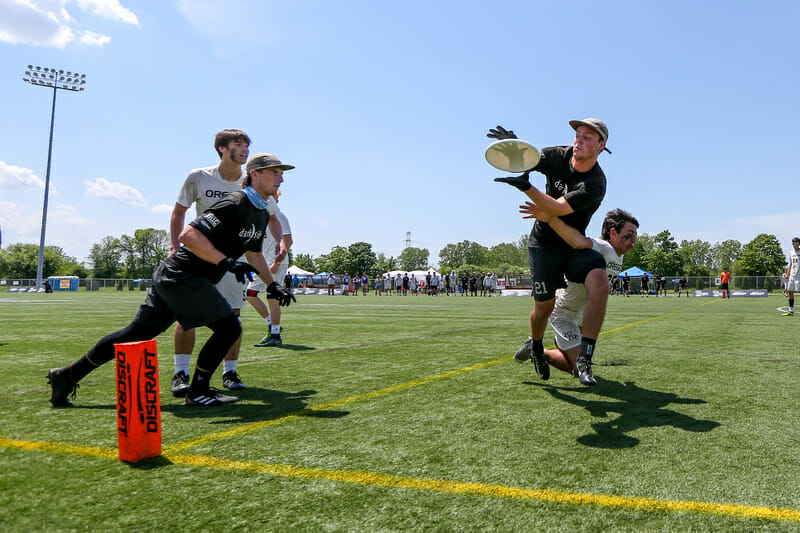 Coverage of the men's division at the 2018 D-I College Championships is presented by Spin Ultimate; all opinions are those of the author. Please support the brands that make Ultiworld possible and shop at Spin Ultimate! 
The last time Oregon and North Carolina faced off in Milwaukee, Darkside emerged from the clash with a National title and Oregon were left to wonder what could have been. Three years later the game played out very differently but the result was the same. North Carolina scored three straight points to pull out a 14-13 win that sends them to their third National championship game in five years.
By the time the first pull went up the sun was out in full force and on the stadium turf the temperature was hovering around 100˚. The heat has been a factor all weekend and it reared its head again on Sunday.
In defiance of the conditions Carolina took the field in their midnight black jerseys and sent up the opening pull to Oregon in their crisp whites. True to form, Ego worked the disc effectively up the force side. They ran out of space near the endzone however, and Colton Clark's inside flick off the line was a little behind Adam Rees who bobbled and dropped the disc under pressure. Much as they had all weekend so far, Darkside's D-line offense worked the disc full field, torching Oregon's transition force middle and dump swinging for an early break.
Darkside got another shot at a break on the next point, this time it was Lohre who couldn't handle a pressured throw, but Colton Clark saved the day by sweeping in for a run-through catch block that he threw in one motion to Will Lohre for the hold to tie the game to 1-1.
North Carolina's O-line held on their first possession, Gouchoe-Hanas corralling a bobbled disc on a dish to the shallow break space, and Oregon followed suit.
UNC broke again at 3-2, using a 2-3-2 zone that forced middle but reverted to a trap on the sideline. As they did on several points, Oregon were able to find open space the first two thirds of the way up the field but started to stall as they approached the red zone. After a few attempts to work the middle of the zone, Ego tried to switch the field on a big swing and Elijah Long read it all the way. He jumped the route and with nothing but open field in front of him buzzed down the field for a break that gave Carolina a 4-2 lead.
Ego turned it twice on their next possession, but Walker Matthews gave it right back with two overthrown hucks. Adam Rees put a gorgeous touch flick to space that Ted Sither ran down for the hold.
Oregon kept the momentum going and broke on the next point after Kai Marcus missed on a huck. Carolina brought Elijah Long and Nick Macleod over to stop the bleeding and Macleod punched in the hold, but only after another Marcus miss.
Marcus stood out on the otherwise clinical UNC O-line. Looking to make aggressive deep throws and surprising breaks, the ceiling for his performance is quite high but he is always walking a tightrope. Sometimes having a player who brings a different mindset to a line creates a reaction that ignites a team to new heights. Other times, it is corrosive. In the first half, the concoction that Marcus brought to the game was downright toxic.
He had four turnovers on 17 throws, often coming early in the stall count. "I think a lot of those mistakes come from exhaustion," said Carolina coach David Allison. "Not stepping out and pivoting, looking for quick windows." Oregon feasted off the opportunities they got, and stormed to a halftime lead. Leandro Marx pushed the pace for Oregon's D-line offense, and they were able to take an 8-6 lead at half full of energy and belief.
"This is the matchup, it's the matchup we wanted," said Ego's Colton Clark. "We wanted to beat UNC. We wanted to prove to the world that we're better than them. That we're better than anyone, if we just work."
DeNardis kept faith in Marcus and he came back out on offense in the second half. They say that great shooters need short memories, and Marcus certainly didn't seem like he was dwelling on his misses. He got point blocked, but after freshman Liam Searles-Bohs saved the point with a clutch deep block, threw a daring blade over his mark that unlocked the Oregon defense for a hold. On the next possession, Marcus threw Searles-Bohs open with a pinpoint O/I backhand that needed to be perfect and was. It was the entire Kai Marcus experience in miniature, frustrating turnovers, brilliant talent, and borderline pathological confidence.
Carolina's defense got a break back with a Colin Smith run through block. Gouchoe-Hanas, who had crossed over to D, worked it with Long and Nathan Kwon for a break to tie the score at 9-9.
The parity was short lived. Oregon's offense kept putting in holds, and their D-line earned a break after another Marcus turnover, this time turfing a flick that a bidding Gouchoe-Hanas couldn't dig up. "They [Oregon] made it hard for us all day. They were in out shorts, pressuring everything," said Gouchoe-Hanas. "We got a little tired, it's been a lot hot day, and we turned the disc over. Such is life."
Gouch just missed on another bid soon after, this time on the pass from Duncan Fitzgerald to Leandro Marx that gave Oregon a 12-10 lead.
After a UNC hold, a mistake from Ego gave North Carolina a chance to tie, but Nick Macleod dropped a slightly floaty in cut. Oregon faced hard pressure but Adam Rees, as he so often does, provided relief in the form of a blazing deep cut for a goal that pushed the score to 13-11.
With the game capped at 14, Darkside was facing a simple but daunting proposition. Score three points in a row or lose.
"After we punched in that O-line hold, Anders Juengst told me 'It's going to be a great story'," said Gouchoe-Hanas. "And I believed him."
The first one was the easy one, a hold. Taking a page out of their opponents playbook, UNC pounded upline cut after upline cut, with Elijah Long dishing to Gouchoe-Hanas for Gouch's fifth goal of the game.
The next two would be harder. Oregon was receiving downwind to win, but Colton Clark just overthrew his target and pressure from Kwon prevented a catch. The four most reliable Darkside players–Gouchoe-Hanas, Kwon, Long, and Macleod–combined to put in the tying goal with quick handler movement and shallow break throws.
That made it 13-13, universe point. Oregon let another throw get away from them, as a flick from Clark popped up over Adam Rees, but Will Lohre reacted quickly and was able to save possession. With scalding heat and Darkside defenders draped all over them, the pressure was clearly getting to Ego. Throws that had been crisp and decisive early in the game began to heave and wobble. 15 or so yards away from victory, Noah Stuart slightly overthrew a striking Will Lohre, who lunged to his left but wasn't able to get enough of his disc to stop it from hitting the turf.
North Carolina marched downfield, finding themselves within yards of an improbable comeback. Darkside's Callahan nominee Nathan Kwon hit Nick Macleod for what appeared to be the winning score, until a pick call brought it back. After being denied the winning assist, Kwon settled for the winning goal. He dumped the disc to Elijah Long, cycled into the backfield, and then burned past a bidding Stuart to send North Carolina into the final.
Both teams were overcome with emotion. Oregon players dropping to their knees in disbelief, their Carolina counterparts feeling the opposite side of the same fickle coin.
"The feeling was just… awesome," said UNC freshman Liam Searles Bohs, getting his first taste of college Nationals drama. "It's just… that's frisbee man. Wow."
"It hurts," said Oregon's Colton Clark as he began processing the defeat. "It just hurts really bad because we worked really hard for this and I feel like we tasted it. Very similar to Stanford—we tasted what it feels like to be what we want to be…and that feeling is so good. That feeling alone—it's something more than winning. And I know that sounds kind of weird, but it's a feeling in the moment that we loved. It was great"
Ego's Coach Jay Janin, who has seen plenty of both success and failure during his tenure, felt like his team missed a real opportunity. "It was disappointing to lose the way that we lost. We had that game," said Janin. "I was really happy with our defense. We still had a lot of stupid turnovers. To be honest, they did not play great either."
While Carolina may not have played their best, they will be the ones in the championship game tomorrow, which is exactly where they want to be. "Certainly it's taken a little while for us to get over the semis hump," said Gouchoe-Hanas after the game. "But I didn't come here just to win a semifinal."