Butterfield's big game not enough to stop defending champs.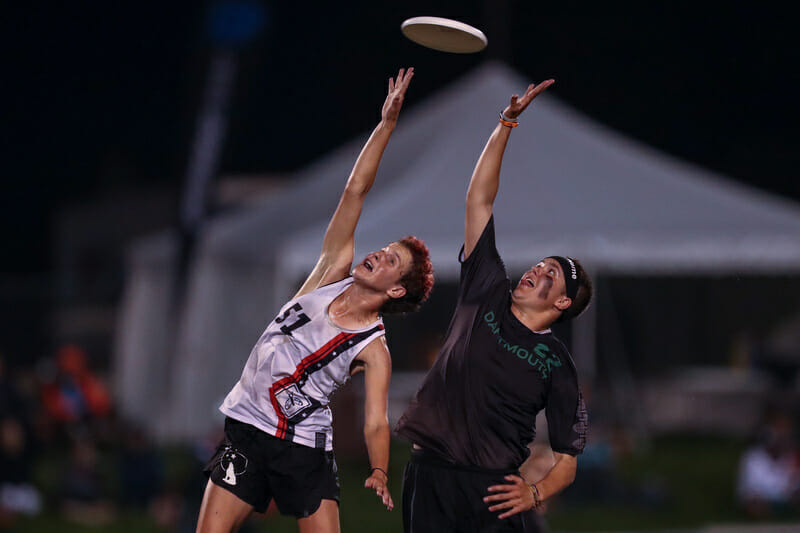 Coverage of the Women's Division of the 2018 D-I College Championships is presented by VC Ultimate as part of their season-long support of our women's coverage. All opinions are those of the authors. Please support the brands that make Ultiworld possible and shop at VC Ultimate!
Dartmouth ensured a return to the national final, by small-balling their way to a 12-8 win over Stanford in the final semifinal of Sunday night. The late game of college semis always seems to feature a bit of wackiness and Stanford and Dartmouth were able to supply some of that anticipated quirkiness while adding a fair few fireworks along the way.
Both teams held to start, with Julia Butterfield making the first huge play of the game for Stanford's hold. She took off deep and laid out to snare a huck from Michelle McGhee over her shoulder to make it 1-1.
The next point, though, did much more to shape the rest of the game. Stanford threw a diamond zone that Dartmouth absolutely could not solve. The point lasted 23 minutes and had nearly 250 Dartmouth passes. The zone did exactly what Stanford hoped it would–it slowed Dartmouth's offense down to a crawl, and for huge chunks of time, gave up virtually zero yardage. The problem for Stanford, though, was that it also couldn't induce many turnovers and they couldn't convert any of the break chances they did get; Dartmouth was the team that finished the point off with the goal.
According to senior Lily Eisner, surviving that zone was important for herself and her Dartmouth teammates. "Even though that point was only the third point and it was a hold, because it was so long and was such a grind, that score felt like a really big moment," she said. "We outlasted them that point. From there on out, they know we could beat their zone because we did."
Stanford's issue was that they couldn't replicate the meticulous nature of their defense on offense. They took speculative shots from outside the redzone and got bogged down inside it–they simply weren't nearly efficient enough with the disc. Their only consistent offense all game was Butterfield making miraculous catches, and she made plenty of those. But they couldn't find any sort of consistency and simply weren't efficient enough.
Dartmouth got three more breaks between the fourth and eighth points of the game as Stanford began to cough up the disc with more regularity. Claire Trop was huge for Dartmouth in that stretch. She had two assists, a goal, and a highlight reel block and for that stretch was the most impressive player on her team. Jaclyn Verzuh took a lot of focus from Stanford, and Trop stepping up in that phase of the game was a big part of why Dartmouth was able to pull away when they did.
Stanford did get one break back before the half, but it was the only one they notched all game. Dartmouth didn't make as many highlight reel plays as Stanford, but their offense was exactly what Stanford's was not: clinical. The contrast was most stark between the team's D-lines. Dartmouth went 4 for 10 on their break opportunities, while Stanford was 1 for 6 on theirs. But what made Stanford's missed opportunities especially painful was that many of their turnovers came near the endzone.
Dartmouth cruised in the second half, as they had less and less trouble solving the Stanford defensive looks.
"There was very little wind out here and we realized that we could start taking shots downfield," said Eisner. "I think using that and going around the cup instead of trying to bust through it was an adjustment we made that made a really big difference."
The defending champs were unfazed when Butterfield made her miraculous plays. Eisner explained how Dartmouth combated Butterfield's fireworks with mostly unspectacular, execution-focused offense. "[It's about] not letting her play affect my play and my confidence because I know we can't control how good a game she's having," she said. "If she's having the game of her life, that's awesome. Good for her. But you know, we can have the best game of our life."
Dartmouth didn't have their best game, but they did play incredibly well and star handler Julianna Werffeli was an invaluable part of that. In the early stages of the game, Werffeli played a big role in Dartmouth's ability to weather Stanford's zone with her consistency throwing the disc. She only had one assist for the game, but she completed 136 passes, while turning it over just three times. For reference, all of Stanford had 87 completions. Werffeli was an absolute rock for Dartmouth early, and then made a few big blocks late in the game for good measure.
Werffeli, and a couple of her other high profile teammates put in remarkable performances, but Eisner emphasized the team nature of their victory. "The narrative for so long about our team has been we have these amazing stars, and we do. My teammates are the best and I know it and they know it and that's awesome," she continued. "But we also have so many players who can catch and throw and run our system and really work and win with our legs, which is what we like to do. We don't need to make crazy plays to win games, we run our system and we run our system well. Butterfield had an absolutely absurd game, I was in awe. Even when players are having that kind of game, it's so comforting to realize okay, we're going back to our system, we're going back to play our game is not that crazy game."
Dartmouth likely passed their toughest test on their path to their national title defense with the win over Stanford. And they did so largely without needing humongous plays from their biggest stars. Trop, Verzuh, Werffeli, Caitlyn Lee, and company of course exhibited their elite talent throughout the game, but Dartmouth won because they did the simple things well as a team.
It's a scary thought for the rest of the division that Dartmouth can just bore teams to death, even when an opponent is having an insane game. But this Dartmouth is more than just a collection of superstars. They're truly strong as a team, and that's why they beat Stanford–more so than any of their own impressive individual performances–to earn their second straight national final appearance.