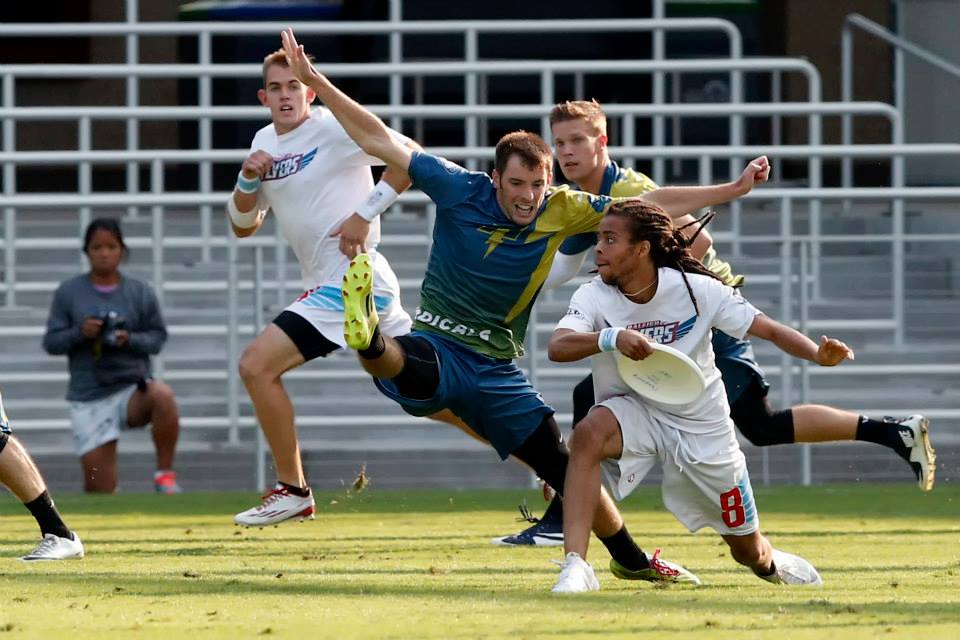 Throughout this AUDL season, Ultiworld will be publishing a weekly Throwaround, a chance for you to catch up on the amazing, funny, and interesting moments that you might have missed from the weekend's games.
We didn't have time to throw it around last week because of the College Championships, so we're back with a double dip of AUDL Throwaround goodness. With some big upsets and playoff pictures starting to come into view, it was an exciting two weeks of action in the AUDL.
The Scores1.
Week 8
San Francisco 32-29 Seattle
Madison 24-16 Chicago
Minnesota 33-21 Pittsburgh
Toronto 33-21 DC
Los Angeles 25-20 San Diego
Austin 28-19 Atlanta
Nashville 32-30 Tampa Bay
New York 23-15 Philadelphia
San Jose 24-14 Seattle
Minnesota 34-24 Detroit
Toronto 21-19 Ottawa
Montreal 21-20 DC
Dallas 26-21 Atlanta
Week 9
Toronto 28-23 Philadelphia
Los Angeles 25-23 San Diego
DC 29-21 New York
Raleigh 24-16 Madison
Indianapolis 26-22 Chicago
Nashville 27-21 Austin
Raleigh Blasts Madison In Lopsided Affair
Raleigh showed off why they were the #1 ranked team in the preseason by strolling into Breese Stevens in Madison and promptly thrashing the Radicals 24-16 in a game that was never close. Jon Nethercutt was electric, dropping eight assists while going 63-of-64 on throws, including this jaw-dropper:
As Evan Lepler outlines well in the Tuesday Toss this week, this has to be a wake-up call for Madison, a team that easily dispatches their Midwest rivals but has landed almost no punches on teams outside the Division.
Madison's relative lack of athleticism ate them up in this game, but, to be fair, Raleigh is perhaps the most athletic team in the entire league. With stalwart defenders like David Richardson, who had three blocks and finished at a +4 playing only D points, gobbling up deep balls, Raleigh clearly has the talent to win a championship this year.
But the dangers for Raleigh at Championship Weekend seem less threatening than the ones awaiting them in the Divisional playoffs. The Dallas Roughnecks have already beaten them this season. The Austin Sol have already beaten them this season. They are a game and a half out of first place and could have to face Dallas, the team to knock them out two years in a row, on the road in the South Division final. A statement win in Madison doesn't change those facts.
– Charlie Eisenhood
Rush Remain Undefeated
Toronto played its first home games of the season in the last two weeks with visits from D.C., Ottawa, and Philadelphia. While many expected a tight game between the Rush and the Breeze following the latter's victory over the Flyers two weeks ago, Toronto cruised to an easy win, 33-20, thanks in large part to the play of Isaiah Masek-Kelly. He finished the game with five assists, two goals, and five blocks. Jeremy Norden facilitated the offense whenever Masek-Kelly did not have the disc, tossing seven assists during the course of the game. D.C. led early on, but Toronto took the lead in the second quarter and never looked back.
Their matchup with the Outlaws proved to be a much closer contest. Despite only having one win on their ledger, Ottawa has played each of its last two losses very close. They are still probably the worst team in the division, but the overall level of play from the Outlaws over their last three games indicates that they are closer to breaking through than it might seem with their 2-4 record.
A few teams have legitimately challenged the Rush so far this season, but no one has been successful in knocking them off. Toronto has shown it can grind out victories or blow teams out. This team, when it is at full strength, might just be the best in the league.
– Chris McGlynn
Steph Lim Raises the Bar for Women in the AUDL
Throughout the season, we have seen women play meaningful minutes in multiple AUDL games. In both of their games last weekend, the Seattle Cascades used Steph Lim as a primary playmaker in their offense, looking at her to pick up a dead disc or as the first reset. She caught three goals and was second on the team in completions.
For someone adapting to a new field size and essentially playing in a new division, her sense of spacing and timing was particularly impressive. She has only played in three games this year so far, but given how vital she was to the Seattle offense on this road trip, she could have the biggest impact of any woman in the AUDL this season.
Credit to the Seattle coaches for putting their best players in the right positions to help their team. San Francisco played both 2018 Callahan winner Jackelyne "Kobe" Nguyen and Gina Schumacher last weekend as well, but neither had the same impact that Lim provided.
– Alex Rubin
Greg Cohen Flies Into #SCTop10
The San Francisco FlameThrowers' Greg Cohen made it into ESPN's Top 10 Neighborhood plays with this giant layout. Click through the image to watch: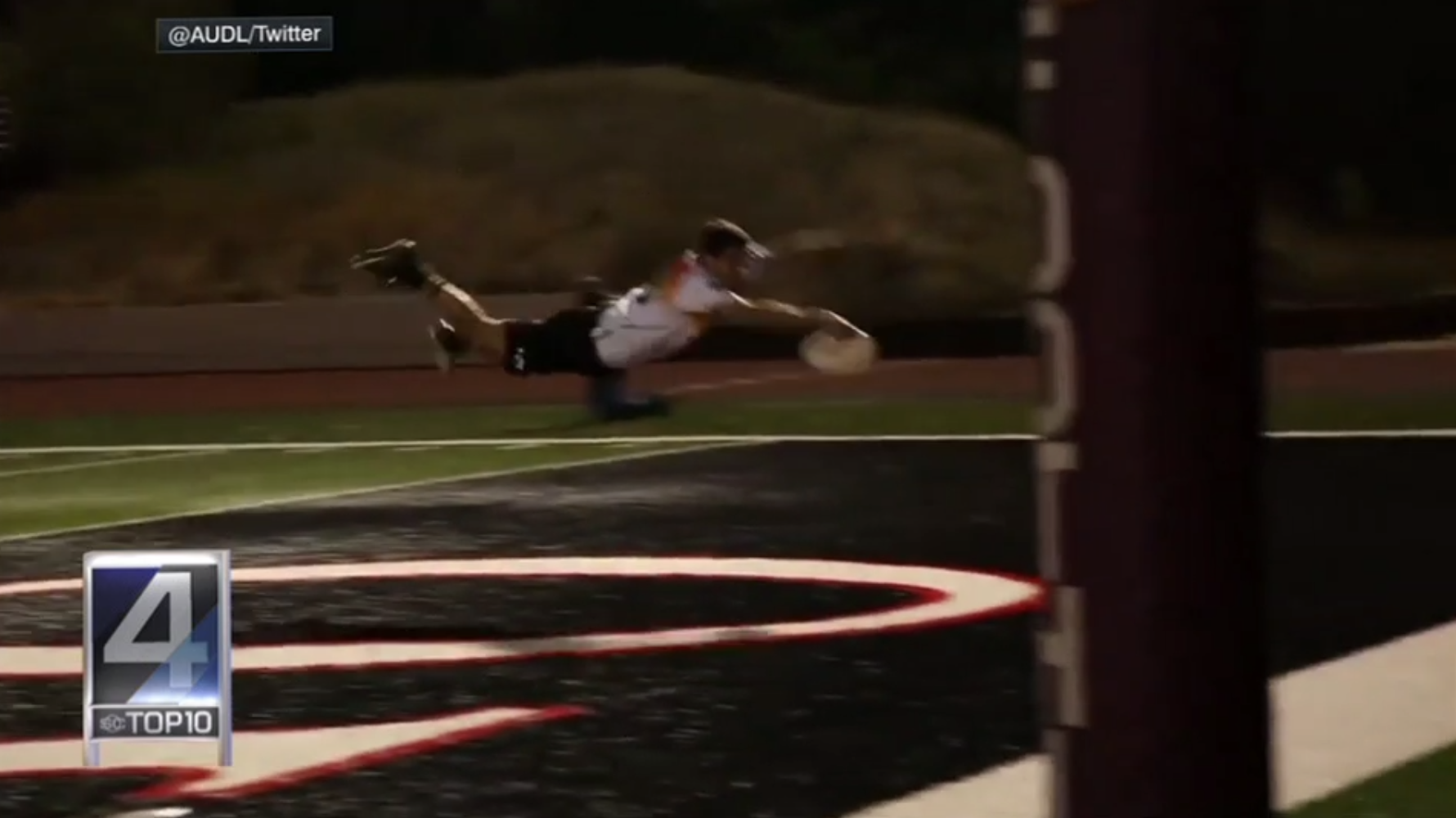 Nashville On Three-Game Win Streak
With another win over the Austin Sol, Nashville has officially moved from 'heating up' to 'on fire' as they nailed down a three-game home win streak and put themselves back into the conversation for a playoff berth.
It must be noted: Austin was missing lots of key pieces, particularly on offense, including Max Cook, Ethan Pollock, Matt Bennett, and Mike Natenberg. But last year's Nashville team wouldn't have stood a chance of getting a win in a similar situation. This year, they are taking advantage of the challenges facing road teams.
Nashville would still be a significant underdog up against a full strength Austin team, but wins are wins, and the Nightwatch are now 3-3, putting them right in the thick of the playoff race.
The biggest problem for Nashville is that they play their final six games of the season on the road. A playoff spot is still a long, long way off.
– Charlie Eisenhood
Los Angeles Locks Up Sole Possession of 1st Place
With back to back wins over the San Diego Growlers (home and away), the Los Angeles Aviators have cemented their place atop the West Division.
A comfortable win two weeks ago was followed by a much tougher game this weekend. Both offenses had their way from the start, going back and forth until a few miscommunications and unforced errors from LA against a poachy Growlers defense gave San Diego an 11-8 lead. Clutch blocks by Jason Silverman and Brandon Severson allowed the Aviators to break to close the gap, and a Tim Beatty hammer (one of five assists on the night for the Aviators' center handler) with just one second remaining in the half kept the game on serve at 12-11.
Out of halftime, the Aviators got a quick turn before Sam Plasman bailed out the transition offense with a body-contorting, half-skying/half-laying out goal that gave energy to a lifeless crowd and invigorated the Aviators' defense. The Growlers, though, used an effective double team to force LA into mistakes and went on a 5-1 run to disrupt the game's momentum and take the biggest lead of the night. Now trailing 17-13, the Aviators hopes sunk a bit lower when Chris Mazur injured his leg laying out to try and stop an in cut. He wouldn't see the field again but was standing and encouraging his teammates from the sideline the rest of the game. With reshuffled lines to replace one of their biggest contributors, the Aviators depth stepped up to wrestle back control of the game. Sean McDougall, who's started to generate some MVP chatter, has been an unsung hero for the Aviators all season and catalyzed a 4-0 run to close the third quarter with a stunning grab on an ill-advised, tipped deep shot.
Given the Aviator's dominance this season, the fans were not used to seeing comebacks and were clearly energized at the thought of a thrilling victory; this was by far the loudest and most enthusiastic crowd at an Aviators game this season.
The Aviators let the crowd feed their own energy and owned the fourth quarter, starting with an easy hold before Jason Silverman went airborne for his only goal of the night. After some back and forth scoring, Eric Lissner skied for an insurance goal and a 25-23 lead with just over two minutes in the game. The Growlers needed two quick scores, but Jason Silverman came up with his third high-flying layout block of the game, this time in the endzone, and the Aviators were able to run out the clock to seal the victory.
"That was a true test of character for us… No matter how down we were, we were there for each other," said LA head coach Jamison Gorin.
Los Angeles has been the West's most consistent team this season and remains undefeated in intradivisional play2. They are now 2 games ahead of the 2nd place Growlers.
– Alex Rubin
Majestic
Seattle Wins Flamethrowers Cup
The Seattle Cascades travelled to San Francisco this weekend for a mixed showcase game: the Flamethrowers Cup. Though the game doesn't count in the AUDL standings, it had all the makings of a normal professional game played with AUDL rules: to ensure balance, the gender ratio (playing four men or four women) switched each quarter. In last year's game, the Cascades Cup, the Flamethrowers pulled out a 17-16 victory, but only four players from that team participated this year, giving no certainty to the result.
This year's edition started with steady offense and mostly downwind holds. The Flamethrowers stuck to what works for their open team, with Eli Kerns running the offense. Byron Liu and Antoine Davis also stayed mostly in the backfield. Keeping fewer men downfield opened up the deep space for the cutters, keeping potential help defense too far from the play to make an impact. Seattle, on the other hand, switched it up with Kodi Smart, Qxhna Titcomb, and Lani Nguyen in the backfield and Alex Duffel, who usually stays back as a handler, working as the initiating cutter. Charlie Mercer was dominant downfield for Seattle and Lexi Garrity had an infectious energy that sparked the Cascades' offense.
Seattle scored an up and downwind double break in the first quarter, leading them to a 10-8 halftime lead. As the game progressed, it became clear that Seattle's defenders excelled in one on one matchups, and they generated numerous run-through blocks. Titcomb and Kelly Johnson stood out by frequently winning their matchups, and the Seattle offense looked notably cleaner than San Francisco's.
For the Flamethrowers, Malina Wiebe applied strong defensive pressure, challenging throwers by shutting down break throws on the mark. Byron Liu had some incredibly acrobatic blocks to keep his team in the game, but it wasn't enough as Seattle won 22-20, avenging last year's loss and making them feel like:
The game was a win for fans of mixed ultimate and the gender equity movement, as the two teams played a fun, captivating game and continued to raise the profile of the potential of pro mixed ultimate.
– Alex Rubin
---
Home team in bold ↩

their two losses came to Austin and Dallas in cross-divisional play ↩