The second Callahan award for a Cal player in the last three years.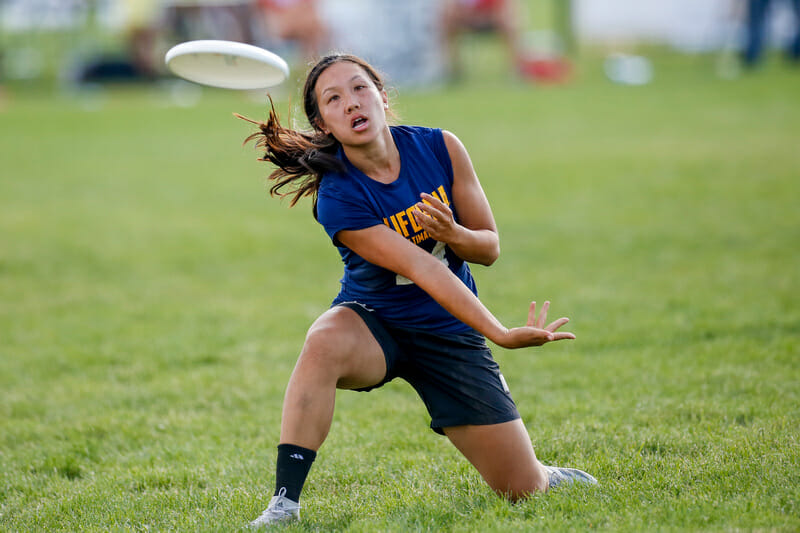 Coverage of the 2018 Callahan Award is presented by Spin Ultimate; all opinions are those of the authors. Please support the brands that make Ultiworld possible and shop at Spin Ultimate!
Jackelyne "Kobe" Nguyen was named the winner of the 2018 Callahan Award this evening. This is California's second Callahan winner in three years and second overall, after Marisa Rafter won the 2016 Callahan award. Known for her impressive Callahan video, Rafter produced Nguyen's nomination video this year, and it's been lauded as one of the season's best.
Nguyen didn't need a great producer to make her look good on the field, however. Kobe is known for her highlight reel plays, and she's one of the few players who has made Ultiworld's Catch of the Week or Catch of the Month in multiple divisions. Nguyen hits the turf in every game, making thrilling plays that save possessions, score goals, and keep her Pie Queens teammates pumped up.
Nguyen was a new player to ultimate in her freshman year with the Pie Queens. She played basketball in high school, but California didn't have a club basketball program, so she tried out for the ultimate team instead. Nguyen picked up the game quickly, and she made an impact early with her willingness to make the play for her teammates. At the 2016 College Championships, Nguyen played her way into conversations for Breakout Player of the Year. In 2017, in her first year as a captain, she helped her team reach a 9th place finish at Nationals.1
"She has treated the Pie Queens like a full-time job," says her Callahan nomination blurb, "always placing the needs of others before her own and giving every spare second of her time to the betterment of this team."
If you had to draw up the ideal cutter, she would look something like Nguyen. She can initiate with three strong steps, or she can perfectly time a deep sprint when Cal handlers get into power position. She facilitates in the midfield and destroys dreams in the end zone. Nguyen plays like the camera is always rolling — and it often is.
Nguyen will continue playing with Bay Area Nightlock this women's club season, as well as with the SF Flamethrowers' mixed team.
---
The team did not qualify this season. ↩