The stage is set for a thrilling championship bracket.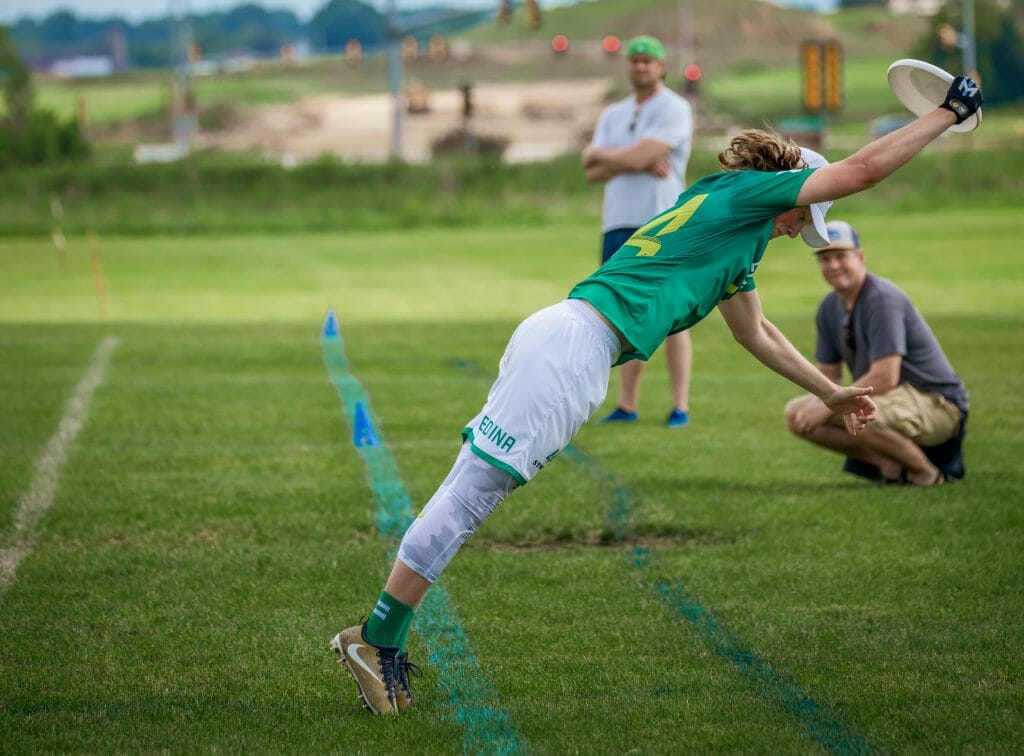 Heavy rain in the early morning hours gave way to a beautiful late spring day in Rockford, Illinois, for Saturday action at the 2018 High School National Invite, presented by Universe Point.
Below, we break down everything that happened in the Boys' Division on day one at the Invite.
The Bracket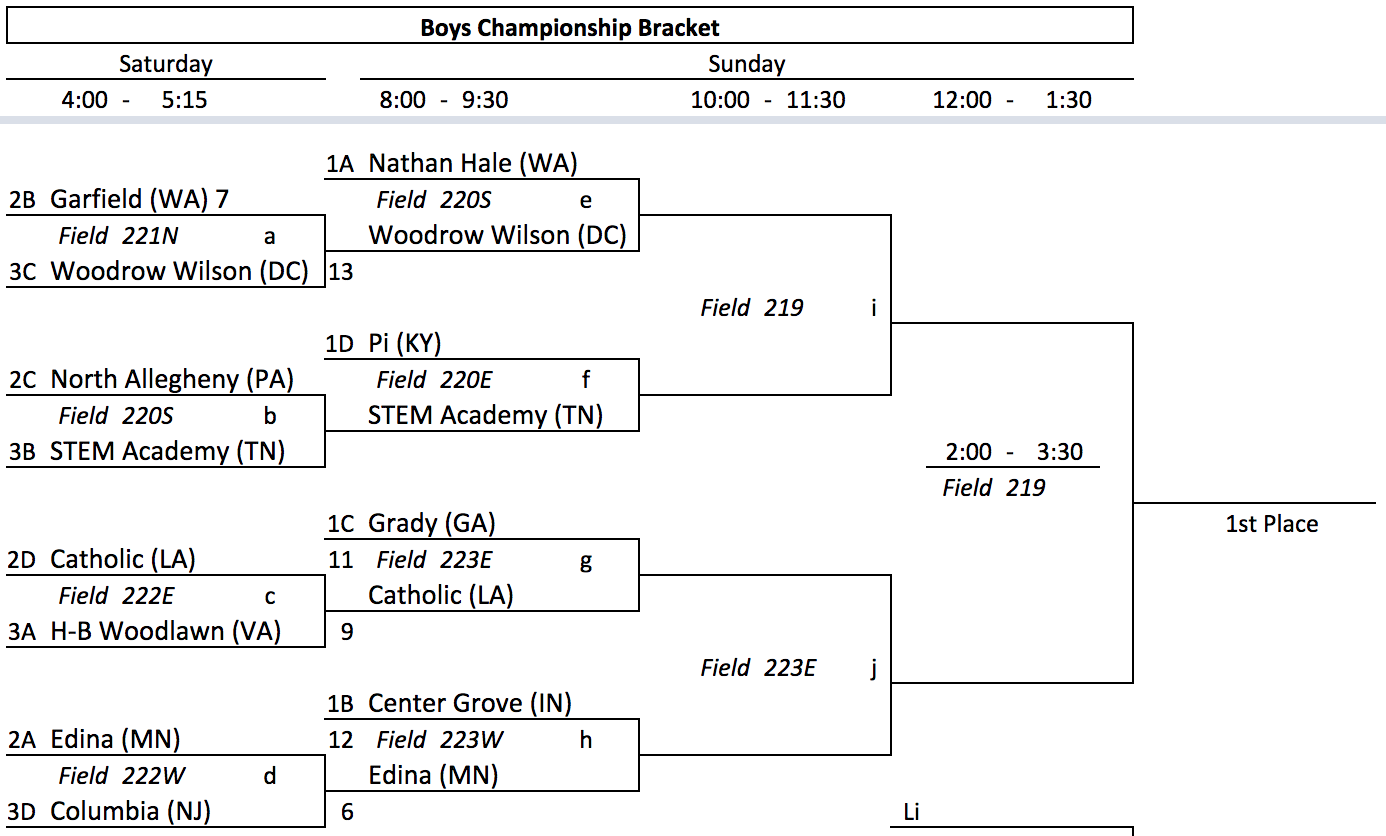 Top Stories
Pi Looking In Form
Pi, the Kentucky homeschool team that burst onto the scene with a tournament victory at Indy Invite early this spring, looked dominant early en route to a Pool D victory. With stalwarts Josh Wu, Caleb Montgomery, and Nate Maddux doing much of the heavy lifting, Pi blew past their opponents.
Thanks in large part to a very strong top end, Pi came out hot in their opening game of the day against Catholic. Pi jumped out to a 3-0 lead and never looked back. Against Columbia in their second game, Pi again built a lead, though they had to withstand a second half surge to get the win. With the pool locked up, Pi rested many of their starters in their last game of the day, a 13-1 loss to Ingraham.
Pi was one of the most compelling teams to watch today. They feature multiple female players that get significant playing time, even against top matchups. The girls play on both their offensive and defensive lines. It was not uncommon to see Pi sending out lines with five boys and two girls for much of pool play. They also roster middle school players who also get run.
They will face off with STEM tomorrow morning in quarterfinals.
Nathan Hale, Center Grove, & Grady Roll
The tournament's top three seeds — Nathan Hale, Center Grove, and Grady — all rolled through their competition today.
Nathan Hale was completely untested through three games. They picked up convincing wins over HB Woodlawn (13-4), Lexington (13-8), and Edina (13-2). The Washington team holds a mixture of size and athleticism that looks unmatched at the tournament. They use the size to connect on deep shots and take away the deep space for opponents. They look like the odds on favorite to take the title.
Center Grove locked up the pool after two rounds, then rested many of its stars in the last round of the day with the pool locked up. The team struggled early against Knoxville STEM, but pulled away as Alex Henderson and Dustin Baird shredded the STEM zone with a variety of over-the-top throws. Garfield took an early lead behind a loud and energizing sideline, but Center Grove again showed their grit, taking over and winning 10-8. Center Grove boasts a strong core of throwers and athletes willing to put their body on the line. As the tournament continues, watch to see how things tighten up for Center Grove with more focus on playing their top players.
Grady had perhaps the shakiest day of the three. Their strengths were clear: big throwers and a propensity to enthusiastically attack the deep space. Aidan Downey was as advertised: he was one of the most impressive and well-rounded players at the tournament. Adam Miller was the team's foremost shot-taker, targeting Franky Fernandez, Jaden Medley-Fowlkes, Jack Persons, and Downey with sailing backhand hucks. Downey's over the top throws were highly effective against teams that tried zone to slow down the Grady deep attack. But their defensive pressure and ability to execute for long offensive points was questionable, and they gave up runs to keep games closer than they often should have been.
Prequarters Recap
Woodrow Wilson Efficiently Dispatches Garfield
Wilson may have finished third on their pool playing their brand of disciplined ultimate, but it proved very effective in the prequarter round, earning them a spot in the quarterfinals as they easily defeated Garfield, 13-7. Wilson's poaching defenses, split stack offense, and ability to maintain possession and attack the break side were difficult for an aggressive Garfield team to overcome. When the Seattleites found separation deep, they could get critical scores, but execution errors cropped up too frequently in the midfield for Garfield to find a rhythm. Wilson ruthlessly attacked Garfield's poaches and help defense, keeping the opposing defense off-balance in the win.
Edina Rolls Past Columbia with Late Run
After trading points for most of the game, Edina rolled in the second half to take down a 12-6 victory over Columbia. AJ Larson and Calvin Kruse took over for Edina down the stretch. The lanky duo made defensive plays in the Edina zone that shut down the Columbia offense. Offensively, the two made big plays in the deep space that helped to advance Edina down the field.
Senior Josh Felton was a rock on offense, putting up big throws and efficiently working against the Columbia zone. Edina will take on Center Grove in the quarterfinals.
Knoxville STEM Edges North Allegheny in DGP Thriller
In the closest prequarter of the day, Knoxville STEM toppled North Allegheny 10-9 on double game point. It was a back and forth game throughout, with no team building a lead larger than two points.
STEM and North Allegheny both used their zone defenses to stagnate the opposing offense. North Allegheny took half, 7-5, but STEM scored then broke to tie it at seven. The teams got back to trading. Exhausted, the teams sat tied at 9-9 with time running down and hard cap nearing. During the next point, the hard cap horn went off, making it double game point. North Allegheny had the disc just outside of the endzone and looked to score on a strike cut, but a poaching STEM defender came away with a game-saving layout D. STEM would not give the disc back and drove the length of the field to take the trip to the quarterfinals.
STEM will take on Pi in the morning.
Catholic Cruises Past a Fiesty HB Woodlawn
In the heat of the day and both teams entering their fourth game, Catholic showed off their depth. They were able to grind through in cuts and connect with deep continuations with great success. After trading back and forth with HB Woodlawn early on, Catholic was able to gain control, and a big run gave them a 7-4 halftime lead.
Jacques Gaspard and Landen Germillion made big play after big play for Catholic, racking up a handful of assists and goals, respectively. Out of half, HB Woodlawn tried to fight back but couldn't quite mount the comeback. The closest Woodlawn was ever able to get was when they scored after hard cap sounded to fall 11-9. Catholic moves on to the quarterfinals, where they will match up with southern rival Grady.
Pool Play Recap
Pool A
Nathan Hale (3-0)
Edina (2-1)
HB Woodlawn (1-2)
Lexington (0-3)
Nathan Hale (WA) showed today why they were the tournament's #1 seed. They were unchallenged, finishing the day with a combined score of 39-14.
Edina (MN) boasts some tall, lanky athletes and a zone defense that is able to stifle opponents and slow games down. They earned a spot in prequarters with victories over HB Woodlawn (VA) and Lexington (MA). They used their length to muck up throwing lanes and wreak havoc on handlers throughout the day.
HB Woodlawn was an exciting team, willing to put up deep throws in any matchup. They worked handler movement to open up huck opportunities. With the threat of the deep game and players willing to hit the ground on defense, HB Woodlawn found just enough success to make games interesting and qualify for prequarters.
Lexington was unable to pick up a win but was effective in spurts and stayed attached to their opponents. They played closer to Nathan Hale than any team in the pool, with their high energy keeping the game from turning into a blowout. A 10-7 loss to Edina and a one point loss to HB Woodlawn sandwiched their day. They had some baffling turnovers that derailed sequences of smooth offense that cost them breaks in every game. Still, the team showed a lot of promise with their high energy and could pull out some victories in consolation play.
Pool B
Center Grove (2-1)
Garfield (2-1)
STEM Academy (1-2)
Jordan (1-2)
Center Grove (IN) survived early runs from both STEM (TN) and Garfield (WA) to finish atop Pool B. Brilliant handler play and a variety of throws made it impossible for zone defenses to slow them down. Their defensive pressure was able to wear teams down and thwart any runs opponents started to mount.
Garfield put up an impressive showing in pool play, taking second place in Pool B. A convincing win over Jordan (NC) began the day, and they ended up locking up the two seed with a double game point victory over STEM. Freshman Alex Nelson broke out as a budding star in the high school division. He dominated the air for much of pool play and put on an impeccable performance against Center Grove, which saw him score all eight of the team's goals. After making such an impact as a freshman, Nelson is a player to watch going forward.
STEM ran an effective zone that led them to a prequarters appearance. Their zone was able to drag other teams' offense into playing their pace. It became especially effective in their victory over Jordan. 
STEM got contributions from a lot of different players, but 6'5″ Joseph Fugate stood out as one of the most impressive players at the fields today.
Jordan struggled to find much success throughout pool play. A loss to Garfield to start the day put them in a hole early. They found themselves matched up with STEM in the second round of pool play. Despite playing well overall, red zone struggles and impatience against the STEM zone prevented them from taking control of the game, and they fell on double game point. They took advantage of Center Grove resting many of their starters and rolled to an 11-3 victory to close out the day with a win. Aidan O'Connell and Albert Yuan were effective for the Falcons on Saturday. 
Pool C
Grady (3-0)
North Allegheny (2-1)
Woodrow Wilson (1-2)
Neuqua Valley (0-3)
Only one game in Pool C was decided by more than three goals as teams gave little ground and traded runs. Grady (GA) was clearly the best team in the pool but was not good at putting teams away. Woodrow Wilson (DC) and North Allegheny (PA) were both handler-driven squads, although that was expressed in very different ways. It was a rough day for Neuqua Valley (IL), but even they stepped up to push Grady to the brink.
Both North Allegheny and Woodrow Wilson upset Neuqua Valley and lost to Grady before the pool's final round, setting up one game that would be for prequarter seeding (Wilson vs. Allegheny) and another (Grady vs. NV) that had no relevance on the championship bracket.
Allegheny and Wilson were both clearly tired, digging deeper into their respective benches, but both played hard and leaned into their styles in an attempt to co-opt the game's tempo. Peter Zaccardi and Wes McCurdy were Allegheny's backfield anchors, attacking uplines to get power position and put up deep shots to Sebastian Oberhauser and Cam McCurdy. Their athletes made a lot of plays to get to difficult-to-reach discs.
Wilson took a more measured approach, with Jacques Nissen leading the charge, flanked by Aaron Bartlett and Oliver Walke in the backfield. Elior Waskow and Theo Shapisnky were the driving forces downfield, with Shapinsky providing some of the team's most explosive plays in the deep space on the rare occasions that they utilized that tactic
While Wilson never led, they also never trailed by more than two, as teams traded holds. Wilson's handlers found a lot of success against Allegheny's zone, but Allegheny's ability to make difficult plays, even under pressure, kept the DC crew from ever getting back in front.
Pool D
Kentucky Pi (2-1)
Catholic (2-1)
Columbia (1-2)
Ingraham (1-2)
Pi (KY) dominated early, notching a win over Catholic convincingly in the opening round. They followed it up with a 10-8 win over Columbia, fending off a feisty Columbia comeback to win. With the pool locked up, they rested starters, taking a 13-1 loss to Ingraham. Josh Wu and Caleb Montgomery put on a real show moving the Pi offense up and down the field.
As defending champions, Catholic (LA) entered the tournament with high hopes and expectations. After falling early to Pi, the team rebounded for a great rest of their day. They picked up big wins — 11-6 and 10-5 over Ingraham and Columbia, respectively. Much like last year's team, Catholic showed off great athleticism and perseverance in the heat. They rode their ability to hit in cut after in cut to grind opponents down.
Columbia struggled early but showed flashes of brilliance. They played a zone defense that was able to slow teams down and take them out of their rhythm. Their offense relied heavily on hucks to eat up huge chunks of yardage. Ultimately, they only came away with one win on the day, though, a 9-8 victory over Ingraham.
Ingraham pushed Columbia to the edge in that game but failed to notch a win outside of a 13-1 destruction of Pi while they rested their starters. Ingraham showed off good talent against Columbia, striking deep repeatedly. They used their excellent hucks to keep the game close, but ultimately fell after a short-field turnover gave Columbia the opportunity they needed to win.
Check out the photos from Saturday here.