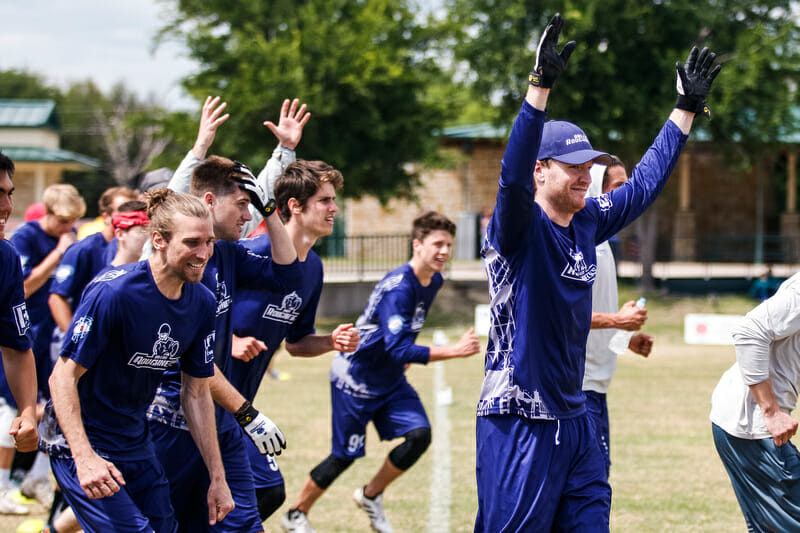 The AUDL rankings can always be found at their permanent home.
The Dallas Roughnecks are back at #1 in the league after Toronto's win streak was snapped this weekend by the Breeze. With the top five teams in the league clearly established, things are starting to get mixed up in the middle of the pack as bubble teams jostle for playoff spots.
Notes
Dallas doesn't need Jimmy Mickle. After Toronto's loss to DC on the road, they're back at #1, led by superstar caliber play from Jay Froude, who has to be discussed as a possible MVP candidate this season. Dallas has all but locked up the #1 seed in the South.
DC is this week's biggest gainer, as they've now won three in a row. That streak includes wins over both Toronto and New York. DC has some tough splits, though: they're 4-1 at home but just 1-3-1 on the road. Still, in the muddy East Division standings, they're sitting pretty in third place, a half game ahead of Montreal.
Austin is the victim of playing in a brutally competitive South Division, but getting absolutely housed by Raleigh on the road is not a great look for a team hoping to go to the playoffs. They're two games back of Atlanta in the loss column. The Hustle have two remaining games against Raleigh and one against Dallas, so Austin is still definitely in the hunt (especially since they own the head-to-head over Atlanta), but there is basically no room for error.
The bottom five teams in the rankings have combined for just six wins in 44 games. Yeccchh.
Chicago falls two slots after failing to get a win at home over a brutally shorthanded Madison team this weekend. They're not completely out of the playoff race, but they are going to have sharpen up in a serious hurry. Their only wins have come against Pittsburgh and Detroit.