Close finishes and exciting upsets!
Ultiworld's coverage of the 2018 Women's Division is presented by VC Ultimate; all opinions are those of the authors. Please support the brands that make Ultiworld possible and shop at VC Ultimate!
BROOMFIELD, Colo. — Day one of the Pro-Elite Challenge gave us everything we could have wanted for the first day of the Triple Crown Tour. Some dominant showings from the top-seeded teams were matched by incredible upsets. We had blowouts, double game point finishes, and some delayed prequarters for a touch of additional drama.
Below, we break down everything that happened in the Women's Division on day one at the Pro-Elite Challenge.
The Bracket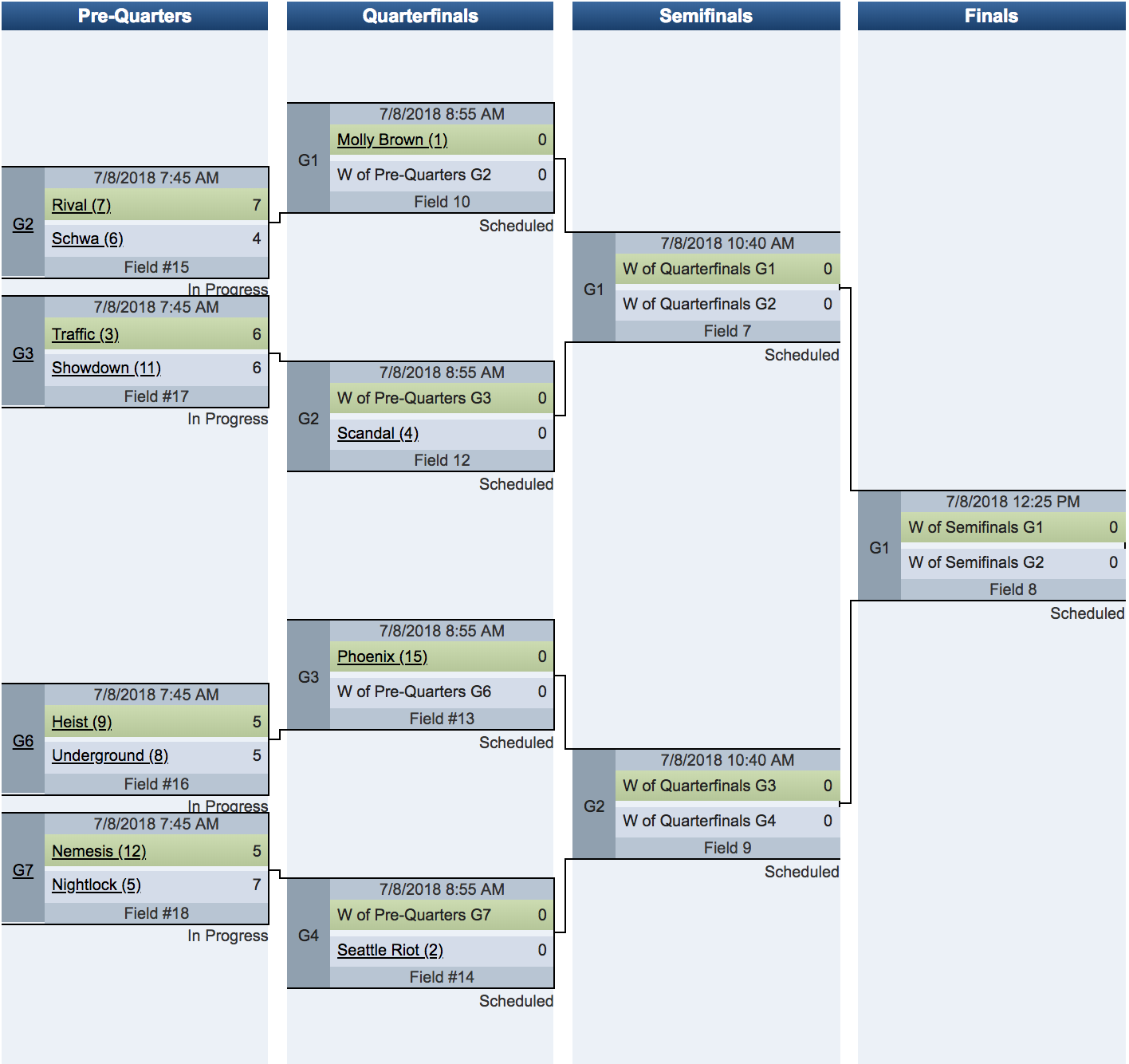 Note that the prequarters are still in progress — lightning suspended play this afternoon, and games will resume at 7:45 AM on Sunday morning.
Phoenix Breathing Fire In Pool C
As we noted earlier today on Twitter, there has never been a 4th seed that has rallied to win their pool at the Pro-Elite Challenge. Most don't even make it into bracket play. Phoenix changed that today as the No. 15 seed. A team that likely would not have even been included in the tournament if a couple WUCC-qualifying teams hadn't declined their bids.
The fact that they put up a 3-0 day in pool play took everyone by surprise. Well, everyone but Phoenix. "In 2017, we saw every single player improve. Coming into this season, it was a matter of putting those players in a position to succeed. We knew we'd do well if we could accomplish that," said Phoenix captain Jinny Eun.
In Broomfield, Phoenix started their big day with a tight game against Schwa. Both teams were finding their rhythm and adjusting to the altitude, but Raleigh was setting the tone with aggressive handler cuts and sharp lateral cuts across the field. Schwa struggled to defend against the well-drilled Phoenix O-line. The game stayed tight for almost the entire duration, but Raleigh began to pull away in the second half once they had calibrated their throws and figured out how to cut in the thin air.
After their game against Schwa, Phoenix was off to the races. They took advantage of an underperforming Traffic roster to get a lead early and never looked back. POP didn't fare much better. In both of these games, Phoenix just never made enough errors for their opposition to play back into the game. That's not to say that Raleigh's offense was perfect with the disc, but they knew how to get it back after a turn.
We knew that North Carolina was going to produce an elite women's team soon. Their development pipeline is just too strong. But have they already found a new gear? It's hard to take too much away from one day at an early season tournament, but Phoenix just put the rest of the division on notice.
Riot Proved A Point
Seattle Riot wasn't playing games with their opponents. They were out for blood.
Riot is clearly using this time to train for WUCC but did not seem to be testing out new defensive sets or innovative O-line packages. This was a team that had a plan and stuck to it. It worked well for them. Riot had some of the best matchup defense at the tournament and relentlessly worked to score once they earned the turn. They were everything you'd expect from a roster of that caliber — fast, efficient, and deadly.
That's not to say that they were without fault. Riot's concentration did seem to slip at times, and they allowed opponents to play their way back into the game in the second half. Wildfire was staging a small comeback before Riot refocused and closed down that run. Riot's confidence almost cost them in that game, but ultimately it didn't matter. Riot closed out that game and every other on the way to a quarters berth.
Molly Brown Yet To Be Threatened
As the home team, Molly Brown was obviously more prepared than their opponents for the altitude and the heat. But the three blowouts they earned during pool play paint a much larger picture than that. The Denver team was more disciplined than any opponent they faced. Multiple poach Ds and run-through blocks were the result of Molly Brown outworking their competition. And once they caused the turn, their offense was crisp. They had a job, they completed it, they finished with margins in the double digits.
Molly Brown seems to have a number of distinct offensive and defensive units that draw on players to get multiple reps with the same set of teammates. Much like Brute Squad in 2017, Molly Brown had specific lines that had different purposes and objectives each time they went out on the field. With their array of talented players and multitude of defensive looks, no other team had a chance to develop any sort of momentum against them.
Even newcomers like Alika Johnston and Alex Hardesty were given large roles from the outset. But there was no one player that took on too great a role, and that was by design. It speaks tremendously to Molly Brown's depth that they can have this luxury, what remains to be seen is whether these lines tighten as they get closer to the finals at PEC.
BENT Playing Into The Bid Conversation
BENT entered the tournament as the 16th seed and saw little fanfare in the offseason. That was a huge mistake.
Despite winning only one game on day one, BENT played their way into the national conversation and made some of the best teams in the world play at their peak. Where we once thought BENT's large turnover was to their detriment, the influx of talented young players in fact gave them an edge in pool play. Every game they played was tight. No opponent led BENT by more than two breaks at any point in their three games.
BENT missing the bracket is the tragedy of Saturday. They pulled off a huge upset over Heist but their penchant for tight games was their downfall, as they came up short on point differential. But if we're looking at the bigger picture, this was a hugely successful day for New York. They already have an upset under their belt. No team will want BENT in their pool in future tournaments. I'm calling it now: the Northeast is going to be a very interesting region this year.
New Faces For Scandal, Same Winning Culture
Before the tournament, the narrative surrounding Scandal was a pensive optimism. They lost some of the best female players in the nation, but they still had the potential to be a good team. Well, they're more than just a good team. A team coached by Alex "Dutchy" Ghesquiere was always going to perform well, but this team really has embraced their new identity. "It's a full team contribution," said head coach Alex Ghesquiere. "It's about how evenly we can distribute our roles."
That mindset really paid off for Scandal. They shared the burden of each game evenly. No single player had to take over.
That's what enabled them to leave Saturday with a perfect record. Their pool turned out to be far stronger than expected — BENT, Heist, and Nightlock all had strong showings — but Scandal was resilient. They went down multiple times in their games against BENT and Nightlock, and yet, in each of these games, they worked their way back into contention and eventually won. Scandal is obviously still growing as a team. Day one just proved that their growth could work them back into being one of the top four or five teams this season.