Breaking down the chances of every European team.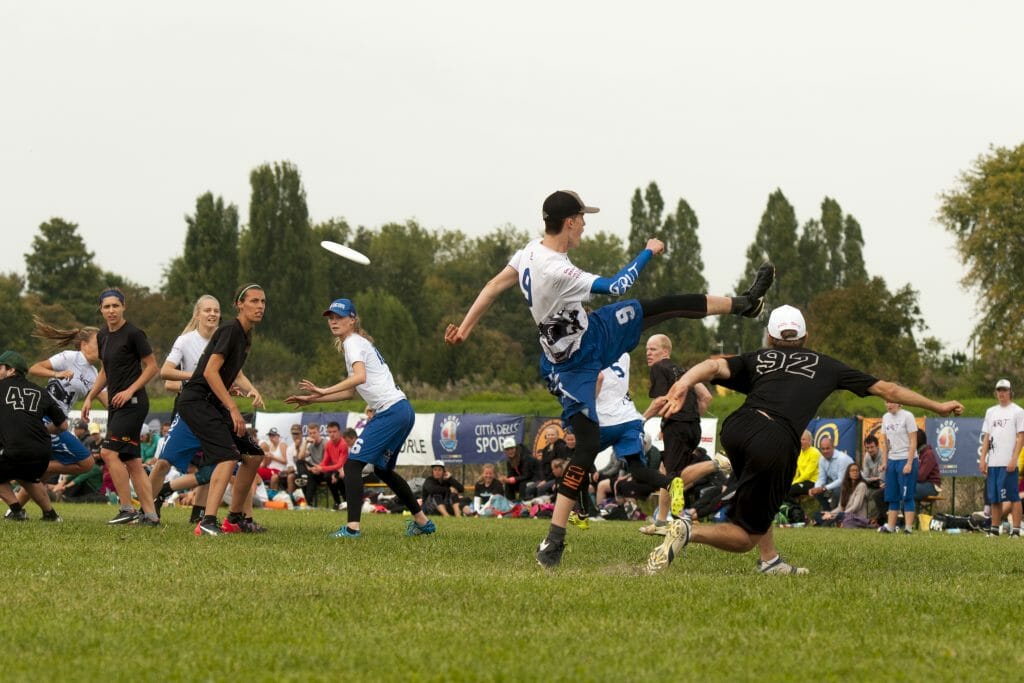 Ultiworld's coverage of the 2018 WFDF World Ultimate Club Championships is presented by VC Ultimate; all opinions are those of the authors. Please support the brands that make Ultiworld possible and shop at VC Ultimate!
Mixed is a division on the rise in Europe. For many years, it was the third option for the majority of Europe's major clubs, a fact highlighted when only two European teams made the top 16 of the Mixed Division in Lecco. This year, it's an entirely different ethos guiding Europe's co-ed endeavors. From across the continent, and across generations, 15 mixed teams are to the division with a previously unseen ambition. Let's see just how legitimate it is.
Bracket Busters
Avoiding the major minefields of established elite level clubs in the pre-quarters is difficult, but a turn of luck here and a break out performance there could see a few teams get through to quarters, or perhaps beyond.
Grut (NED)
It makes sense to begin this article with the first team we will see play in Cinncinati. It also makes sense for a wealth of other reasons: European champions, U20 Women's European champions, consecutive Windmill champions: Grut has a resume befitting their billing.
Floor Keulartz might just be the best female player in Europe, and Benjamin Oort and Basten de Jongh have made names for themselves in America already via the AUDL. They have absolute hounds in the form of Walt Jansen and Lola Dam, as ravenous as they are dogged, especially with Janne Jansen and Lawko van der Weiden providing the hunting shots. They gain stability through the experience and cool hands of Clare Dunn and Tjeerd Ates. All of that is driven by a pack of rising talent hungry for the big stage.
Foreign eyes first fell upon the youths of the Netherlands when they unexpectedly tore through their competition on the way to the EUCF 2016 Mixed final. Their huge throws and irresistible energy drove them past more established clubs. However, they came up short in the final when their flair began to fail and poise escaped them. From their first announcement, we've known they were explosive; it's the natural position of teenagers. Over the last two seasons, they have added maturity.
In their recent outings — both at the tail end of last season and the beginning of this — they have shown a calm, a sense of belonging. They have successfully tempered their wild abandon with more nuanced, controlled play. While the more clinical style has silenced their critics, Grut still knows how to draw a roar from the crowd. Winning two Windmill finals in front of 1500+ person crowds is an experience that few of their opponents in WUCC will have. Their mantra is "trust your receiver." The instance is variable: it can be a huge huck, a tight break, or even the odd questionable hammer; it doesn't matter because the faith is constant. This team grew up together, trained together, and has conquered together. Young usurpers who surmounted Europe while still in their ascendency, they have answered every criticism leveled at them: Can they work a system? Will they hold their nerve? Do they actually know how to play frisbee? Leaving each doubter with the same response: Get Rekt.
Reading (GBR)
Reading is more than a club, it's a community. Legally, it's closer to a hamlet. They are the biggest ultimate team in the UK, a fact epitomized by their 100+ person presence at recent domestic tournaments. This season, they have spent those tournaments dappling their various squads with first team talent, teaching them first hand to trust the system in the face of fierce opposition. It's a worthy study, given Reading's rise to the highest level of the Mixed division in recent years, peaking with a championship in 2016.
They are a unit in every sense. Sam Gunbie provides a steady platform, where all is calm and anyone could be open at anytime. It's from this base that captain Avril Hunter leads her team. They strive to exhibit the form and timing they espouse season long in training, though when things don't go to plan, they can always boost it to Amelia Kenneth. Still, things tend to go to plan when Mark Bignal and Graham Byford are the cutters executing it for you. Ania Godbold has made a welcome return to the club after spending a few seasons away in the Women's division with Iceni, adding further depth downfield. Matt Bolton brings some insistence to their defensive efforts both physically and mentally while Rebecca Palmer is there for the banter.
They have cultivated a production line of well regimented workers, of which this WUCC squad are the finest products. They were the only team to beat Grut at Windmill but then failed to make it to semis. They'll need to be able to harness their energy that lead them to the victory against the Dutch upstarts while avoiding the consistency issues that plagued them from getting further in the bracket. Reading's brightest now find themselves in the same position as their neophytes, facing fierce opposition, trusting the system.
Bubble Teams
Strong performances in their respective groups could lead some of the below teams into pre-quarter contention.
Black Eagles (GBR)
As wild and untamable as the highlands from which they descend, Black Eagles have seemed slightly ruffled on their final stretch before WUCC. In their three domestic warm-up tournaments, they placed fifth as one squad, then second and third with split teams, before winning the final outing as a full unit. At Talampaya, their only significant international outing this season, they took home the bronze after a surprise loss to RusMixed in the semi. Notable showings, but falling a measure short of the heights this squad are aiming for. Led by their captain and one of the clubs founders, James Glover, they are equipped with weapons of every caliber. Nicky Shaw can carve up tight defenses with her give and go, especially when she connects her brother, Jonny 'Scottish Dylan Freechild' Shaw. Bella Tait is suffocating on defense, while Calum David is explosive. They are led downfield by Eleanor Taylor, who is capable of getting free from the tightest of constraints thanks to her tireless cutting, a trait that will be well tested in the Eagles challenging group.
With two North American opponents in the early exchanges, the Scots will have to be prepared for big shots and physical battles. Filling in the role of huge downfield receivers, the Eagles have the extensive Peter Dennis and a nigh undeniable Micheal Noblett. Yet they haven't managed to get all these guns firing at the same time. One tournament win out of four this season is not what they were aiming for and speaks more to their disappointing outing at EUCF 2017.
This team's strength comes from its personality. It is their reliance on stars that reveals their vulnerability at the highest level. If someone manages to shut down Taylor and Noblett, this team can start to stagnate. They like to say go big or go home, but their success will rise and fall based on their pursuit of freedom on the under.
Colorado (GER)
Colorado, based out of Karlsruhe, was put together with WUCC as a specific goal. By combining the talents of the Open and Women's divisions from the area, they hoped to build an entity capable of taking on the world. They've certainly succeeded in taking on Europe. Their silver medals from last year's EUCF reassured captain Oliver Jung that they could do some damage at the highest level.
A veteran of multiple international tournaments, including Colony's impressive 2014 WUCC showing, Jung has gathered together the best and brightest from the Karlsruhe and Freiburg region. Personalities as diverse as Filip Stepniak's unbridled energy to Sophie Flammer's chill throws guide this team. Flanking Jung in the handling department are the unshakable forms of Annika Breitzmann and Tobias Kusyk, helping to drive the set plays that get the Colorado offensive avalanche tumbling.
On the defensive end, they employ a blur known affectionately as Jonas Beck, a young disruptor looking to make his name at WUCC. Colorado's other captain, Sabine 'Mind Your' Mannherz, will be looking to slam the door on any upstart handlers rude enough to try and break her. A combination of youth and experience defines this team. They have the composure to get the job done under pressure and the resources, generally in the form of Tim Stuhlert, to safety huck to the endzone when it all gets too much. Their warm up season was largely immaculate until a disappointing Windmill saw them finish 8th, despite entering the tournaments as one of the favorites. Tight downfield marking has proved their undoing in the past, as pressure can force them into an easy to predict comfort zone, something Grut discovered in the EUCF final last year. For those wondering why a German team are named after an American state, they take their moniker from the candy manufacturer Haribo, which is based nearby. As a result, they always have some jellies with them to share, though be warned: that's all you'll get from them without a fight.
Hassliche Erdferkel (GER)
A fan favorite here in Europe, Hassliche Erdferkel1 of Marburg has won the hearts of players across the old continent. Winning German Nationals last year earned them their spot at WUCC. German Nationals are held over two weekends, the first of which, in the 2018 season, Erdferkel escaped undefeated, including a tight win over fellow WUCC bound Germans, Sugar Mix. An early season loss to Colorado in European qualifiers is their only domestic misstep. It is once the Aardvarks venture outside of their established borders that they fall short, and they've made a habit of doing it in spectacular fashion. In the semi-final of EUCF 2017, they went toe to toe with Grut, losing on an extended and draining double game point, a feat they recently repeated in the semifinal of Windmill.
The latter was all the more brutal as the Aardvarks fought their way back from 14-11 down only to lose on DGP. In direct contradiction to their namesake, Erdferkel like to keep it clean offensively. Christian Hamann and Nora Wilkening (known as 'the Pirate' and 'the Kraken,' respectively) form the foundation.They have a wide array of set plays to draw upon, utilizing their regimented cutters for the heavy lifting. In the instances when the likes of Stefanie Fiebig or Jonas Tiggerman can't get the necessary separation (which is rare, for the record), they fall back on quick handler movement. On defense, they have zones but prefer to focus on tight matchup marking. Steffan Doscher and Ida Dumon draw upon their international experience with Germany to lock down the more meteoric opponents, before offering irritatingly viable options once they've earned the turn. Spirit, strategy, and skill are not the major questions Erdferkel have to answer; they know how to play the game. Their style and substance wins them adoration aplenty before they stumble in the crucial moment. In order to succeed in Cincinnati, they're going to have to channel their inner aardvarks, and be ready for when things get ugly.
Sesquidistus (FRA)
Sesquidistus have spent the past two decades quietly growing ultimate in the Strasbourg region of France. Last season was the best performance at home and abroad in the club's history.
In their debut at EUCF last summer they had close games against established powers Hassliche Erdferkel and Reading. They lost both battles but showed that they belonged in the peripheries of Europe's major Mixed clubs. After winning their first national title, they dedicated the winter to building for WUCC. It has been one based around lifting the ground floor of the club to better challenge those who reside above them. At Windmill, they got the opportunity to see just how small they'd managed to make the gap. A strong win over Mubidisk on the first day lifted their belief, but any fears of arrogance slipping into their style were quickly quashed by competitive losses to Glasgow, Reading, and Grut. It is clear from the close losses that they still have work to do mentally before Sesquidistus can step onto the Ohio grass with legitimate ambition.
But captains Gael Ancelin and Marion Senjean are leading their team into one of WUCC's most open pools, and the opportunity for multiple wins is very achievable. Their final game at Windmill lends further legitimacy to their hopes, as they were able to dispatch Colorado, a favorite for the tournament, 15-12. A strong finish to their last tournament will hopefully breed a strong start to this one. They won't have time to be coy in Cincinnati; it's time for Sesquidistus to get loud.
RusMixed (RUS)
Despite their name, RusMixed are not the Russian Mixed National team, they're just the mixed club champions. Born out of desire and shaped in parts by last year's Beach World Championships, RusMixed are a new face on the rise in Europe. They won the first of Russia's two national tournament weekends and came second in Talampaya, a feat all the more impressive given it was the club's first international tournament and included a huge win against Black Eagles.
In lieu of a habitable outdoors, RusMixed have spent the winter in the gym, developing a physical presence ready for the hearty opposition awaiting them in Cincinnati. Their handling line is led by the trio of Alina Sharyapova, Natalia Shebunyaeva and Nikolay Eliseev, though the true strength of this squad lies in its versatility. All players are comfortable with the disc, and each one of them is ready to run.
They boast two of Europe's best young talents in Ksenia Yasalova and Anna Stukalina, a partnership whose respective handling and throwing earned Russia silver medals at last years EYUC. Not to be outshone by their female counterparts, Petr Tomnikov and Mikhail Khudobin are hungry to show off on the biggest stage they've ever experienced. They have also bolstered their squad with sleeper agents Alina Kagan and Mark Fedorenko, who currently reside in San Francisco and Pittsburgh, respectively.
The versatile and athletic RusMixed have all the potential for success ready to harvest. Their true watermark will be cohesion. A shorter outdoor season than most and an underdeveloped domestic division leave a lot of questions hanging over them. If nothing else, it'll be fun to see their answers.
Spoilers
For some of the scrappier teams, the group stages can go a variety of ways. These are the teams we expect to see survive them, though it will push them close to their ceilings.
Smog (GBR)
Okay, first things first, yes, Smog got their name from a 2013 Brodie Smith video. With that vital question answered, we can move on to ones of lesser note. Namely: how good are Smog really? A silver medal from UK Nationals last year earned them tickets to WUCC, while a 3-4 record at EUCF 2017 reveals their struggles against consistently high level opposition (though it would be remiss to ignore the fact they dealt eventual silver medallists Colorado their only defeat before the final at EUCF).
They are an inventive young side, utilizing unorthodox structures on offense when traditional avenues prove dead ends. Unfamiliar styles can unnerve certain opponents, and Smog have a few more recent tactical developments reserved for Cincinnati, though they are far from bound by form. Tom Bennet delights in being the initiation cut and subsequently being involved in a huck score on one end or the other. Traditionally on the receiving end of Bennet's throws is ex-Clapham player Alex Mazzon. The pair scored the majority of Smog's points in the UK Nationals final, though part of that was due to Tessa Hunt, the third head of Smog's downfield cerberus, getting injured earlier in the tournament. The return of her liberating movement grants Smog's offense a critical edge. Captain Lucy Hyde also backs up her cutters with a lethal array of break throws designed for when things get sloppy.
Smog showed their mettle last season in a grueling double game point game to go to the final against Glasgow. Though the crafty Scots would later sneak their way into the tournament by the backdoor, it came after Smog had enticed Alice Si and Fraser Macdonald south of the border for the Worlds season. With that boost, Smog was able to address one of their biggest weaknesses: squad size. Smog has not taken any outside pick-ups exclusively for WUCC, but they have spent a season training fresh recruits in their system. How well these new additions can adapt to Smog's creative style and assist their established powers will determine how far they go.
Glasgow (GBR)
Initially, it seemed Glasgow were doomed to miss out on Cincinnati. A grinding battle at UK Nationals saw them narrowly lose out on the final spot to Reading, or so it seemed. The winds of destiny have resolved to blow the wily Scots across the pond regardless, an opportunity they are eager to capitalize on.
Shaun Webb leads from the front with a surgeon's worth of incisive throws. Downfield, Audrey Melancon Fournier and Ian Tait know their job (catch things) and execute it with verve, as on the other side of the disc Megan Brass excels in the thankless role of D-line cutter. While they may lack some of the talent of their national counterparts Black Eagles, they want for none of the grit, a position epitomized by the diminutive yet devastating Katie Flight. Their approach is defined by its dichotomy: lots of quick cuts on offense and almost exclusively big shots on D. They're nothing if not entertaining, though given their group, they're aiming to be much more than that.
Wizards (SUI)
It would be fair to describe the second Swiss Mixed team, Wizards, at WUCC as more…weathered…than their counterparts from Bern. That was a fact that became apparent when they met in the final last year. A well drilled team, they are coached by American ultimate legends Emily Wisnosky (Fury) and Ron Kubalanza (Sockeye, Machine), the latter taking up coaching duties after moving to Geneva earlier this year. The structure these coaches have provided has allowed Veronique Mayor and Yannick Galland to flourish downfield.
The strength of the team lies in its cutting, with Phoebe Shambaugh and Thomas Nicolas inflicting even more temptation upon the Wizard's handlers. On the defensive end, they rely on the athleticism of Ben Tannenwald and Pascal Bienz to lead them. A 7-1 record peppered with three DGP victories at Windmill shows they can win in tight situations, but their 8th place finish at Talampaya reveals the struggles they experience against the upper echelon of European teams. They avenged their loss to Panthers during that tournament and put up impressive showings against Mubidisk and one of the German national teams, but, overall, their performances this season put them decidedly in the middle of the pack. Always ready with a trick up their sleeve, they will be hoping to work a little magic at WUCC.
Mubidisk (ESP)
Washing ashore from the islands of Lanzarote, Mubidisk exemplify Spanish flair. Their offense drips with experience in the form of Alexis Martín, Aman Nuñez, Narya Vega, and Pedro Padilla Marrero. These wily veterans capitalize on the athleticism of the younger elements of the team for the cutting, with Yaiza Ramos Diaz and Unai Alastruey offering ever present threats.
A solid performance at Talampaya saw them take fourth, but it was marred by a heartbreaking loss in the final of Spanish Nationals to the non-WUCC bound Guayota. That was a failing compounded by their inability to win any of their three games against fellow WUCC teams at Windmill. However, at both Spanish nationals and Windmill, they were missing their Guayota-based star, Ricardo Marquez, who will be helping to bring them back to their Talampaya levels of success in Cincinnati. Their tournament will be defined by the ability of their younger elements to step up and take ownership of the next stage of Mubidisk's development.
Bracket Hopefuls
These teams are capable of gaining a solitary win from their groups, though we remain slightly dubious over how much more than that they can achieve.
Panthers (SUI)
Roaring into life from the Swiss Alps are the Panthers of Bern. The Swiss Mixed champions are made up from players who have risen up through their Nexgen system. This is because Panthers split their club into an established players' team and a Nexgen outfit for Swiss Nationals last year, and the Kittens took the gold. They are a team built by each other for each other. WUCC is a chance for them to test their mettle at the highest level.
It will be particularly interesting to see Charlotte Terrasson, one of Europe's brightest stars at WJUC 2016 before tearing her ACL, make her major tournament return. Her ability to collect Marc Shwarz's hucks could define the Panthers' chances of picking up a close win in the group stages. Though in a group designed for upsets, the Panthers path to more than one win seems perilous. Still, a good run could carry them into the brackets. Talampaya revealed their penchant for leaning heavily on a small core of male players, a trait they'll need to address before undertaking an arduous week in Ohio.
Sugar Mix (GER)
Another late edition to WUCC, Sugar Mix didn't get offered a spot until December of 2017. They fell out of contention for one of Germany's initial spots after losing to eventual champions Erdferkel on DGP in the quarterfinals. Since then, their preparation has been thorough but deflating. Warm-up losses to Colorado, Erdferkel, and Sesquidistus combine with a 15th place finish at Windmill to reveal Sugar Mix's place in the European table.
It is still worth keeping an eye on the younger elements of this squad, who have more experience playing internationally than many of their teammates thanks to Germany's impressive development programs. Alexander Allgaier, Sabine Dietze, Jessica Ruhle and Jonathan Kramer are all looking to make names for themselves at the senior level in Ohio.
Thanks to the professional allure of Stuttgart, Sugar Mix enjoy a few connections outside of Germany. Most significant among them is Sam Greenwood, who lived in the area and played with the Club's Open team that season. They have maintained their connection, and Greenwood has enlisted fellow Michigan players Julia Weinert and Mary Boyd to make the trip with him. Sugar Mix are still a club torn between two identities — the fun loving and the dedicated — a trait that tends to get revealed fairly quickly at the highest level. Always ready for a rush, things will likely be sour before they get sweet for the Germans in Cincinnati.
Long Shots
Spirited and wonderful as they are, the challenges of WUCC will inevitable lay some players flat. These teams will most likely fall in the group stages.
Discterics (ESP)
Hailing from Girona, Spain, Discterics are a team just starting to establish themselves on the European stage. Their Open side recently won the Spanish title, a notable victory that goes some way to addressing their bronze medal finish at the Spanish Mixed championships. Isaac Pera and Irina Batllori are confident and comfortable with the disc in hand, looking to unleash the speed of Marc Masó and Rut Pera. While the club has been around since 2001, they have struggled for significance outside of Spain. At Windmill, they did lose to Wizards on double game point, an equal result to the Panthers at Talampaya. As both the Panthers and Discterics are in the same group, this decisive game could mean the difference between the Discterics looking at the bracket or looking at consolation play at the end of the group stage.
Flying Rabbits (BEL)
Flying Rabbits booked their place in Cincinnati by taking second at the Belgian championships. That was a huge success for a club built on fun and family, but one they were unable to replicate this season. They finished in the bottom half of teams at their last warm-up tournament, Windmill. Their time at WUCC will be marked by the spirit they exude on the field, if not the results. I just hope they bring the same fire to the pitch as they did to their preparation mixtape.
Final Thoughts
Some would say we're being too generous with our placements; others would say we're being too harsh. Each team has their own destiny in their hands, though if we're being honest, for most, advancement lies in their ability to avoid the major players in the early brackets. Contention for high group positions is paramount to the ambition of Europe's top clubs.
We need to believe we can win before we ever will, so a lot of European eyes are going to be watching the opening showcase between GRUT and USA's Wild Card to see if a our own Dutch leader can score an opening upset.
---
Look it up! ↩