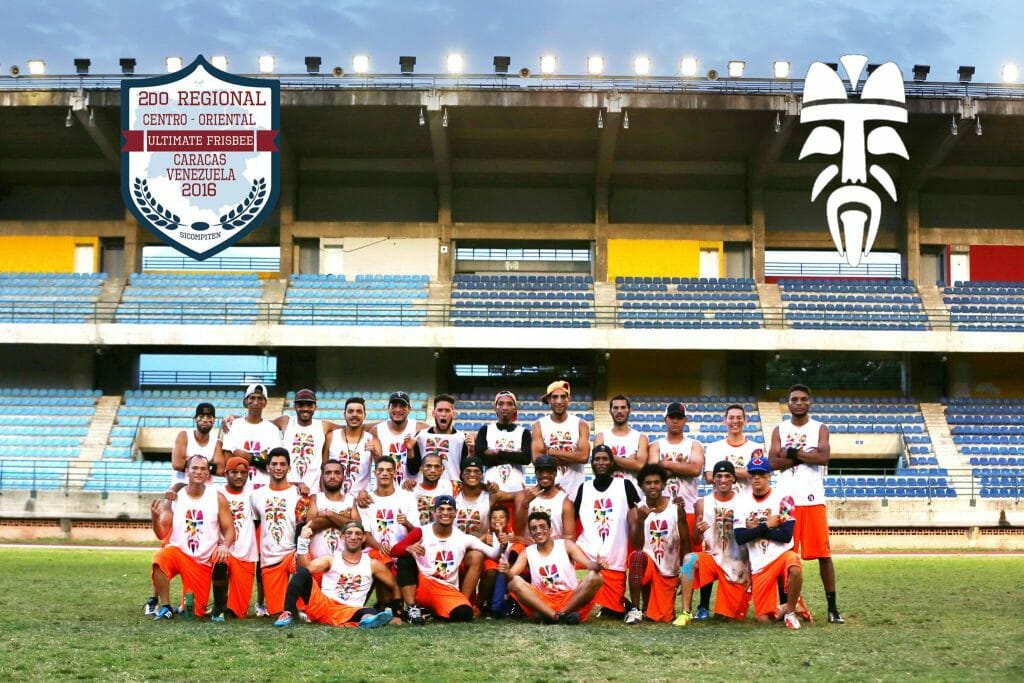 Ultiworld's coverage of the 2018 WFDF World Ultimate Club Championships is presented by VC Ultimate; all opinions are those of the authors. Please support the brands that make Ultiworld possible and shop at VC Ultimate!
For some countries with lesser developed ultimate communities, there is no official qualification process for the World Ultimate Club Championships. That is the case for Venezuela. For Warao, the Men's team from the country, WUCC will be a proving ground and an opportunity. The team is eager to compete on the world's biggest stage and take advantage of an opportunity to represent their country amid political strife at home.
Over the past decade, Warao has found themselves at the peak of the Venezuelan ultimate scene, without much stiff competition.
"Historically, Warao has always been on the top," said the team's spirit captain Jesus Osorio. "There have been other teams that win championships in Venezuela, but I would say Warao has been consistently on the top for the past decade. There is another team who is also on the top, and basically Warao and [they] have been the ones winning for the past five years."
Unfortunately, the system that held competitive ultimate together in Venezuela has fallen apart due to the country's economic crisis.
"A lot of ultimate players moved out of the country," Osorio said. "The ultimate scene is basically dying in Venezuela. There were efforts few years ago where there were Regionals and Nationals, and a system was put in place. In that national championship Warao won, but it was two or three years ago."
"The truth is that there isn't field availability to run any events because its costly to maintain them and to rent them," Osorio continued. "There is no money to run tournaments, and players don't have the money to afford tournaments either. A single disc (let's say $10) is easily about four or five times of a month's salary (about $2). It's rough. So for the past years, with players moving out, and people basically starving (in a literal sense), ultimate is almost not a sport people can consistently afford to play."
With many players moving out of the country, looking for security both physically and financially, Warao has taken on a bigger meaning to Venezuela's ultimate players. Originally a team from Turmero, a city in northern Venezuela, the team's main contingent has picked up players from all over the country. They are joined by players, like Osorio, who have moved out of Venezuela.
"[For us] this is a way for us to represent our country in front of many political disputes and social and economic crisis. It is a way to give people hope…to give ourselves hope," Osorio said. "For many of the players such as myself, who do not reside currently in Venezuela, it's tough to just let everything you ever knew behind you, and having the opportunity to wear the Venezuelan colors is an invaluable experience."
Amid the crisis, many Venezuelan visa applications have been declined. For Warao, this has meant additional struggles as they work towards WUCC. According to Osorio, many team members had their visa applications immediately declined, despite providing tournament dates and information.
"Most people who are coming are coming from other countries — not Venezuela — or already have a tourist visa from the past," Osorio said.
The Venezuelan team will be made up of a large number of countries. The team consists of players who currently reside in Colombia, Chile, Peru, Canada, United States, and Venezuela. With players coming from all over the western hemisphere, practice time is at a premium for team members.
"Having people practice around the world is both good and bad," Osorio said. "It's good because our players have international experience, but 'practices' and coordination are very hard. The team is trying their best to send out plays and keep people consistent with their training."
According to the captains, Warao has historically been a team characterized by their disc skills, combined with a well-defined offense that utilizes a lot of flow. Defensively, expect the team to play a tight matchup defense.
"Our goal is to finish in the top 15, maybe even top 10," Osorio said. "We want to show that we have talent and that we can compete. We will leave our hearts on the field and demonstrate that in the middle of so many adversities, there are still dedicated individuals committed to leave the Venezuela's name on the top."
Historically, Venezuela has seen some success on the international stage. Most notably, they reached the finals of the 2011 Eterna Primavera in Medellin, where they fell to Seattle Sockeye.
Next week, wearing the pride of Venezuela, Warao seeks to make a splash at WUCC.