Finding togetherness, even on a tough day.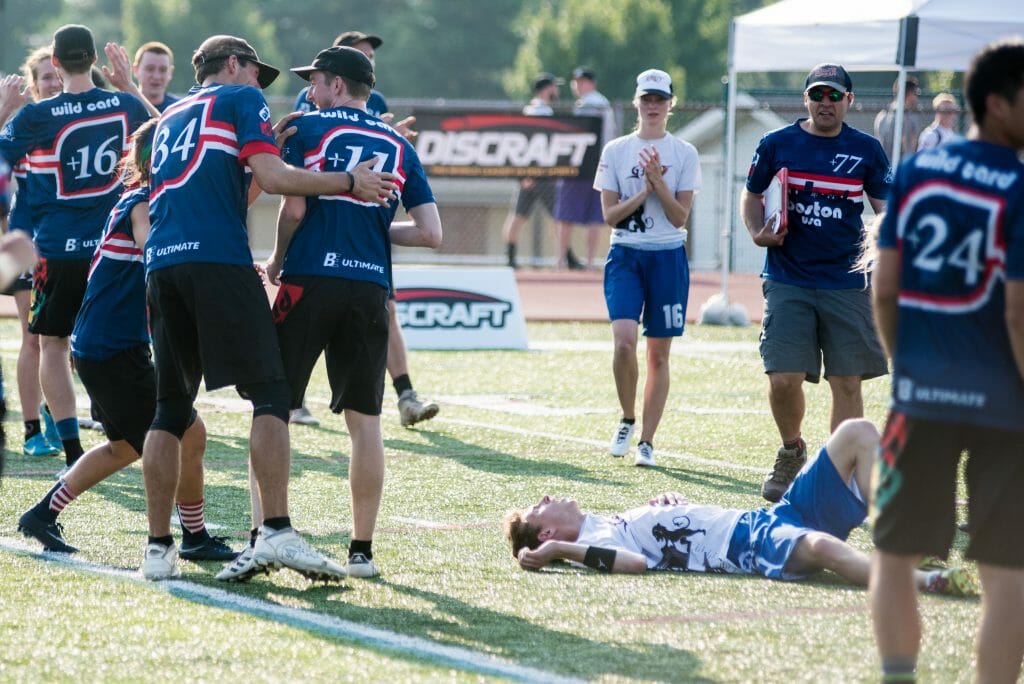 Throughout WUCC, we will be "embedding" with select teams and telling their stories with daily updates about their journey, history, and more. We call it Inside Break.
Ultiworld's coverage of the 2018 WFDF World Ultimate Club Championships is presented by VC Ultimate; all opinions are those of the authors. Please support the brands that make Ultiworld possible and shop at VC Ultimate!
As the sun rose in Cincinnati on Sunday, Dutch hearts lifted to meet it. Each dawn brings new opportunities and Grut was determined to make the most of theirs. The mood during their warm-up was positive.
The team had spent the previous evening reflecting and recovering. They ate dinner together, slowly letting the pain of their opening game loss slip away as jokes crept back into their conversation. They were assured by the fact that their ultimate goal was still within reaching distance. The loss didn't matter, only the lessons that could be learned from it. In order to walk their desired path, they were going to have to beat high caliber teams in the later stages. Now they would have to do it earlier in the week than intended.
"We were heartbroken in the moment because we gave one away, which we do not normally do," said Basten de Jongh.
In response to their loss, and the frustration it brought, coach Jeroen Oort had organized a six person committee. Mentally, they had been scattered by their late game stumble, and the committee took it upon themselves to rebalance the missteps of their squad before the coming challenges of their two impending group games. Watching the game back was an act of cathartic analysis, a way to diagnose the mistakes that had cost them the game and inoculate themselves against a potential relapse.
Unfortunately for Grut, their first game was against Reading, a team commonly regarded around Europe as the one best equipped to beat the Dutch. They were the only team to beat Grut so far this season, besting them 15-12 during the Swiss Draw portion of Windmill. They would beat Grut 15-13 this time around, doing so in demoralizing fashion. They dominated the first half before Grut mounted a spirited comeback, then they regained their composure and won the final few points convincingly.
This left Grut in a very difficult place. They had now lost two of their games and were facing a very difficult path. More than that, they were shaken. Another close loss, another game they had in their hands that slipped away. One was rare enough, but two in two days was practically unheard of.
In response to the mounting doubt, Grut had to take action. They came together to air their grievances. Players were in danger of becoming scattered across a spectrum of private negatives. Some felt they didn't contribute enough, others that they didn't play enough. Several were still carrying the weight of an in game mistake. All were in danger of drowning in themselves, taking their team spirit down with them to the inky depths of emotional isolation.
So Grut brought these feelings to the forefront. They gathered together and took turns laying their souls bare. After each fear was spoken the teammates would raise their hands if they felt the same. This allowed them to know they were not alone. That they were a family who supported each other. With each confession the tension seemed to recede a little more, and the spirit started to come back. They spoke, a lot, together and in little groups. They danced and cheered and reminded themselves exactly why they were where they are.
Then they lost again.
RusMixed are a good team, largely unknown before WUCC as they had only attended one warm-up tournament.1. The game went to double game point, with RusMixed starting on offense and never giving up the disc.
This time, the mood was different. Unlike their previous two losses, they felt they had worked together more as a team this time around. There was more energy across the squad, more collaboration for scores, more positivity on the sidelines.
Though that did not change the fact that they were 0-3, with a brutally small +/- of -4. Three games, three losses, and everyone of them agonizingly rectifiable if only they could go back in time for a single point.2
"Sometimes we talk about it and it hurts, we lost three games," said coach Oort. "It's our own fault we have a hard route to brackets." They are not shirking from the repercussions of their first two days, the road ahead is tough, and it will only get tougher from here.
"I think we can do it," said Oort. "I am confident we can for a few reasons. We've been in dire straits before, and we managed to get out. We have two pool games and we are very eager to win them. We're not here to end up fighting for 33rd place, though we never set goals saying where we were going to end up."
Despite this assertion, it's clear from his players that they came to Cincinnati with ambitions, and the stress of watching them fall short has had an impact.
Luckily, one of Grut's players, Claire Dunn, currently resides in America. Drawing upon her insider American intel, they learned of a special offer happening at Graeter's Ice-Cream. While a few opted to stay behind with the physio,3 most of the squad decided to go out for a few scoops. An exercise in stress relief for a team who may have been letting their reputation get to them.
As I finished my conversation with Oort, he reiterated his belief in Grut. "I cant speak for everyone," he said. "They won't have all the same emotions and feelings, but we always say we play point by point, throw by throw…I am confident that the team is ready to fight."
There was no six person committee last night. There didn't feel like a need for one. It was not an evening for tactics: it was an evening for cold ice cream and warm summer strolls.
---
Talampaya, they came second ↩

or maybe two against Reading ↩

His name is Peter and he is an angel ↩