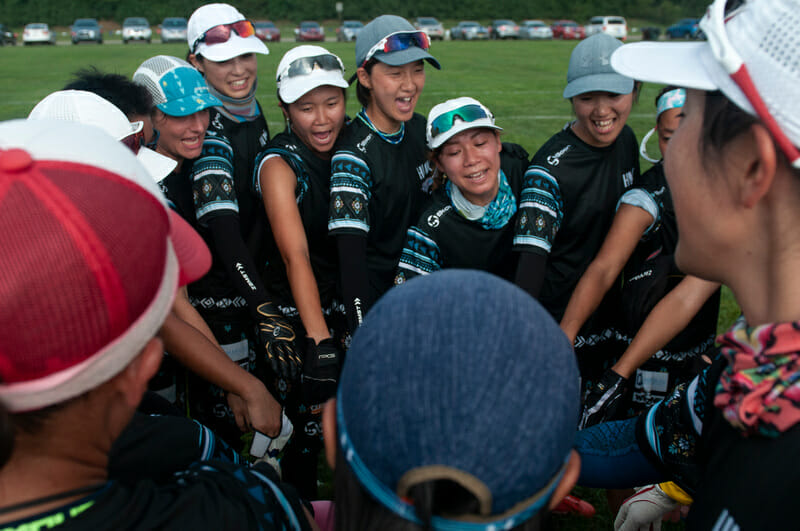 Ultiworld's coverage of the 2018 WFDF World Ultimate Club Championships is presented by VC Ultimate; all opinions are those of the authors. Please support the brands that make Ultiworld possible and shop at VC Ultimate!
The second day of full pool play of the World Ultimate Club Championships brought far more excitement than the day before, though there was little drama for the teams at the very top. The top eight seeds once again all went undefeated, and they faced even fewer tests than they did on Sunday. Swampybarg (JPN) was able to put up 11 goals on Fury (USA), and Brilliance (RUS) managed an impressive 15-12 losing scoreline against Brute Squad (USA), but the only other game in which a top seed conceded double digit goals was Ozone's (USA) 15-10 win over Mantis (AUT). Beyond the most elite teams, though, there were plenty of thrills.
ZUF (SUI) pulled off one of the biggest upsets of the tournament when they beat Ellipsis (AUS) 15-13 in the second round. The win seemed to surprise even ZUF, but their impressive offensive showing made them the deserved winners. In the same round, YAKA (FRA) and Bamboo (COL) played into the start of the following round, as both teams battled their way through some lengthy final points. Bamboo battled back from a 14-11 deficit to 14-13 and had a few chances to break again and force double game point, but a huge layout grab from Rose Glinka in the endzone got the dramatic hold and win for the French outfit.
YAKA found themselves in another nailbiter in their second game of the day against Fusion (CAN). This time around it was YAKA who put on the late comeback effort, bringing the game to a 13-13 double game point after a 13-10 deficit. On the final point, though, Fusion cleaned up the offense and completed a huck beyond a monster layout block attempt from Robyn Wiseman to claim the victory.
Iceni (GBR) broke at 14-13 to win a tight contest with Swampybarg (JPN) to add to the day of thrills. The exciting games for the top teams should occur in power pools, but thanks to the handful of close games from some the mid-level teams in attendance, Monday ramped up the entertainment factor a significant level from Sunday.
Another notable development on Monday was the bounce back from Traffic (CAN) after a rough Sunday. After a disappointing 0-2 start, Traffic won their games over Siren (CHN) and SYC (GBR) by a combined score of 30-7. They were far more efficient in the redzone than they were the day before, and it made for a much improved day.
Power Pools (All Four Advance)




Lower Pools (Top Two Advance)